Broccoli pasta salad is one of my favorite dishes for lunch or as a side for dinner. This recipe just screams summertime. Sitting out on the deck and enjoying this favorite, after an afternoon of swimming in the pool, is my idea of a perfect summer day!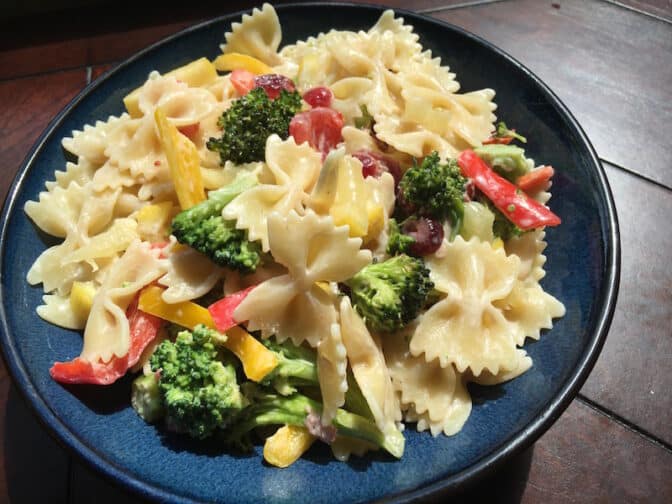 This broccoli pasta salad is both filling and versatile. Originally vegetarian, you can easily switch it up and have it include a protein as well. I've included options for switching this pasta salad recipe up to your needs and preferences below. Get ready to enjoy a truly delicious summertime salad!
How To Make This Pasta Salad
The Best Pasta for Pasta Salad
To make this broccoli pasta salad I like to use farfalle, or bow-tie pasta. However, if you like other pastas more, you can try using fusilli (spiral) pasta. The shape of bow-tie pasta is perfect for catching and holding on to the deliciously creamy dressing. But the same effect can be achieved with fusilli!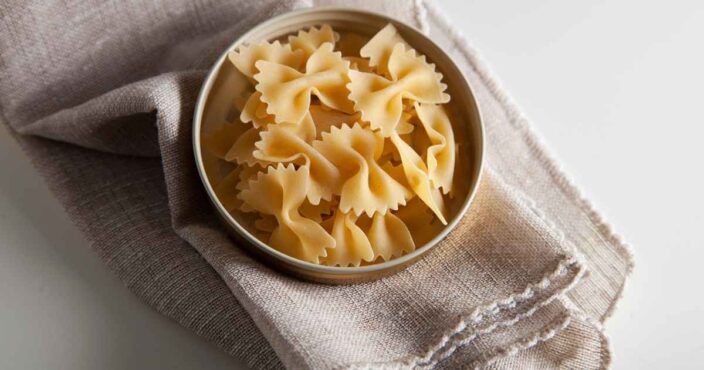 When cooking your pasta, make sure that it is al dente and not overcooked. Al dente means that the texture should be firm to the bite, not super soft. After draining your pasta in a colander, drizzle some olive oil over it and toss. This prevents it from sticking together while you are preparing the other ingredients.
How to Prepare the Broccoli for Broccoli Pasta Salad
To make broccoli for the broccoli pasta salad, you want to use a blanching technique. Blanching ensures that the broccoli stays crunchy, but is not raw. The broccoli will also get a vibrant green color, which looks beautiful in the salad.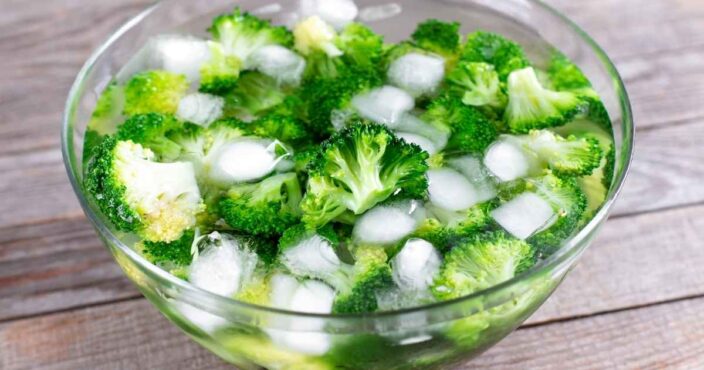 To blanch the broccoli, bring water to a boil and toss in the cut broccoli. You'll want to cut the broccoli into small pieces. Leave the broccoli in the boiling water for about 2-3 minutes, drain, and throw into an ice bath. The ice will stop the cooking process and keep your broccoli bright green and crisp.
How to Make A Healthy Pasta Salad Dressing
Pasta salads often have dressings that are filled with mayonnaise and sugar. This healthy pasta salad dressing doesn't have any of that! Instead, this dressing using Greek yogurt and extra virgin olive oil. I prefer to use full fat Greek yogurt for a richer texture and flavor, however if you prefer a lighter version, try using low fat.
When you choose an olive oil for the dressing, make sure it is high quality, extra virgin so you that you get the best possible flavor. This recipe also calls for fresh minced garlic, fresh squeezed lemon juice and lemon zest.
Mix all of the ingredients together in a bowl and store in the refrigerator until its ready to be used.
Assembling The Salad
For the rest of this broccoli pasta salad recipe, you'll want to include some more veggies and fruits. I like using bell peppers, tomatoes, and cranberries. Slice all the vegetables into pieces. If you don't like dried cranberries, you can use grapes instead!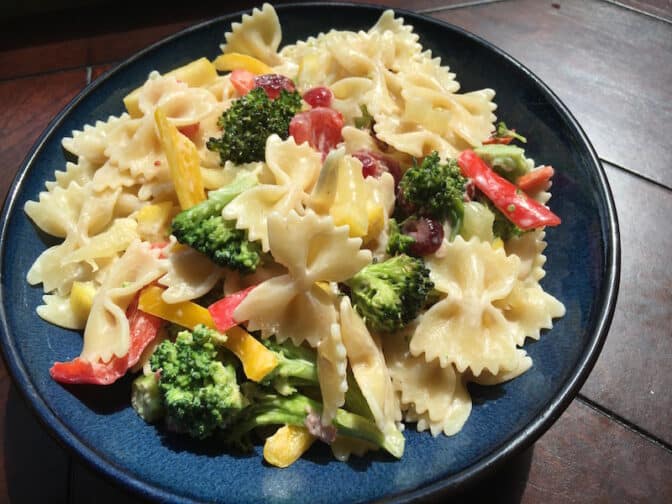 Then in a large bowl, combine the cooked pasta, blanched broccoli, bell peppers, and cranberries. Toss all the ingredient to mix well. Add some yogurt dressing and toss again until thoroughly combined and serve.
Optional Ad-Ins
If you would like to make this broccoli pasta salad heartier, consider adding in some chicken! Pan fried or grilled chicken is a wonderful addition to this pasta salad.
For this salad, I like to use chicken breast. Season the chicken with salt, pepper, garlic, and onion powder. Then pan sear it in some avocado oil. When the chicken is fully cooked (internal temp of 165), squeeze some fresh lemon on top.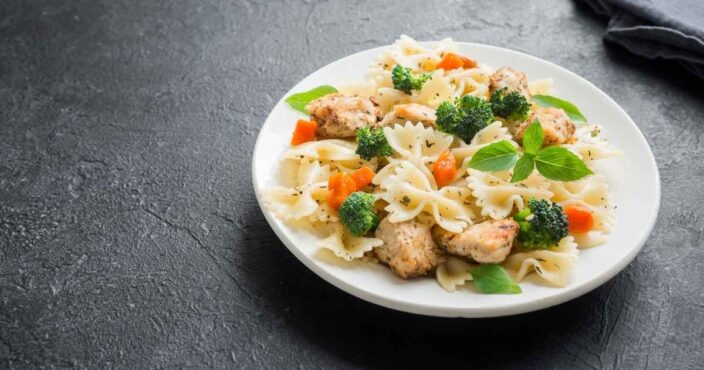 I like to serve this salad with bite-sized pieces of chicken, so I cut the breast into chunks. However, you can also serve each breast individually on a plate, instead of tossing it in the salad!
 This post may contain affiliate links which won't change your price but will share some commission. As an Amazon Associate I earn from qualifying purchases.
Tools You May Need To Make Broccoli Pasta Salad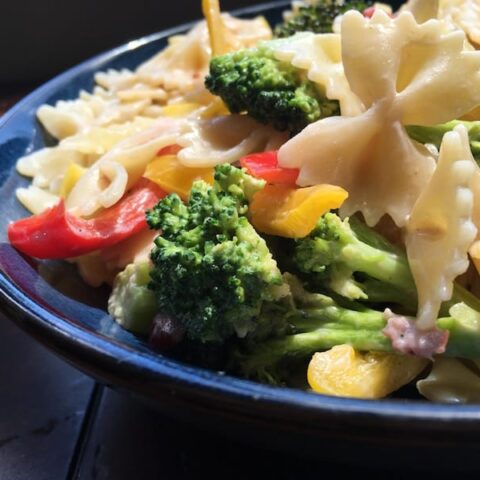 Broccoli Pasta Salad
This broccoli pasta salad is an easy and delicious addition to your recipe collection. You can make this recipe a day or two ahead and store in the refrigerator, so it's perfect for taking to summer gatherings.
Ingredients
Salad:
1 cup Farfalle (Bow-Tie) Pasta, cooked according to package directions
1 head broccoli, florets only
1 red bell pepper, core removed and cut into thin slices
1 yellow bell pepper, core removed and cut into thin slices
1/4 cup dried cranberries [optional]
Dressing:
1 cup traditional Greek yogurt (full fat)
2 cloves garlic, finely minced
2 T. high-quality extra virgin olive oil
2 T. fresh lemon juice
1 T. fresh lemon zest
salt and black pepper, to taste
Instructions
In a glass bowl, combine yogurt, garlic, olive oil, lemon juice, and zest with a fork or whisk. Season with salt and pepper to taste.
Place broccoli florets into a microwave safe bowl with 1 T. water, cover and microwave until slightly tender, about 4 or 5 minutes. Microwave times vary, so check after 3 minutes and adjust time accordingly. Set aside to cool completely.
In a large bowl, combine cooked pasta, steamed broccoli, red and yellow pepper, and cranberries. Toss to mix well. Add some yogurt dressing and toss again until thoroughly combined and serve.
The Perfect Summer Side Dish
This broccoli pasta salad recipe is one of my favorites. It is easy, quick and tastes even better! You can make this recipe a day or two ahead and store in the refrigerator, so it's perfect for taking to gatherings. Or make it same day and serve it alongside your summer barbecue!
Looking for some other light and tasty side dishes perfect for summer? Try our Feta Watermelon Salad or our Orange Fennel Salad!
CHECK OUT WHAT'S NEW ON BETSI'S WORLD
Did you try this recipe? How do you make your pasta salad? We'd love to hear from you in the comments below!
Other Recipes You Might Like