Holiday entertaining….can be full of stress, making sure your home is dressed to the nines and clean. The kids, the dog, the tree all perfect. What if there were another way? An easy, simple plan for stress-free holiday entertaining? There is!
Whether you are entertaining a large group of friends, hosting a small, intimate get together, or having a spontaneous last-minute gathering, having the right supplies on hand creates a stress-free experience for your guests and you. Here are a few simple and quick tips to host any gathering, large or small, planned, or spur of the moment.
The holidays are great for entertaining because your home is already decked out with the tree up for the holidays. No need to worry about decorations and therefore, less stress!
Table of Contents
COCKTAIL PARTY TIPS AND TRICKS
Clean Up Quickly
Don't make yourself crazy trying to spruce up your home for guests. Your house does not have to be immaculate. It does need to be comfortable. Your home should be a place where your guests feel welcomed and peace, joy, and laughter are felt.
FOOD AND DRINK
The main focus when hosting a holiday gathering at home is food and drink. You want to serve food that looks and tastes good, but you don't want to spend all day in the kitchen slaving over the stove.
Over the years of holiday entertaining, I have discovered that during the holidays people love to show off their favorite dishes. So, an excellent way to include your guests in the party is to ask them to bring a dish to share. This takes the burden off of you to provide all the food and makes for easy holiday entertaining, and is key to stress-free holiday entertaining.
Easy And Quick Food Options for Holiday Entertaining
Charcuterie Platter
You can't beat a charcuterie platter as the centerpiece for holiday entertaining!Because of the different cheese textures, cured meats, and additions of fruit, nuts, olives, pickles, jam, and honey, your charcuterie platter becomes the centerpiece of your table.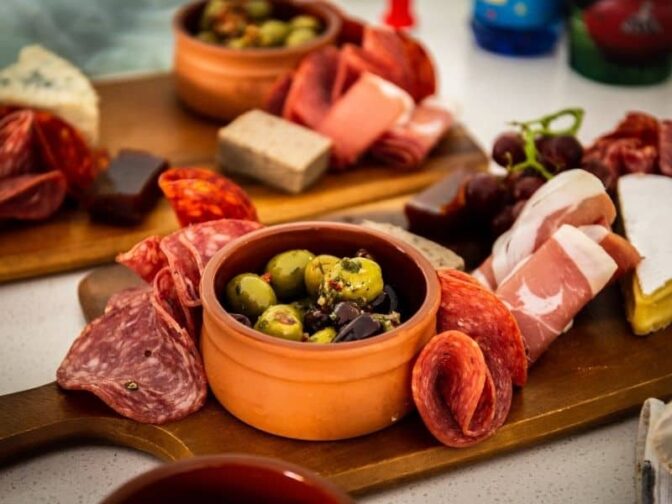 For our entertaining, I love the Complete Cheese Board Set, which comes with a cheese knife set, a wine server, cheese markers, and serving forks. The set also includes a slate board that you can use for additional cheeses or fruits.
What Do I Include On A Charcuterie Platter?
Cheeses
When choosing your cheeses, include different textures, flavors, and types. I generally include a soft cheese, such as a goat cheese spread, a creamy cheese, like Camembert or Brie. Add a cheddar (I like a sweet cheddar from Ireland) or a pungent cheese like Stilton blue cheese for a contrasting flavor.
You may also want to include a firmer cheese such as Gruyère or a Gouda. To finish off the cheese selection, add a hard cheese like a Parmigiano. Holiday gatherings are an excellent occasion for you and your guests to try new and exciting cheeses you've never had!
Fruits
We love the tart sweetness of grapes (use white and red grapes for a holiday picture-perfect centerpiece. Sliced apples are also nice and add a bit of holiday color.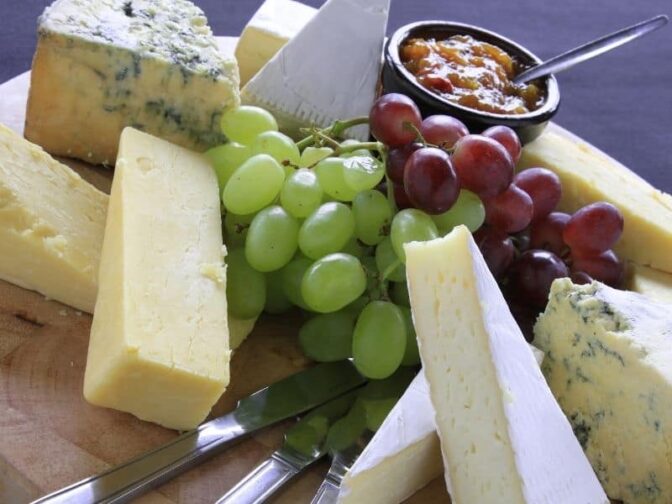 Nuts and Pickles
Adding almonds to your platter is a nice touch. The crunchy almonds add a nice texture contrast and pair nicely with both the fruit and the cheese.
I was pleasantly surprised the other evening when I added pickles to my charcuterie board. They were such a hit; I refilled the dishes 4 times! Bread and butter pickles work really well and pair nicely with cheese and meat.
Cured Meats
Add a selection of meats to your charcuterie board to round it out. Our go-to meat selections include prosciutto, Jamòn (Spanish ham), uncured soppressata, salami, and pepperoni. Other meats to consider for an elevated holiday platter include smoked steak, smoked salmon, and even a seafood or fish dip.
Roll the prosciutto and Jamón, and stack on the platter, scatter the rounds of soppressata, pepperoni, and salami in several places on the platter. Add the crackers, and voilá you are ready to serve.
Cold Salads
Cold salads like our favorite chicken salad are a go-to party staple for us. We love how easy it is to serve – whether we serve it with crackers or with a selection of artisan bread for a make-your-own sandwich bar.
 This post may contain affiliate links which won't change your price but will share some commission. As an Amazon Associate I earn from qualifying purchases.
Wine Makes Your Holiday Gathering Festive
Create a wine bar on a side table by draping the table with a festive cloth. Then add your wine glasses. For a small gathering, I'll use crystal wine glasses to continue that intimate holiday spirit.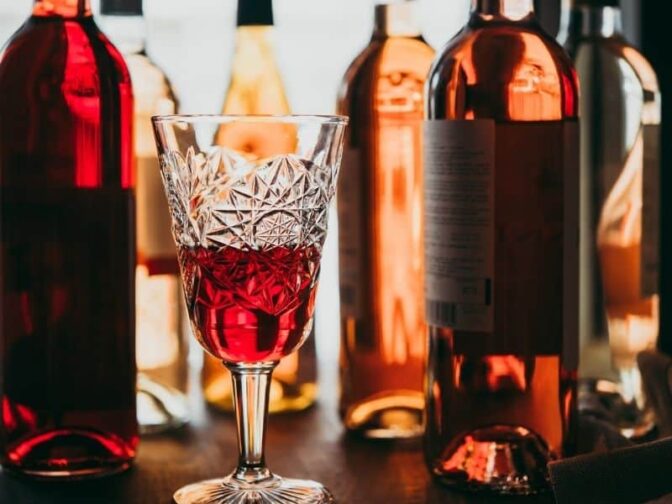 For holiday entertaining on a larger scale, I like to use unbreakable stemless glasses. This is particularly important if you are entertaining outside around a pool. You are keeping your house safe from breakables, and you can reuse them time and time again. If you are like us and love gatherings that are indoor/outdoor and near a pool or firepit, unbreakable glasses are a necessity.
Choose a selection of both white and red wines to grace your wine bar. It's super difficult for me to run out to the wine shop every time I need more wine. That's why I love wine clubs! You get a selection monthly or quarterly, and it allows you to taste and try different wines and purchase more of the wines you love.
For those who love wine cocktails, include Sprite or 7-UP and sliced lemons and limes, and let your guests create their own wine spritzers.
Other options for drinks include a selection of juices, soft drinks, and liquor. We include vodka, bourbon or whiskey, in addition to wine. Serve your drinks and cocktails from a bar cart, or carve a space out on your kitchen island or another surface to create a bar.
Holiday Cocktails
Bloody Mary Bar
One of our favorites, that is timeless, is a Bloody Mary bar. With this create your own Bloody Mary bar, you can let your imagination run wild! Some ideas of things to include are tomatoe juice, spicy clamato juice, a good quality vodka, pickle juice, horseradish, tabasco, Old Bay seasoning, smoked paprika, salt, and pepper.
Get creative with your garnishes and let your imagination run wild! Some things to include are shrimp, bacon, jalepenos, olives, celery, cucumber, dill, basil, parsley, pickle spears, pickled onions, beets, peppers, shrimp spears, bacon, cheese, and lemon or lime wedges.
The Best Mulled Wine Cozy Winter Cocktail
We love to cozy up on chilly evenings, turn on some smooth jazz, and sit by the fire pit with a warm cup of mulled wine. With notes of citrus and spice, it is a perfect winter cocktail. These same spices will fill your home with a lovely fragrance as well.
I've always associated mulled wine with holiday parties, but a single batch is perfect for two to four people. Mulled wine is unbelievably easy to make, even on a weeknight, and fills your home with holiday fragrance. So let's make some mulled wine!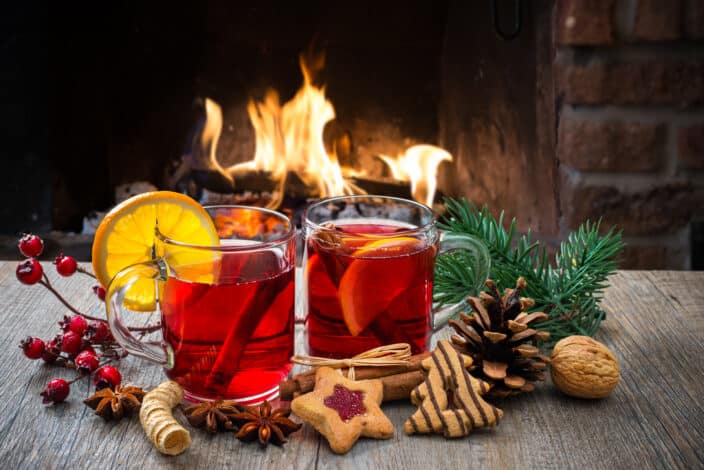 Pro Tips: 
Choose Your Wine Carefully. You want a wine that is a fairly bold wine – Merlot, Zinfandel, and Garnache are the best choices. These are dark, fruity, and full-bodied wines. Stay away from lighter reds like Pinot Noir.
Don't choose an expensive wine. We've learned from experience that the cheaper spectrum of wines does better for Mulled Wine cocktails.
Use a full-bodied wine – we like a Zinfandel or a Merlot. Look for labels that use terms like "jammy" or "fruit forward" to describe the wine.
You want to stay away from wines that are oakier or that have high tannins. 
You want to buy WHOLE spices, not ground!
Resist the temptation to overheat the wine – go low and slow.
INGREDIENTS
1 large orange
1 bottle of red wine – Zinfandel, Merlot or Grenache are the best choices
¼ cup brandy – we like to use an apricot brandy
1 to 2 tablespoons maple syrup or honey, to taste (we like to add locally sourced honey)
2 whole cinnamon sticks
3 star anise
4 whole cloves
Garnishes:

Fresh whole cranberries (about ¼ cup) – this additional gives a holiday feel. Throw a handful into the mulled wine pot prior to serving
cinnamon sticks – always a great option, and you can pair this garnish with either the oranges or the cranberries (or both!) for a festive look 
additional orange rounds or half moons
INSTRUCTIONS
Slice orange in half. Take one of the halves and slice it into rounds, leaving the other half as is.
Place the rounds into a medium heavy-bottomed pot or small Dutch oven. Squeeze the juice from the remaining half orange into the pot.
Pour the wine into the pot, followed by the brandy. 
Add 1 tablespoon of either the honey or maple syrup. 
Add the cinnamon sticks, star anise, and cloves.
Warm the mixture over medium heat until it is steaming – approximately 4-5 minutes.
When you start seeing bubbles, reduce the heat to the lowest setting.
Taste the mulled wine. If it is not spicy and flavorful enough, continue cooking over the lowest heat setting for 5 to 10 minutes. 
If it is not sweet enough, add a bit more syrup or honey a little bit at a time until it is sweet enough for you.
Serve in mugs with your desired garnishes! 
Remove the from the heat, cover, and rewarm over low heat. 
Notes
You can prepare Mulled Wine in a SLOW COOKER: Combine the mixture in your slow cooker, cover, and cook over low heat until steaming, about 30 minutes to 1 hour.
Suggested Serving Equipment
This section contains affiliate links:
Cook the mulled wine in a medium heavy-bottomed Dutch oven or stainless steel pot. I love our lodge dutch oven! It is large enough to accommodate several batches of wine at once. The dutch ovens are wonderful because they retain heat well and just look so pretty when you're serving straight out of the pot.
Or, warm your mulled wine in a slow cooker. This is such an easy way to make mulled wine – especially if you want the delish fragrance to waft through your home.
Simply combine all of the ingredients, cover, and cook on low heat in the slow cooker approximately 30-60 minutes. Once the wine is warm and steaming, reduce the temperature to warm.
Serve your mulled wine with a ladle. In a pinch, you can use a heatproof measuring cup to scoop. Place a dark tea towel on a plate to give your guests somewhere to place the ladle when it's not in use.
Lastly, serve your wine in mugs. Glass mugs are fun because you can see the mulled wine inside. 
Hot Toddy
Let's warm up with some hot toddies! When the weather gets a bit of a chill in the air, it's a great time to have hot toddies. I love how easy it is to whip up a toddy or two for those chilly nights!
How to Make A Delicious Hot Toddy
The key to making a delicious hot toddy is simple! The key lies with your taste buds. It's really customizing the amount of lemon juice and honey to your liking. I've given some guidelines in the recipe, but please do play with the amounts until you have created your personal hot toddy.
Most hot toddies are crafted using whiskey; if you are not a whiskey drinker, craft one with dark rum or even brandy. Because I don't care for high rye whiskey or rye bourbon, I like mine with dark rum.
Ingredients
¾ cup water
1 ½ ounces whiskey
2 to 3 teaspoons honey, to taste
2 to 3 teaspoons lemon juice, to taste
1 lemon slice
1 cinnamon stick (optional)
INSTRUCTIONS
In a teapot or saucepan, bring the water to a simmer. Pour the hot water into a mug.
Add the whiskey (or rum or brandy), 2 teaspoons honey and 2 teaspoons lemon juice. Stir until the honey has disappeared into the hot water. Taste, and add 1 teaspoon honey for more sweetness and/or 1 teaspoon more lemon juice for more zing.
Garnish with a slice of lemon and cinnamon stick (if using). Enjoy!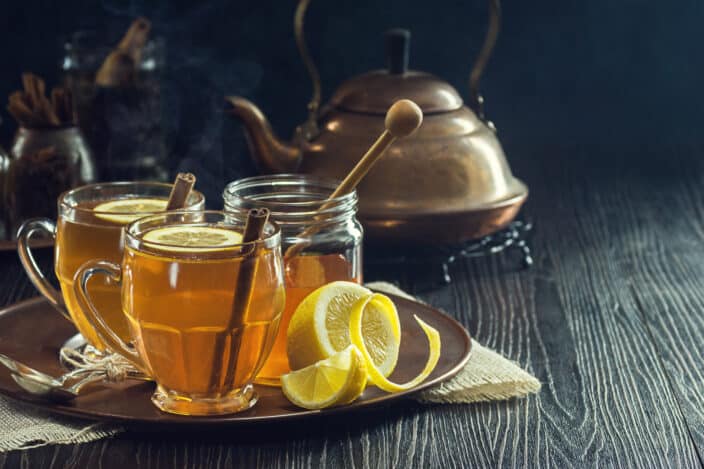 Hot Toddies for Coughs & Colds
Growing up in the South, one of the old-fashioned remedies for coughs and colds was a good hot toddy. The toddies were non-alcoholic when given to kids. 
When you are sick, you don't want to consume a lot of alcohol, so a little splash of rum, brandy, or whiskey is all you need. Your body responds well to the combination of warm water, honey, and lemon. Above all, follow your doctor's instructions!
STRESS-FREE HOLIDAY ENTERTAINING TIPS
We entertain fairly regularly, and do a lot outside around the pool or the firepit, for inside/outside entertaining. We love having our neighbors and friends join us for a weekend gathering, so easy entertaining options are key.
For true stress-free entertaining, opt for clear plastic cups for easy and simple cleanup. At the end of the party, pick up the cups and plates and toss them in the garbage. So that means plastic glasses and plastic plates.
We are choosing to use nice elegant plastic plates and, of course, real cutlery. We are decorating on a smaller and simpler scale as well, making our holiday entertaining easy and simple.
Tip: We buy plates, cups, and napkins in bulk for entertaining. This saves us not only time, but also money when we entertain, and keeps us on budget.
MY TOP PARTY PLANNING TIPS
Party Decorations
My top entertaining tip is to keep things simple! Use items that you have. I have loads of quote blocks, so I'll pull one or two of those to decorate my table, along with a colorful table runner. Then I'll add some candles in varying sizes, a cute cutlery container to tame the silverware, and even some sprigs of greenery or flowers. Your flowers do not have to be real either.
Plan Ahead
If you plan ahead of time, you won't be spending time the day of the cocktail party prepping the food. To save time, we will prepare our food the day before, and put it in the fridge. Be sure to save fridge space for chilling wine and other cocktail ingredients to go on your bar cart. 
Planning ahead will make hosting a holiday party manageable, and you will be able to enjoy the party and your guests.
Holiday entertaining does not have to be full of stress, and you don't need to be running around making sure everything is perfect. These easy holiday entertaining tips will allow you to relax, breathe, and enjoy your guests.
Tip: Planning a party can be stressful! But what if you could tame the chaos and stress? Check out this Yearly Planner with Monthly Entertaining Planning Pages to help tame the stress of entertaining.
CHECK OUT WHAT'S NEW ON BETSI'S WORLD
Drop a comment below and let us know your favorite holiday entertaining tip!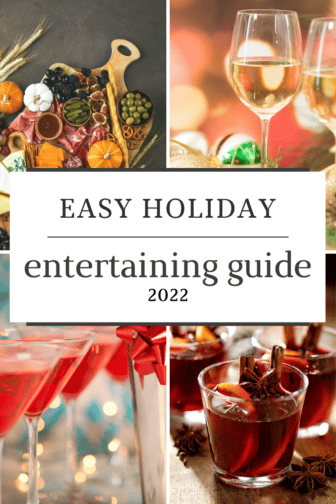 Other Recipes You May Like