Caprese salads are one of those dishes that is always beautiful, impressive, and delicious. Let's face it, anything with fresh mozzarella cheese is a treat. The combination of fresh tomatoes, fragrant basil and creamy mozzarella results in a satisfyingly fresh bite every time.
Caprese salads are wonderful for lunch or as a dinner appetizer. Perhaps you've only had this Italian salad at a restaurant, not daring to try it at home. Well, I've got a simple recipe that takes no time and can be dressed up or down for the occasion!
Origins Of the Caprese Salad
The Caprese salad originated in the Island of Capri, Italy in the 1950s. The colors of the ingredients represent the Italian flag: red, green and white. Caprese is served as a salad, appetizer, on a sandwich and on pizza. It features staple ingredients in Italian cooking: olive oil, tomatoes, mozzarella, and basil.
How To Make a Caprese Salad
This Caprese salad recipe only requires a few ingredients, but has the ability to be customized to your taste. Because this salad is simple, it is important to have high quality ingredients to ensure that the salad tastes its best.
There are many variations of this popular Italian salad. Ranging from the type of mozzarella, tomato, olive oil and glaze or sauce you use on it. I have included my recommendations for how to make the best caprese salad and given options for how to customize it.
Caprese Salad Ingredients
Tomatoes
Tomatoes are one of those items that some people either love or hate. I have found that liking tomatoes as whole, has a lot to do with which types you've tried. If you go to the grocery store you will find a plethora of different kinds of tomatoes: heirloom, ugly ripe, grape, cherry, vine ripened, black, campari…the list goes on. But which tomato is the right one for you and your caprese salad?
This Caprese salad recipe calls for large heirloom tomatoes. I prefer this type of tomato because they are flavorful and have a great firm and hearty texture. Other large to medium tomatoes can turn out mealy on the inside or too wet. Heirloom tomatoes are large, sometimes with an odd shape and many ridges on top. However, they won't become wet and limp when cut which is important in this salad. The tomato needs to be able to hold up mozzarella, basil and glaze without becoming a soggy mess.
Mozzarella
There are a few different types of mozzarella cheese to choose from. Of course, if you can get your hands on it, choose one from Italy. Generic grocery store mozzarellas can sometimes taste a bit like plastic. The best options would be to get Bufala mozzarella. This mozzarella is made from the milk of a water buffalo and is much richer in flavor. However, it is a bit harder to find and can be more expensive.
If you can't find buffalo mozzarella, sticking with a cows milk recipe will work just as well. Just make sure its fresh and comes in a log or sphere for slicing. Alternatively, you can choose mozzarella balls that are marinated in an olive oil and herb mixture. This would work well for a chopped Caprese salad where the ingredients are small and mixed together in a bowl.
Balsamic Glaze
To make the balsamic glaze, heat 1 cup of good balsamic vinegar over medium-high heat until it begins to boil. Reduce heat and simmer until the liquid is reduced to about 1/3 of its original volume, stirring continually. When the liquid becomes thick and syrupy, it is ready to use.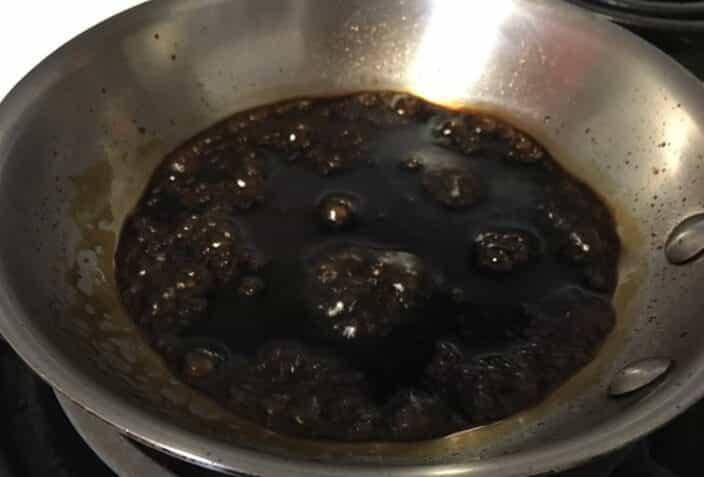 If you are not fan of balsamic vinegar, you can try using a pesto. They have some great Italian pestos in the grocery store or make it at home. All you need is olive oil, pine nuts, garlic, parmesan cheese, basil and lemon!
Basil
If you can get it, grab organic fresh basil to use in this recipe. Basil plants are surprisingly easy to take care of in a kitchen windowsill. If you like Italian cuisine and enjoy cooking, I highly recommend buying a basil plant. This way you can have fresh basil at all times! It smells amazing too.
Olive Oil
For this salad, you want to choose a high quality olive oil. Extra virgin, organic olive oil from Italy or Greece would be an ideal choice as a topping for your Caprese salad. In the Mediterranean, the flavor of olive oil really matters, as it often time the star of the dish.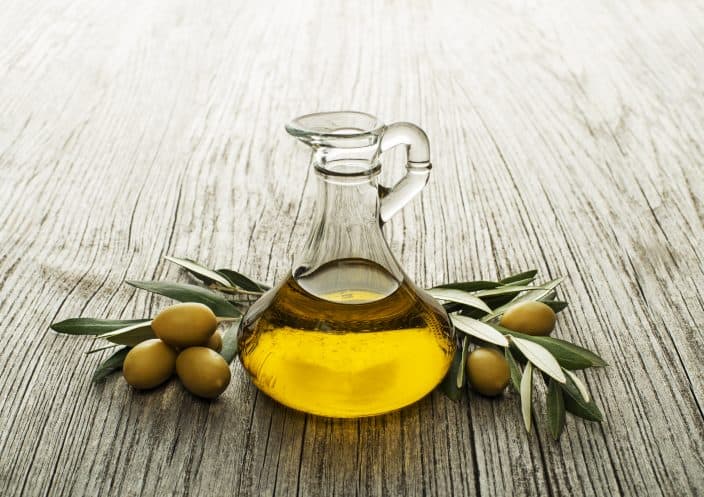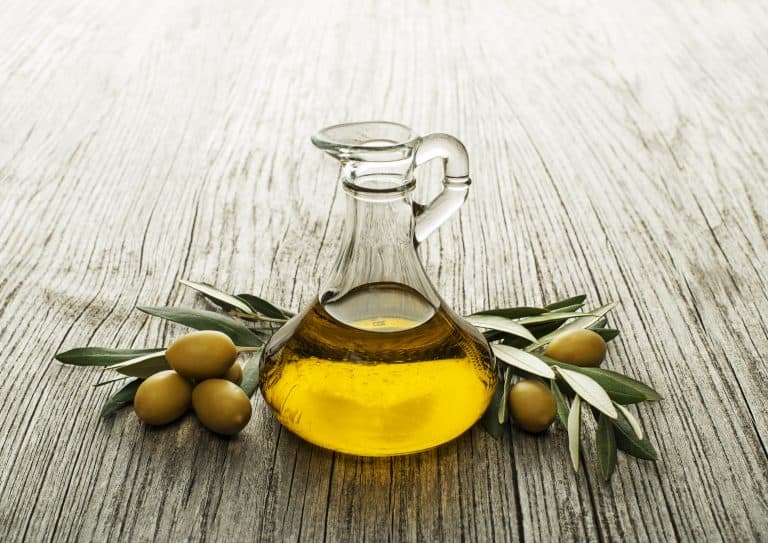 In order for your Caprese salad to really shine, you want to use an olive oil that will enhance and blend well with the flavor of the dish, not muddy it. Choosing an extra virgin olive oil will ensure that the olives have not been heated and blended with other processed oils. Extra virgin olive oil is made by blending olives and then pressing them to extract the oils. In this way, the oil, flavor, and nutrients remain intact.
Assembling The Mozzarella and Tomato Salad
To assemble this recipe for Caprese salad, thoroughly wash and pat the tomatoes and fresh basil dry. Slice tomatoes into evenly sized pieces, approximately ¼" thick, and set aside. Discard the bottom and top pieces. Then, slice fresh mozzarella into ¼" thick pieces, as well.
On a plate, place a tomato slice and then layer a mozzarella slice, followed by a couple basil leaves. You can repeat this a few times per plate if you are making individual servings. Alternatively, arrange the stacks in a circular pattern around the edge of a serving platter. You can also make each serving a "high stack" piling the tomato, mozzarella, basil combination on top of each other 3 times. This makes a dramatic presentation, great for a dinner party. Drizzle each little stack or arrangement with your extra virgin olive oil and add a crack of salt and pepper.
Finally, garnish the caprese salad with the balsamic glaze. Wait for it to cool before you drizzle it, either with a spoon, or with a squeeze bottle. For entertaining guests, I recommend pouring the glaze into a bottle, that way you can make a beautiful design or pattern on the salad. If you choose to use pesto instead or as well, drizzle it in the same fashion as the balsamic glaze.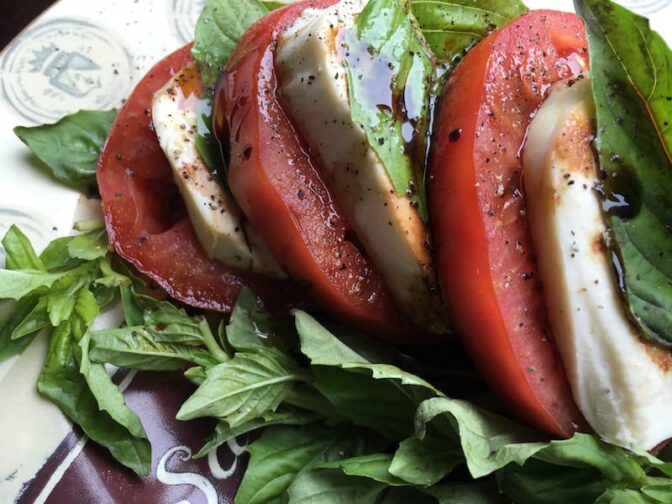 This post may contain affiliate links which won't change your price but will share some commission. As an Amazon Associate I earn from qualifying purchases.
Tools You Need To Make A Caprese Salad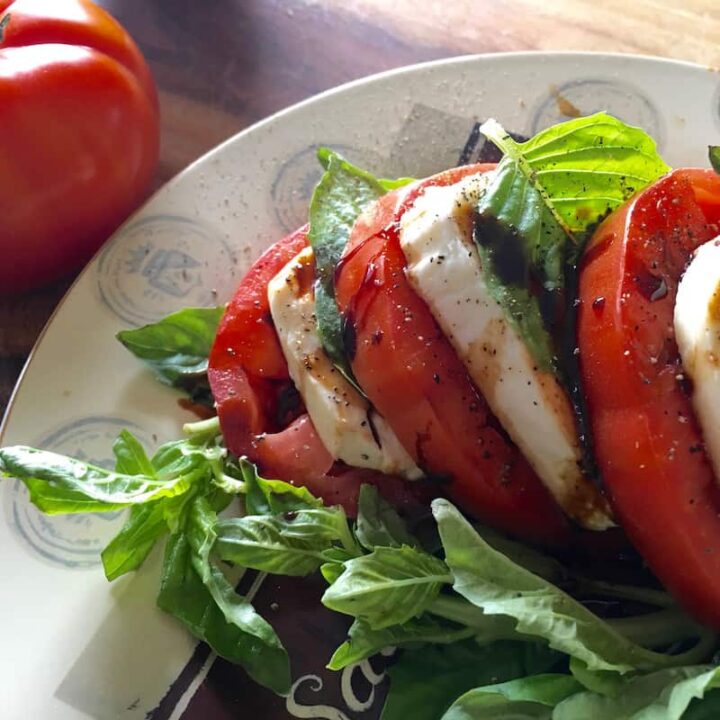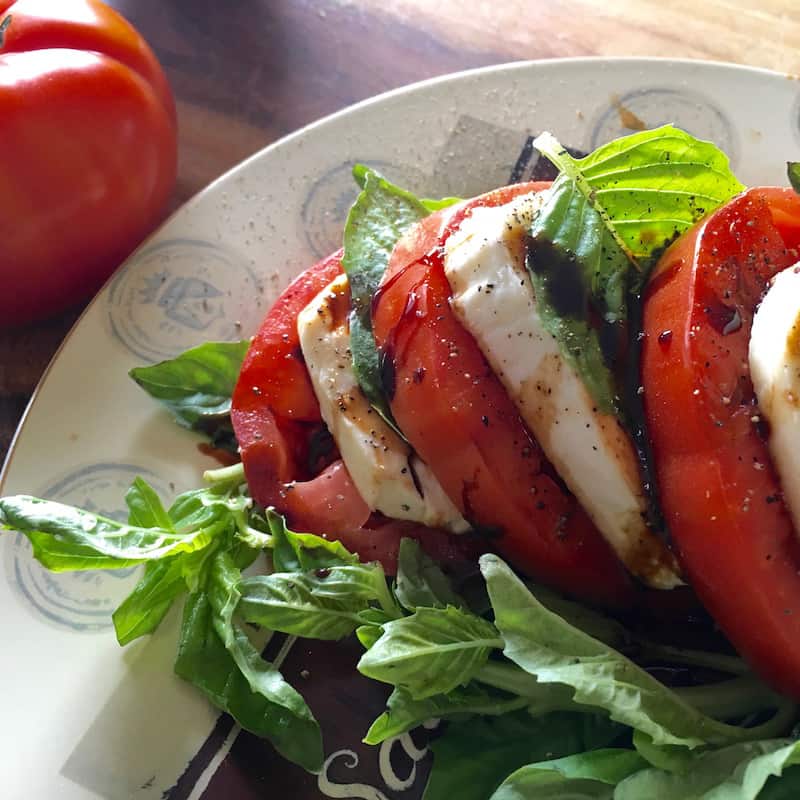 Caprese Salad
Additional Time:
15 minutes
Caprese salad is a great healthy appetizer that is packed with protein. This recipe adds a rich and syrupy balsamic glaze instead of pure balsamic vinegar to top it off. Combined with good quality extra virgin olive oil this classic shines!
Ingredients
4 large ripe tomatoes
12 oz. fresh mozzarella, large ball
1 large bunch fresh basil, washed and dried
3 T. extra virgin olive oil
1 cup of balsamic vinegar
salt and pepper, to taste
Instructions
Thoroughly wash and pat tomatoes and fresh basil dry.
Slice tomatoes into evenly sized pieces, approximately ¼" thick, and set aside. Discard the bottom and top pieces.
Slice fresh mozzarella into ¼" thick pieces.
On each plate, start with a tomato slice, followed by mozzarella and a large, fresh basil leaf.
Repeat this pattern until you've added 1 tomato and approximately 3 oz. of mozzarella to each plate, finishing each arrangement with a tomato slice.
Drizzle with high-quality extra virgin olive oil.

Balsamic Glaze

Heat 1 cup of good balsamic vinegar over medium-high heat until it begins to boil.
Reduce heat and simmer until the liquid is reduced to about 1/3 of its original volume, stirring continually.
When the liquid becomes thick and syrupy, it is ready to use.
Let glaze cool before drizzling over the fresh tomato, mozzarella and basil.
Season with salt and pepper to taste and garnish with additional sprigs of fresh basil, if desired.
Nutrition Information
Yield

5
Serving Size

1
Amount Per Serving
Calories

308
Total Fat

21g
Saturated Fat

8g
Trans Fat

0g
Unsaturated Fat

11g
Cholesterol

44mg
Sodium

425mg
Carbohydrates

16g
Fiber

2g
Sugar

12g
Protein

14g
The Best Dinner Salad
Caprese salads are a great option for a dinner or lunchtime salad. They are filling, packed with protein from the cheese, and refreshing. Plus, meals are so much more enjoyable when they are beautiful and a caprese salad is certainly that! There are many ways to serve this italian inspired salad, whether you opt for balsamic or pesto, mozzerella balls or whole slices. Whichever way you choose to serve it, I'm sure you and your guests will love it!
Have you ever had a Caprese salad? How do you like to make them? We'd love to hear from you in the comment below!
CHECK OUT WHAT'S NEW ON BETSI'S WORLD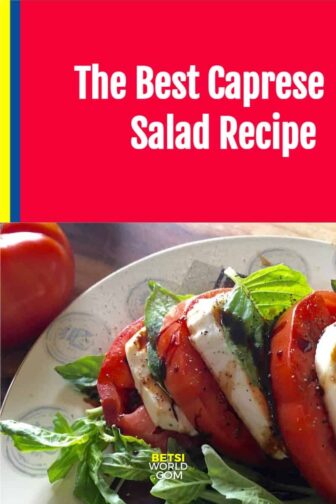 Other Recipes You Might Like