Packing Tips for Packing Efficiently & Effectively for Two Weeks
Do you love to travel but hate the thought of packing? The struggle is real, but these packing tips will help you tame the beast of packing in no time and you'll be on your way!
I used to, in my former life, overpack. Always. I was the girl who took two suitcases for a weekend away. And I never wore half of what I had packed. Ever. Figuring out what is essential to pack in your carryon is the first thing to focus on.
And then, I was forced to downsize – I mean really downsize. As in we sold our big, beautiful house – all 3500+ square feet of house, and moved onto our 47-foot sailboat. And I had boatloads (no pun intended!) of clothes. Some I had never worn.
So I learned quickly the joy of downsizing and simplicity. And once I embraced this new, simplified downsized lifestyle, I fell in love with it.
So much so that the girl who used to pack two suitcases for a weekend away, is gone and is replaced by a gal who lives by packing tips and lists and is always ready to hit the road for an adventure! Don't forget to use packing cubes whenever you pack – these are lifesavers!
This post contains affiliate links. When you make a purchase through these links Betsi's World receives a small commission at no additional cost to you. As an Amazon Associate, I earn from qualifying purchases.
So grab a cup of coffee and I'll share my packing tips and secrets!
Packing Tips
Packing Warm, Tropical Climates
For a two week trip to a warm climate, like Mexico, I typically pack 4 short dresses, 1 or 2 maxi dresses, 2 pair of capris, 2 pair of shorts or skorts, 2 lightweight tunic tops, 3 t-shirts, 2 bathing suits, a large scarf that can double as a shawl and a sarong to cover my bathing suit and a jacket or sweater I can wear on the plane if it is chilly. Shoes are easy – a dressy pair of sandals (if needed) a pair of day-to-night sandals and light-weight tennis shoes, with socks tucked in.
When I pack my accessories, I carry a large tote bag that can double as a beach bag, and toss in a small cross-body purse that doubles as a wallet, a pair of sunglasses, my reading glasses, a statement necklace, 2 cuff bracelets and 2 pair of earrings along with my cosmetics.
If you are planning a trip to Disney, you will want to include these essentials: portable battery charger, your magic bands, a backpack for navigating the parks, and sunscreen and a hat.
Packing for Cold Winter Climates
For a trip to a colder climate, I typically pack 4 pairs of leggings, 2 medium weight tunic tops, 1 medium weight longer length jacket to layer, 3 tank tops, 2 sweaters, and three pairs of jeans (I wear one pair on the plane). For shoes, flat, comfortable, knee-high boots in suede that can be folded in thirds and packed on the bottom of your suitcase (along with 2 pair of knee-high hosiery socks tucked in the folds), light-weight tennis shoes and a pair of neutral-colored flats that I wear on the plane, along with an all-weather lined raincoat.


My accessories remain the same as for warm weather climates and are placed in a large tote bag along with my cosmetics, and a cross-body purse.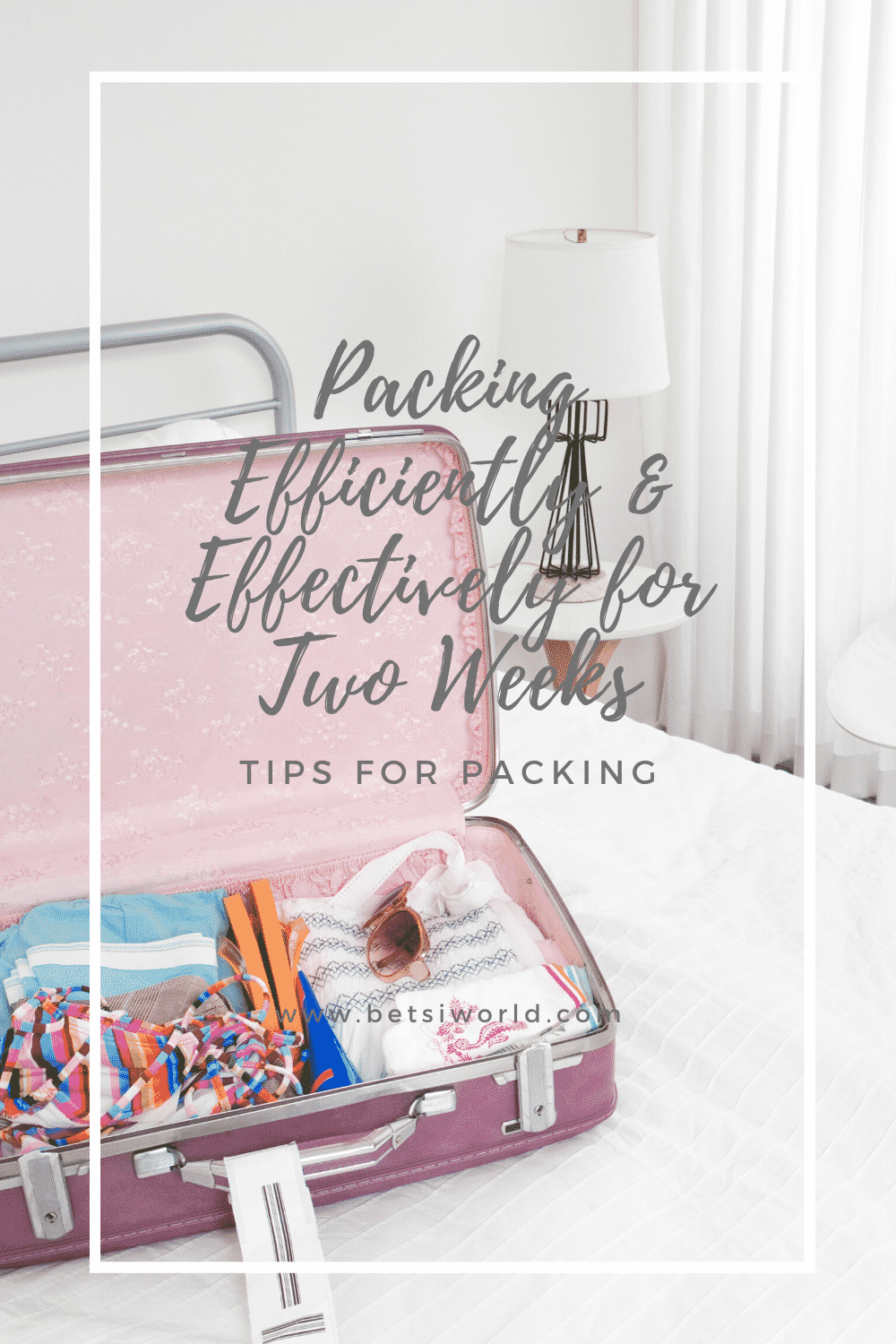 Top Packing Tips & Secrets
I begin my packing by reviewing where we are going. Is it going to be warm? Is it going to be cold? Or will it be warm during the day and chilly at night? Once I have done a weather check, then I can begin the process of choosing my clothing. I usually lay ALL of the possibilities out on the bed.
Step two is to decide on a color "theme" to ensure I will not overpack. If I am confident that I will be traveling for less than 5 hours I can choose clothes that may wrinkle, but don't have time to let those wrinkles "set in" (I hate to iron, and I refuse to iron on vacation!).
The third step is to begin to put outfits together for each day, or each activity. After this step, I usually have only decided to take about half of what I originally pulled out of my closet. So I now put away those clothes that I have decided NOT to take.
Once step three is complete, the rest is fairly easy. I gather my undergarments together and add them to the stack of items to be packed. I gather a swimsuit or three (depending on the locale and mode of transportation) and add these to the stack to be packed.
And finally, it's time for footwear. I always take a pair of light-weight tennis shoes for fitness and walking/hiking. If the occasion calls for dressier clothes I will take a pair of dressy flat sandals. If not, I will put in a pair of walking sandals and a pair of sandals that can be worn day to night.
Step four is the actual packing stage. To even out the bottom of the suitcase, shoes are wrapped in grocery bags (you can later reuse these for dirty laundry, or damp swimsuits). Then it is on to pants, shorts, and skorts. These are laid out, and then rolled, bottom to top. Roll your pants and put into my suitcase. Next, are dresses. They are rolled and put into the suitcase (placed next to and on top of the previous layer). Following the dresses are tops; rolled and placed on top of dresses. On top of the dresses (unless your suitcase has a zippered compartment) place your undergarments (and bathing suit). If you have dress clothing – suits, fancy dresses, etc, place these in an old dry-cleaning bag (or garbage bag) and place on top.
Cosmetics are all travel size. I place a small square of saran wrap over my bottles and then cap the bottles to prevent spills. All of my liquids are placed in a quart size bag for TSA. When cleared through TSA the bag will be tossed in my tote bag. All of my makeup is in powder form, so no need to separate it for TSA.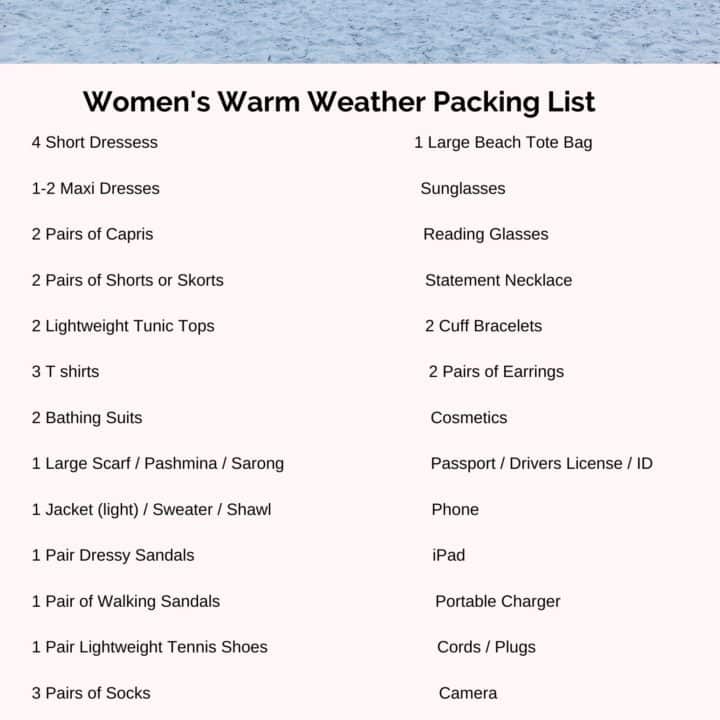 Subscribe to our Email List and Get Your Free Printable Warm Weather Packing List, Cold Weather Packing List and Our Top Packing Tips!
There you have it – the top packing tips that keep me on track and organized when traveling! For the travel gear that we use and packing resources, click here.
You May Also Like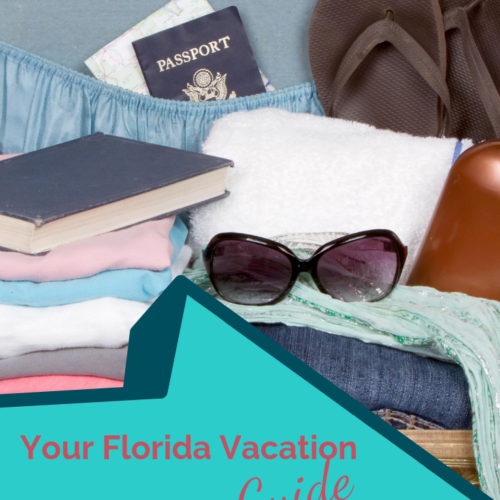 Your Florida Vacation Packing Guide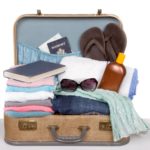 Packing Tips for a Weekend Getaway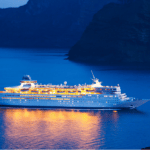 10 Things to Love About Cruising