The Best Cauliflower Leek Soup
Cauliflower Leek soup may sound like an odd combination but let me assure it, its delicious! The cauliflower makes this soup super rich and creamy while the leek adds oniony flavor.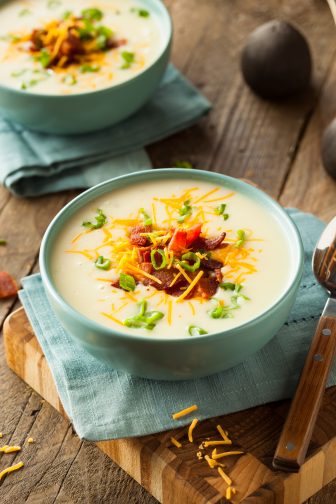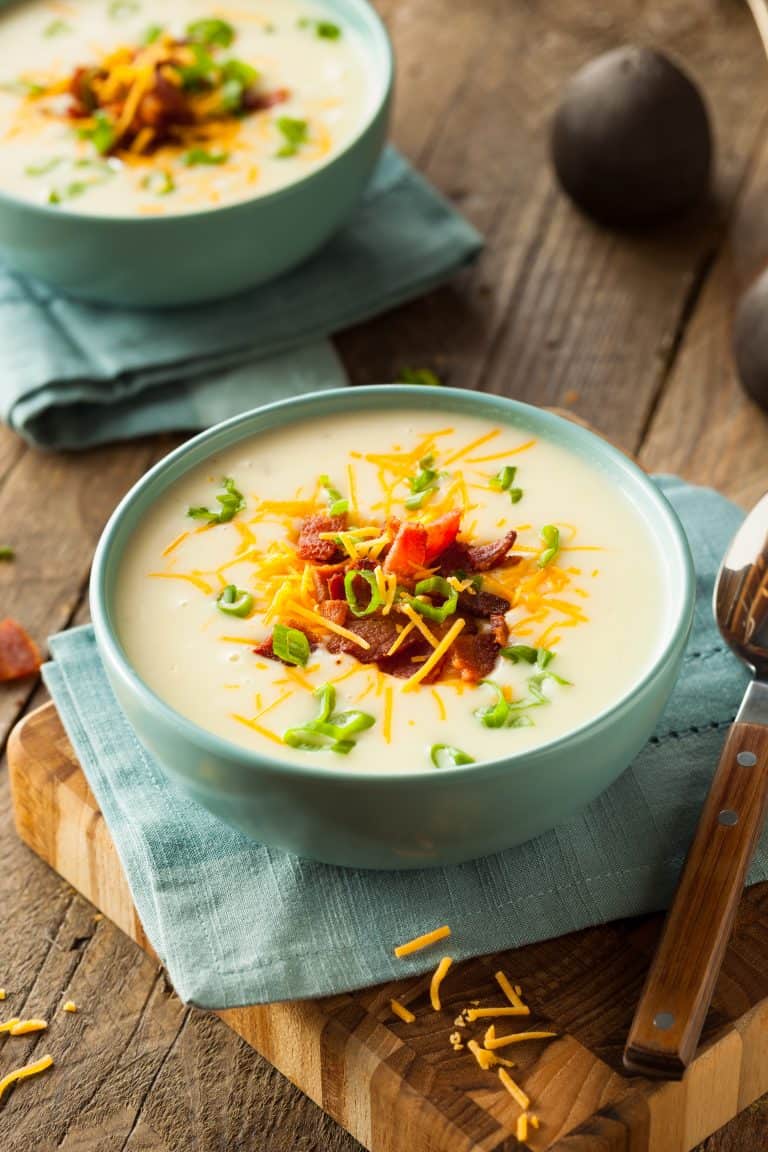 Plus, its packed with veggies, making it delicious and nutritious. Don't miss out on this easy and filling soup.
What are Leeks
Leeks are in the onion family, but they have a milder sweeter flavor. They are a wonderful addition to soups because they add an interesting flavor without being over powering.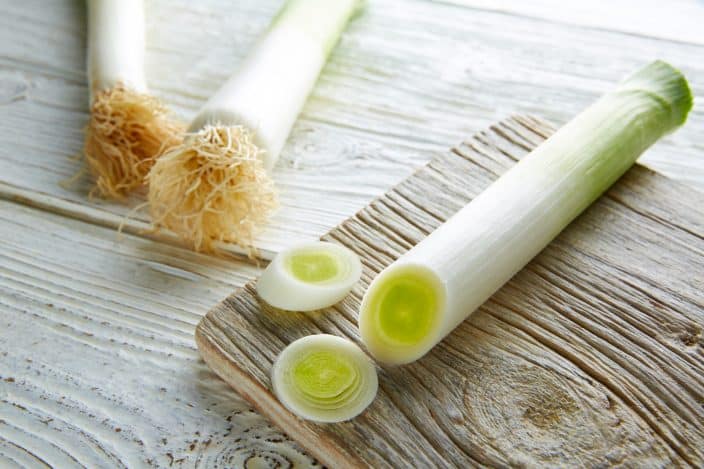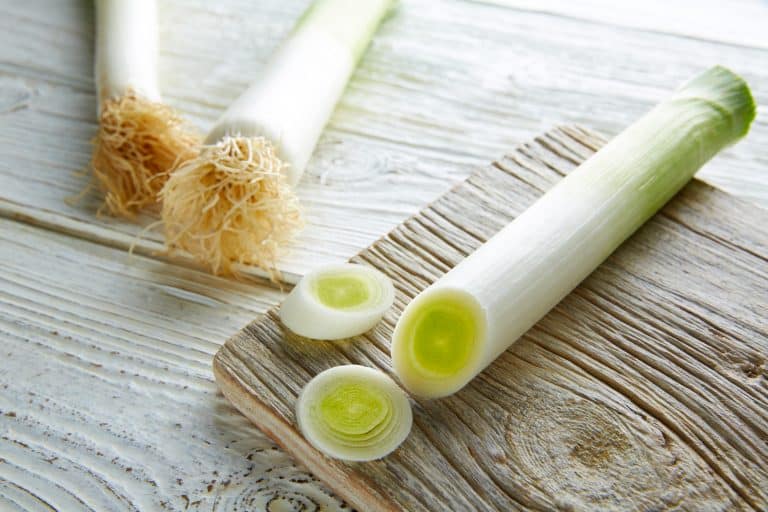 Leeks are also low carb and high in vitamins A, C, and K. When using leeks you want to focus on the white part, as that is the most pleasant to eat. You can even used them grilled as a side dish!
Low Carb Soup
As the name suggests, this soup is made primarily from cauliflower. It also contains cheese and chicken broth, making it a low carb soup. Eating low carb soups are a great way to keep your blood sugar from rising and to feel fuller for longer.
Plus, this one tastes delicious! If you've never tried substituting cauliflower for potato, you're in for a treat!
How To Make Loaded Cauliflower Soup
For this cauliflower soup recipe you will need an instant pot and about 20 minutes of time. I love how fast this recipe comes together because of the pressure cooker. Whenever I'm craving comfort food like baked potato soup, I make this recipe. Its so good and guilt free!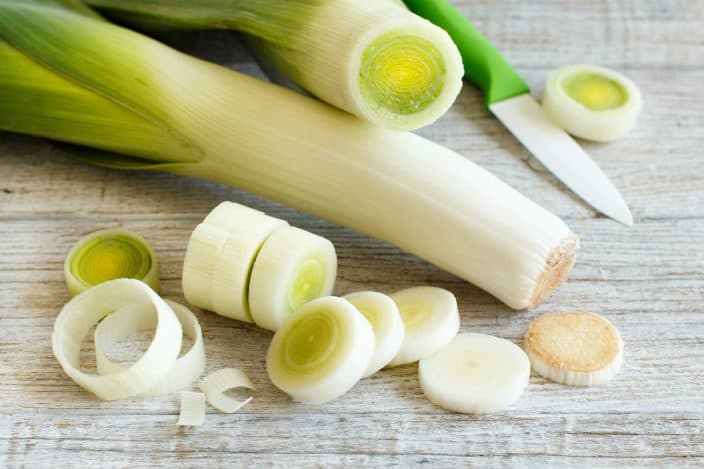 To begin, you will need to slice up your leeks, using only the white part, discard the leafy portion. Chop your cauliflower into small chunks and peel your garlic. Add the leeks, cauliflower, garlic and chicken broth to your Instant Pot or Pressure Cooker.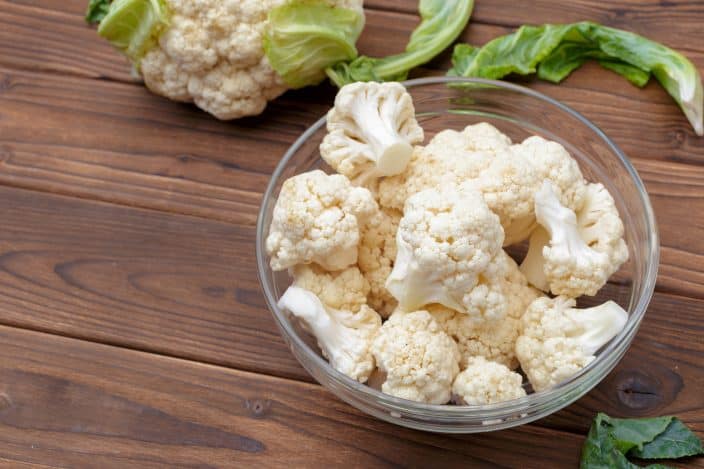 Season the ingredients with cinnamon, salt and pepper. The addition of cinnamon may seem like an odd spice to add but it gives the soup the spicy warming kick that it needs!
Set your instant pot to "manual" and cook for 9 minutes. After the ingredients have finished cooking allow the pressure to escape before adding your cheeses. The mix of cheeses in this cauliflower soup recipe makes it creamy and tangy at the same time.
I chose to use goat cheese, cream cheese and sharp cheddar. However, you can use any type of cheese you like. If you desire a less tangy flavor, substitute the goat cheese for something mild like mascarpone cheese.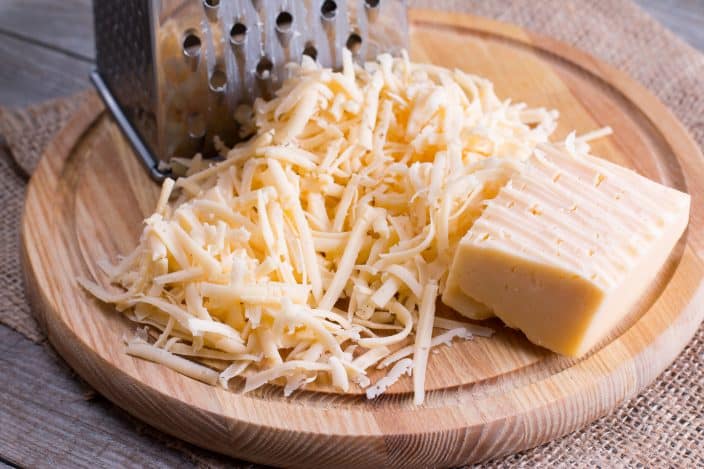 Slowly mix in your cheeses until fully melted and smooth. Then transfer your soup to a blender or use an immersion blender to whip everything together into a creamy homogeneous mixture.
This low carb loaded cauliflower soup can be served chilled or warm. It is delicious either way. If you are planning on serving it chilled, transfer the soup to an airtight container and store it in the fridge. If you would like to eat it warm, ladle it into bowls and serve right away!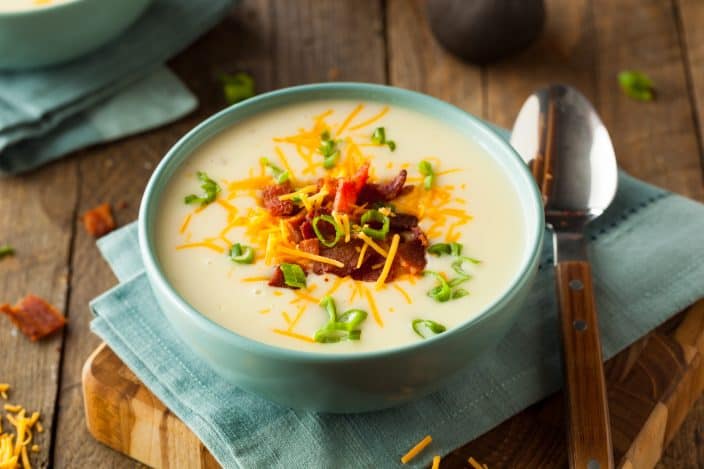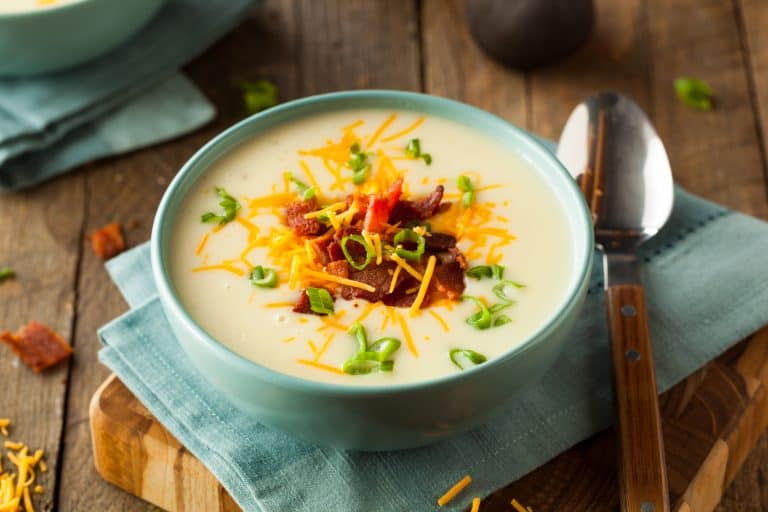 Don't forget to top this soup with your favorite baked potato toppings. Bacon crumbles, green onions, chives, extra cheese, sour cream and even edible flowers make this cauliflower soup delicious and beautiful.
 This post may contain affiliate links which won't change your price but will share some commission. As an Amazon Associate I earn from qualifying purchases.
What You Need To Make Cauliflower Leek Soup
Instant Pot. Any pressure cooker will work here. You may also cook this in a regular pot on the stove but it will take much longer.
Sharp Knife. Make sure you have a heavy-duty knife to cut through the cauliflower.
Cutting Board. For chopping up your cauliflower, leeks, and toppings.
Blender or Immersion Blender. Blending your soup after the ingredients are softened makes the soup super creamy and potato-like. You don't want to skip this step!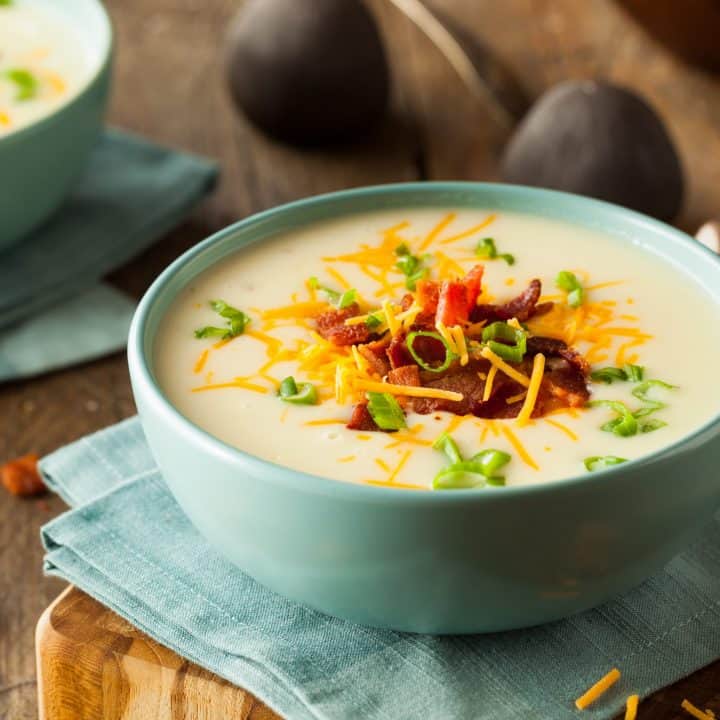 Loaded Cauliflower Leek Soup
This low carb soup is a wonderful alternative to loaded baked potato soup. The combination of cauliflower, cheese and leeks results in a creamy, rich and flavorful soup everyone will love.
Ingredients
3 large leeks, sliced white part only
1 medium head cauliflower, cut into small chunks
3-4 whole garlic cloves, peeled
3 C. chicken broth, divided
1 T. ground cinnamon
4 oz. goat cheese
4 oz. cream cheese
4 oz. sharp cheddar cheese
sea salt and black pepper, to taste
3 strips cooked bacon, crumbled (optional)
2-3 green onions, thinly sliced (optional)
1/2 C. sharp cheddar cheese, grated (optional)
edible flowers (optional)
Instructions
Add leeks, cauliflower, garlic, chicken broth, and
cinnamon to Instant Pot. Season with salt and black pepper, to taste.
Add lid and lock into place. Switch vent to "Sealing" position and set
the "Manual" setting on high before adjusting the cook time to 9 minutes. After
a brief pause, the Instant Pot will automatically start building pressure.
When finished cooking, do a quick release (QR) to allow the pressure to
escape. Unlock and carefully remove lid. Add goat cheese, cream cheese, and
sharp cheddar to the container and stir until cheese is completely melted.
When finished cooking, do a quick release (QR) to allow the pressure to
escape. Unlock and carefully remove lid. Add goat cheese, cream cheese, and
sharp cheddar to the container and stir until cheese is completely melted.
Transfer soup to an airtight container and store in the refrigerator until chilled or serve warm. To serve, transfer to individual serving bowls and top with crumbled bacon, green onions, grated cheddar cheese, or edible flowers, if desired. Enjoy!





Nutrition Information
Yield

6
Serving Size

1
Amount Per Serving
Calories

316
Total Fat

23g
Saturated Fat

13g
Trans Fat

0g
Unsaturated Fat

7g
Cholesterol

64mg
Sodium

959mg
Carbohydrates

13g
Fiber

4g
Sugar

5g
Protein

17g
---
This low carb cauliflower soup recipe is one of my all time favorite soups. I love being able to mix up the cheeses or veggies I use in it and best of all, its healthy!
Try this out next time you are short on time or craving loaded baked potato soup. What kind of cheeses and topping would you add to this soup? Let us know in the comments below!
CHECK OUT WHAT'S NEW ON BETSI'S WORLD

Other Recipes You Might Like