Active Toddler Gift Guide
Do you have an active toddler on your holiday gift list this year? Then you know just how hard it is to find a great toy for a toddler who just can't sit still! Active toddlers are difficult to buy for because not just any toy will due.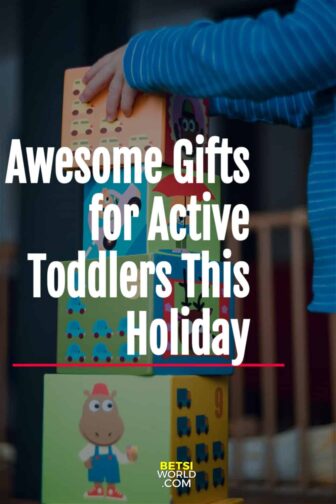 In addition to being engaging, toys for active toddlers also need to be able to meet or exceed their high energy level. That's a tall order for a toy! But don't worry, I've done my research and found some awesome gifts for active toddlers.
15 Awesome Gifts for Active Toddlers
Crawl-Through Tunnel
The bright colors and fun design on this adorable crawl-through tunnel will surely intrigue an active toddler. They'll be hooked when they start crawling back and forth through the tunnel and popping out the peek-a-boo flaps at each end. This crawl-through tunnel also helps develop arm, leg muscles and motor skills. This is a great gift for an active toddler who is crawling all over the house!
Magic Moves
Do you know a toddler that always comes to you for active play ideas? They'll love this fun gift, which offers 90 kid-friendly commands that will keep them moving for hours! They will have a blast running like a cheetah, slithering like a snake, and flying like a butterfly thanks to Magic Moves.
Bowling Friends
The adorable pins make this toddler bowling set a perfect option for an active little one. The pins are printed with fun colors and numbers to encourage counting skills. The bowling pins are also made from a soft material, so no accidents or injuries here! This is a great gift for toddlers who want to play games their friends.
Wheely Tiger
What active toddler could resist this adorable ride-on tiger? On top of being super cute, they're also a great way for little ones to burn some energy. This ride-on toy comes with an easy-to-grip handle, multidirectional castors on the bottom, and a cushioned seat. Therefore, you can be sure that the toddler will be safe each time they ride on their Wheely Tiger. What a fun gift!
Sit 'n Spin
This classic toy is another great gift option for an active toddler. The concept of the Sit 'n Spin is simple – just sit on the seat and spin the wheel in the center for endless active fun. Kids can control the speed of spinning by pushing or pulling the center wheel. Just make sure you put some pillows down around them for the dizzy aftermath!
Pogo Jumper
If you're searching for a fun and safe toy that will wear toddlers out, this foam pogo jumper is it! Kids will have a blast jumping up and down on the foam base and keeping track of how many jumps they can do thanks to the handy jump counter on the handle. This gift is great for building coordination skills as well as balance in active toddlers!
Bilibos
If you're searching for a versatile gift for an active toddler, this is it. Bilibos are fun open-ended toys that can be used in a variety of way. For example, they can be stacked, nested, or float. Toddlers can use them as fun wobbly seat, a row of stepping stones to balance on or a shovel. The possibilities are endless with a great imagination.
Balance Stepping Stones
Help little ones improve their balance and coordination while also having fun with these balance stepping stones. These durable (yet soft) stones are perfect for creating indoor obstacle courses without the need for big equipment that takes up a ton of space. Toddlers will thank you for this awesome gift.
Musical Gifts For Active Toddlers
Learn and Groove Musical Mat
The fun kid-friendly songs and pictures on the Musical Piano Mat are perfect for keeping toddlers actively engaged. This mat teaches kids to create their own songs by dancing across the keys. It also includes 8 unique instruments sounds like the Piano, Accordion, Saxophone and Xylophone. The mat is made from non toxic soft materials which makes it easy to clean and safe for kids. This is a great gift to get toddlers invested in music and dancing around!
Pull and Sing Puppy
The combination of active play and educational elements in this cute toy make it perfect for young toddlers who are just starting to walk. They'll love pulling the cute Pull and Sing Puppy behind them as they walk. And since this cute toy is made by Vtech, you can be sure there are plenty of opportunities for learning as they play. Your toddler can learn colors, body parts, and numbers thanks to the puppy's educational songs and activities.
Sports Gifts For Active Toddlers
Toddler Basketball Set
If you know a toddler that is starting to show an interest in sports, they'll love this mini basketball hoop. In addition to helping them develop their coordination and motor skills, this simple toy will also give them a chance for some imaginative play while they burn off some energy. Plus, it's adjustable so they'll be able to play with this gift indoors or outdoors!
Hover Soccer Ball Set
If soccer is more your kid's speed, this hover soccer ball set is a great option! They can play with the hover ball indoors without worrying about breaking something inside the house. And when the weather warms up, they can take the included toddler-sized soccer ball outside for some outdoor fun.
 This post may contain affiliate links which won't change your price but will share some commission. As an Amazon Associate I earn from qualifying purchases.
Fly Bike
This awesome foldable tricycle is a perfect gift for active toddlers itching to hop on a bike. This cool toy is a hybrid tricycle and scooter, making it easy for younger kids to ride because it doesn't have any pedals. Instead, toddlers ride the bike by pushing with their legs and balancing on top. But the part you'll love about the Fly Bike is that it folds up for easy storage when it's not in use.
Folding Gym Mat
It's hard to get active kids outside during the cold winter months. But with this folding gym mat, your little one can have a blast flipping and rolling around inside. The extra padding makes it safer for active play indoors and when your kids are finished practicing indoor gymnastics, you can easily fold it up and put it away. This is a great gift for toddlers who are into gymnastics or will beginning it soon!
Mini Trampoline
A trampoline is a great way to keep active toddlers entertained. But if you don't have the space for a full-sized trampoline, don't let the kids in your life miss out on the fun! This mini trampoline is perfect for bouncing and jumping indoors.
---
Parents and toddlers alike will thank you for getting them a gift that lets them get out all that energy. This active toddler gift guide is so diverse you're bound to find something to fit the toddlers in your life. Give parents a break by gifting one of these awesome toys this holiday season.
CHECK OUT WHAT'S NEW ON BETSI'S WORLD
Which one of these gifts looks the best to you? Do you have any go-to gifts for active toddlers? We'd love to hear from you in the comments below!
Other Gift Guides You May Like