Looking for the best coffee gifts for the coffee lovers in your life? Possibly one of the most important guides of the season, caffeine addicts will thank you for these gorgeous and functional gifts!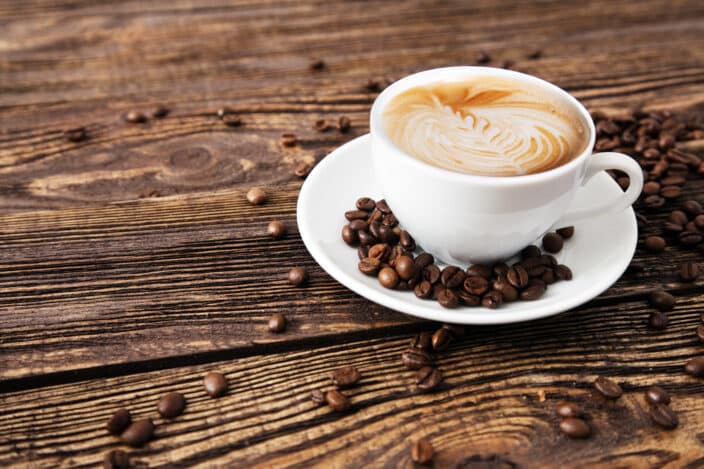 There is nothing better than waking up in the morning and heading straight for an amazing coffee bar set up. These gifts are guaranteed to add to and elevate your favorite coffee lovers morning brew station!
The Best Coffee Maker Gifts
A classic favorite, this Keurig Coffee Maker is ideal for those who like no fuss, but delicious coffee. Make your coffee hot or iced in 5 different sizes with this all in one machine. With its adjustable brew temperature you can make the perfect cup of coffee or make oatmeal on demand! I love this machine for those mornings when I want a quick pick me up that still tastes great.
The reliable Keurig comes in mini! For those who don't have a ton of space on their kitchen counter this coffee machine comes in a few fun colors and fits everywhere. The sleek design and foolproof instructions make it an easy way to get your morning cup of joe. If you are someone who enjoys just one cup of coffee for the day this will surely be a welcome addition to your home. Because of its size, this K-Mini is also the perfect gift for a college student or to place in an office. 
Chemex Pour-Over Glass Coffeemaker
For those who enjoy the slow and relaxing process of brewing pour over coffee, the Chemex is the one to use! Its beautiful design is a delight for those who like to display their coffee set up on the counter. Its patented shape and spout allows for the most aroma as well as taste to develop resulting in the perfect cup of coffee!
This one is for the french press lovers. The Bodum French Press brews a cup of coffee in just 4 minutes! Additionally, the mesh plunger doesn't let any of the coffee grounds slip by into your perfect cup of coffee, a true bonus! The crystal clear glass and sleek design of the Bodum French press makes it a winner for any homemade coffee lover. 
The Best Coffee Gifts For Frothing Milk
For the stylish coffee lover in your life the Smeg Milk Frother is a dream. It comes in multiple colors like pale blue, red, black, white, as well as pastel green. Stylish and functional, this milk frother can make cold foam (light or thick), hot foam (light or thick), hot chocolate, and hot milk. The aesthetics and 6 functions available plus its easy use and clean up make this gift great for the cappuccino lovers in your life.
Aerolatte Handheld Milk Frother
This easy battery powered, handheld milk frother creates the perfect layer of foam in 30-60 seconds. Emulsify syrups and other coffee additions easily into your milk to make a flavored latte! The Aerolatte makes a thick layer of foam in cold, as well as warm liquids. 
The Best Coffee Gifts- Mugs & Travel Cups
Double Walled Glass Coffee Mugs
Keep your coffee hot in this beautiful doubled walled glass coffee mug. The double wall ensures that your drink stays insulated without burning your hands. They also look beautiful on a coffee table!
Ember Temperature Control Smart Mug
The perfect coffee gift for both caffeine addicts and tech lovers, the Ember Mug is a "smart" cup! It keeps your coffee warm at your desired temperature for 1.5 hours, ideal for those slow sippers. Plus, you can now control it from your smart phone. Don't worry about the battery running out, this mug has smart sensing and automatically turns off when empty or after a couple hours of inactivity. This is definitely a unique gift to give this holiday season.
For those more eco-conscious friends and family the KeepCup is a stylish, reusable cup to take on the go or use at home. Its made out of glass with a cork grip and has a splash-proof lid. There's nothing more irritating than hot coffee splashing on your face! The KeepCup also fits perfecting under coffee machines so you can brew your latte or cappuccino and hit the road!
A unique approach to a to-go mug, the Fellow Travel mug is stainless steel and vacuum sealed. It keeps your beverages hot or cold for 12 or 24 hours, respectively. This mug has a ceramic coating so your coffee will never taste metallic and can be enjoyed as it should be, deliciously! It comes in fun colors like orange, green, white, black, and grey.
Coffee Accessories
Who doesn't love organization? This coffee pod drawer keeps all of your K-cups or Nespresso pods neatly organized! Organize them by flavor, by day, or preference, there are infinite possibilities! You can also stack your coffee machine right on top thanks to the steel top.
Fellow Stagg EKG Electric Gooseneck Kettle
A must have coffee gift for anyone who loves pour-overs, the Fellow Kettle is a delight for the eyes. Make the perfect cup of coffee with precision pouring, temperature control, and a clear LCD display. This kettle will keep your water warm at the right temperature for whatever you are brewing.
 This post may contain affiliate links which won't change your price but will share some commission. As an Amazon Associate I earn from qualifying purchases.
Get your measuring right with these gorgeous coffee scoops. Made out of stainless steel these are made to last! No more eyeing the right amount of beans, these scoops are ideal for getting that perfect cup of coffee.
Airscape Coffee Storage Canister
Another stylish coffee gift, the Airscape keeps air out! Their unique lid is airtight so your coffee beans stay as fresh as possible. It comes in matte white, grey, and black and can hold up to 2.5 lbs of coffee beans! Talk about function, as well as beauty.
Glass Storage Jars with Airtight Lids (Set Of 2)
An alternative to the Airscape matte finish coffee canister, these glass storage jars display whatever is inside them beautifully. Depending on what your coffee lover's kitchen looks like, these offer a natural and clean aesthetic appeal. The acacia lid is a lovely touch and is lined with a rubber ring that keeps the seal airtight. These jars won't slip off of your counter thanks to the non-slip base, perfect for those of us who are a bit clumsier!
No matter if the coffee addict in your life loves cappuccinos, espresso, lattes, or simply black coffee, these gifts are sure to make their mornings and/or night caps even more enjoyable.
CHECK OUT WHAT'S NEW ON BETSI'S WORLD
Know some wine lovers, as well as coffee lovers? Check out these must have Gifts For Wine Lovers!
Other Gift Guides You May Like