A watermelon feta salad is the best hot weather combination! Watermelon and feta cheese make such a perfect pair. The saltiness of the feta is the perfect complement for the inherent sweetness of watermelon. When paired with the peppery taste of fresh arugula and the tangy goodness of a homemade lime-cilantro vinaigrette, you've got an incredible taste sensation that is sure to become a spring-summer favorite. 
It's April and that means the beginning of watermelon season (at least in Florida)! There is nothing better than biting into a ripe, refreshing, juicy melon on a bright, warm day. Of course, living in Florida, we get a lot of those. This salad is great to serve at an outdoor barbecue, a pool party, or a Sunday brunch.
This light appetizer is quite versatile so you can tailor it to your tastes and preferences. I'm going to be sharing a couple variations of this delightful spring and summer salad!
How To Make A Watermelon Feta Salad
To make this watermelon feta salad, first gather the ingredients. For this version, you'll need a small seedless watermelon, feta cheese, and a few cups of arugula. Grab a sharp knife and a cutting board and carefully cut the watermelon in two. Remove the flesh and chop it into bite sized chunks, then pop them into a bowl. Make sure to reserve the empty watermelons to use as a serving dish later!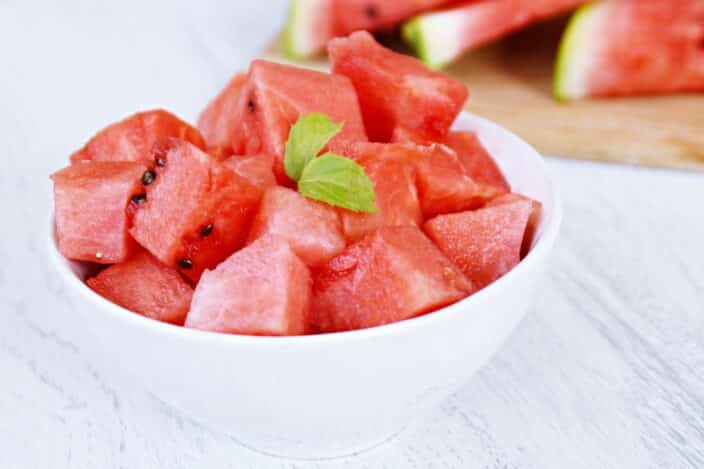 Next, cut the feta into small cubes and add them to the bowl. I like to use a feta that is made from sheep's milk, it has a richer mouth-feel and its more flavorful! Then throw in your washed arugula and toss to combine.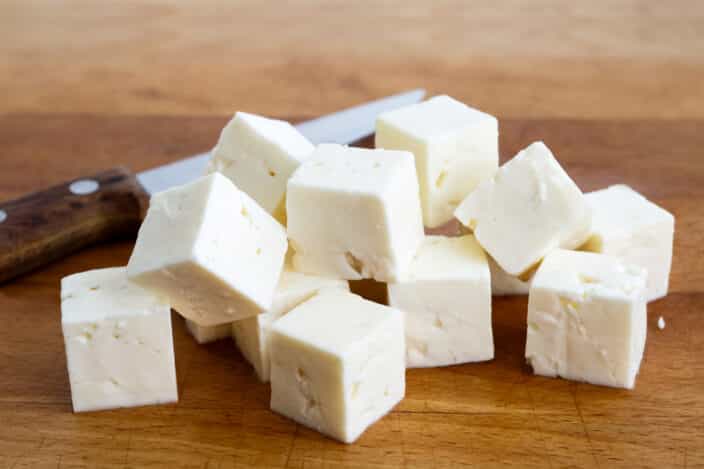 Lime Cilantro Vinaigrette
To make the vinaigrette for the watermelon salad with feta you'll need fresh lime juice, fresh cilantro, grapeseed or avocado oil, Dijon mustard, honey, cumin, sea salt, and pepper. I recommend juicing the lime yourself instead of buying already squeezed lime juice.
Add all of the ingredients to a bowl and whisk thoroughly until the mixture is well combined. Add extra salt and pepper to taste. Then pour the vinaigrette onto your salad ingredients. You can, of course, choose to serve the dressing on the side. If you choose to do that, just add it to a dressing coup next to the salad!
Finally, the plating! Scoop the watermelon and feta salad into the empty watermelon rinds and garnish with a fresh sprig of cilantro. I love how beautiful this presentation is- it makes a wonderful statement piece on your table. Of course, you can also simply serve it in a beautiful bowl if you have a larger party.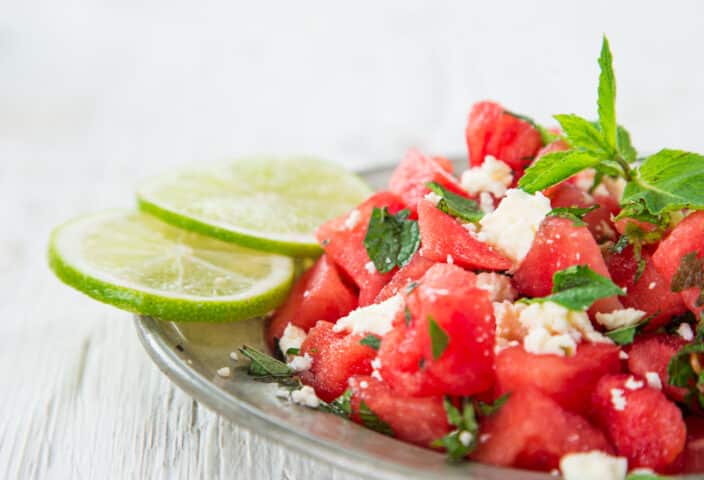 Variations of the Watermelon Feta Salad
There are a few variations of this watermelon feta salad that you may like and want to try.
#1. Add fresh mint to your salad. It adds wonderful depth of flavor and enhances the sweetness of the watermelon.
#2. Try adding a crunch with nuts like pistachio. Pistachios have a delicious, mild nutty flavor that wont over power the salad. Plus, its a beautiful green color, adding to the aesthetic of this appetizer.
#3. Substitute a balsamic glaze for the lime cilantro vinaigrette. You can buy the balsamic glaze in most grocery stores or make it at home. It has a much sweeter flavor than regular balsamic vinegar and goes wonderfully with the salty feta cheese and watermelon.
#4. Add more fruits or different cheeses. Try including blueberries and blackberries with some goat cheese in the salad. Now you've got a whole bowl of tangy, sweet, salty flavors that blend beautifully together.
This salad recipe is such a great one to customize and experiment with. Give one of these substitutions a try or better yet, make a few different ones and have them all at the table during your next brunch! That way your friends and family can choose the one that is must suited to them!
 This post may contain affiliate links which won't change your price but will share some commission. As an Amazon Associate I earn from qualifying purchases.
Tools You Need To Make This Watermelon Feta Salad
Sharp Knife. You'll need a sturdy and sharp knife to cut through the watermelon. These are a great option!
Cutting Board. Grab a good cutting board to use for cutting your feta and melon on. I love the antibacterial properties of this bamboo version.
Small Bowl. You know I can't live without my bowls! Use it to whip up that delicious tangy dressing!
Whisk. Combine your dressing ingredients to perfection with this awesome whisk, an essential kitchen tool!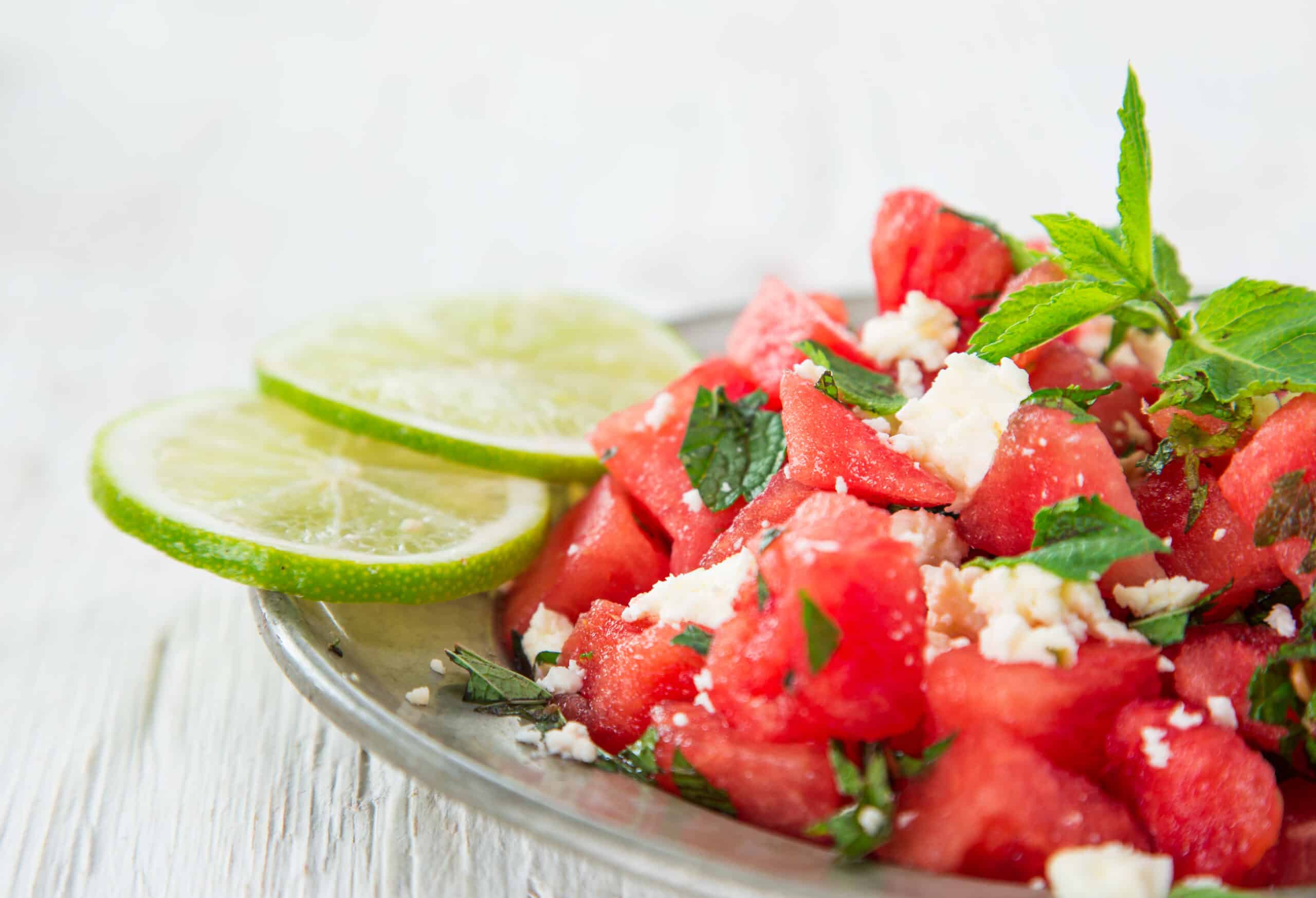 The Best Watermelon Feta Salad For Spring and Summer
Watermelon and feta cheese make such a perfect pair. The saltiness of the feta is the perfect complement for the inherent sweetness of watermelon. When paired with the peppery taste of fresh arugula and the tangy goodness of a homemade lime-cilantro vinaigrette, you've got an incredible taste sensation that is sure to become a summer favorite. 
Ingredients
Salad Ingredients:
1 small round seedless watermelon, cut in half with flesh removed
3 oz. feta cheese, cut into evenly sized pieces
3 cups fresh arugula, cleaned and dried
Lime-Cilantro Vinaigrette Ingredients:
2 T. fresh lime juice
3 T. fresh cilantro, washed, dried and chopped into small pieces
3 T. grapeseed oil
1 t. Dijon mustard
1 T honey
2 t. ground cumin
2 t. sea salt
½ t. pepper
Instructions
If possible, make the lime-cilantro vinaigrette in advance to give the flavors a chance to meld. Combine all ingredients in a small glass bowl and whisk to combine thoroughly. Taste and adjust seasonings as desired. 
Cut small watermelon in half, then remove and reserve flesh in a glass bowl. Pat the inside of each empty watermelon rind with a paper towel to dry. Set aside to use as serving bowls for the finished salad. 
Add feta and washed arugula to glass bowl along with the watermelon. Top with vinaigrette and toss to combine. Season with salt and pepper, to taste. 
To serve, add watermelon feta mixture to reserved watermelon rinds and garnish with sprigs of fresh cilantro. 
Nutrition Information
Yield

4
Serving Size

1
Amount Per Serving
Calories

223
Total Fat

17g
Saturated Fat

4g
Trans Fat

0g
Unsaturated Fat

11g
Cholesterol

19mg
Sodium

1480mg
Carbohydrates

16g
Fiber

2g
Sugar

12g
Protein

5g
The Most Refreshing Salad
A watermelon feta salad is such a satisfyingly fresh lunchtime or dinner appetizer or side! The variations of this salad make it easy to tailor to a crowd or make it seasonal. I especially love the fun presentation style inside the melon. If you don't like watermelon, give honey dew melon a try! Keep this recipe in mind for your next outdoor barbecue or Sunday brunch!
If you're looking for some other appetizers to combine with this tasty salad, try our Coconut Shrimp or Bacon Wrapped Chestnuts!
CHECK OUT WHAT'S NEW ON BETSI'S WORLD
Did you make this recipe? What did you think? We'd love to hear from you in the comments below!
Other Recipes You Might Like