Barbecue ribs are traditionally a backyard party meal, but if you prefer to stay indoors you don't have to miss out on this fan favorite. This BBQ ribs recipe is made in an Instant Pot instead of a smoker or grill.
The Instant Pot ensures that the ribs come out perfectly moist, tender and flavorful. Plus, its quick, easy and leaves little no mess! This meal is delicious served with coleslaw and mashed potatoes on the side as a weekend treat!
Which Cut Of Ribs Is Best
There's a lot of debate on which kinds of ribs are the best to use when cooking. You can choose pork (baby back or spare) or beef ribs (short or spare). To make barbecue ribs, I would recommend pork ribs. Ultimately, I've found that the choice of which type comes down to personal preference.
Baby back ribs are the most commonly heard about and used when it comes to barbecue ribs. Baby back ribs are on the leaner side and are typically more tender than spare ribs. These ribs are cut from the top section, closer to the back, as their name suggests. They have about half an inch of meat on top of the bone.
Spare ribs are fattier and therefore more flavorful in nature. They are cut from the section that is closer to the belly, which is why they have more fat. These ribs typically have less meat on top of the bones and more in between. You've probably seen St. Louis style ribs which are spare ribs with the sternum, cartilage and rib tips removed.
If you like ribs with more marbling than spare ribs are going to be your best bet. They are also less expensive than baby back ribs. If you prefer tender, leaner meat on your ribs then baby back would be the better option for you. Especially if you are looking for that traditional restaurant style rack of ribs.
In this barbecue ribs recipe, I used baby back ribs, but feel free to use spare ribs if you prefer. Just keep in mind that if you use spare ribs, its best to slow cook them in your Instant Pot.
How To Make Barbecue Ribs
Ribs Dry Rub
To make a dry rub for barbecue ribs you will need a few spices. Although you can buy premade mixes in the store, I recommend a homemade rub. A homemade rub allows you to customize the amount and types of ingredients.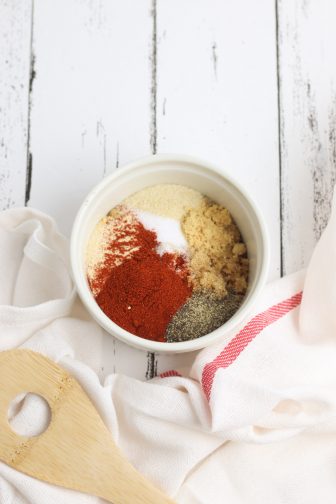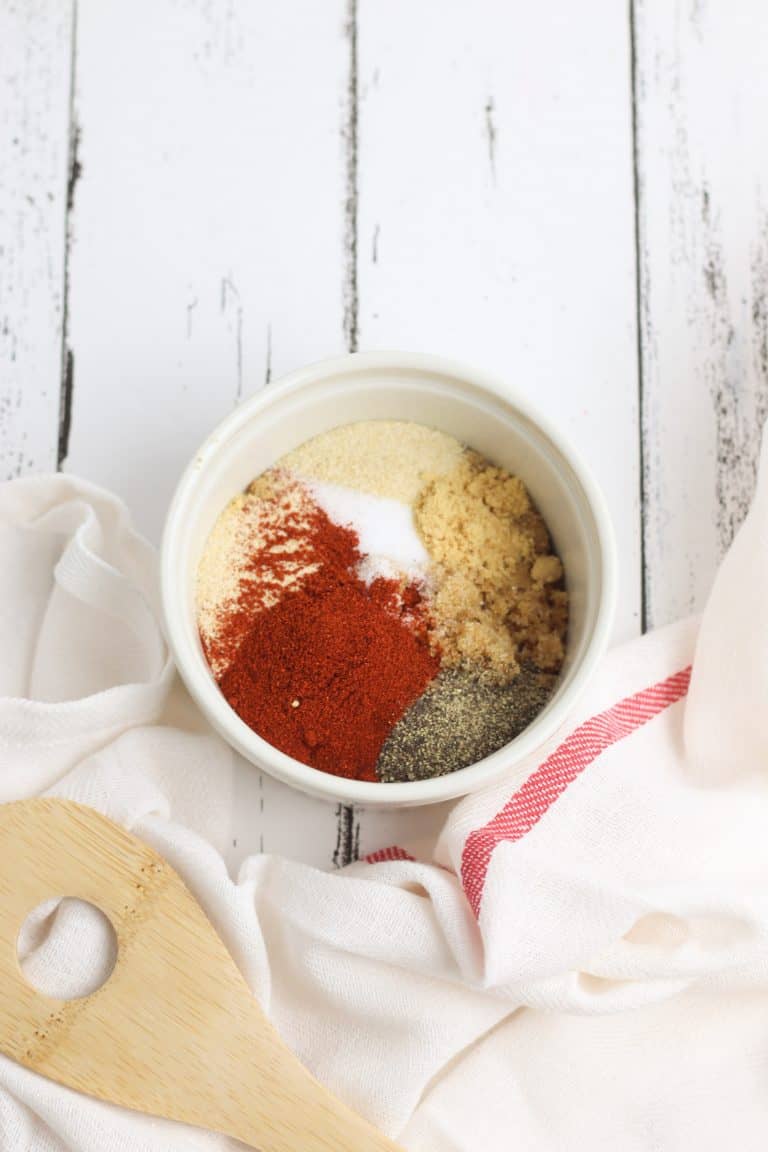 My ribs dry rub includes brown sugar, chili powder, cumin, garlic powder, onion powder, paprika, ground mustard, cayenne pepper, salt and pepper. If you do not want to use sugar, you may use a granulated sugar substitute like golden monk fruit or erythritol. Smoked paprika and roasted garlic powder are also delicious variations of the above ingredients.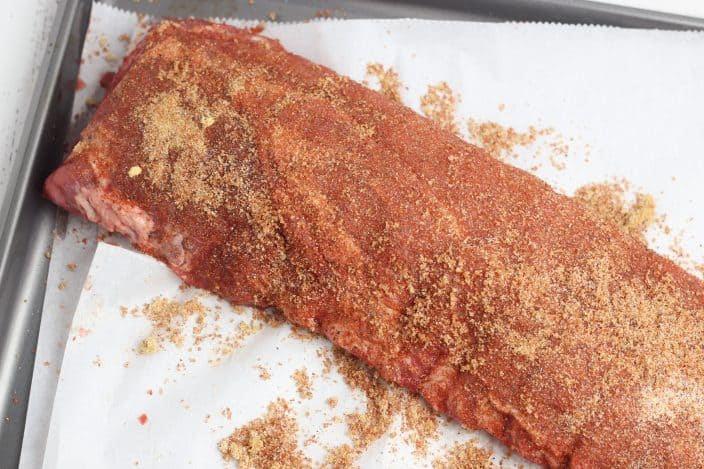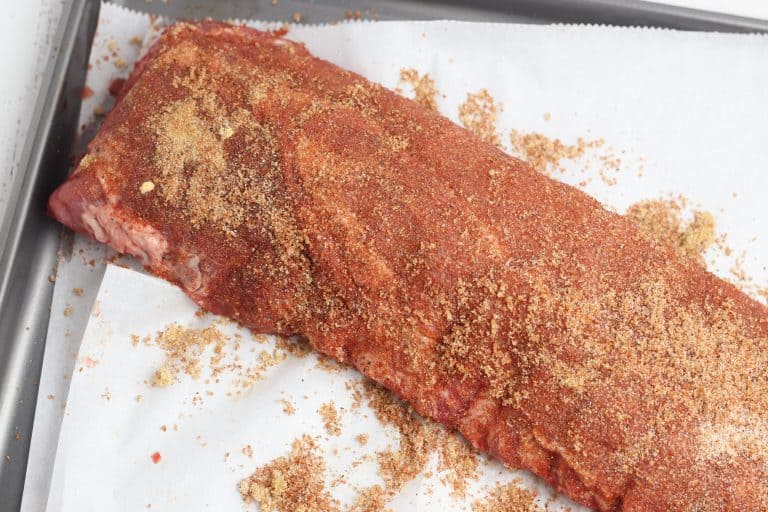 After you've mixed your dry rub well, season the ribs generously on both sides. You'll want to really massage the rub into the meat well, this way the flavor gets worked into the ribs.
How To Cook Ribs In An Instant Pot
To make the ribs in an instant pot, first place the trivet at the bottom and add water and apple cider vinegar.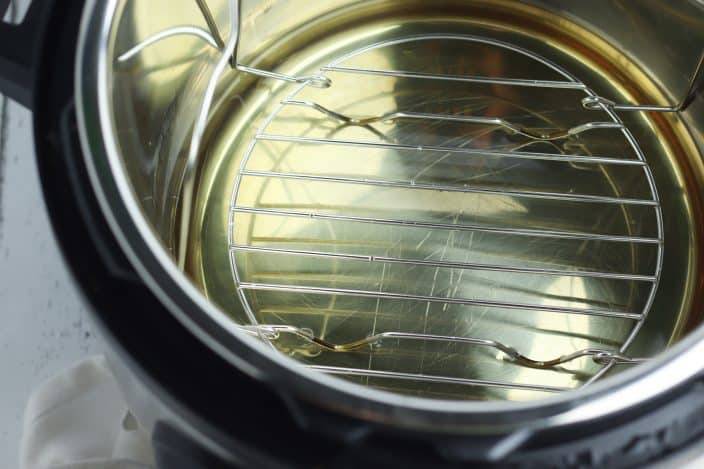 Next, you'll want to turn the ribs on their side and form them into a circle. Place them on top of the trivet inside the Instant Pot.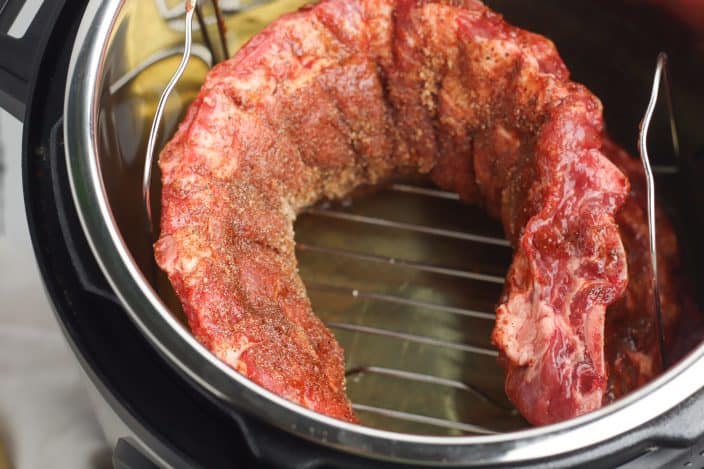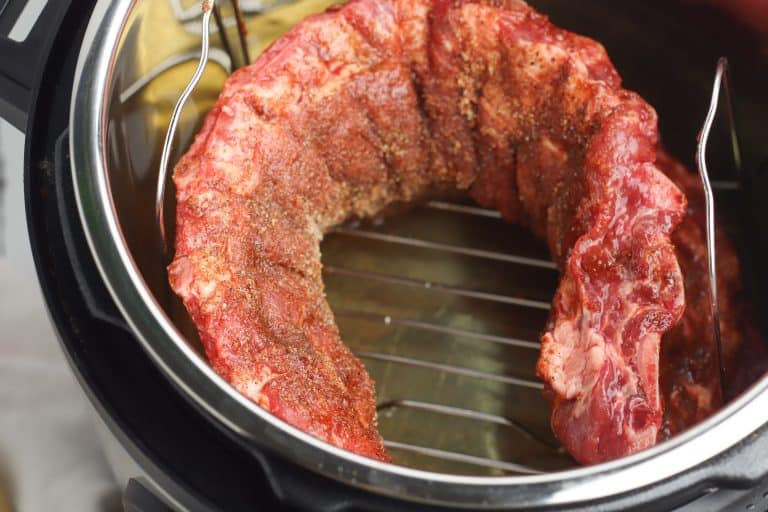 Secure the lid and close the vent. Set the Instant Pot on pressure cook for 30 minutes. When it has finished cooking, let it naturally release for about 10 minutes. Then do a quick release for the remaining pressure.
When the ribs are done cooking in the Instant Pot, remove them and place on a baking sheet. I like to finish my ribs off in the oven with some BBQ sauce. I used a sugar free sauce I got at the grocery store, but you can use whatever you like. If you have a homemade recipe, that's even better!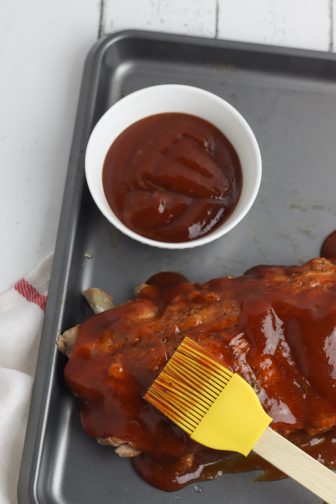 Paint the barbecue sauce onto the ribs until fully covered. Then place them under the broiler in the oven for five minutes or until sauce begins to bubble.
Remove them from the oven and let them cool a bit before cutting into them. Serve them with some baked beans or coleslaw!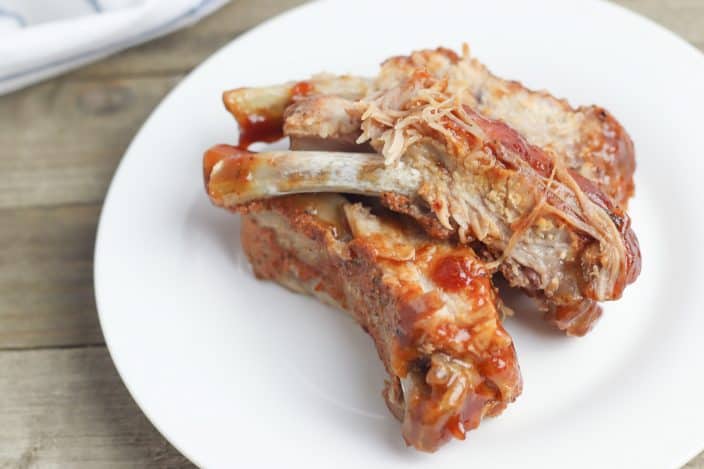 This post may contain affiliate links which won't change your price but will share some commission. As an Amazon Associate I earn from qualifying purchases.
Tools You Need To Make Instant Pot Barbecue Ribs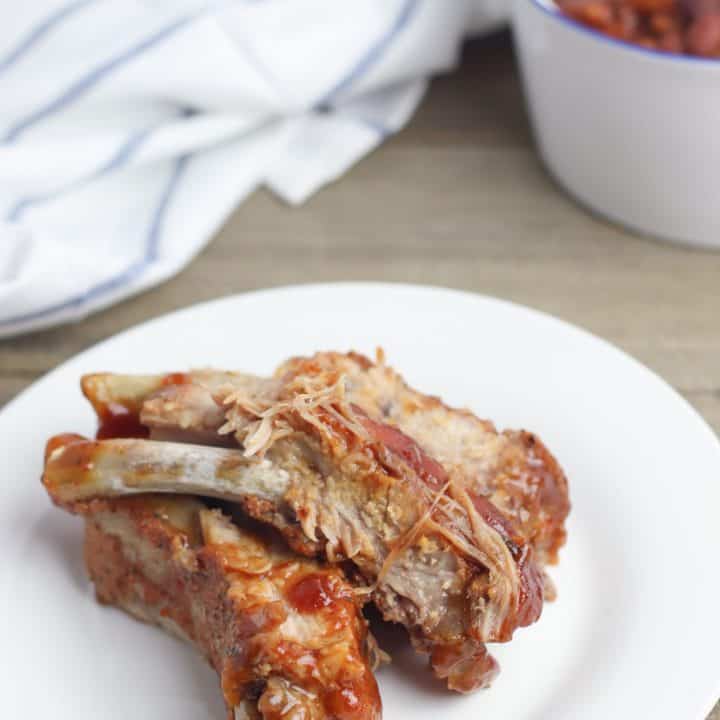 Instant Pot Barbecue Ribs
Additional Time:
10 minutes
This recipe for barbecue ribs is flavorful and tender thanks to the use of the Instant Pot. Finishing the ribs in the oven gives them a delicious caramelization you don't want to miss out on.
Ingredients
1 rack of baby back pork ribs with membrane removed (2.5 to 3 pounds)
¼ cup brown sugar 
2 tablespoons chili powder 
1 teaspoon salt 
1 teaspoon pepper 
1 teaspoon cumin 
1 teaspoon garlic powder 
1 teaspoon onion powder
1 teaspoon paprika 
½ teaspoon ground mustard 
Pinch of cayenne 
1 cup water 
½ cup apple cider vinegar 
Instructions
In a small bowl, combine brown sugar, chili powder, salt, pepper, cumin, garlic powder, union powder, paprika, ground mustard, and cayenne. Rub mixture over both sides of ribs.
Place the trivet in the Instant Pot and add water and apple cider vinegar.
Turn the ribs on their side and make them form a circle, then place them in the instant pot.
Secure the lid and close the vent. Set the Instant Pot on pressure cook for 30 minutes.
Do a natural release for 10 minutes, then quick release the remaining pressure.
Carefully place the ribs on a baking sheet and cover with BBQ sauce.
Place under the broiler in the oven for five minutes or until sauce begins to bubble.
Remove, cut and enjoy!
Nutrition Information
Yield

2
Serving Size

1
Amount Per Serving
Calories

207
Total Fat

7g
Saturated Fat

2g
Trans Fat

0g
Unsaturated Fat

4g
Cholesterol

18mg
Sodium

1323mg
Carbohydrates

31g
Fiber

4g
Sugar

23g
Protein

6g
The Perfect Meal For Game Day
This Instant Pot ribs recipe is great for game day or weekend family get togethers. You can easily double or triple the quantities in this recipe to suit your needs. Additionally, there's no need to spend hours standing in the kitchen over a hot stove! Make this recipe a part of your game day or weekend lunch table with delicious sides. Your family and friends will be glad you did.
CHECK OUT WHAT'S NEW ON BETSI'S WORLD
What did you think of this recipe? Do you have a homemade rib rub you usually use? Let us know in the comments below!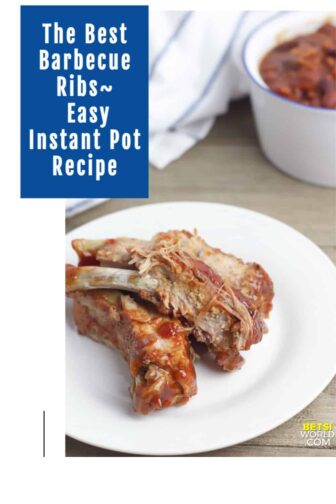 Other Recipes You Might Like