Summertime is the easiest time of the year for entertaining. You are looking for quick and easy ways to entertain a group of family and friends without a lot of stress or chaos. These ideas may spark your imaginative creativity for summertime entertaining that is easy but takes things up a notch.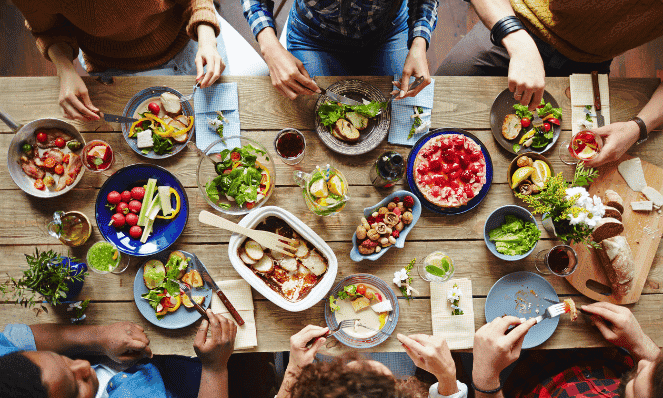 Easy Buffet Style Entertaining
I'll make a confession that this is my favorite preferred style of entertaining! I can get creative with food presentations and my tablescape is simple, saving me time.
Buffet style entertaining also allows us time to mingle with our guests instead of being in the kitchen preparing food. Everything I choose to put out for a buffet style meal can be prepped ahead of time, making things much easier!
Some ideas for an easy make ahead buffet could be Greek Salad Skewers, Broccoli Pasta Salad, a charcuterie platter, taco bar with all the fixings, spicy chicken satay skewers, and homemade pizza.
Elevated and Easy Ideas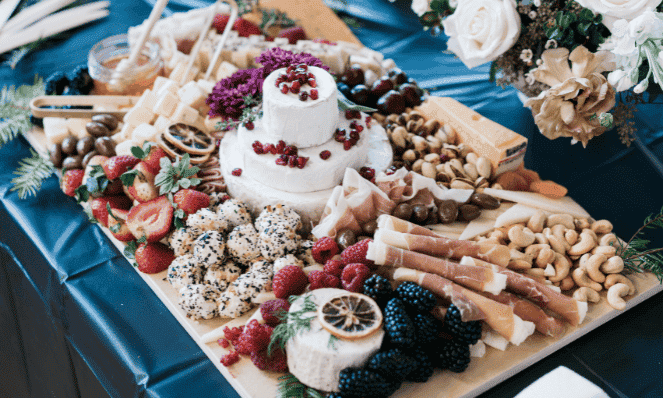 For a recent gathering I opted for something really easy and fun. I pulled together two charcuterie boards, which I made ahead of time. In addition to the charcuterie boards, I included an additional platter with soft spreadable brie accompanied by a fig preserve and pita chips.
I added roasted tomato and red pepper hummus that I had made several days prior, and whipped up a fresh pesto sauce using fresh basil from our garden (a quick 10 minute sauce all done in the blender).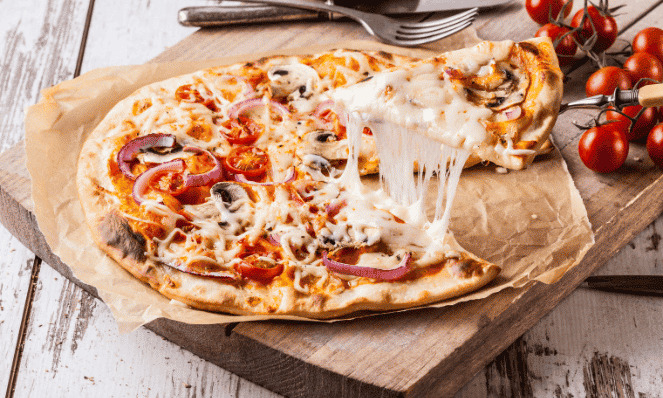 For a nice twist on things, I made a batch of pizza dough in my breadmaker. After the dough had rested for several hours, I split the dough into four equal amounts and put two of the dough balls in the freezer for future use, and kept two out to make pizza.
Jim and I created two pizzas for this gathering. One was a naked pizza that we cut into tiny slices for dipping in the homemade pesto sauce. The other was topped with tomato sauce, cheese, and pepperoni. The pizzas made a nice addition to our buffet table.
For drinks we opted for a homemade white sangria. The sangria went perfectly with the other items on the buffet, and everyone loved it!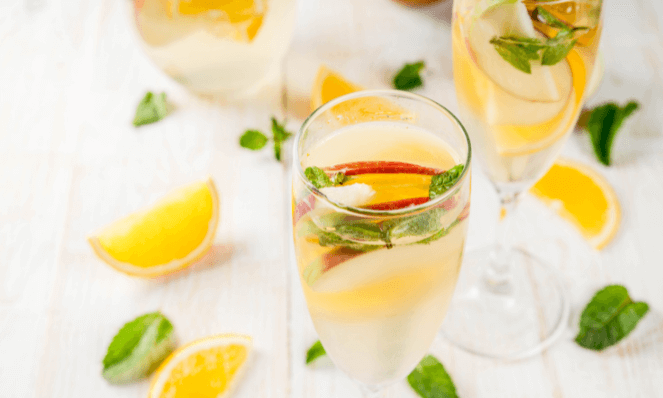 I typically do a dessert bar, but with the hot steamy Florida weather in full force, I really did not want to turn on the oven. So I opted for a quick 20-minute No Bake Cheesecake.
Easy and Elegant Tablescape
Tablescapes are one of the easiest ways to make your guests feel special. But they don't have to be fancy or take a lot of time.
I used a tropical table runner on my island, anchored by a tropical placemat on either end. I have a rustic three-bucket aluminum serving piece that I use for cutlery and napkins.
And another easy, but elevated way to keep things simple is to use clear plastic plates instead of china, and heavy duty plastic cutlery instead of silver. If I don't mind the cleanup involved, I will use dishes and silverware.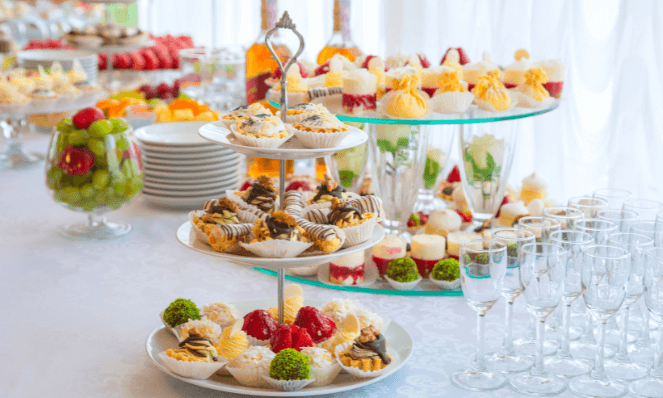 For other tablescape ideas I have used tropical sarongs as tablecloths, smaller dishtowels as napkins, and other creative ideas. You don't have to go the traditional route with your tablescapes!
I've even used just my plain dining room table, which is coastal rustic, and created a stunning tablescape using mismatched candlesticks and depression era glass filled with marbles. Using these types of non-traditional decorating ideas sets you apart, and gives you a chance to show off your personal creative style. So go ahead and step out of the norm of the same old way of entertaining and let your imagination and style take center stage!
 This post may contain affiliate links which won't change your price but will share some commission. As an Amazon Associate I earn from qualifying purchases.
Recipes
These are a couple of my favorite recipes to add to the table for summertime entertaining. No table would be complete with a delicious cocktail and a sweet dessert to top of the day!
White Citrus Sangria
This sangria is super fresh, delicious, and very fruit forward. Trust me, it's hard to stop at one glass!
White Citrus Sangria
This sangria is a delicious and fresh option for a summertime party! It is the perfect accompaniment to a charcuterie board or other warm bites.
Ingredients
1 bottle of white citrus wine (we suggest a Sauvignon Blanc or Pinot Gris)
¼ cup brandy
½ liter bottle sprite
Fruit mix
Sliced pineapple for garnish (optional)
¼ cup sugar
¼ cup Triple Sec
¼ cup Limoncello
Instructions
Step One
Slice a selection of fruits (we love strawberries, watermelon, grapes, apples, and blueberries)
Place fruits in a bowl and sprinkle ¼ cup of sugar over them.
Add Triple Sec
Add Limoncello
Toss with fruit and refrigerate for several hours to overnight
Step Two
In a large pitcher:
Add 1 bottle white wine
Add ¼ cup brandy
Add ½ liter bottle of sprite (if you want to add more sprite, add to taste)
Add fruit
Stir, and serve over ice
Scoop a spoonful of the fruit into the sangria glass
Garnish with a slice of pineapple (optional)
Berry No Bake Cheesecake
This no bake cheesecake comes together in a pinch and is the perfect end to a summer party!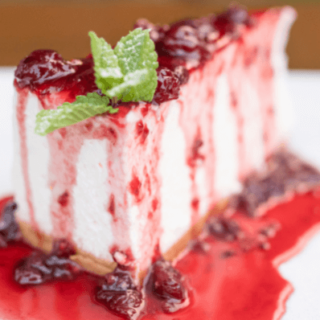 Berry No Bake Cheesecake
This cheesecake comes together in just a few hours without the need for an oven! Top it with marinated berries and whipped cream for a delicious dessert.
Ingredients
Ingredients Pie Crust
1 ½ cups crushed graham crackers
⅓ cup packed brown sugar
½ tsp ground cinnamon
½ cup melted butter
Ingredients Filling
2 packages of softened cream chees
⅓ cup sugar
2 tsp lime juice
1 tsp vanilla extract
2 cups heavy whipping cream
Ingredients Whipped Cream Topping
2 cups heavy whipping cream
2 tsp vanilla extract
2 tsp sugar (use confectioners sugar for sweet whipped cream or cane sugar for less sweet)
Ingredients Fruit Topping
2 cups fresh strawberries washed, drained and sliced
1 ½ cup fresh blueberries washed and drained
4 tbl sugar
4 tbl Triple Sec
Instructions
Fruit Topping
Place sliced strawberries and blueberries in a bowl
Add sugar and Triple Sec
Toss together and then set aside for 15-30 minutes
Filling
In a small bowl, mix the crushed graham crackers, brown sugar, and cinnamon. Stir in melted butter. Press into the bottom and sides of a pie pan and pop into refrigerator for 30 minutes
In a large mixing bowl add cream cheese, sugar, lime juice and vanilla and beat together until smooth.
Gradually add in heavy whipping cream.
Beat until stiff peaks form, and transfer to the chilled pie crust.
Whipped Cream Topping
In a large mixing bowl add 2 cups heavy whipping cream, vanilla extract and sugar. Slowly whip together, gradually increasing the speed until stiff peaks form. Be careful not to overwhip. Place on top of the filling, and spread across the top
Add the marinated fruit on top of the whipped cream topping. Place in freezer for a minimum of two hours and no more than 4 hours prior to serving.
Summertime entertaining is one of my favorite things to do. Nothing is better than getting together with good friends and family around delicious food and drinks! Hopefully, these ideas will inspire your next summer get together and make planning a bit easier!
What are some things you include in your summertime entertaining? We'd love to hear from you below!
CHECK OUT WHAT'S NEW ON BETSI'S WORLD
Entertaining Recipes, Drinks and Tips
Everything you need to be the best host or hostess for your guests!