The Goombay Smash cocktail is the iconic drink of the Bahamas. As you may already know, we are addicted to the Bahamas – the islands, the culture, the people, the laid back island vibe, and of course, the drinks.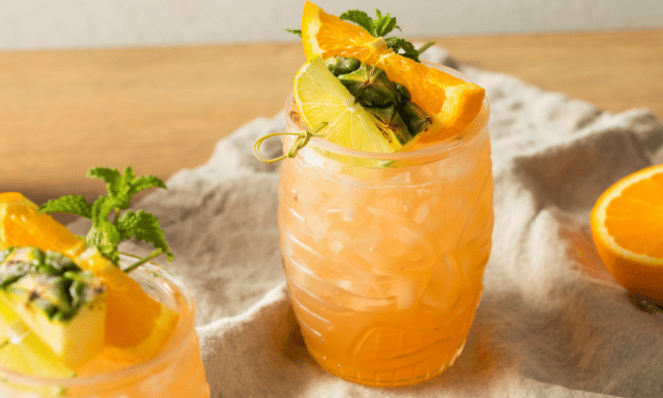 Each island has its version of the Goombay Smash. But when you visit Green Turtle Cay in the Abacos – a magical destination that we have to visit on every Bahamas boat trip – Miss Emily's Blue Beer Bar is a must-stop. If you love tropical cocktails this cocktail recipe is for you!
 This post may contain affiliate links which won't change your price but will share some commission. As an Amazon Associate I earn from qualifying purchases.
History of the Goombay Smash
Once you arrive on Green Turtle Cay, head into the town of New Providence. Golf carts are the preferred method of getting around the island, and you can rent them at several places on the island. Miss Emily's Blue Bee Bar is on the right-hand side of the road heading into town, and is a bright blue clapboard house – you cannot miss it!
Despite the damage and devastation that hurricane Dorian rained down on the Abacos in 2019, Miss Emily's is damaged, but it is still standing. Thankfully, the islands are open for visitors!
If you plan on visiting the Bahamas make sure you check their travel requirements on their website. Depending on your vaccination status, you may have to submit a negative COVID-19 test before travel. All travelers are require to have COVID-19 health insurance. I highly recommend visiting the Abacos – there are flights available, and they could use some more funds for continued recovery from Dorian's 2019 havoc.
The story is told that back in the day Miss Emily was playing dominoes with some friends at the bar when she created the Goombay Smash. Together with her friend and cocktail taster Brendal Stevens, they named the tropical drink "Goombay Smash." No one outside of the family knows the true recipe for the Goombay Smash, but Jim and I got this Goombay Smash cocktail recipe from  a local bartender on Green Turtle who gave us her secret recipe. Miss Emily's version has a secret ingredient, but no one except the family knows that secret ingredient!
The Goombay Smash is a Refreshing Summertime Sip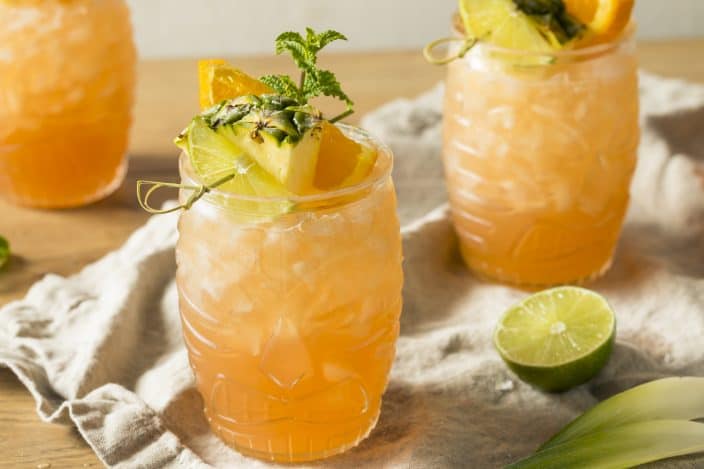 Summer is in full swing and there's nothing better than having a refreshing cocktail to go along with it. The Goombay Smash is a  staple cocktail, whether we are boating through the islands, or sippin' around the pool. It's so easy, and is an instant hit at summer gatherings, or just relaxing outside on a weekend.
With just the right tartness, balanced with the sweetness of coconut, the Goombay Smash cocktail is the perfect cocktail for summertime sipping. However, because this is one cocktail that goes down so easily, you might find yourself a bit too relaxed. 
How to Build the Perfect Goombay Smash Cocktail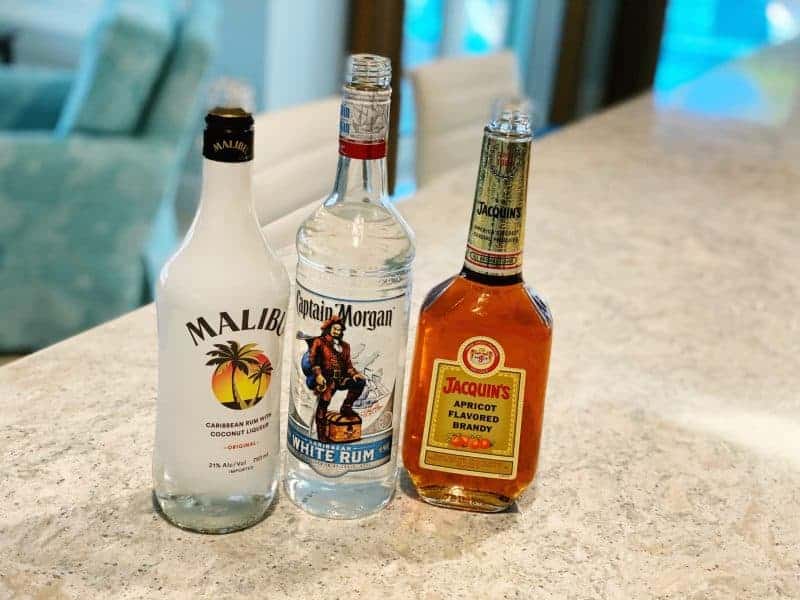 If you love rum drinks this will quickly become one of your favorite cocktails. To make the perfect Goombay Smash Cocktail you'll a few types of rum, apricot brandy, and pineapple and orange juice!
We use three kinds of rum in our Goombay Smash Cocktail: the first is a Coconut Caribbean Rum, we like to use Malibu brand for this. The flavor of the coconut gives a wonderful base to this otherwise fruity cocktail.
The next is a Caribbean White Rum, we recommend Captain Morgan brand. Finally, we add dash of Dark Spiced Rum, Captain Morgan brand is good here too. You can also use a plain dark rum if you prefer. The third dark rum is optional, however it gives the drink lots of depth of flavor!
Next come the fruit additions. Apricot brandy has such a delicious and distinct flavor, don't miss out on it! You can try using Jacquin's brand, that's what we used. Then some fresh orange juice and add pineapple juice! We highly recommend using DOLE brand juice, it's what Miss Emily's uses.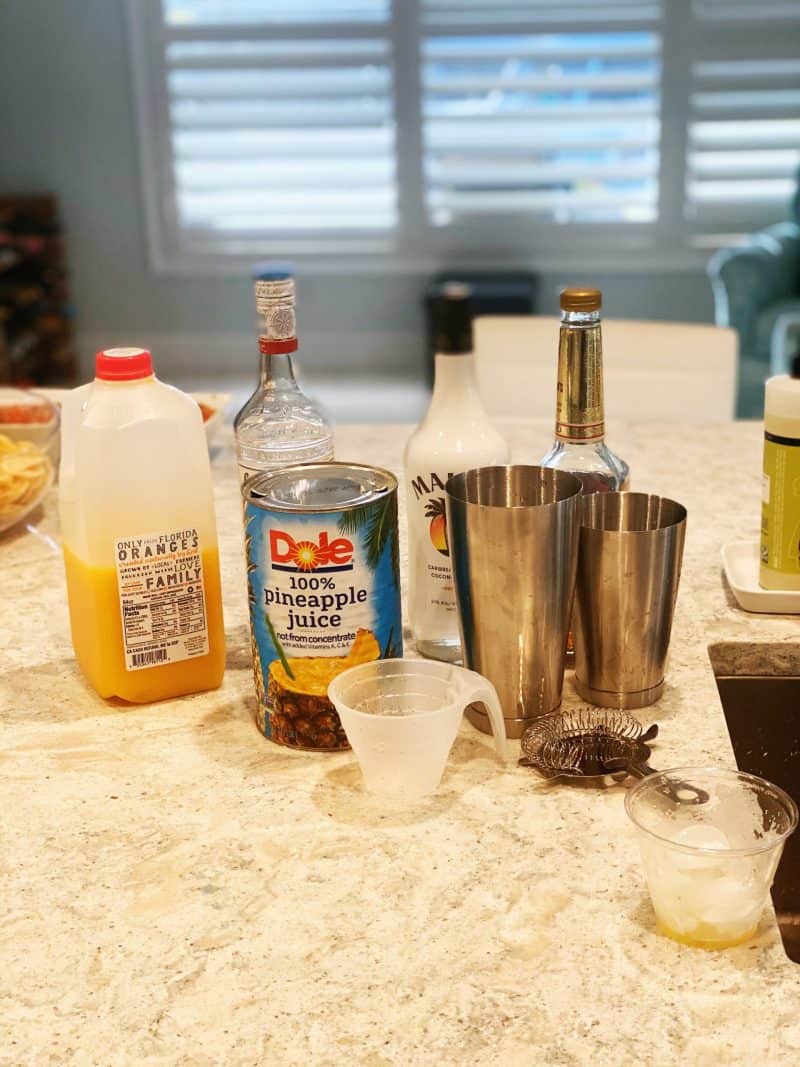 Combine all the ingredients into a cocktail shaker with ice and shake, shake, shake! I typically shake it around 15-20 times. Please don't stir this cocktail, it won't mix the flavors well enough or properly chill it.
Pour into a short glass, add desired garnish before you serve. We like to add pineapple, orange, or lime slices, or a spring of rosemary make festive garnishes, and enjoy!
If you're making this Goombay Smash cocktail for a summer party, try mixing it up and serving variations of this drink! Add different garnishes, and experiment with adding the spiced rum and leaving it out!
You can also squeeze your own orange juice and use a variety of different oranges like blood orange, navel, and cara cara. This drink is a great recipe to have on the menu at your party!
Tools You May Need To Make This Drink
Cocktail Shaker. A good cocktail shaker always comes in handy, especially during the summer when you are cooling off with delicious tropical drinks!
Strainer. A cocktail strainer will make sure that your drink is as smooth as possible and that no chunks are left behind!
Cocktail Glass. Grab a nice glass for your gorgeous cocktail and show it off!
Goombay Smash Cocktail
This refreshing, tropical cocktail is perfect for those warm summer nights. Easy to make and delicious to drink with hints of coconut, apricot, and orange!
Ingredients
1 oz. Malibu Caribbean Rum with Coconut Liqueur
1 oz. Captain Morgan Caribbean White Rum
1 oz. Captain Morgan Dark Spiced Rum- OPTIONAL
1/2 oz. Apricot Brandy
2 oz. DOLE Pineapple Juice (don't cut corners here - Dole Pineapple Juice is what Miss Emily's uses)
2 oz. Orange Juice
Instructions
Add the juices and liquors into a cocktail shaker with lots of ice, and shake 15-20 times 
Pour into a short glass, add desired garnish - pineapple or orange slices, or a spring of rosemary make festive garnishes, and enjoy!
Nutrition Information
Yield

2
Serving Size

1
Amount Per Serving
Calories

555
Total Fat

16g
Saturated Fat

14g
Trans Fat

0g
Unsaturated Fat

2g
Cholesterol

14mg
Sodium

145mg
Carbohydrates

38g
Fiber

4g
Sugar

30g
Protein

2g
Check out our Goombay Smash how-to video:
---
Don't miss a taste of the Bahamas with a refreshing Goombay Smash, the official drink of the islands. You'll be dreaming of beautiful turquoise water, sparkling white beaches, and the rustling sound of the soft ocean breeze through the coconut trees.
If you love tropical cocktails, we're sure you'll love our refreshing Mai Tai recipe!
DELICIOUS COCKTAILS YOUR'LL LOVE
Blueberry Lemon Drop Martini
3 Frozen Margaritas
Mai Tai
CHECK OUT WHAT'S NEW ON BETSI'S WORLD
 What is your favorite summer cocktail? Let us know in the comments below!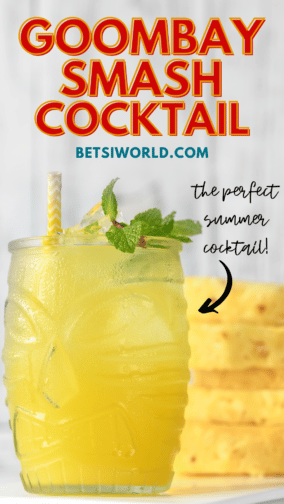 Other Recipes You Might Like