The Best Korean Beef with Noodles
Spicy Korean beef with noodles is one of those dishes that remains enjoyable time after time. The beef is always super flavorful and tender, add in the noodles and you've got the ultimate comfort food.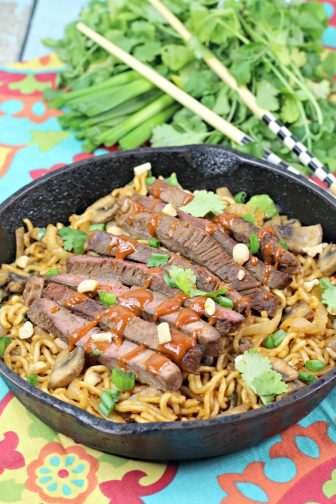 This post contains affiliate links. When you make a purchase through these links Betsi's World receives a small commission at no additional cost to you. As an Amazon Associate, I earn from qualifying purchases.
This Korean beef recipe is great for a date night dinner or on a cold night snuggled up on the couch. Learn to make this popular dish as home, instead of ordering out!
What Cut of Meat Does Korean Beef Use
Korean beef is usually made with a tender and flavorful cut of meat. This can be sirloin, tenderloin, or ribeye if you desire a fattier cut. You will be cutting the beef into thin slices, therefore you want the pieces to be tender and moist not dry and tough.
In this spicy Korean beef recipe we use sirloin steak, but feel free to use another cut, if you desire! To tenderize your steak beforehand, lay it out on a plate and salt both sides of the cut. Make sure that you are using kosher salt, otherwise it may become too salty. Gently massage the salt into the beef to help the salt break down the tough fibers.
How To Make Korean Beef With Noodles
This spicy Korean beef recipe is made with a pack of ramen noodles. Although it isn't fancy, its delicious and makes cooking easy and convenient. We used the beef ramen noodle pack in this recipe.
In order to have the most flavorful meat, it is important to marinate it. You don't have to marinate it for long, but if you are already going through the work of tenderizing it beforehand, you can infuse some extra flavor too.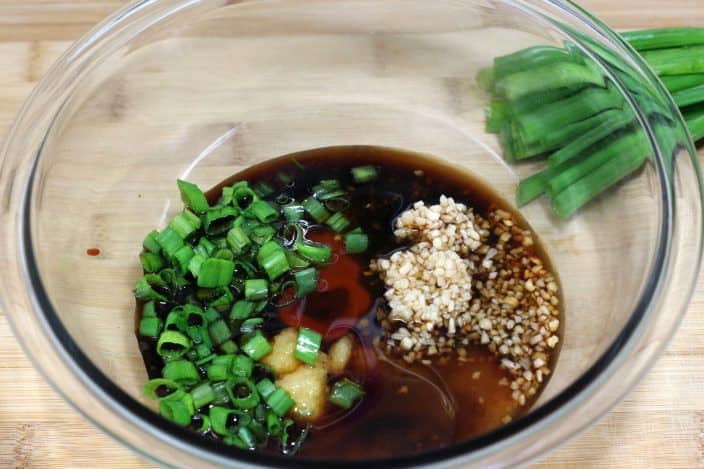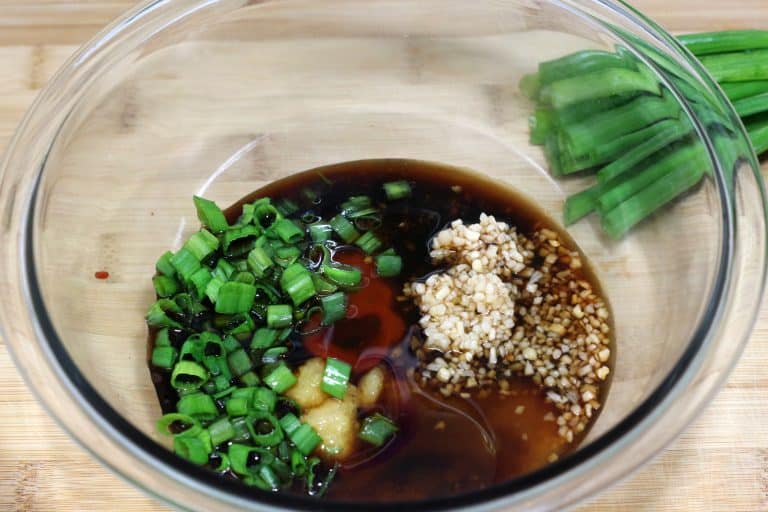 The marinade for Korean beef consists of gochujang, green onions, soy sauce, rice vinegar, garlic, ginger, sesame oil, and sugar. Gochujang sounds exotic, but you can find it at most grocery stores in the international aisle. This Asian beef marinade is perfectly balanced in taste, combing salty, sweet, sour and spicy.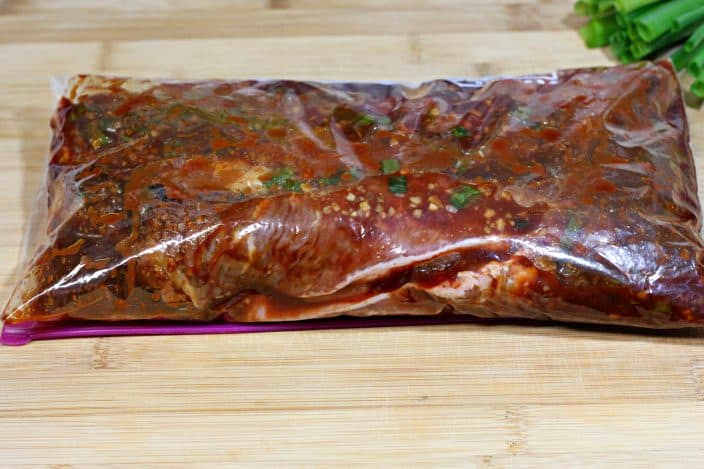 After your steak has marinated (at least 30 minutes), heat a pan on medium-high heat and add oil. Sear the meat so that each side has browned and cooked to your preferred temperature. You can transfer the steak to cutting board to rest. Make sure to not cut into it immediately, otherwise you will lose all of the juices.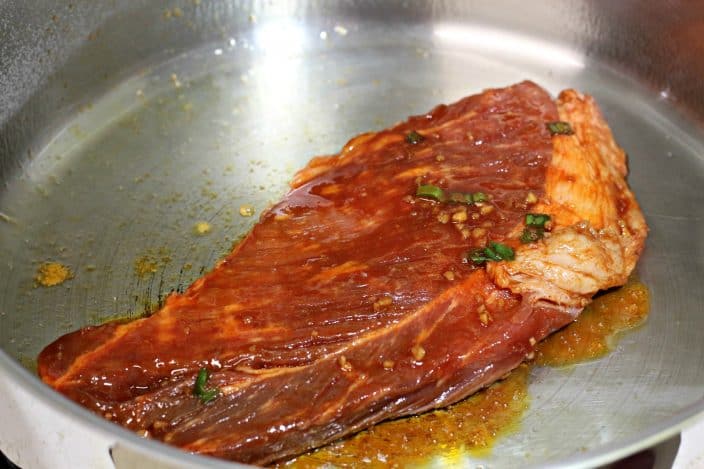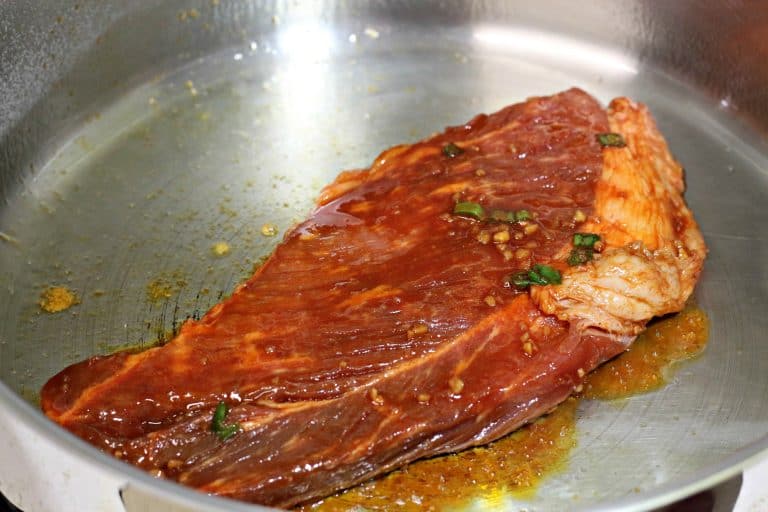 Next, add your ramen noodles, flavor packet and veggies to the pan with a couple cups of water and half of your marinade. The added mushrooms in this dish are my favorite part. I love the texture that it gives and the depth of flavor they incorporate!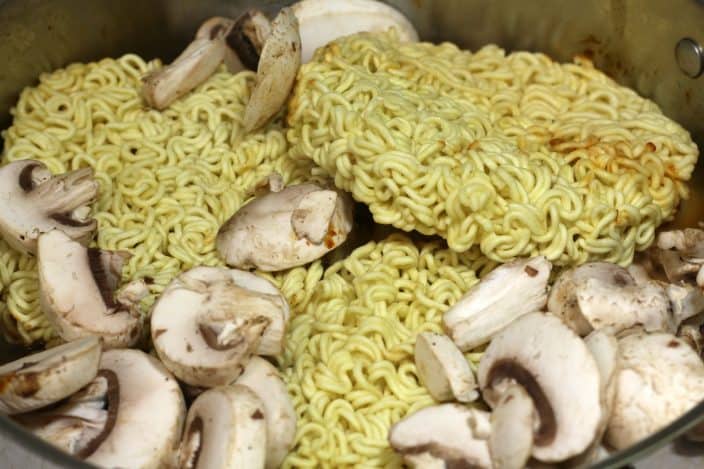 The noodles will simmer with the veggies for about 6 minutes, until the noodles are cooked through. Then, the sliced steak goes back into the pan until its warm!
Garnish your foodie masterpiece with sliced green onions and sesame seeds! In this dish you get the best of both worlds, Korean beef and ramen noodle soup!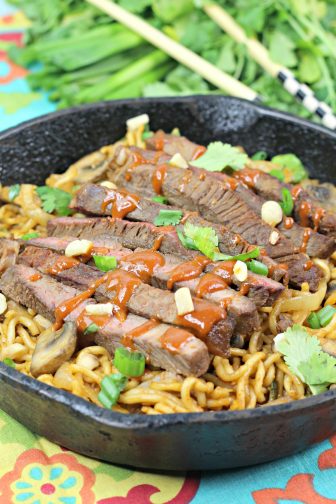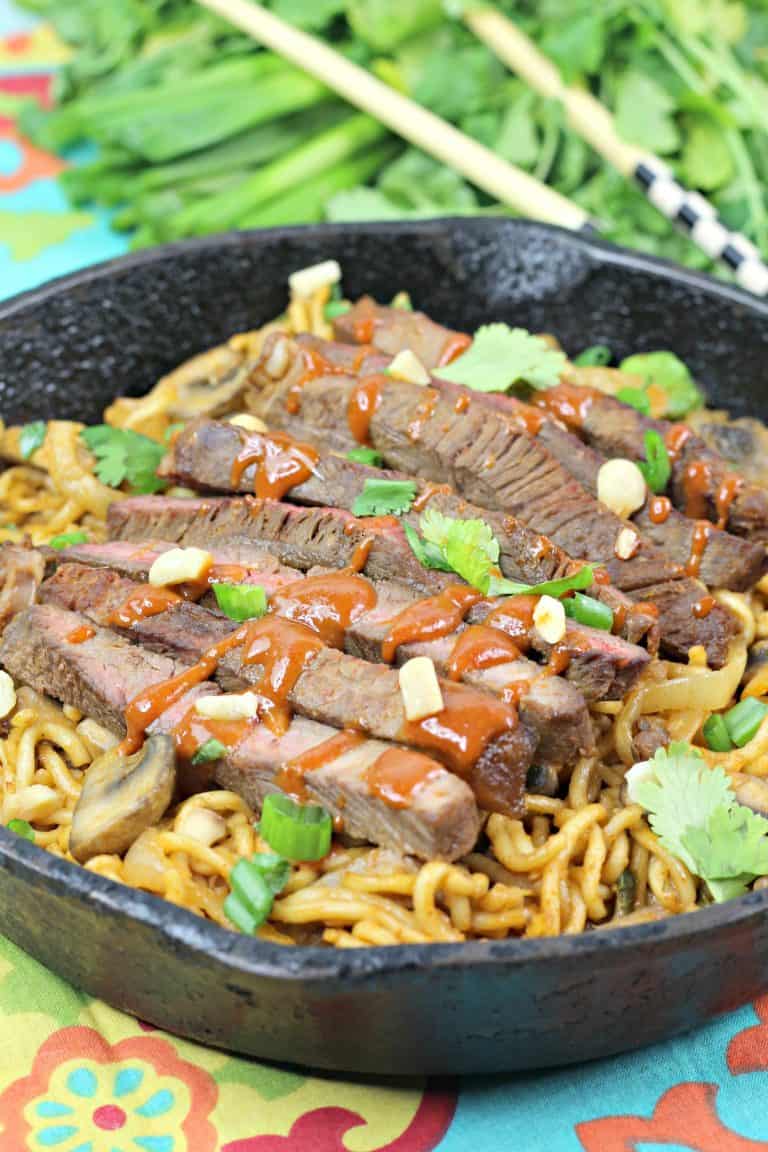 Tools You Need To Make This Asian Beef Dish
Spicy Korean Beef With Noodles
Additional Time:
30 minutes
This Korean beef and noodles is a great recipe to add to your dinner rotation. The Asian flavor spices up the tender steak and the noodles add delicious filling.
Ingredients
3 lbs sirloin steak (room temp)
2 Tbsp oil
4 Tbsp Korean chili paste (Gochujang)
2 TBSP green onions (thinly sliced)
2 TBSP soy sauce
2 TBSP rice vinegar
3 TBSP minced garlic
1 tsp ground ginger
1 TBSP sesame oil
4 tsp sugar
3 package of beef ramen (include seasoning packet and 2 cups water)
1/2 white onion ( thinly sliced)
1/2 C mushrooms (sliced)
Instructions
Whisk together the gochujang, green onions, soy sauce, rice vinegar, garlic, ginger, sesame oil, and sugar in a small bowl.
Divide the sauce in half and add one half of the sauce into a Ziploc bag.
Put the steak into the bag and put it into the refrigerator to chill (from 30 minutes or up to overnight.)
Cover the remaining of the sauce and chill.
Drizzle the oil into a large pan and heat to a medium-heat temperature.
Transfer the steak from the Ziploc bag to the heated pan. (Set aside the rest of the sauce in the Ziploc bag.)
Cook the steak for 5-8 minutes or until the steak has browned.
Remove the steak from the pan and place it on a cutting board. Set the steak aside.
Add the onions, mushrooms, ramen noodles, ramen seasoning, and the sauce from the Ziploc bag to the pan.
Add the water to the pan and bring it to until it to a simmer. Cook this in the pan for 5-7 minutes.
Make sure that the noodles are cooked through.
With the steak still on the cutting board begin to slice the steak into 1/2 inch slices.
Add the steak and the rest of the sauce to the pan. Continue to cook until the steak is hot.
Garnish with green onions and sesame seeds (optional).
A Dish For Many Occasions
Whether you are looking for a new family dinner recipe, something to spice up date night, or satisfy your craving, this dish won't disappoint! Grab your ingredients and get cooking this amazing Korean beef and noodles.
Did you try this recipe? What kind of meat did you use? Let us know in the comments below!