Water Chestnuts Wrapped In Bacon- The Best Recipe
This recipe for water chestnuts is one you'll be coming back to over and over again. These bacon-wrapped delights are perfect for large gatherings of family and friends during the upcoming holidays or football Sundays!
This tasty little appetizer is reminiscent of the classic Rumaki, minus the chicken livers and brown sugar. In this version, honey provides a touch of sweetness, while a spicy mustard dip adds some heat. Together, they create a winning combination that will soon become a new family favorite!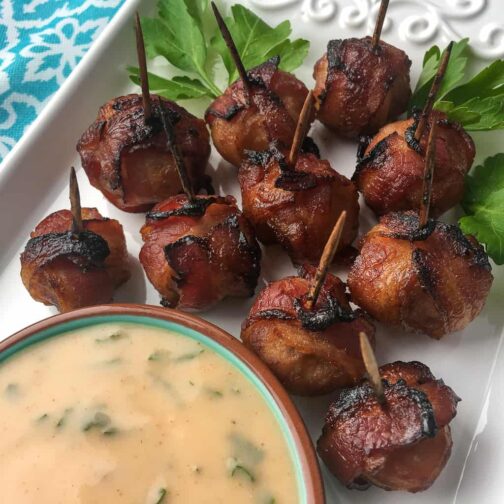 What Are Water Chestnuts
Water chestnuts are not actually a nut, despite the name, but an aquatic vegetable! They grow in Southeast Asia, Africa, Australia, and many other Pacific Islands. You've probably had them before and not even known it! Water chestnuts are often sliced up and put in many Asian dishes.
Fun fact: water chestnuts are very high in antioxidants and full of nutrients such as fiber, copper, magnesium, and vitamin B-6. They are also low in calories so you can afford to go a little wild and pair it something decadent like bacon!
How to Make Bacon Wrapped Chestnuts
Water chestnut recipes are some of my favorites. Water chestnuts have an amazing crisp and crunchy texture, while the flavor is nutty and sweet. You can get water chestnuts fresh or in a can at the grocery store. For this recipe, we recommend canned chestnuts for ease and convenience, but feel free to source some fresh chestnuts, if you're feeling ambitious.
In this water chestnut recipe, the combination of salty bacon, sweet soy and spicy mustard creates a wonderful contrast of flavors. The rich, fatty texture of the bacon is a nice combination with the crisp, fresh bite of the water chestnuts.
For this recipe, slice up your bacon into thin short strips and wrap them around the chestnuts. While you're prepping the bacon, you can begin marinating the chestnuts in the honey soy marinade. We recommend using local honey and gluten free soy sauce, if you can get it.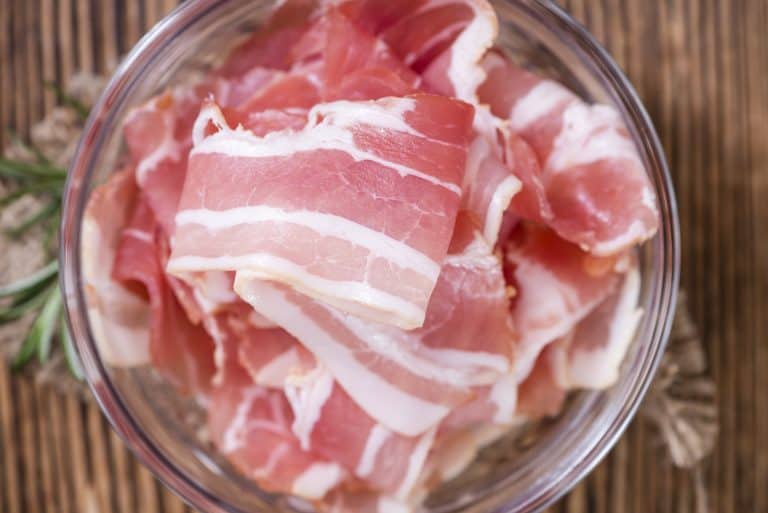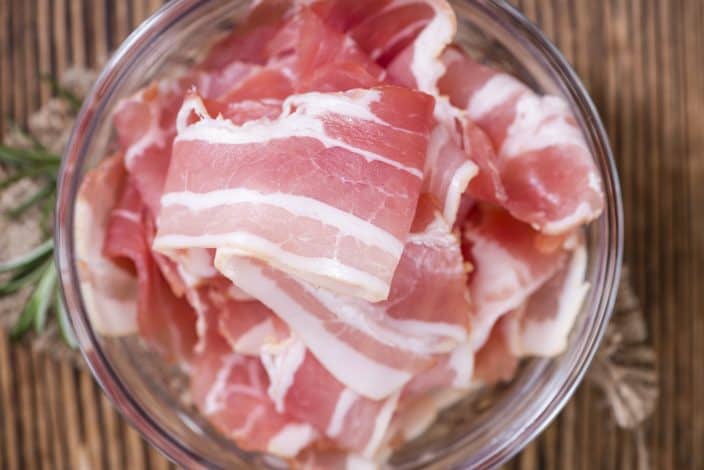 This chestnut glaze is wonderful. These ingredients come together beautifully and get caramelized in the oven. After making the sauce, drain the chestnuts and toss them in the marinade. You can set this aside for 30 minutes while you make the spicy mustard sauce. 
Roast these bacon wrapped water chestnuts in the oven on a baking sheet at 400 degrees Fahrenheit. Then, the chestnuts are double wrapped with bacon and secured with toothpicks. Brush the chestnuts with extra honey soy marinade and pop them in the oven.
Sit back and watch them get caramelized and turn a golden brown! The house will be perfumed with sweet salty aromas bound to make everyone ask "are they done yet?!"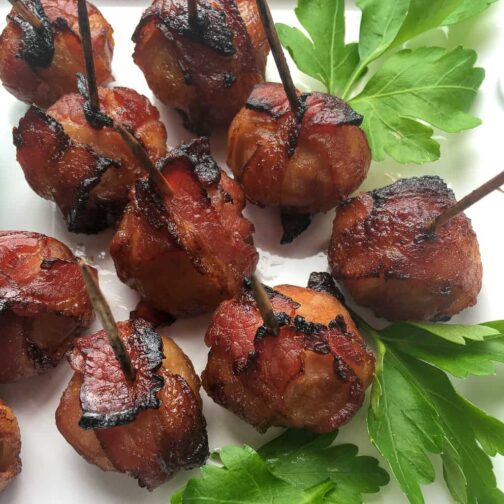 Spicy Mustard Dip
This spicy mustard dip is made extra creamy by the addition of Greek yogurt. Greek yogurt is a healthy alternative to other sauce bases, like mayonnaise. Hot sauce, cayenne pepper, mustard and parsley are then added to the mixture.
We prefer Dijon mustard, but you can substitute yellow mustard instead. The hot sauce will be your hot sauce of choice, like tabasco. The parsley adds freshness and a beautiful garnish to finish off this spicy mustard sauce.
 This post may contain affiliate links which won't change your price but will share some commission. As an Amazon Associate I earn from qualifying purchases.
What Do You Need To Make Bacon Wrapped Water Chestnuts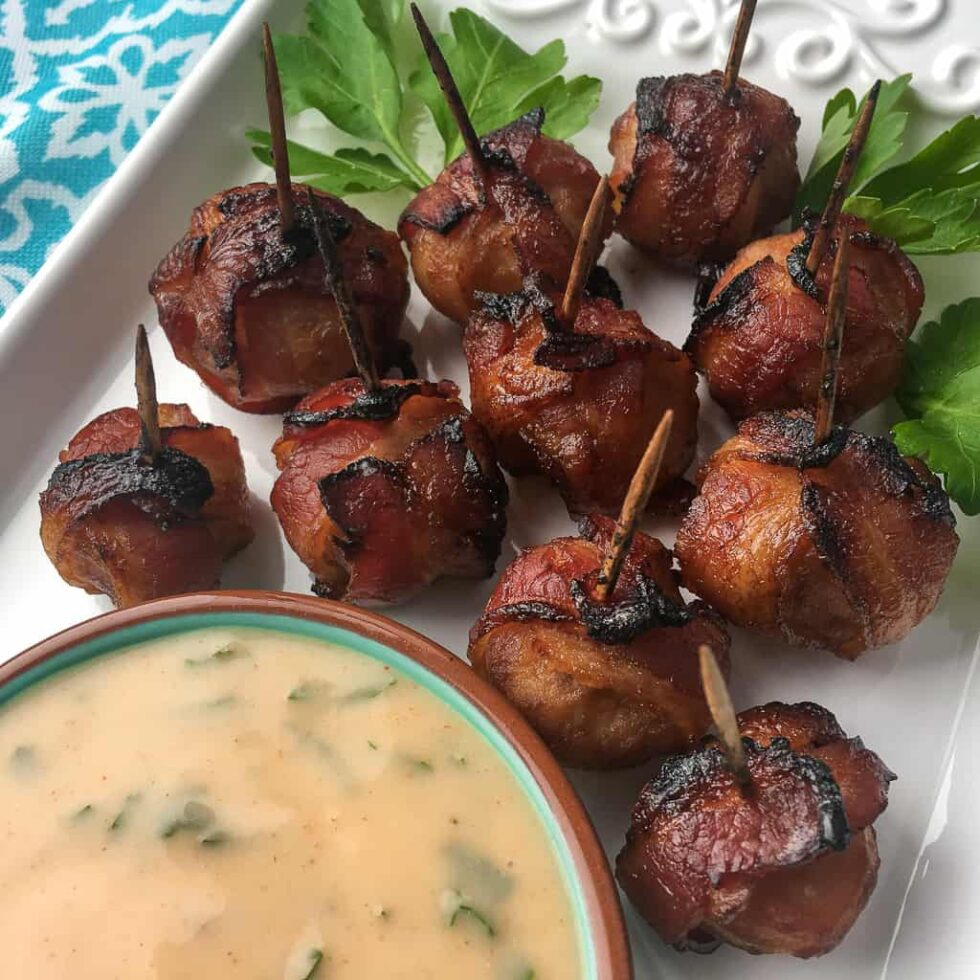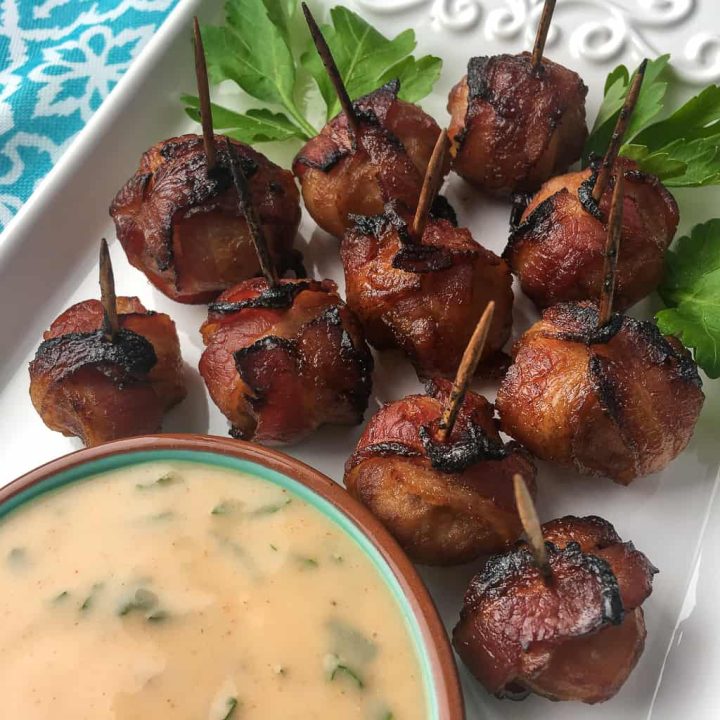 Water Chestnuts Bacon Wrapped
These bacon wrapped chestnuts are great appetizers. The water chestnuts are crisp and light in flavor while the bacon and honey soy glaze add a touch of richness. The spicy dipping sauce adds some heat to contrast the sweet and salty flavors.
Ingredients
8 strips center-cut bacon
1/3 c. gluten-free soy sauce
3 T. honey, preferably local
2 8-oz. can water chestnuts, rinsed and drained
¾ c. Greek yogurt
2½ T. Dijon mustard
1 T. hot sauce
¼ t. cayenne pepper
2 T. fresh parsley, roughly chopped
Sea salt and black pepper, to taste
Instructions
Cut bacon strips in half lengthwise, then cut each thin strip into 3 equal sections for a total of 48 pieces. Set aside.
Mix soy sauce and honey in a medium mixing bowl. Add water chestnuts and turn to coat. Marinate at room temperature for approximately 30 minutes, turning water chestnuts 2-3 times during that time.
Preheat the oven to 400°F and place a metal rack inside a large, rimmed baking sheet. Spray rack with non-stick cooking spray and set aside.
Drain water chestnuts but reserve the marinade. Wrap each water chestnut with a piece of bacon, then repeat with a second strip on the opposite side. Secure both pieces of bacon with a toothpick and place on the baking rack.
Repeat with remaining water chestnuts. Brush each appetizer with reserved marinade on all sides. Place the prepared baking sheet in a preheated oven for 20 minutes, then remove from the oven and brush with more marinade before returning to the oven for another 10-15 minutes.
While the water chestnuts are roasting, combine Greek yogurt, Dijon mustard, hot sauce, cayenne pepper, and parsley in a small bowl. Season salt and black pepper, to taste. Cover and place in the refrigerator until ready to serve.
When finished, remove the bacon-wrapped water chestnuts from the oven and serve immediately with the spicy mustard sauce for dipping. Enjoy!
Nutrition Information
Yield

5
Serving Size

1
Amount Per Serving
Calories

174
Total Fat

7g
Saturated Fat

2g
Trans Fat

0g
Unsaturated Fat

4g
Cholesterol

20mg
Sodium

1601mg
Carbohydrates

17g
Fiber

1g
Sugar

12g
Protein

12g
This chestnut recipe is one of my go-tos whenever we are planning a large gathering. They are also great to bring as an appetizer to parties- hosts and guests are always impressed!
Have you ever tried water chestnuts? What kind of gathering are you going to make these for? Let us know in the comments below!
CHECK OUT WHAT'S NEW ON BETSI'S WORLD