Love and romance abound when planning the best vacations in the South for couples to celebrate anniversaries. Keep reading if you and your spouse are looking for romantic getaways this month in the Southern United States. The South is the perfect place to go for a romantic getaway!
Visiting these most romantic getaways in the South and staying at a lovely resort or hotel is perhaps the best thing you can do for your special someone on your anniversary.
Taking part in a couple's spa treatment is a luxurious option for a romantic getaway that couples will never forget. It's all about finding time for love and romance.
Our Picks For The Best Weekend Getaways In The South
Tennessee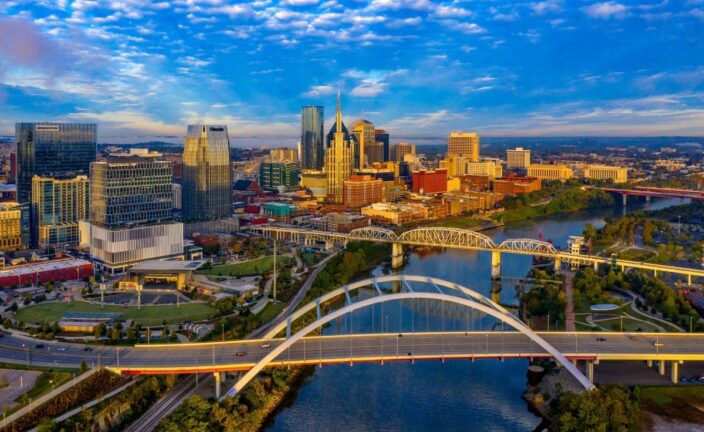 If you want to dine on some great food during your memorable weekend getaway, Tennessee is the place to be. There are plenty of small towns with fantastic restaurants and coffee shops where you can enjoy all sorts of cuisines and treats.
The Great Smoky Mountains
The Great Smoky Mountains is perhaps one of the most romantic getaways in the South to visit. There are many great outdoor activities, from hiking to mountain biking. Be sure to stop by some of the historic landmarks on your journey, too.
Memphis
Take your partner to Memphis. Memphis is famous for some of the best barbecues globally, so be sure to stop by one of the famous barbecue restaurants that serve up delicious pulled pork sandwiches or ribs. You can also enjoy live music at many venues where some amazing artists started.
Grand Ole Opry
If you want to give your loved one a fantastic night out, take a romantic stroll and head over to the Grand Ole Opry in Nashville for a memorable show.
Virginia
A weekend getaway to Virginia is all by itself romantic, but it's even more special when you bring your partner along for the ride.
Virginia is home to the best weekend getaways. You can go for walks down the historic district or hikes through the beautiful backcountry during the day before relaxing in one of the luxury hotels at night.
Chincoteague Island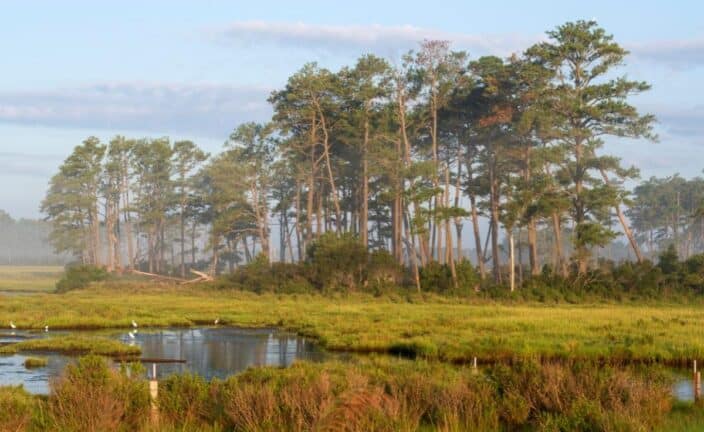 On this small island, off the coast of Virginia, couples can spend a most relaxing getaway indulging in fine dining, water tubing, parasailing, and more during their romantic weekend getaway.
Chincoteague Island is a quaint town with plenty of bed and breakfasts that offer rooms complete with fireplaces or jacuzzis.
This island also has several beaches to spend a perfect romantic getaway with your partner. It is known for its secluded coves and romantic sunsets — where you can savor a meal while enjoying a glass of chablis, chardonnay, or champagne.
Virginia Beach
As the largest city in the state of Virginia, you and your significant other can enjoy a variety of activities on weekend getaways to this coastal city of Virginia Beach.
There are plenty of places to stay along the water's edge. White sand beaches also await couples who enjoy lounging on the beach and spending a beautiful time at a resort spa together.
Williamsburg
The Williamsburg Inn in this Southern city is just what you need for a genuinely royal getaway. There are many unique rooms for couples to choose from, with fireplaces and whirlpool tubs for two. You can also enjoy romantic dinners in their specialty restaurants or take a canoe around this historic town together.
Colonial Williamsburg's main street is Duke of Gloucester Street. Here you can shop for lovely items to take back home.
The historic district in Williamsburg is another excellent place for couples to see during their romantic getaway.
Waynesboro/Charlottesville
The Cedar Inn Spring & Spa in Waynesboro is perfect for couples wanting intimate weekend getaways for a more country feel. There are multiple themed cottages and villas that you can choose from.
The amenities include fireplaces and outdoor hot tubs, which you can enjoy with your partner during your romantic stay.
Virginia Wine Country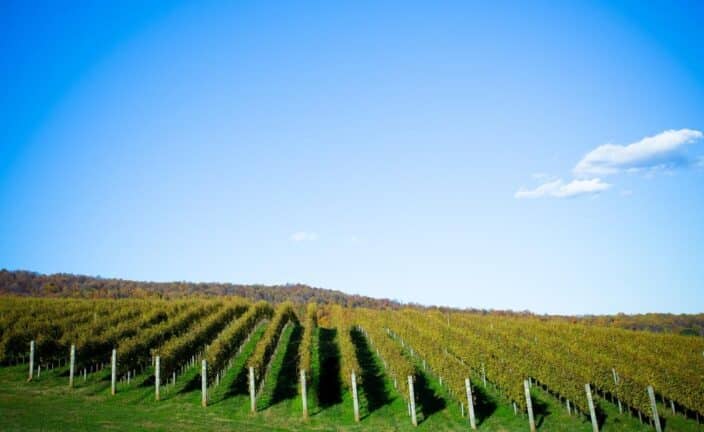 Wine tasting is a popular pastime during the weekends, and several vineyards here rival those in California. Visit Virginia's Wine Country for a romantic weekend. Why not spend a day at the local vineyards with your loved one?
There are several wine-tasting trips you can take, including transportation between wineries. During this beautiful weekend, pair your drink of choice with sumptuous food. Enjoy an idyllic time with your loved one.
With spectacular views over the mountainside of the Shenandoah National Park, which is home to Skyline Drive, this wine-tasting experience can't get any better!
South Carolina
South Carolina is a fabulous romantic getaway for something a little different. Known for its grand oak trees and historical attractions, South Carolina is a great place to enjoy the sights and sounds of the South.
For couples looking to enjoy a little luxury and modern amenities with their stay, The Sanctuary at Kiawah Island is perfect for an everlasting memory. This expansive resort is located on a barrier island with over seven miles of beaches.
The Sanctuary in South Carolina is the perfect place to enjoy an intimate getaway. You can use this day to dine at one of the resort's fine restaurants or enjoy a massage.
South Carolina's vibrant arts scene is famous in the South. With several fine galleries to choose from in this city, you and your partner can enjoy art exhibits together. Savor the local cuisine while you take a stroll enjoying street art, which is a common attraction here, too.
Columbia
There are several other places to stay in South Carolina, especially in the capital city of Columbia. The charm of this historic town begins with its antebellum houses and pre-Civil War architecture. With the many local wineries in South Carolina, you can make a full weekend out of your getaway.
Charleston
Charleston is a one of very romantic cities in the USA and makes for a perfect destination for couples. The Waterfront Park is an ideal place to stroll with your loved one.
You may have an exceptional experience at one of the numerous bed and breakfasts in Charleston. In the dining room, your hosts will typically provide delicious homemade breakfasts. These historic homes have been restored to provide the best romantic getaways in the South!
Charleston's historic buildings in the historic district are one of the most visited getaways in the South.
Couples can experience the best weekend getaways and enjoy fine dining, tours, and cruises on the water, nights at the theater, a round of golf in one of their world-class golf courses, and more. Get sand in your toes in Folly Beach!
Myrtle Beach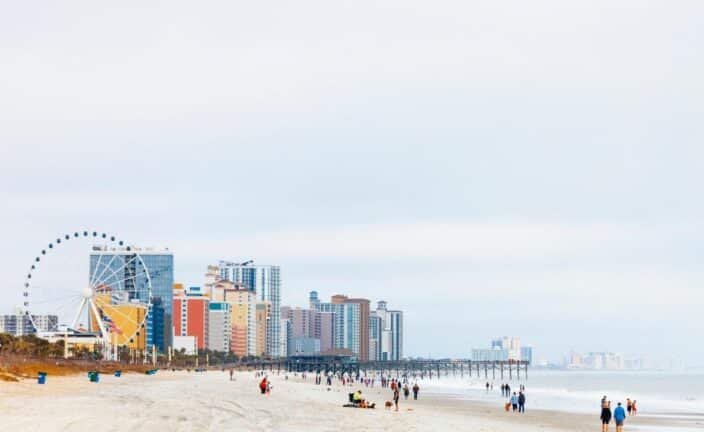 Why not come to one of the most beautiful beach cities on the East Coast for your romantic getaway? There are plenty of romantic and extravagant hotels and resorts that will be ideal for your stay.
Myrtle Beach has everything from indulging in a luxurious spa treatment to savoring a romantic gourmet dinner for two on your weekend trip!
Hilton Head Island
If you're looking to soak in the sights and sounds of nature during your getaway, you cannot go wrong with Hilton Head Island. Make time to visit secluded coves perfect for couples who want to spend quality time in a quiet atmosphere.
Spend the day at Coligny Beach Park, the most popular oceanfront park in Hilton Head Island, to enjoy the best beaches in South Carolina while indulging in romantic activities. You can also take your binoculars to do some bird watching in their nature reserves or horseback riding.
Greenville
In the city of Greenville, South Carolina, Falls Park in the historic West End is a romantic weekend trip for couples or the whole family.
Falls Park on the Reedy is a Greenville, South Carolina park of 32 acres (130,000 m2). The park may be used for picnics, strolls, and runs, You can bike down the Swamp Rabbit Trail or go to the bucolic town of Travelers Rest.
North Carolina
The Appalachian Mountains in North Carolina have perfect biking and hiking trails. If you're looking for fun activities, consider The Tar Heel State for the best vacations in the South for couples.
The Blue Ridge Mountains
There is no better place for couples who want some time away in the mountains than the Blue Ridge Mountains. These mountains are a testament to couples' best weekend getaways in the South.
If you are craving a romantic weekend, consider visiting the Blue Ridge Mountains as one of these fantastic getaways in the South, where there is plenty to see and do for two people who want to experience love and romance.
Outer Banks
Explore romantic Outer Banks by visiting North Carolina's most famous lighthouses.
There are several bed and breakfasts in the Outer Banks that will make your romantic getaway complete. With amenities like fireplaces, jacuzzis, hot tubs, and an outdoor pool, you're sure to enjoy this special celebration with your loved ones.
Asheville
Not far from Charlotte, NC is Asheville. This Western North Carolina town has a lot to offer with the fabulous Blue Ridge Parkway and several other places to explore.
Downtown Asheville is a romantic place with several beautiful gardens, locally-owned shops, restaurants, and breweries to visit.
For outdoor enthusiasts who are visiting this romantic getaway destination in the South, you can
Winston-Salem
There is no better place for couples looking for an unforgettable experience than Winston-Salem! The wineries in this area give them the nickname "Napa Valley of North Carolina." There is no better place for couples looking for the best weekend getaways in the South than this!
Sip on some fine fruit blend while taking in the spectacular views or enjoy some city life at restaurants and shops.
Georgia
If you're looking for relaxing weekend getaways, Georgia is the state for you. Whether you'd like a nature retreat or bike ride on a trail, there is undoubtedly something for everyone!
Wineries include Habersham Winery, Wolf Mountain Vineyards, Montaluce Winery, Yonah Mountain Vineyards, Three Sisters Vineyards, and more.
You will want to check out our list to help you pick romantic weekend getaways in Georgia!
Savannah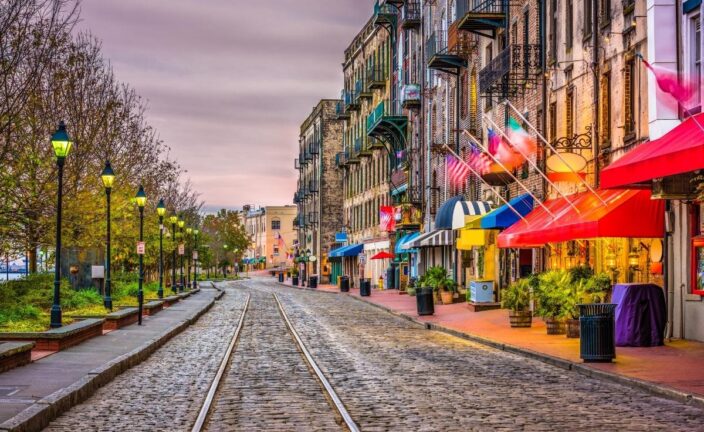 There is a reason why Savannah is known as "The Hostess City of the South." It's a perfect destination for couples looking for getaways in the South!
Get on a romantic carriage ride and experience the best of Savannah! Have cocktails from a rooftop bar and indulge in dinners at romantic restaurants.
Make sure to also visit Forsyth Park for a relaxing stroll. The Eliza Thompson House is one of many historic landmarks in South Savannah.
You can check out our list of romantic weekend getaways in Savannah to help you!
Louisiana
Louisiana could be the best romantic getaway. There is plenty of natural beauty around every corner.
Our list includes many top spots, from the fantastic Louisiana bayous to the French Quarter. There are also several short trips for those who do not have an extended vacation.
New Orleans
The Cajun culture adds a lively zest to the region! Even though it isn't quite time for Mardi Gras yet, Louisiana's biggest city is a perfect spot for a romantic date filled with delectable cuisine.
New Orleans doesn't disappoint, with plenty of history and culture to keep you busy.
Your weekend escape could start with a carriage ride through the French Quarter. Indulge in some coffee and beignets at Café du Monde. Then have a delicious dinner at one of the many romantic restaurants.
Florida
Florida is an ideal destination, and the list includes some of our top picks. The sunshine state has the best getaways in the South, from soft beds and breakfasts to luxurious resorts and hotels.
St. Augustine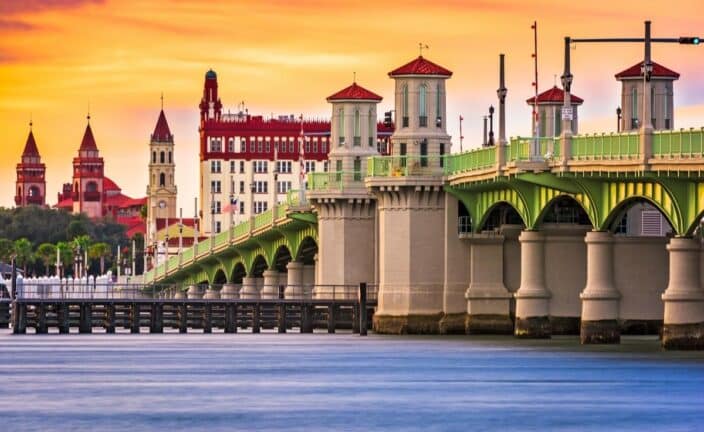 For a more historical weekend trip, check out St. Augustine, Florida. Be sure to take a tour of Castillo de San Marcos and Mission Nombre de Dios. The palm trees are majestic, and plenty of quaint shops and boutiques to wander around.
Even setting aside the theme parks, Florida has so much more to offer! Scuba diving and snorkeling in the Keys as a couple cannot get any more romantic than that! The art galleries in St. Augustine are some of the best in Florida!
Clearwater Beach
For a more relaxing vacation, try Clearwater Beach. There are plenty of beach resorts and hotels, including the luxurious Sand Key Park. This place offers the best place for relaxing on a private beach during your romantic stay. Bring beach chairs and make it an ideal place for a romantic weekend trip. Why not make it a weekend getaway for two?
Mt. Dora
For a more outdoorsy kind of vacation, the best place to spend the day would be Mt Dora. You can go canoeing and kayaking on Lake Dora. Then round out your intimate evening spending it under the stars.
Texas
Texas has a lot of great destinations that couples would want to visit. The list includes some top places in Texas, from historical places to coffee shops.
Dallas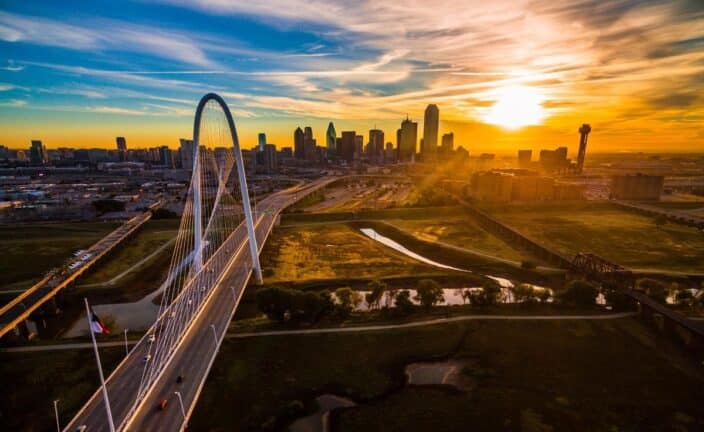 Dallas, Texas is full of culture and exciting things to do. If you are looking for a fun time with your significant other, Dallas might be the place for you.
Make sure to take a romantic carriage ride through Downtown Dallas and Highland Park, which has several quaint restaurants and shops.
There are plenty of romantic spots to stay, such as the luxurious Le Meridien Dallas by the Galleria. You can also try Stoneleigh Hotel for overnight accommodations.
Gulf Coast of Texas
The Gulf Coast has a few of the best beaches to relax on. There are plenty of shops and restaurants in the region, especially around Aransas Pass.
For a more relaxing getaway, you can check out the Moody Gardens Hotel Spa & Convention Center in Galveston. It is right on the beach with plenty of rooms to stay in.
Mississippi
Mississippi might not seem like a place for a romantic getaway. But Jackson and Greenville are two of Mississippi's top destinations that are perfect for couples!
Jackson
 This post may contain affiliate links which won't change your price but will share some commission. As an Amazon Associate I earn from qualifying purchases.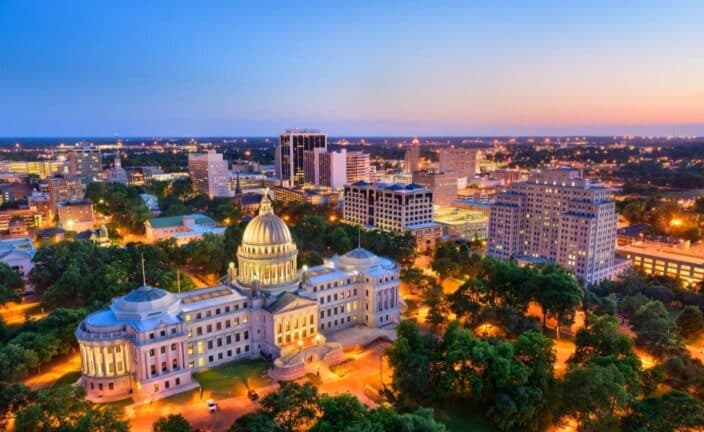 Jackson, Mississippi, is another lovely place to visit. Make Jackson a romantic getaway with its historic sites and museums to check out.
For a small city, Mississippi's capital has some unexpected gems to discover on your search for a unique romantic getaway.
The Fairview Inn has a hint of Southern charm and is a great place to stay.
Greenwood
Greenwood, Mississippi, is a fantastic destination to visit if you would like to get away from the hustle and bustle of big cities. The city is a little more rural, with a slow pace of life.
It might not be as hip or trendy, but it is a significant change. Stay at The Alluvian Hotel, a quiet, secluded hotel with suites and lofts.
Alabama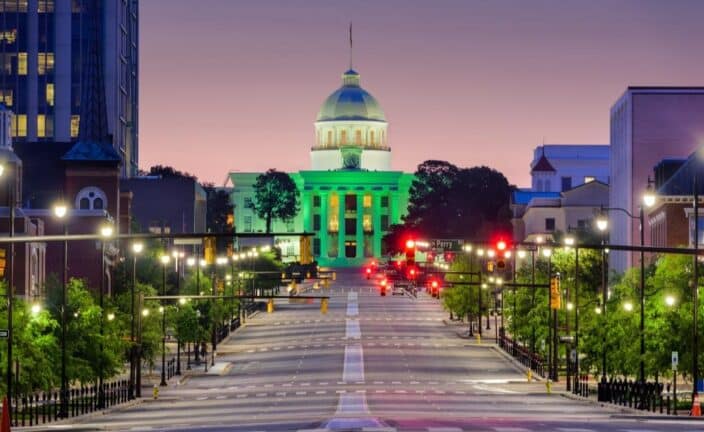 There are several romantic resorts to choose from in Alabama on the shores of rivers or by the ocean. However, if you want some adventure, head inland to Montgomery, where you can zip-line through the trees over Cypress Creek at Wild Oak Canopy Tours.
There are excellent spots right around Birmingham if you want to explore some city life for your romantic getaway, too!
Kentucky
No romantic weekend trip would be complete without Kentucky. A getaway to Kentucky is always a must-do for any Southern holiday. Kentucky has a remarkable history, peaceful nature sites, and exciting activities for romantic getaways in the South.
Lexington
Couples can visit the Kentucky Horse Park and take a horseback ride through the park's trails. Stay at the luxurious Lyndon House Bed & Breakfast located in the historic downtown area for one of the best weekend getaways ever!
Mammoth Cave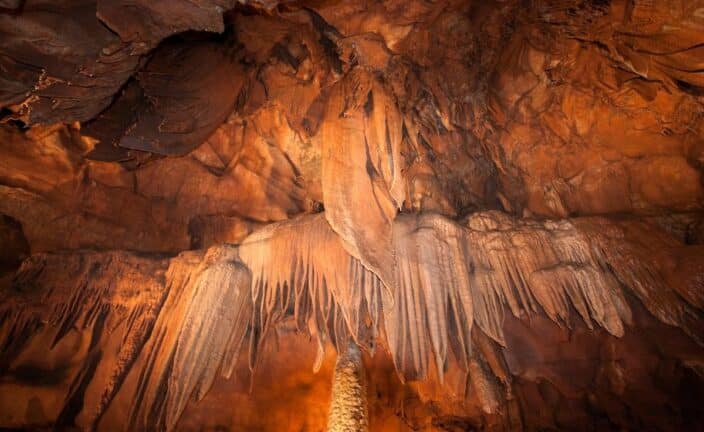 Make a romantic weekend getaway visiting the Mammoth Cave, which is the longest cave system in the world. Take the long tour and work up an appetite for a nice quiet dinner for two at the Windy Corner Restaurant.
Arkansas
Arkansas is another great place for the best romantic weekend getaways in the South. Check out the Ozarks on your next weekend trip to Arkansas, as it's known for its hot springs.
The Buffalo National River is a splendid place for you to spend the day.
Hot Springs National Park
For a more scenic place to explore, the Hot Springs National Park is perfect. There are several cozy resorts and hotels in the area to spend the day.
A Romantic Getaway is Exactly What You Need!
Southern USA is full of the best romantic getaways. Pick the best hotel, resort, spa, restaurant, and other places when you're spending time for love and romance with your partner.
We've got you covered with everything from wine tasting to outdoor activities that will create the best vacations in the South for couples.
CHECK OUT WHAT'S NEW ON BETSI'S WORLD
Which destination are you most likely to pick for your next romantic getaway? Let us know in the comments below!
Romantic Getaways in the South