Cheese and wine pairing is not as hard as it may seem. Once you get to know the flavor profiles of wine and cheese, you'll be a pro at pairing them!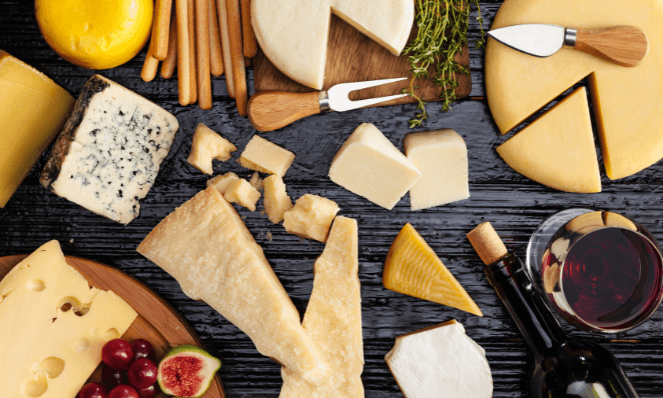 Cheese boards are one of our favorite ways to entertain and feed our guests. There is something so elegant about a perfectly put together charcuterie board filled with sharp cheese, mild cheeses, aged cheese, fruits, meats, jams, and nuts. The flavors ranging from nutty to salty to sweet to crisp or briny is what brings a great cheese board to life!
Pairing wine and cheese can be daunting if you're new at it, that's why I've created this guide to help you entertain like never before.

Wine and Cheese Pairings Recommendations
Côtes du Rhône and Manchego.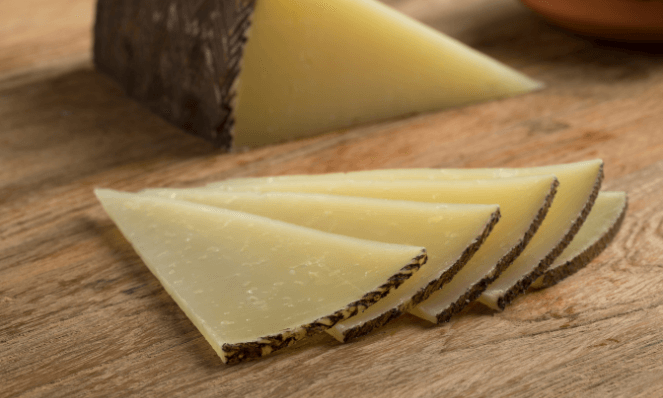 Côtes du Rhône is a full-bodied wine with flavors of currant and spice which cuts the richness of Manchego cheese. Manchego is a sheep's milk cheese that is very rich in flavor that is creamy, nutty, and slightly sweet.
Chianti and Parmigiano-Reggiano
Chianti is a medium bodied, acidic wine with flavors of cherries and earth. This wine brings out the fruitiness of the Parmigiano- Reggiano. Parmigiano Reggiano is an aged cow's milk cheese with a complex, fragrant fruity and savory flavor.
Malbec / Shiraz and Edam or Gouda.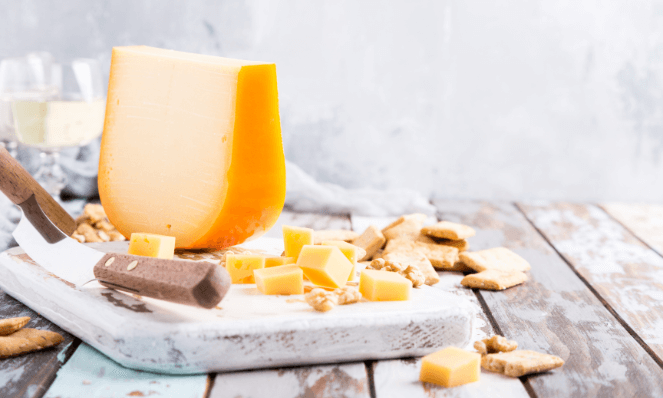 Malbec has notes of blackberry, plum, and cherry which sometimes offers chocolatey and leather notes as well. It's fruity, deep finish pairs well with the sweet and smooth flavors in Edam and Gouda.
Edam is a semi-soft cheese with a sweet, mild & milky flavor. Gouda can be a hard cheese depending on how long it has been aged with a rich, smooth, sweet complex flavor. It is typically a cow's milk cheese, but can also be made with goat's milk.
Merlot and Camembert
Merlot has fruity flavors of black cherry, plum, and raspberry with some herbal notes, which bring out the nuance in flavor of the camembert.
Camembert is a soft white cheese with a bloomy rind and a fruity, light mushroom, slightly musty aroma.
Pinot Noir / Beaujolais and Gruyère, Harvarti, and Comte
Pinot Noir has notes of mushroom, vanilla, spices, cherry and raspberry. It's complex flavor pairs well with a range of cheeses with sweet and nutty undertones.
Gruyere is a hard, cow's milk cheese with nutty, slightly sweet, with musty notes.
Havarti is a cow's milk, semi-soft cheese with sweet & acidic notes and is very smooth.
Comte is a hard, cow's milk cheese that is sweet & salty with a fruity and nutty tang.
Tempranillo / Syrah and Manchego or Cheddar
Tempranillo has notes of leather and cherries. Syrah is a full-bodied wine with notes of sweet blueberry and a bit of pepper. Both pair well with manchego or cheddar cheese which has a rich, fruity, nutty flavor.
Cabernet Sauvignon and Cheddar or Gouda
Cabernet Sauvignon is a full-bodied wine with flavors of dark fruits like blackberry and black cherry with spices, vanilla, and black pepper. It holds up well to the sweet nutty flavors of cheddar and gouda.
Sauvignon blanc and Gruyere or Mozarella Di Bufula
Sauvignon Blanc is a white wine with flavors of peach, passion fruit, lime, and green apple. It brings out the sweetness in gruyere and the freshness of Mozzarella Di Bufula.
Gruyere is a hard cheese with a nutty, slightly sweet flavor and musty notes.
Mozzarella Di Bufala is a mozzarella made with buffalo milk. It is a wonderfully soft and mild cheese with a sweet, milky taste.
Chardonnay and Brie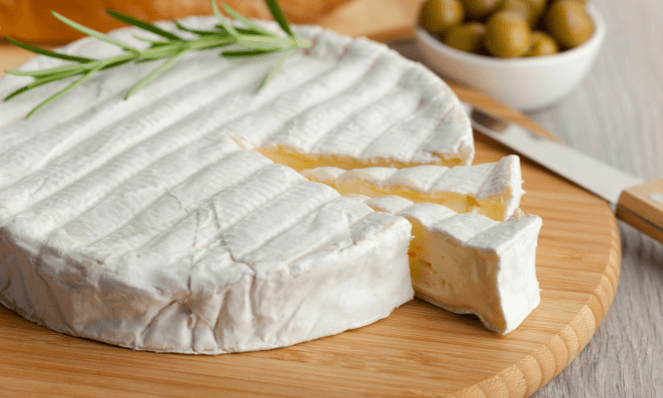 Chardonnay has flavors of ripe peach, sweet pineapple, and butter which is an excellent contrast to the mushroomy, creamy flavor of brie.
Brie is a soft cheese with a white, bloomy rind with a milky, sweet taste and mushroomy aroma.
Pinot grigio and Feta or Ricotta
Pinot Grigio is a crisp white wine with flavors of pear, lemon, and white nectarine. This wine pairs perfectly with ricotta and feta and adds a bit of sweetness to the flavor profile.
Feta is a fresh, salty, slightly briny tasting cheese, which is traditionally made from sheep's milk or a combination of goat and sheep.
Ricotta is a mild, fresh cheese with a rich milky taste and hint of lemon.
Dry Rose and Mozarella Di Bufala or Ricotta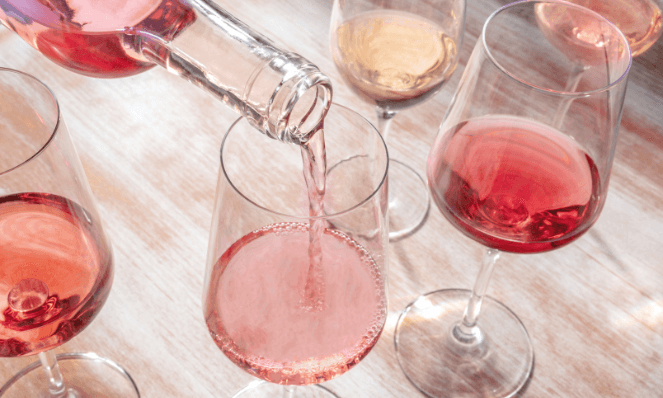 Dry rosé has hints of grapefruit, orange, passion fruit, and mango which pairs beautifully with the fresh milky taste of mozzarella di bufala and ricotta.
Prosecco and Gouda
Prosecco is a crisp light-bodied wine with hints of apple, peach, lemon, and pear. Pairing this cheese with Gouda brings out the sweetness in the cheese.
Port and Stilton or Roquefort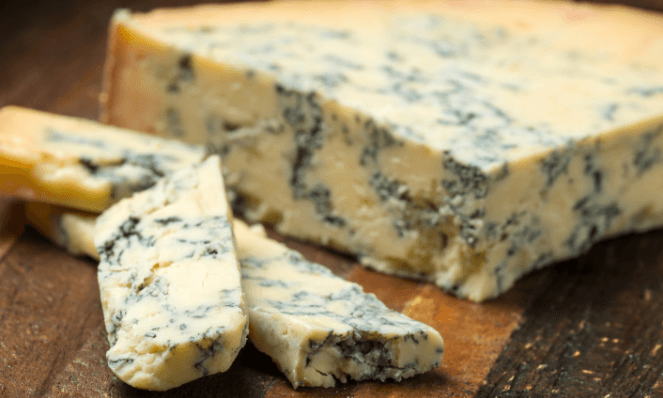 Port is one of the sweet wines with a ripe and musky fruit flavor, often of black berries or raspberries. The sweetness of this dessert wine is a lovely pairing with strong blue cheeses.
Both Stilton and Roquefort are blue cheeses with a bold flavors.
Stilton has slightly fruity citrus and mineral notes, while Roquefort has some spicy flavors with a salty tang and sweet notes.
How To Pair Cheese and Beer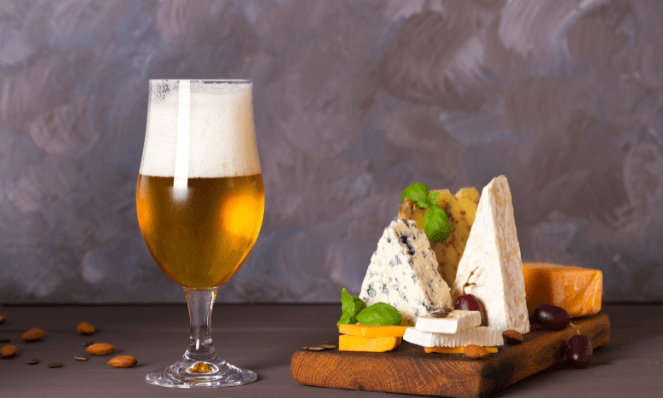 Cheese pairing isn't just for wine! You can pair cheese with beer too. The complex flavors in great beer make pairing cheese with it quite the gastronomic experience!
Pilsner and Havarti
Pilsners are on the bitter side with floral aroma, an excellent pairing with the sweet acidity of Havarti cheese.
Wheat Beer and Chevre
Wheat beer has a bready and bright flavor, a good pairing with fresh goat cheese.
Chevre is a very soft young goat cheese with a distinctive tang and aroma. It has a tart flavor and can be found in stores plain or as an herb cheese.
Belgian Beer and Stinking Bishop
Belgian Beer tends to have floral aromas and a sweet taste to it which is a great contrast to the Stinking Bishop cheese.
The Stinking Bishop is a washed rind cheese. Washed rind cheeses have a glossy rubbery look to their rinds and a distinctively pungent smell. Their flavor, however, is delicious. Stinking Bishop is a semi-soft cheese that is rich, meaty, and slightly sweet.
Pale Ale and Cheddar
Pale ale is a medium-bodied, golden beer with light citrus and pine flavor which pairs deliciously with the sharp and nutty flavor of cheddar cheese.
IPA and Cheddar or Gorgonzola
IPAs have a strong taste of hops which holds up well against the strong taste of Gorgonzola blue cheese and a sharp or aged cheddar.
Stout and Roquefort or Gouda
Stout beer has a strong flavor that is malty with a little bit of hops. It pairs nicely with the smooth sweetness of gouda or slightly spiciness of Roquefort.
Why Are There Crystals In My Cheese?
You often see white crystals in aged cheeses, for example in an aged gouda. When cheese ages it forms crunchy crystals in it which are either calcium lactate or tyrosine.
These spots are often mistaken for mold, however, neither are harmful and can add a pleasant texture to your cheese experience!
Charcuterie Boards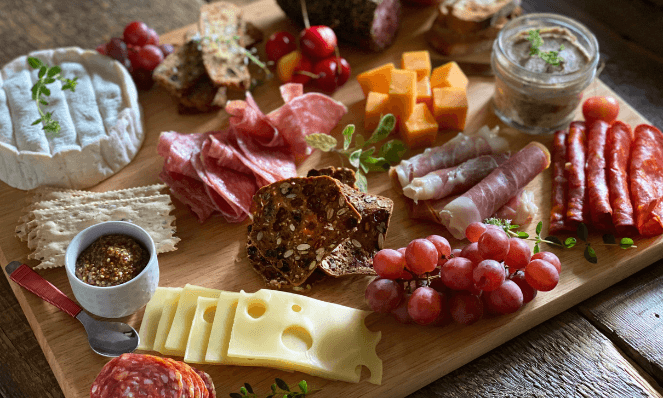 Boards
You can use anything to create a charcuterie board. Use a wood cutting board, a glass platter, a dinner plate, or even an antique plate. Of course, you can invest in a charcuterie board, but I love repurposing items that I already have.
Containers for Nuts, and Other Garnishes
This again is a personal preference. I use small clear ramekins for nuts, fruits, and olives. Crackers, pita chips, and sliced baguettes find a home in a unique bowl, antique candy dish, basket adorned with a whimsical napkin, or even a selection of mismatched tea cups. It's okay to be whimsical and unique.
Decorate Around Your Board
Again, this is a personal choice. You can anchor your charcuterie board with unique candlesticks (again, you can repurpose things). I love these cute martini glasses that I use as candlesticks in the background of my charcuterie platters. 
You can also use flowers (fresh, dried, or silk), or even unusual plant leaves or herbs. Be sure to include small plates and napkins. If it is a small intimate gathering with two or three couples, I'll often use my antique china. Why? Because my philosophy is if it is hidden away and never used, then why keep it?
**Hint: It's totally okay to use disposable plates, especially for a large gathering. This makes cleanup a breeze.
Charcuterie Tools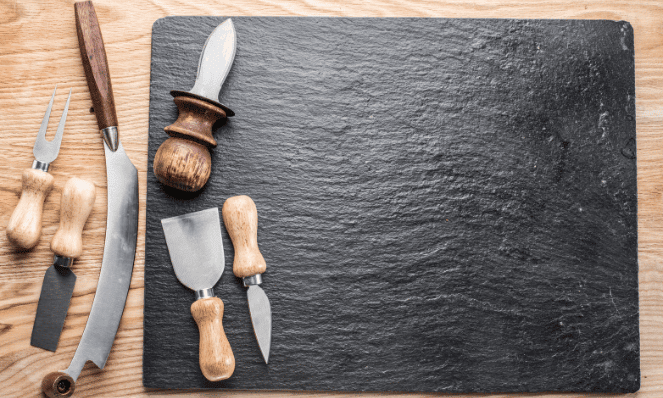 Invest in a set of cheese tools! Cheese knives are one of the best tools you can use. A set of cheese knives is convenient to use. The cheese knives are used for slicing or cutting semi-hard and hard cheeses, the spreading knife is ideal for soft cheeses like a baked brie. The cheese fork is used for spearing a slice of cheese to put on your plate.
I also love to include a cheese planer when serving a charcuterie platter. It works well for semi hard to hard cheeses.

Mix your flavors and textures! These four flavors, sweet, spicy, savory, and spicy will create a balance, flavorful, and tasty treat for your guests.
The sweet side can come from honey, jams, jellies, fruits, and chocolate.
Use cured meats, prosciutto, pepperoni, capicola, salami, and other cured meats to bring the savory cured flavor.
Nuts like almonds or cashews provide a salty flavor.
Mustards can provide a spicy flavor.
**Hint: You should combine at least two of the four flavors on your charcuterie board.
Elevate your board with "meat flowers". This easy-to-create edible centerpiece takes a small jigger, or for a larger board, a wine glass.
What You'll Need: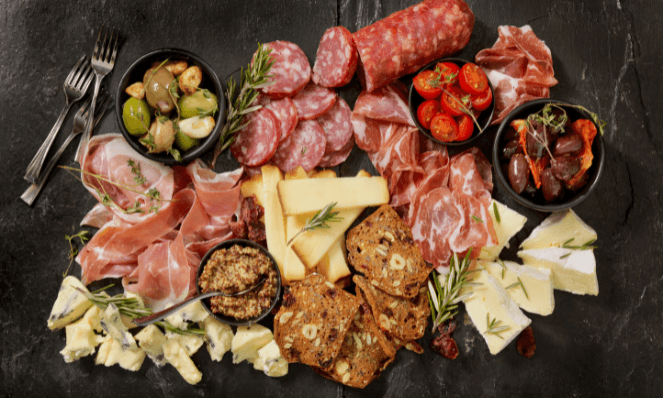 Hard meats (salami or pepperoni)
How To:
Fold the meat around the rim of the jigger or wine glass.
Continually add layers until it is almost closed
Determine where on the board you want your centerpiece to be.
Flip the glass over in the chosen spot, and voilá, you have an edible centerpiece!

Now it's time to let your creative side run wild! You DON'T have to follow the rules; in fact, it's way more fun if you don't. To determine the direction of your board, there are two questions you need to ask yourself.
Putting Your Board Together
The first question is do I want to create an edible centerpiece? If the answer is yes, then grab your board or platter, and determine where you want the centerpiece to go.
**Hint: It does not have to go in the very middle! You can place it in a corner, you can offset it…just wherever you think it should be.
The second thing to ask yourself is "what item will be the STAR OF THE BOARD? There can only be one. I like to make cheese the star of my boards. Why? Because that is what my guests love!
If You've Chosen To Create An Edible Centerpiece
What You'll Need:
Jigger or wine glass
Hard meats (salami or pepperoni)
How To
Fold the meat around the rim of the jigger or wine glass.
Continually add layers until it is almost closed
Determine where on the board you want your centerpiece to be.
Flip the glass over in the chosen spot, and voilá, you have an edible centerpiece! Now it is time to add the meat!
Pepperoni
We love to pick up our pepperoni from the deli section of our grocery store. This pepperoni is sliced in large slices, so it lends itself to being cut into quarters. You can also buy cured pepperoni "logs", and slice them yourself. Pepperoni is flavorful meat that pairs well with almost any type of cheese.
Chorizo
Chorizo is a bit bold and spicy, so it will pair well with any type of cheese. Again, you can buy cured chorizo, which is perfect for a charcuterie platter.
Italian Salami
This is also a good meat for slicing. It pairs well with almost any type of cheese.
Pepperoni, Chorizo, and Italian salami can be fanned out on your platter or board, fanned out leading the centerpiece, or just randomly stacked. It is up to you!
Prosciutto
Prosciutto is one of the cured meats that does not lend itself to slicing very easily. This is the meat that I just let the prosciutto naturally tear where it will. I don't try to neatly place it on the platter, but rather just create piles of the prosciutto scattered around the platter.
Once you've placed your meats, it's time to add the cheese!
It's All About The Cheese
Now that you've placed your edible centerpiece, it's time to design the remainder of your board. Take the cheeses you have chosen for your board, and unwrap them. Visualize what you want your board to look like.
You can combine wedges, chunks, and blocks of cheese to create a whimsical yet elevated board; you can focus on just chunks, just wedges or just blocks, or any combination of the three styles. It is totally up to you.
Wedge, Chunk, or Block?
There is no right or wrong here. It is your choice, based on the time you have to create. You can also use all three types, wedge, chunk, and block together on your board.
Wedge
If you are working against the clock, then large blocks or wedges is simply the easiest. To create a simple wedge, take a block of cheese, like Havarti, or cheddar, and use a paring knife to cut it in half width-wise. Then take one half and cut it in half diagonally. Now you have two small wedges of cheese. Wrap up the remaining block of cheese for use another time.
Chunk
This is the most fun to create. Harder cheeses like cheddar, harvarti, and gouda work well for chunking. You literally just pinch pieces of cheese off.
Block
Take your harder cheeses that come in blocks, and using your paring knife, cut off narrow strips of cheese length-wise. The width of the strips should be 1-3″, and the length determined by your board size.
Time to Garnish
You can garnish it with almost anything. Place fresh fruit on the platter. Olives and nuts should be in small ramekins. Honey, jams, and jellies can be added directly to the platter, or put in ramekins. Again, this is a strictly personal preference.
If I am using a manchego cheese, then I like to add the fig jam directly to the the board.
Voila! Entertaining doesn't have to be difficult when you can put a gorgeous charcuterie board together in minutes and be an expert on wine and cheese pairing!

What are you favorite wine and cheese combinations? Let us know in the comments below !
TRY THESE COCKTAILS TO PAIR WITH YOUR CHARCUTERIE BOARD
CHECK OUT WHAT'S NEW ON BETSI'S WORLD
Entertaining Recipes, Drinks and Tips
Everything you need to be the best host or hostess for your guests!