The Best Italian Beef Sandwiches
Italian beef is a delicious way to make a roast. Whether you make your Italian beef in the oven or the slow cooker, cooking this yummy meal usually takes all day…unless you have an Instant Pot!
With this handy kitchen gadget, you can cut hours off your cooking time and still have fall-apart, melt-in-your-mouth Italian beef. This easy Instant Pot Italian beef is packed full of flavor and takes less than an hour to make! 
What is Italian Roast Beef
Italian beef is thinly sliced roast beef that is simmered and marinated in an au jus. The cut of meat is typically sirloin and is shredded at the end of preparation. Interestingly, Italian beef originated in Chicago in the 1930s.
Traditionally, it is served on a long Italian roll and served with peppers on top. If you've ever had this sandwich you know it is absolutely divine. The perfect mix of bright flavors, comfort and warmth, it is a meal you can eat for lunch or dinner!
Tips For Preparing The Beef
Since Italian beef is made using a large piece of meat, it has a longer cook time. Moreover, if you were to put the full two pounds of meat directly in the Instant Pot, it would probably take more than an hour to cook there, too.
The key to cutting down your cooking time is to cut your roast into smaller chunks. This also ensures that each bite of Italian beef is full of flavor.
I cut my two-pound roast into five even pieces, trimming the excess fat from the meat as I cut. Cutting the meat into small pieces means that your Italian beef can be cooked in 35 minutes in the Instant Pot.
On top of the shorter cook time, cutting your meat into smaller pieces also allows you to cover each piece of meat in seasoning, ensuring that all your roast is seasoned well as it cooks. 
How To Cook Italian Beef
For this Italian beef recipe, start by placing your small pieces of roast in the bowl of the Instant pot. Then, season your meat liberally with this homemade Italian beef seasoning.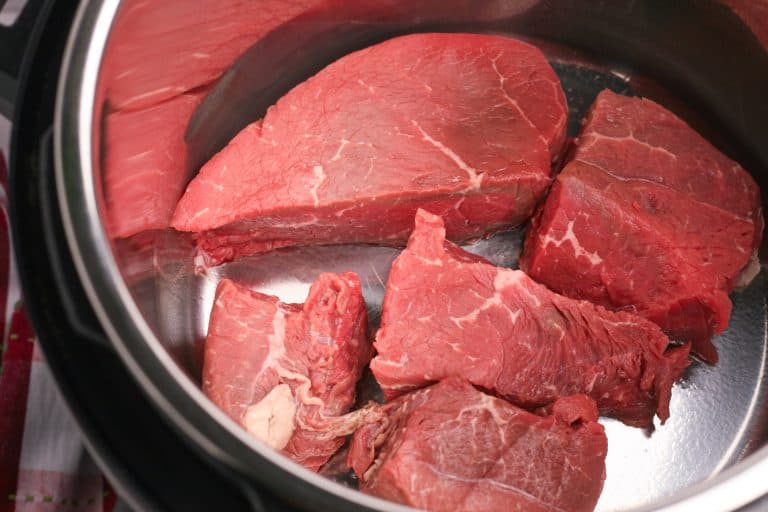 To make this flavorful seasoning, mix together salt, garlic powder, onion powder, pepper, parsley flakes and Italian seasoning in a small bowl. Then, cover each piece of meat with the seasoning.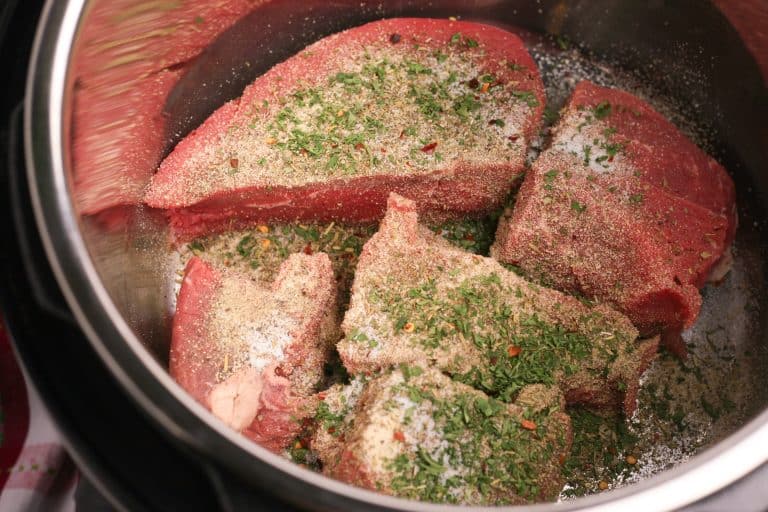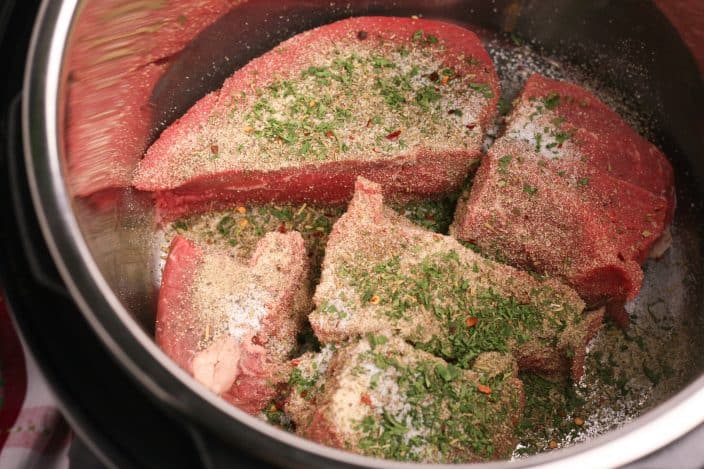 Next, you'll add a can of beef broth to the bowl. The beef broth will help your meat stay super tender as it cooks. And it also serves as the base of your au jus sauce that you can use for serving after the meat has cooked.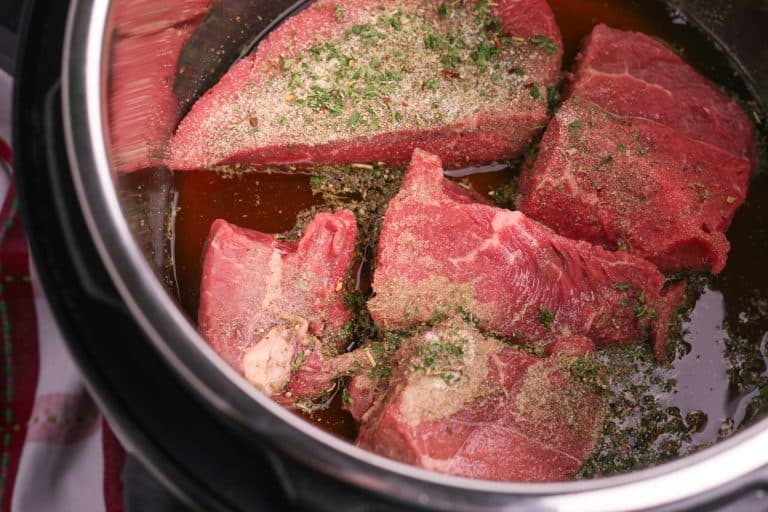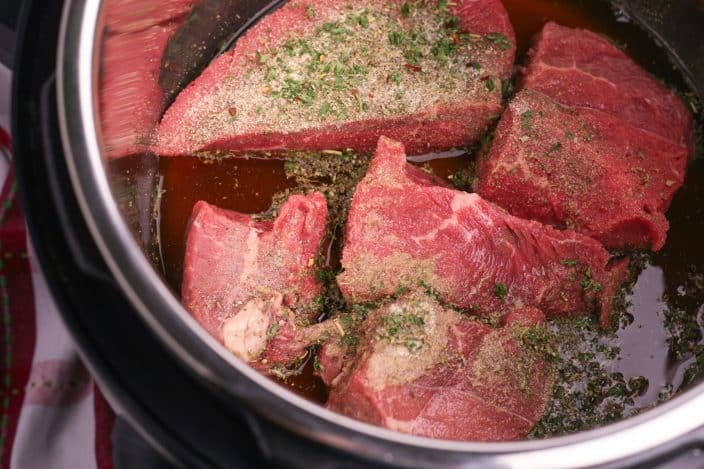 As you pour the beef broth into the Instant pot, be carful not to disturb the seasoning resting on your meat. Cooking the roast with the seasoning resting on top will ensure your Italian beef is flavorful when you serve it. 
Choosing The Right Pepper
The finishing touch to this Italian beef recipe is the banana peppers. You may have seen recipes for Italian beef using pepperoncini peppers in the past.
While those Italian peppers work well with the other flavors in Italian beef, I have found that banana peppers offer just the right amount of kick for this particular sandwich. If you prefer pepperoncini peppers on your Italian beef, simply sub the banana peppers for your favorite pepper instead!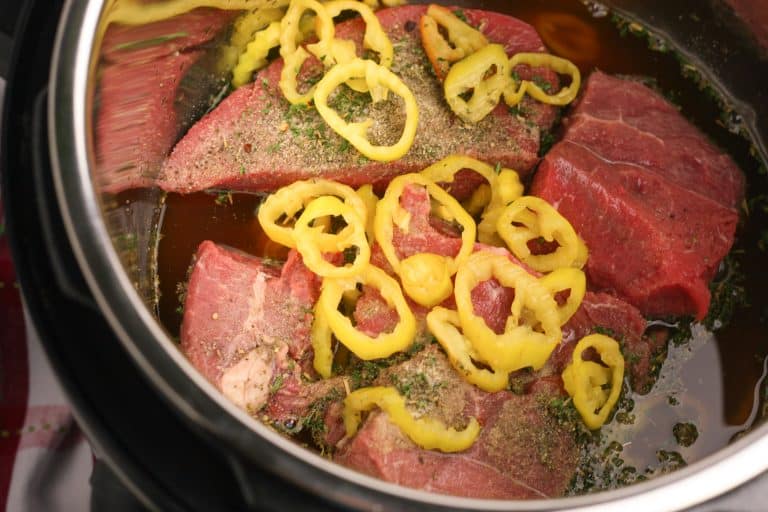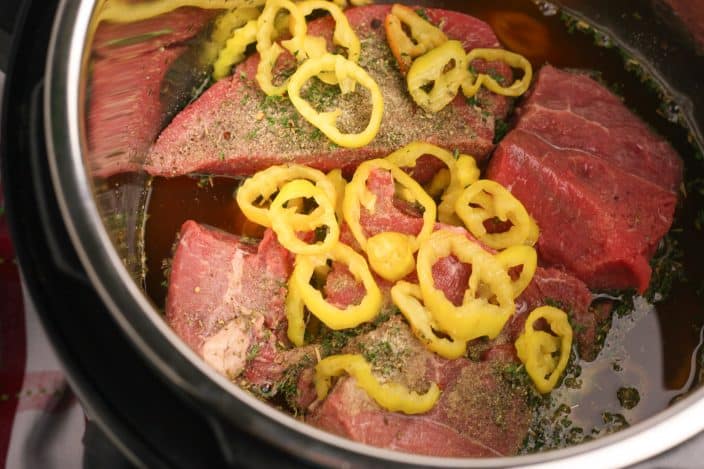 Whatever pepper you choose to use, be sure to include plenty of pepper juice when you add the peppers to the instant pot. I have found it's easier to separate the peppers from the juice as you add them to the bowl.
Pour the juice into the beef broth to add tons of flavor to the sauce. Then, place the pepper slices directly on top of the meat. This adds a little bit of heat to the roast as it cooks. 
Cooking In The Instant Pot
Now it's time to let the Instant Pot work its magic. Place the lid on top and set the seal mode to closed. For two pounds of meat, set the timer for 35 minutes on pressure cook mode.
Add 10 minutes of cooking time for each additional pound of meat. After the timer goes off, do a quick release to allow the pressure to release from the Instant Pot. 
When the steam has stopped releasing from the pot and the red tab has lowered, you can remove the lid from the pot. Take the meat out of the Instant Pot and allow it to rest for a few minutes.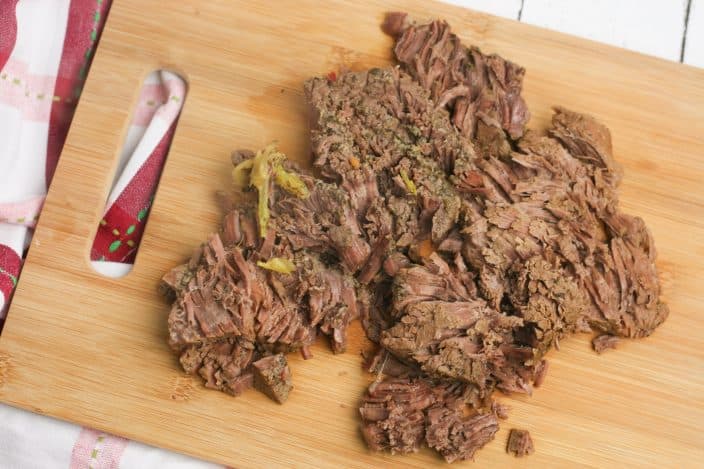 Next, its time to start shredding. Your meat will be very tender, so you should be able to easily shred. I use two forks to shred the beef and it works like a charm! After all the meat has been shredded, place it back in the pot and stir to combine the meat with the juices.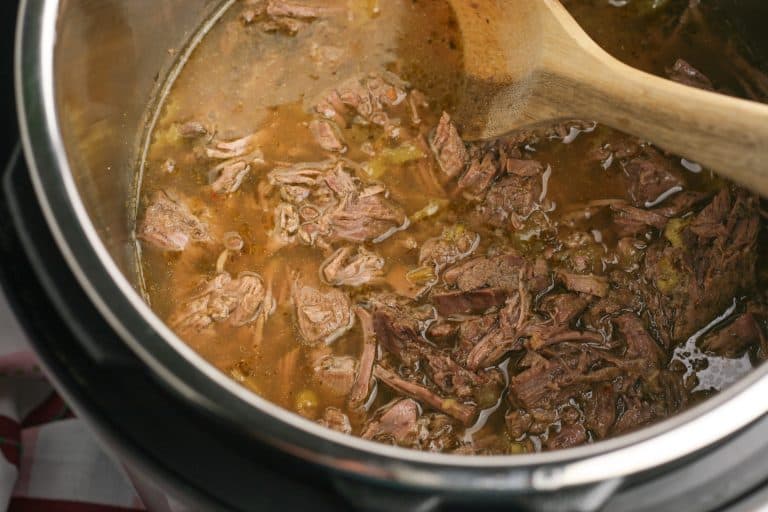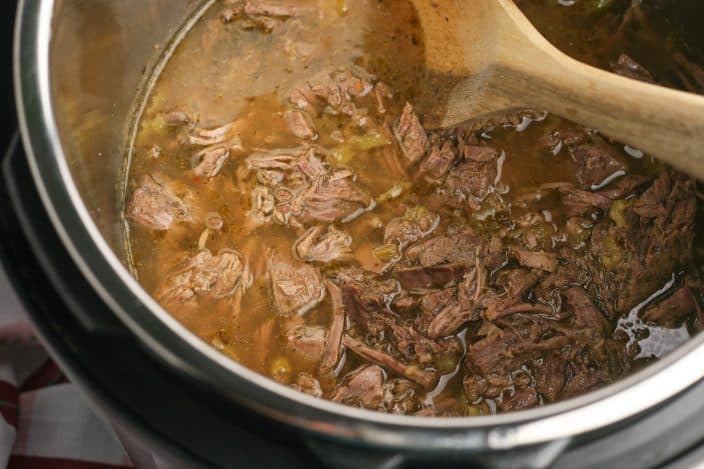 What To Serve Italian Beef With
Italian beef tastes wonderful when it's served on a soft roll topped with provolone cheese. Try serving the sandwich with a dipping sauce. To prepare the sauce scoop out some of the juice and run it through a strainer.
This will remove any small pieces of meat and make it silky smooth. Then, pour the sauce in a small bowl to dip the sandwich in.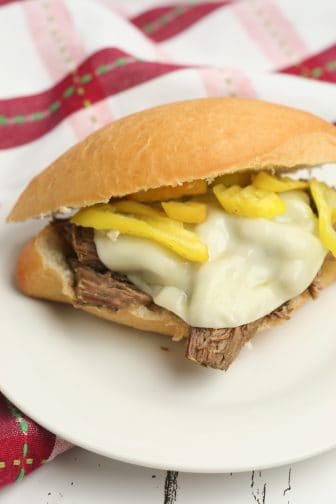 Toasting the bread is great for those who like to dip in the au jus. Another popular way to serve an Italian beef is to leave the bread untoasted and place the meat and juice together on the bun, allowing the au jus to soak directly into the bread. 
Italian beef without bread is also very tasty. Try serving with veggies like carrots, zucchini and yellow squash. Then drizzle the sauce all over the veggies and meat! Or make some mashed potatoes and top it with the beef and the broth.
No matter how you choose to serve this delicious Instant Pot Italian beef, it's guaranteed to be a hit with your family! And you can rest easy knowing you didn't have to slave over a hot oven or wait hours for your slow cooker to finish baking this yummy meal. 
 This post may contain affiliate links which won't change your price but will share some commission. As an Amazon Associate I earn from qualifying purchases.
Tools You Will Need To Make Italian Beef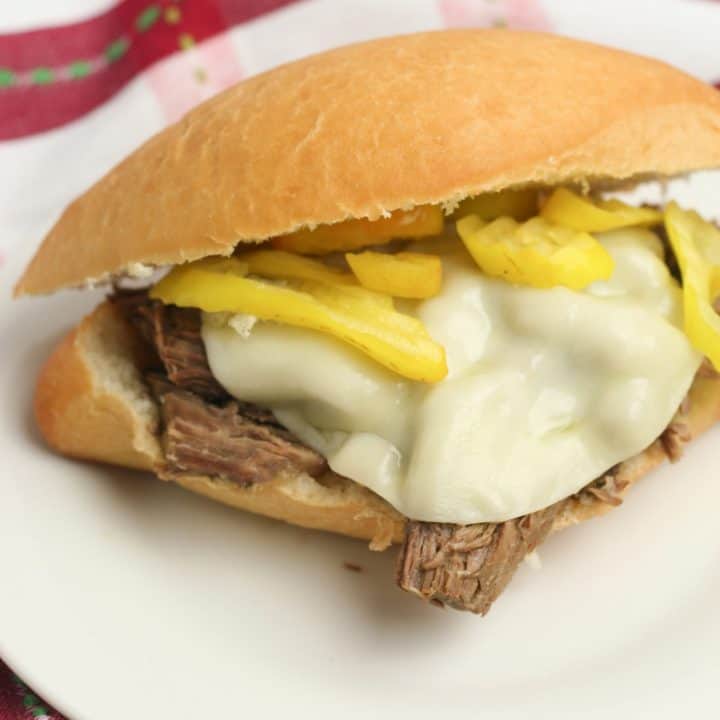 Instant Pot Italian Beef
This Instant Pot Italian beef is simple to make and comes together in a pinch. Its full of flavor and perfect to put on sandwiches or pair with veggies for dinner.
Ingredients
2 pounds chuck roast
1 teaspoon salt 
1 teaspoon garlic powder
1 teaspoon onion powder
½ teaspoon pepper
½ tablespoon parsley
1 tablespoon Italian seasoning
1 can beef broth
1 cup sliced banana peppers with juice
For Serving
Hard rolls (Italian rolls)
Provolone cheese
Extra banana peppers
Instructions
Cut chuck roast into large chunks and place in the bowl of the Instant Pot. 
Season with salt, garlic powder, onion powder, pepper, parsley, and Italian seasoning. 
Pour beef broth around the meat.
Top meat with banana peppers. 
Place lid on Instant Pot and set to pressure cook for 35 minutes. Allow the pot to naturally release for 10 minutes, then finish with a quick release to remove remaining pressure. 
After the pin on the top has dropped, remove lid and take the meat out of the pot. 
Shred the meat with a fork and then return the meat to the pot and stir to combine it with the juices. 
Serve on a hard roll topped with provolone cheese and additional banana peppers (optional). 
Nutrition Information
Yield

6
Serving Size

1
Amount Per Serving
Calories

429
Total Fat

25g
Saturated Fat

11g
Trans Fat

1g
Unsaturated Fat

13g
Cholesterol

129mg
Sodium

833mg
Carbohydrates

11g
Fiber

2g
Sugar

6g
Protein

41g
A Delicious Lunch Or Dinner Meal
Instant Pot Italian beef is sure to be a hit at any time of day. It's also a great item to use for meal prep! Try making sandwiches for kids' lunches or a salad with Italian beef on top to take to work. However you choose to prepare it, it's sure to satisfy and delight.
Have you ever made Italian beef or had it in a restaurant? How did you make it/like it? We'd love to hear from you in the comments below!
CHECK OUT WHAT'S NEW ON BETSI'S WORLD
Other Recipes You May Like