The Best Reese's Cheesecake
Reese's cheesecake is one of the most indulgent desserts I've ever made. It's also as easy as it is delicious! If you love cheesecake and your favorite candy is Reese's peanut butter cups, this recipe is for you.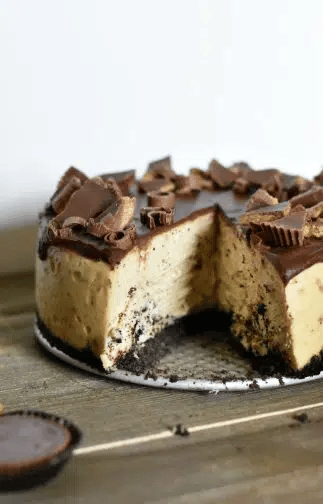 This also makes a wonderful birthday party cake for kids! Combining two vastly popular treats in one is sure to win the hearts of all the guests at your party (children and adults).
How To Make Reese's Peanut Butter Cheesecake
I am a cheesecake lover and therefore, take any excuse to make one. I tend to be a purist so I like to make plain cheesecakes with not a lot of fuss. However, I've found myself being extremely into peanut butter cups lately and thought, why not combine them?!
This is now one of my favorite cheesecake recipes! Trust me, if you're a peanut butter lover you're going to adore this peanut butter cheesecake.
Fun Fact: Reese's Peanut Butter Cups are the highest selling candy in America and are second place in the list of most popular candies, after M&Ms!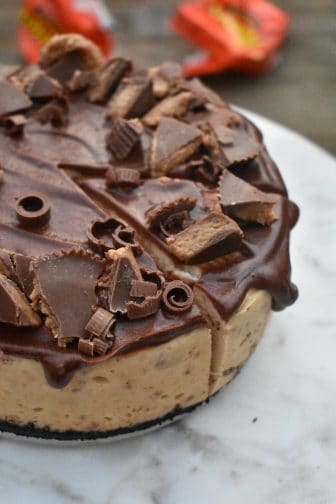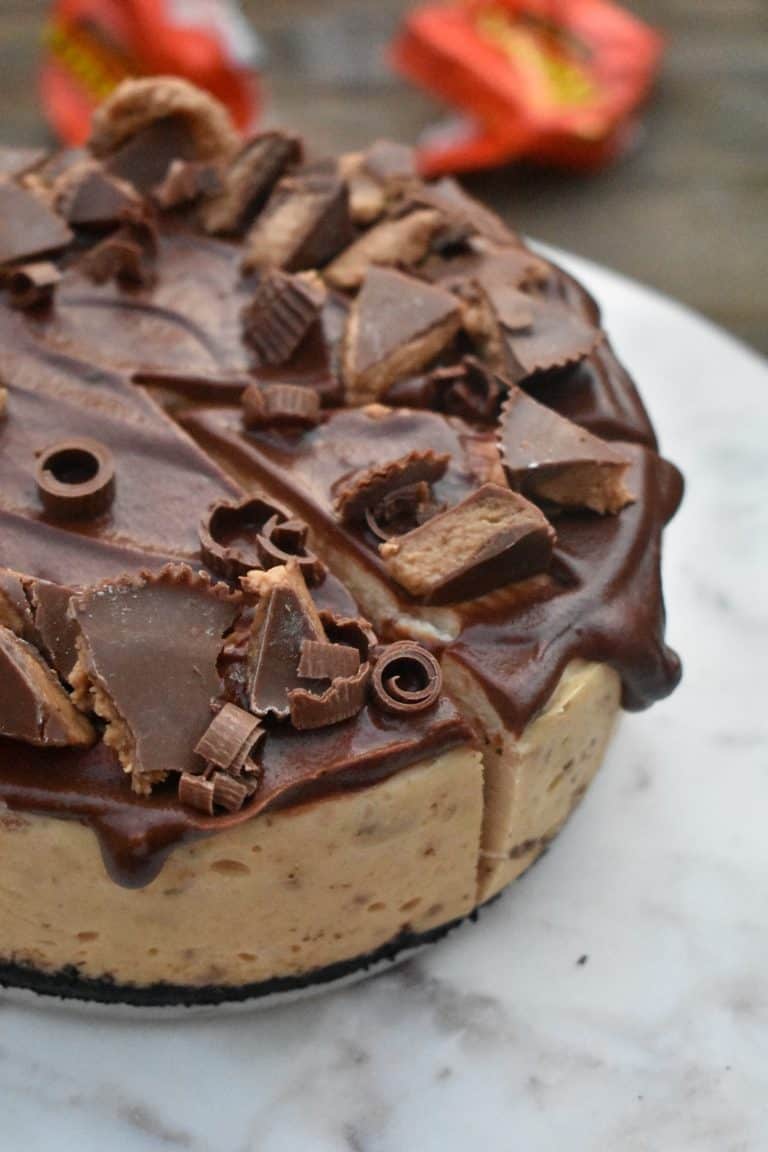 This cheesecake with peanut butter cups is cooked in an Instant Pot, which makes it convenient and quick. I have to say, this is one of my favorite parts about this cheesecake recipe- tell me its fast and delicious and I'm your gal!
Cheesecakes can be tricky to get out of a regular cake pan, therefore you need to use springform pan. Springform pans are great because the sides just 'unclick' and come right off, leaving your cheesecake beautiful and intact!
Oreo Cheesecake Crust
This Reese's cheesecake recipe has a Oreo cookie crust! As if this recipe couldn't get better, it includes my favorite chocolate crème cookie.
P.S. if you are an Oreo lover too, check out my recipe for Oreo Macarons!
The Oreo cookie crust for cheesecake is made by placing all the cookies in a food processor (don't leave out the crème) and pulsing it until you have a fine crumb. The dough should stick together when pressed in your hand. This can also be achieved if you don't have a food processor. Place the Oreos in a bag and crush them with a rolling pin until the desired consistency has been reached.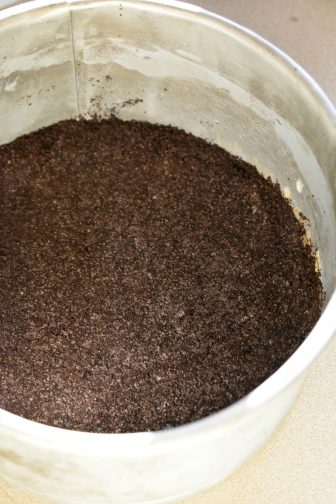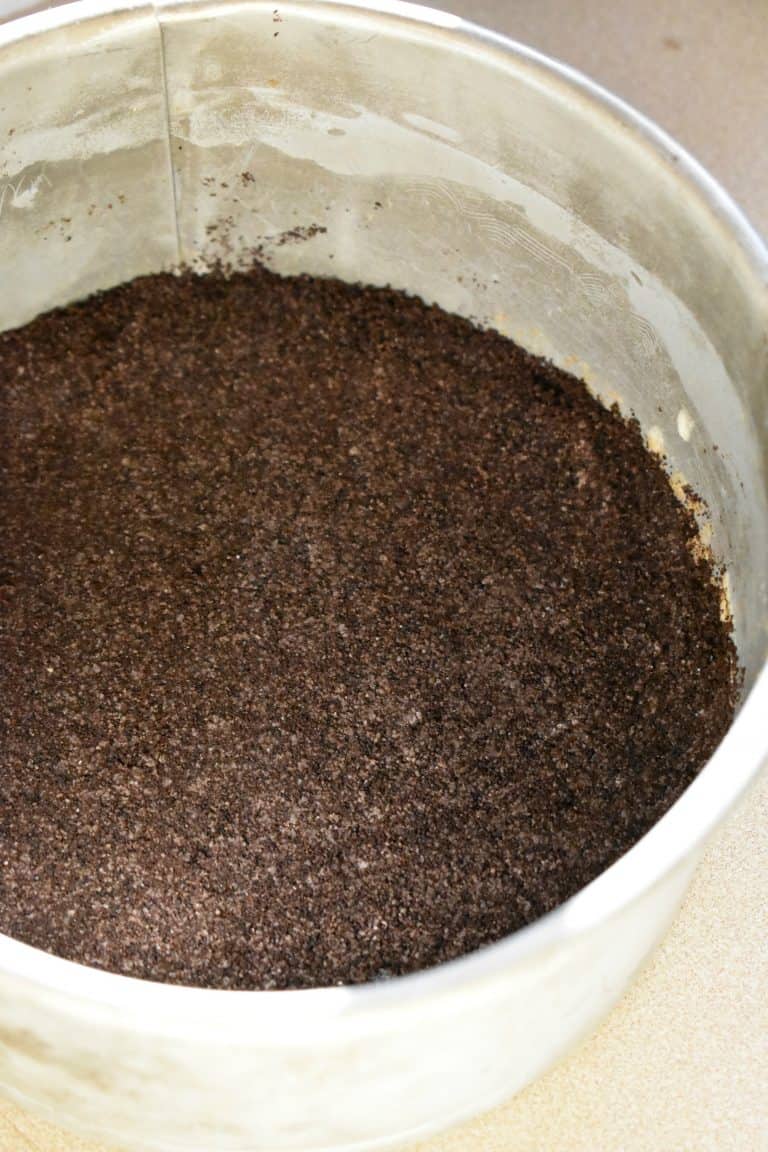 Spray the bottom of your springform pan with non stick spray or grease with a bit of melted butter. Then dump the Oreo crumbs into the bottom of the pan and press down with your fingers. You want the crust to be smooth and firmly packed down. Let the crust harden in the freezer while you prepare the rest of the cheesecake.
Peanut Butter Cream Cheese Filling
This cheesecake filling is made with peanut butter and cream cheese. For the peanut butter, feel free to creamy peanut butter or chunky peanut butter. If using a organic or natural peanut butter, make sure to mix it well before use. Using a hand mixer, a whisk or a spatula, mix the peanut butter and cream cheese together. You'll want to mix it until there are no lumps in the mixture (except for the nuts if you choose crunchy). If you are not using an electric mixer, let the peanut butter and cream cheese soften on the counter before use.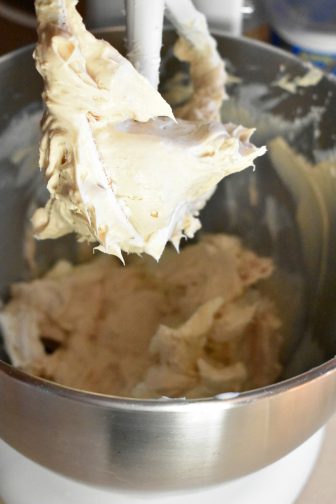 When then the mixture is smooth, add in the sugar one tablespoon at a time and combine. Then add in the sour cream and mix well. I used full fat sour cream, it has a better flavor, in my opinion. However, feel free to use whatever sour cream you like. You could even substitute it for Greek yogurt, if you prefer.
Finally, add in the eggs one at a time, making sure to completely combine each one before adding the next. Mix as little as possible to get the eggs incorporated well in the batter .
Then, pour the batter in the prepared springform. Give the pan a few taps against the counter to get rid of any air bubbles.
Cooking Cheesecake In The Instant Pot
Grab your pressure cooker and prepare it with one cup of water at the bottom. Then place your trivet in the bottom of the pot.
Wrap the springform pan tightly with aluminum foil and place it on the trivet. The cheesecake will then cook on high for about 35 minutes. Let the pot release pressure naturally when it is done cooking.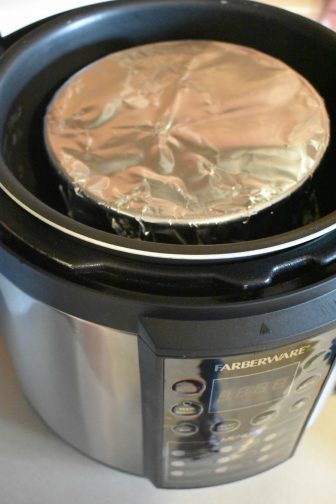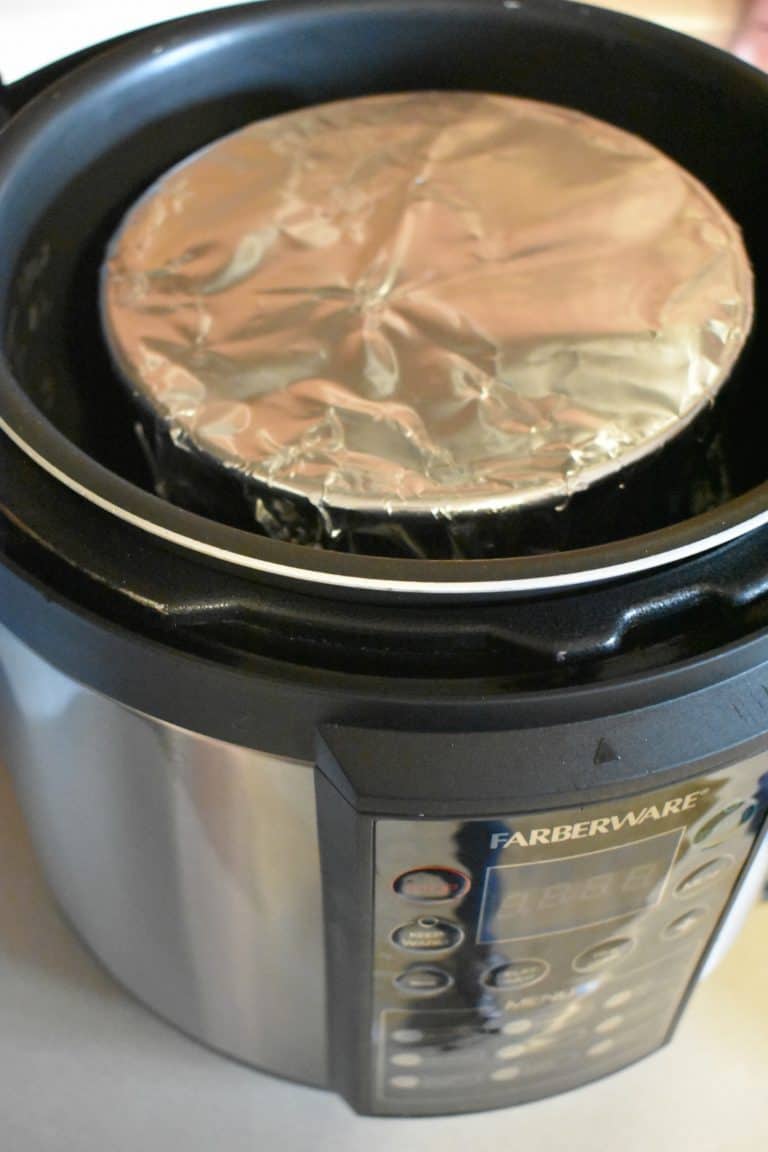 After, you can open the pot, take the hot cheesecake out and let it sit on the counter until cooled. Let the cheesecake sit on the counter before you place it into the refrigerator. Before you add the ganache topping, you'll want to cool the cheesecake in the refrigerator for at least 8 hour or overnight.
How To Make The Ganache
This ganache-covered cheesecake is perfect for a party. Peanut butter and chocolate are always a delicious combination. To make the chocolate ganache topping for this peanut butter cheesecake you'll need heavy cream and chocolate chips. You can use semi-sweet chocolate chips or milk chocolate chips- it's up to you! Combine chocolate chips in a bowl with the heavy whipping cream and slowly melt them. It's easy to use a microwave for this step, just be sure not to burn the chocolate!
It's best to heat it for 30 seconds at a time. When everything is melted, mix it well until it's creamy and glossy.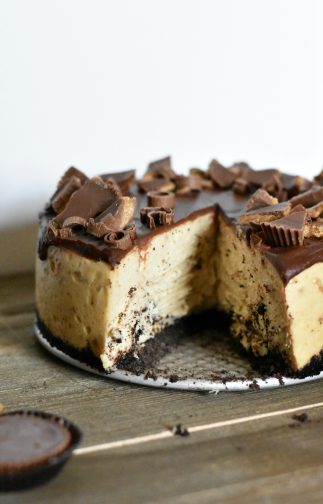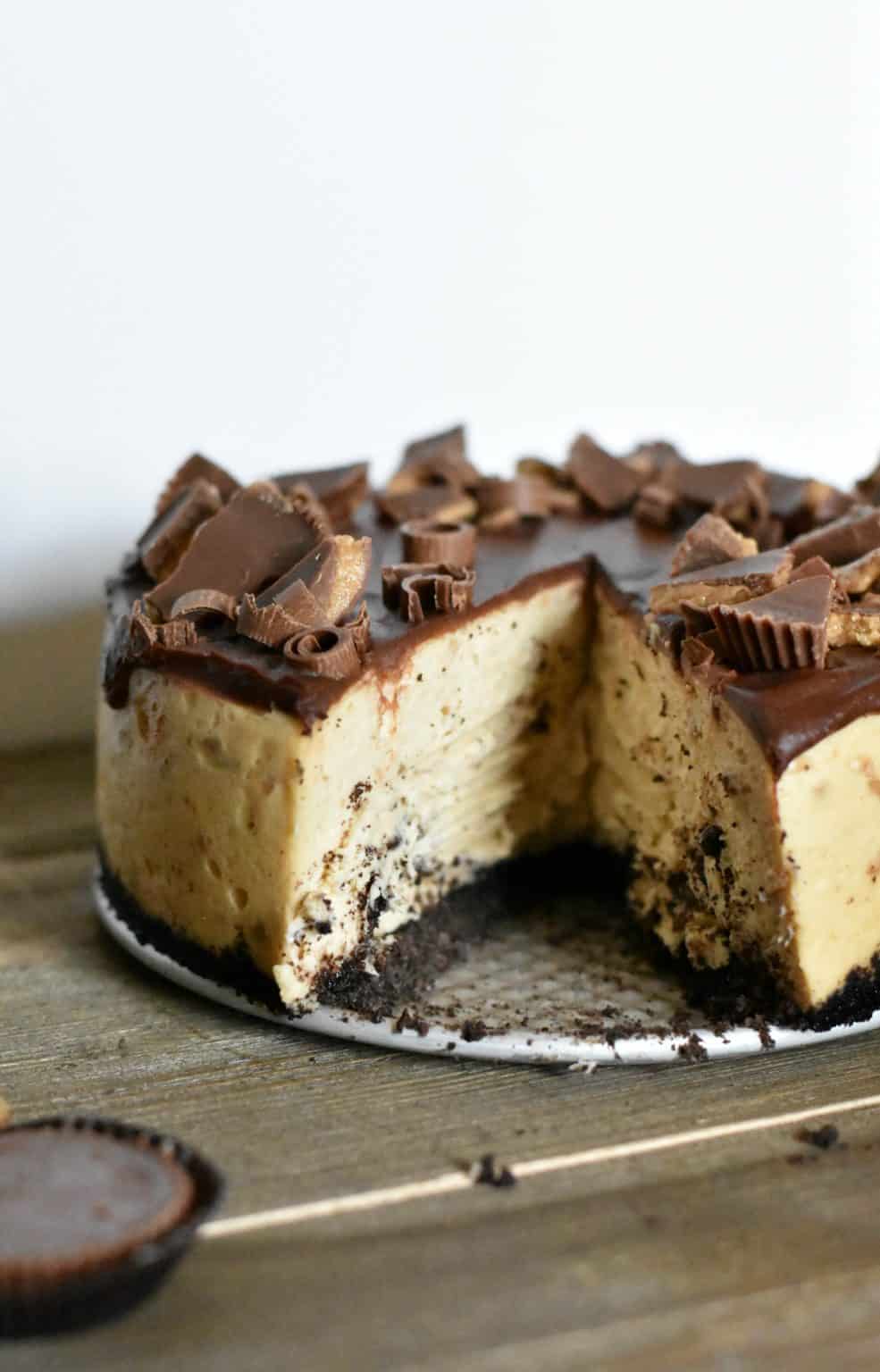 Now for the best part: pour the ganache over the cheesecake and let some drip over the edge. This makes the most beautiful cake design. Then top it with mini Reese's Piece, chopped peanut butter cups, or quartered Reese's chocolate candies! You can even add peanut butter chips for some extra peanut buttery flavor.
If you have leftover ganache, you can store it in the refrigerator for up to a week and use it as a topping on a hot brownie topped with even more Reese's cups! The combination of the Oreo crust with chocolate and peanut butter makes this an amazing cheesecake.
This peanut butter cheesecake is now ready to enjoy!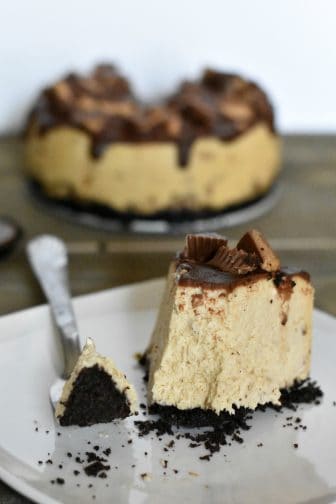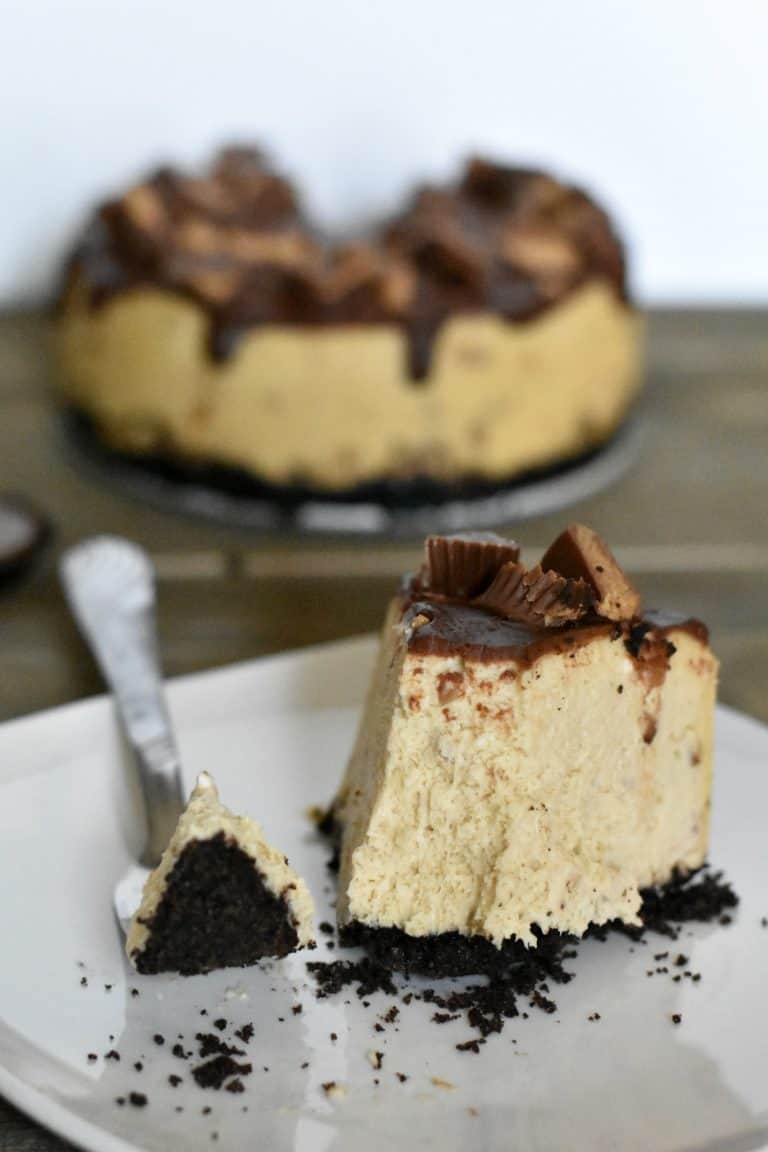 Tools You Need To Make Reese's Cheesecake
 This post may contain affiliate links which won't change your price but will share some commission. As an Amazon Associate I earn from qualifying purchases.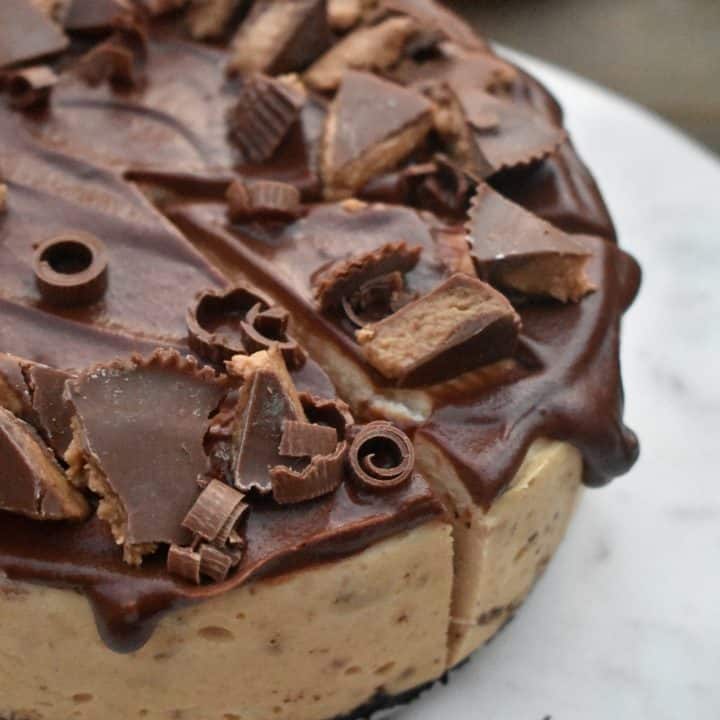 Reese's Cheesecake
Yield:
1- 6 inch cheesecake
Additional Time:
8 minutes
Total Time:
1 hour
3 minutes
This Instant Pot Reese's Cheesecake cooks in under an hour and is topped with a rich chocolate ganache. Don't forget to chill your cheesecake in the refrigerator over night for the best results!
Ingredients
 8 oz. packages of cream cheese at room temperature (two packs)
½ cup peanut butter (you can use smooth or crunchy)
6 tbsp sugar
1 tsp vanilla 
2 eggs 
½ cup sour cream (or yogurt) 
Crust
5-6 Oreo cookies crushed (with crème)
Toppings
½ cup chocolate chips 
½ cup heavy whipping cream 
Reese's cup pieces 
Instructions
To Make the Crust
Prepare your crust by placing the Oreo cookies in a food processor if possible.
Prepare a 6" springform pan with nonstick spray, and dump the Oreo crust into the bottom and pack down. Place in the freezer until you are finished with the filling.
To Start the Filling:
Cream together the cream cheese and peanut butter, this is the longest part because you want to make sure that there are no lumps in the cream cheese before adding anything else. I mix mine 6-8 minutes until I am sure it is lump free.
Add in the sugar one tablespoon at a time and combine completely.
Add in the sour cream and mix well.
Finally add in the eggs one at a time making sure to completely combine before adding the next. Mix as little as possible to get the eggs incorporated well in the batter .
Pour the batter in the prepared springform and tap a few times against the counter.
Prepare your pressure cooker with 1 cup of water and place the trivet in the bottom of the pot.
Cover your cheesecake with aluminum foil, and place on the trivet. Set pressure cooker to 35 minutes high pressure. Allow the pot to naturally release.
After you can open the pot, take the cheesecake out and let it sit on the counter until cooled. Place in the refrigerator 8 hours to overnight.
Once the cheesecake is completely cool you can top it with a chocolate ganache and Reese's cup pieces.
For the Ganache:
Place ½ cup semi sweet chocolate chips in a microwave safe bowl. Add in ½ cup heavy whipping cream and place in the microwave for 30 seconds. Take out and allow to stand for about 5 minutes and then mix. Make sure there are no lumps.
Pour over the cheesecake and drip small amounts over the side if desired. Serve and enjoy!
Nutrition Information
Yield

8
Serving Size

1
Amount Per Serving
Calories

432
Total Fat

33g
Saturated Fat

15g
Trans Fat

0g
Unsaturated Fat

13g
Cholesterol

101mg
Sodium

235mg
Carbohydrates

30g
Fiber

2g
Sugar

23g
Protein

9g
A Fun Dessert For a Party
This Reese Cheesecake is such a creamy, peanut buttery, chocolatey delight! This delicious cheesecake is the perfect treat for any party, especially because of how beautiful it is. It will certainly make a statement on any table.
If you have kids or grandkids, its a great dessert to make for as a birthday cake or for a candy party, or a Halloween party. Switch up the toppings to include other popular candies like Snickers, Twix, Heath Bars, or Oreos! This cheesecake recipe is a good base recipe to make a "candy cake" and let's be honest, what could be better than that?!
What did you think of this recipe? Do you know any Reese's fans? We'd love to hear from you in the comments below!
CHECK OUT WHAT'S NEW ON BETSI'S WORLD
Other Treats You May Like