The ultimate wine gift guide has arrived! With the holidays right around the corner, it's time to start planning. Almost everyone has a wine lover in their life (if you aren't one yourself) who will absolutely adore these gifts.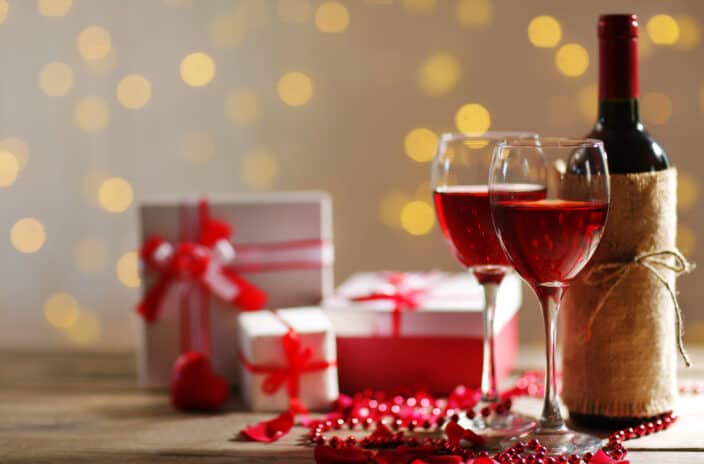 These gift ideas aren't just cute, they are also practical and cover all the bases for hosting a cocktail party or just enjoying a bottle at home. Whether you're giving to a wine aficionado or a beginner, these wine gift ideas will delight everyone who receives them.
Wine Accessories
This bamboo wine rack is the perfect storage system to display your wine collection. It comes with two racks, each with 8 spots for bottles. It is easy to put together with no tools required and detaches to become two separate racks. This 18 bottle bamboo wine display is ideal for anyone starting out their wine collection.
This wine opener makes opening any wine a breeze. No struggling with stuck or broken corks, this lever corkscrew pulls out a cork in just 3 seconds. The cork easily releases from the wine opener with a lift of the lever! This is a must have gift for any wine lover.
This charcuterie board is amazing. The ultimate entertaining gift it comes with 4 sliding compartments that house: a cheese knife set, markers, natural slate labels, magnet drawers, a wine opener, 2 forks, 2 ceramic bowls, and 2 ceramic plates. Add fruits, nuts, cheeses, cured meats, jams, and crackers to make your cheese board complete. The bamboo board comes with grooves to perfectly organize each element of your holiday party. For those that love to entertain during happy hour this is a great gift.
This wine preservation system keeps your favorite drink fresh and safe from oxidation. Easily pierce, aerate, pour, and preserve your wine bottle with this elevated gadget. This all in one gift is perfect for the techy wine connoisseur in your life.
Travel Wine Gifts
This wine gift is perfect for travel lovers, as well as wine lovers! Easily hold and store you wine glasses in the provided cup holders, while the table surface allows for plenty of space for snacks. This is a great item to bring to the beach for a party, out camping, or to a park for a picnic!
Another incredible gadget for a wine and travel enthusiast is this reusable wine bottle protector. This item keeps wine bottles safe from shattering by encasing them in a PVC sleeve filled with protective bubble wrap. The sleeve closes securely at the bottom with a Velcro lining. Those that love to buy wine during their travels abroad will adore this gift, as it will keep their bottle secure during travel. This gift is also ideal for special occasions when you want to bring that reserved bottle of wine to crack open at your final destination.
Add a bit of whimsy and fun into your wine nights with these wine napkins. Display them on your bar cart or side table during cocktail hour! This gift is a fun addition to a wine basket gift for the holidays and will certainly be loved by any wine aficionado.
These aerators are the answer to getting the perfect sip every time. As a set of two, you can reserve one for red and one for white wine. These aerators are ideal for when you want to have a glass of wine or two but not the whole bottle. Instead of decanting the whole bottle, you can aerate just one or two glasses. Simply pour the wine into the aerator with the glass placed beneath it- hours of decanting time get transformed into minutes. Get the most out of your wine experience with this handy gift!
If you don't know what to get the wine lover in your life: this is it! The gift basket comes with wine tumblers, wine stopper, wine opener, a scented candle, a loofa sponge, fun socks, and a bath bomb! The wine tumblers keep beverages cold for hours and the wine stopper and wine opener are beautiful with hearts at the top. I would recommend this gift for someone who was just getting to know wine or needs a little pampering. With this gift box they get all their bases covered, plus fun themed gifts!
 This post may contain affiliate links which won't change your price but will share some commission. As an Amazon Associate I earn from qualifying purchases.
Must Have Wine Glasses
This set of gorgeous goblet wine glasses are a creative take on a traditional wine glasses. The large goblet glass contrasts beautifully against the thin stems. The varying designs help identify which glass belongs to whom during parties. A wonderful gift for the frequent hostess.
These stemless wine glasses are ideal for hosts who love to entertain outdoors. They are made from highly durable plastic, but look like glass. Plus, since they are unbreakable, there is no need to worry about a guest accidently dropping them and it breaking! Clean up is easy as they are dishwasher safe and do not deteriorate with multiple washes. These are great for those who love to take wine camping, to the beach, or relax in the tub with a glass.
For those with more classic taste this set of wine glasses is a beautiful gift. These wine glasses are especially handy because they are able to be chilled. Once you take them out and pour your wine into them, they keep it at the optimal drinking temperature for longer, ideal for white wines. You can never go wrong with a set of stately glasses, especially for someone who is just starting out their collection.
Whatever type of wine lover you are buying for, we hope that this list inspired some great gifts this holiday season. Remember, you can always make a beautiful homemade basket and stuff it full of smaller wine gifts, for those harder to please wine enthusiats. Don't forget to pick up something lovely for yourself!
CHECK OUT WHAT'S NEW ON BETSI'S WORLD
Which of these items would you love to get as a gift? Let us know in the comments below!