Wilmington, North Carolina, is a historic port city on the Cape Fear River. You can see the battleship USS North Carolina as you look across the river. This massive ship dominates the shoreline. But never fear; there is much more to see in Wilmington and the surrounding beaches!
Begin your visit to Wilmington with a carriage tour of the historic district. This will give you a great overview of Wilmington and its history as an East Coast port city. Horsedrawn Carriage and Trolley Tours offers one of the best tours we've been on, but their mission "to rescue abused and unwanted Percheron draft horses from the uncertain fate of the auction block" just pulled at my heartstrings. There is more to the story, but I'll leave that for the tour guide to share with you.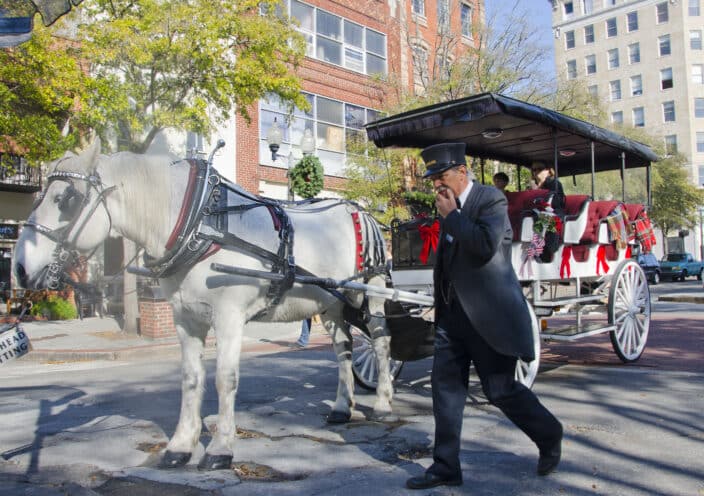 Where to stay when visiting Wilmington, NC
Downtown Wilmington Lodging Options
Dreamers by DW
A stay at The Dreamers is unique, as it melds the idea of a small boutique luxury hotel with a bed-and-breakfast feel. Their concept is to provide a luxurious place of relaxation and rejuvenation. The decor is tasteful and minimalistic, with an eye toward being environmentally friendly. We just felt at home when we strolled up the walkway and entered the inn. 
This art-filled urban retreat is a feast for the soul and senses. You'll be welcomed by subtle aromatherapy wafting through the home, and eclectic art decorates the walls, promoting tranquility. Our favorite part of the home is the wide front porch that calls visitors to linger and people-watch.
Our room was furnished in warm-toned wood, giving the space a very comfortable and calm feeling. Our queen size bed was tucked into a far corner of the room.
A large window allowed natural light to flood in. The bed was sumptuous to sink into after a full day of exploring the area! And there is nothing better than waking up and watching the sunrise from your bed.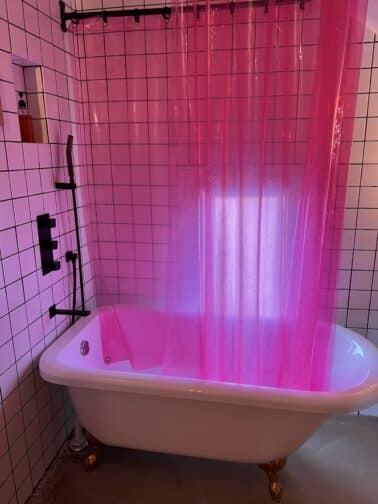 The bathroom was massive and outrageous! A claw foot beckoned me to draw a bath and have a nice long soak! 
The surprising pop of color was the bright pink shower curtain surrounding the tub. The pink pop of color provides a bit of whimsy against the stark white column sinks and black hardware.
Dreamers has a vegan kitchen offering breakfast, boxed lunches, and gourmet vegan dinners. The policy of Dreamers is that they do not prepare animal products in their kitchen. 
This was a new experience for us, and I must say that we were pleasantly surprised! We had breakfast at Dreamers, and it was amazing! The granola was fresh and flavorful and accompanied by fresh fruit. You can opt for milk on your granola as well.
The property is located in the heart of historic Wilmington in a renovated Victorian home. You are within walking distance of restaurants, historic mansions, shops, and the waterfront. It is the ideal location for you to immerse yourself in Wilmington.
Vacation Rental Homes 
Wilmington offers many vacation homes within the historic district for those who love the relaxation of spreading out in a house during their vacation. Whether you are looking for a condo overlooking the waterfront, a historic home, or a cozy cottage when visiting Wilmington, you have plenty of choices! 
Hotel Ballast Tapestry Collection By Hilton
The location of Hilton's Hotel Ballast is ideal for those who want to be in the center of Wilmington and explore Wilmington's waterfront and historic district. The Ballast has perfectly melded Southern hospitality with comfortable luxury at the Ballast.
THE BEACHES LODGING OPTIONS
Just a short drive from Wilmington, you'll discover a world filled with casual waterfront restaurants, funky little boutique shops, and coffee bars. Welcome to the beaches – Wrightsville, Carolina, and Kure.
WRIGHTSVILLE BEACH: THE BLOCKADE RUNNER RESORT
Imagine an illustrious history that spans over 150 years – that is what you'll find at The Blockade Runner Resort! This hotel is grounded in history and Southern hospitality. Have breakfast in the morning overlooking the gorgeous pool and lawn area, or sip an afternoon libation as you relax in one of the many scattered conversation areas on the lawn.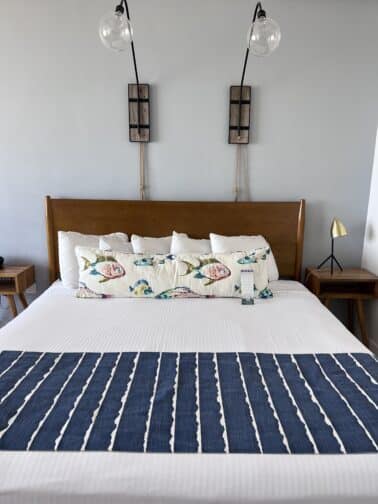 WRIGHTSVILLE BEACH: THE SURF SUITES
The Surf Suites are on Lumina Avenue in Wrightsville Beach. Each suite has a private bedroom, bath, full kitchen, and living room area. Soak in the gorgeous beach views from your patio or balcony. 
The Surf Suites are close to shopping and restaurants. One plus for boaters are the boat ramps in the area. You can put in at several locations in Wrightsville Beach (https://www.wrightsvillebeach.com/boat-ramps.html). 
CAROLINA BEACH: SEAWITCH INN
The Seawitch Inn is one of those hidden gem hotels that offers modern amenities with a funky retro vibe. Located right on the boardwalk in Carolina Beach, this 16-room hotel will leave guests with a pocketful of memories to take home.
The room decor is eclectic, and each room has been uniquely styled. The hotel offers a pool and incredible ocean views.
FUN THINGS To DO IN WILMINGTON, NC ON VACATION
FOOD & DRINK TOURS
Food tours are our favorite way to get an overview of a destination. Wilmington offers several tours that are great. 
Carolina Gourmet Food Tours offers food tours in multiple locations across the state, including Wilmington. They specialize in "Feasting on Farm-to-Table: Culinary Walking Tours Through North Carolina." 
When taking a tour with Carolina Gourmet Food Tours, you are experiencing the best restaurants and dining on locally-sourced foods. 
All of the tasting, food, and drink, are included in the ticket price. As you are touring, your guide shares bits of history about the area, the homes, and the interesting people throughout Wilmington's history.
For beer lovers, fear not; Wilmington Bike and Brews Tour has you covered! This half-day tour takes you through Wilmington with stops at breweries and some of Wilmington's top sites. As you pedal through the city, your tour guide will share stories from Wilmington's interesting past.
Oyster Farm Tour and Tasting is definitely a unique tour that blends boating, oyster farming, and history together. On this tour, you'll get to see sustainable aqua farming firsthand. You'll board the Epic Explorer, a 24′ Carolina Skiff and head over to Middle Sound Mariculture Farm, where you'll dive head first into oyster farming.
Middle Sound Mariculture Farm raises oysters from seed to harvest, which is what mariculture is – the cultivation of marine life for food. On the farm you'll learn the ideal conditions for oyster to reproduce, and the various growth stages of an oyster.
From the mariculture farm you'll head over to Masonboro Island for a wine and oyster pairing. You'll enjoy steamed and raw oysters paired with wines. There'll be an opportunity to learn to shuck oysters, which from experience, is no easy feat! But it is a fun activity to partake in.
Your ticket includes the cruise with a licensed USCG captain, the oyster farm tour, complimentary wine, and oyster pairings, and if you want to BYOB, a cooler and ice is provided.
Water TOURS
With close proximity to wrecks right off Wrightsville Beach, if you are a diver, or want to learn to dive, check out Aquatic Safaris. There are wreck sites from 3 miles to 59 miles offshore, making Wrightsville Beach a great diving vacation destination!
For a tamer experience, how about a standup paddleboard tour? Cape Fear SUP offers tours for all levels, so you'll have a ball exploring the waterways of Wrightsville Beach.
Wrightsville Beach Scenic Tours offers a fabulous harbor tour that is not to be missed! The sunset tour of the harbor is fantastic! Feel free to bring wine, beer, or a snack with you. It's always a good day when you are out on the water!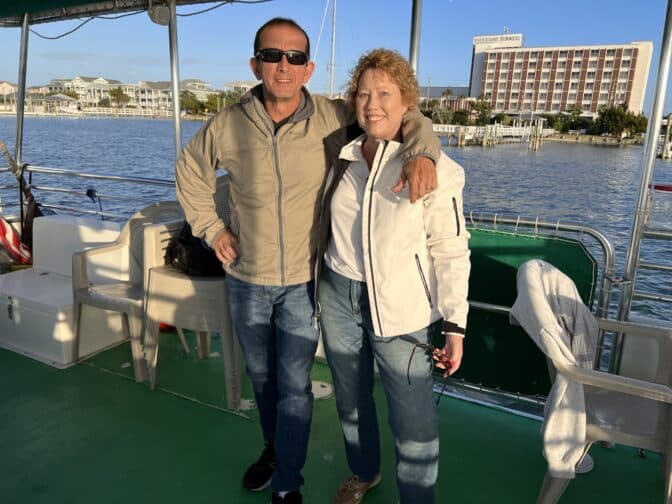 MANSIONS AND MUSEUMS
THE BELLAMY HOUSE
Dr. John D. Bellamy, a wealthy physician, and merchant built the home in 1861. Bellamy was meticulous when planning his grand 10,000-square-foot home. One example of this is seen in the way the kitchen is positioned on the east side of the mansion to receive the early morning sun.
Guests are welcome to explore all 22 rooms of the home on either a guided or self-guided tour. Multiple flights of stairs in the Bellamy Mansion may present a challenge to some guests. The mansion is not handicap accessible. However, a 30-minute video tour is available to those with limited mobility.
THE LATIMER HOUSE
The Latimer House presents guests with a view of daily life during the Victorian period. The home has 14 rooms which house over 600 objects. These include neoclassical statues from Paris and furnishings that are original to the home. 
The foyer has a stunning hand-painted floral pattern, and the grand staircase, crafted from heart pine, is an incredible feature. Zebulon and Elizabeth Savage Latimer constructed the home in 1852 during the antebellum housing frenzy. 
The Latimers had nine children, with four boys reaching adulthood. Each of the boys followed their passions and their father's entrepreneurial spirit. One son, Henry, was an artist, and you'll see some of his work on display in the home. William pursued law and, along with his younger brother Edward, started Acme Fibre Company, producing pine fibre bagging and matting. Herbert, the youngest son, perished from tuberculosis at 28 years old. 
THE NORTH CAROLINA AQUARIUM AT FORT FISHER
The North Carolina Aquarium at Fort Fisher packs a lot in! The aquarium is located on historic Fort Fisher, and while you are there, take a walk on the beach.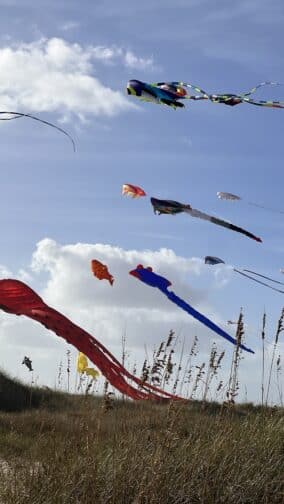 The exhibits include freshwater streams, reefs, habitats on the coastline, the open ocean habitats, and swamps. Our favorite was the reef habitat; look closely and see if you can find the shy moray eel that loves to hide in the crevices and cracks of the reef.
TIPS FOR VISITING THE NORTH CAROLINA AQUARIUM AT FORT FISHER
Your visit will take about two hours
Parking is free
No food or dink inside
The aquarium is wheelchair accessible
Service animals are welcome; however pets are not
Built-in flash devices on still cameras are permitted. Flashlights, laser pointers and video lights are not. Please keep these and any other lighting devices off as you tour the Aquarium, for animal safety.
FORT FISHER STATE HISTORIC MUSEUM
During the Civil War, one of the largest land/sea battles was fought at Fort Fisher. Take some time and visit the Fort Fisher State Historic Park. As you walk through the park, you see the remains of the massive earthworks, including a restored palisade fence. The scenic trail winds through ancient gnarled oaks, and gives you an up close look at the gigantic earthworks, and the remains of the fort.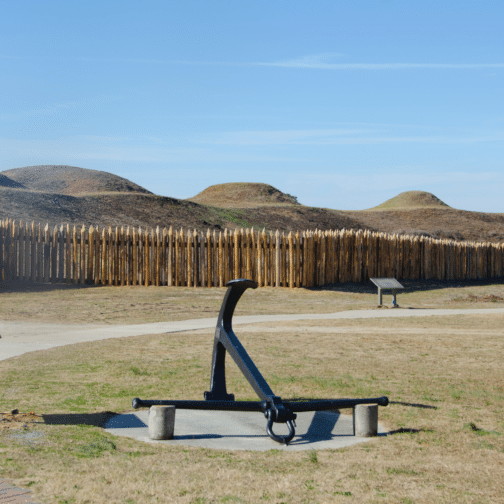 No matter when you visit Wilmington, it is the right time! This historic East coast destination has so much fun in store for you!
Don't forget to download The Ultimate Vacation Travel Planner! This planner is my absolute favorite go to when planning my next travel adventure!
MORE TRAVEL IDEAS YOU MIGHT LIKE