These wineries in North Georgia are a must visit this fall. Georgia has amazing vineyards, growing flavorful grapes with gorgeous views.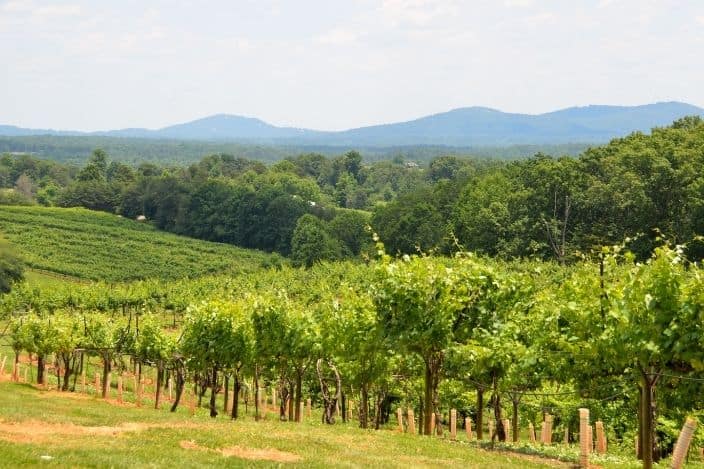 Most of the wineries in Georgia are North Georgia wineries, as the climate and land is better suited for grape growing. This means you'll also get to enjoy cooler temperatures and beautiful fall foliage during your trip here. If you're searching for a beautiful and unique winery to visit this fall, check out one of these five amazing Georgia wineries. They make the perfect backdrop for a romantic getaway in the South!
Wineries In Georgia To Visit For A Romantic Getaway
The state of Georgia has about 50 wineries registered, making it a little wine haven in the South. The most common wine found here is called muscadine wine. This type of wine is made from muscadine grapes, which thrive in a warmer, humid climate. If you love sweeter wines, muscadine is definitely for you! Of course, many different types of wine are available at the vineyards, if you prefer something less sweet.
Fall is harvest season in the grape industry, which makes it the perfect time to take a trip to a nearby winery. And while you may think Napa Valley is the only place to get truly great wine, the amazing weather of northern Georgia is perfect for growing grapes! That means the area is packed with so many great wineries for you to enjoy.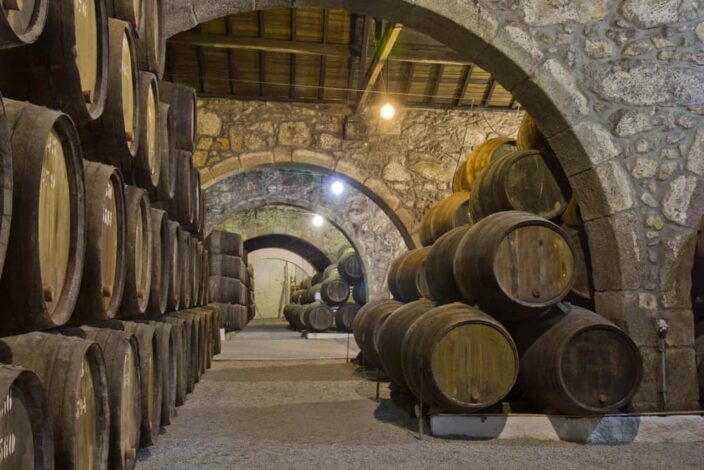 Habersham Winery
One of the oldest and largest North Georgia wineries in the state, Habersham Winery is not to be missed. Their vast vineyards grow a wide variety of grapes including Chardonnay, Seyval Blanc, Vidal Blanc, Cabernet Sauvignon, Merlot, Chambourcin, and most recently planted Traminette, Aromella, and Chardonnel.
Stop by their tasting room and stock up from cheeses and other wine accompaniments from around the world. Both small parties and groups are welcome for tastings and tours. Reservations are needed for tour busses but not for small parties.
And with three locations you can get a taste of this classic Georgia wine at its Helen location, or Dahlonega, or in their primary location, Sautee Nacoochee.
Wolf Mountain Vineyards
With over 200 medals in national wine tasting competitions, you can be sure to find a selection of delicious wines at Wolf Mountain Vineyards. Located just outside from Dahlonega in the mountains of north Georgia, this beautiful winery has a huge selection of Georgia wines, including dry white wines, dry rose, red wines, port wines, and sparkling wines. The grapes they grow include Cabernet Sauvignon, Syrah, Mourvedre, Tannat, Petite Verdot, Malbec and Touriga Nacional.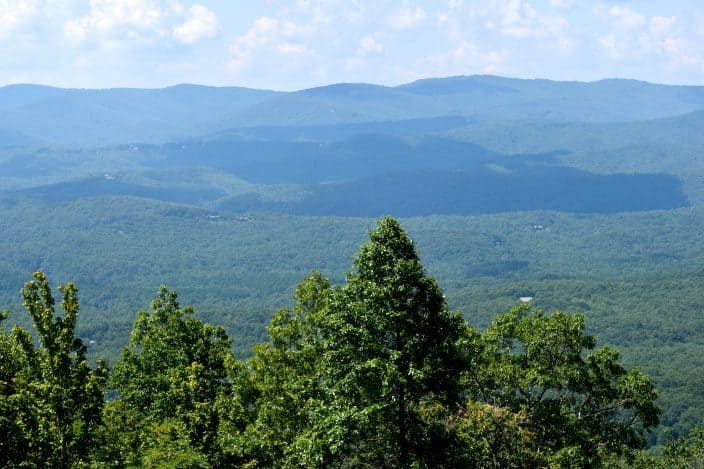 The breathtaking view, overlooking the Appalachian Mountains make Wolf Mountain a must visit. The unique location of their vineyards, on top of Wolf Mountain, make their process a site to behold. Make sure to take a tour and learn all about their special style of grape growing and special attention paid to the land as well as their harvesting process.
Montaluce Winery
Another one of the best wineries in North Georgia is, Montaluce Winery. Located 40 miles north of Atlanta, in Dahlonega, it is home to a variety of delicious regional wines. But what makes this wonderful winery stand out is its wine tours.
While you can take a traditional tour of the winery throughout the week, if you visit the winery on the weekend, opt for the wine hike, where you'll get a chance to explore the property and learn about winemaking. The winery also features a beautiful restaurant that will make you feel like you're dining in Tuscany.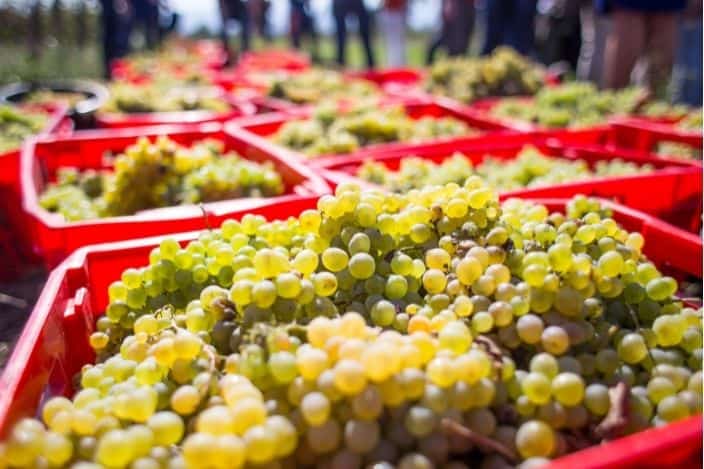 Yonah Mountain Vineyards
If you're looking for a place to enjoy live entertainment while enjoying a delicious glass of wine, head to Yonah Mountain Vineyards in Cleveland. In addition to gorgeous views with wine flights each day, this vineyard also has live music every Saturday. The grapes grown across 20 acres include Sauvignon Blanc, Chardonnay, Petit Manseng, Cabernet Sauvignon, Merlot, Cabernet Franc, Malbec, and Petit Verdot.
The best part about visiting this winery in the fall is the tour of their wine caves. Yonah Mountain Vineyards is the only vineyard in Georgia with these "wine caves", where you can sample their newest wines. Unfortunately, the tours are currently on hold due to COVID-19, but will hopefully resume in the future.
Three Sisters Vineyards
Looking for a dog friendly winery in Georgia to visit this fall as part of your romantic getaways in the south? Look no further than Three Sisters Vineyards and Winery in Dahlonega.
Dogs are welcome here throughout the year, as long as you keep them on a leash. And don't forget to grab your complimentary dog treats at the bar while you're there!
They currently offer walk-in wine tastings on the outside patio with social distancing in place. If you visit this winery on Saturdays, you'll also experience live music and delicious food trucks!
 This post may contain affiliate links which won't change your price but will share some commission. As an Amazon Associate I earn from qualifying purchases.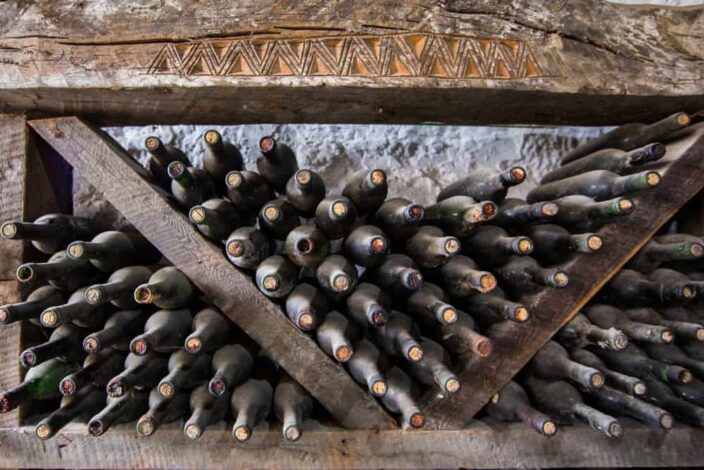 Lodging Near Wineries In North Georgia
Here are some of the best options for places to stay when you are visiting these amazing Georgia wineries. I'm sharing some choices so you can plan the most awesome romantic getaways in the south…who could stay for just one day when there's so many delicious wines to be sampled?!
---
Whichever winery you choose, we're sure that you will love it! The great thing about wineries in the South is that most of them are open year-round with pleasant temperatures. There are plenty of domestic vineyards to explore without having to fly out to Napa. If you do live in the South, consider taking a road trip and taking in the fall colors while you head to the wineries.
COVID-19 Update: Please be aware that some wineries will require the usage of masks and social distancing. Limited capacity may also be in place so be sure to arrive early and call ahead to double check as restrictions and rules change with time.
Curious about other wineries in visit? Virginia is filled with amazing vineyards, waiting to be explored! Check out our list of recommendations for 15 Virginia wineries to try on your next romantic getaway.
Which of these Georgia wineries can you not wait to visit? We'd love to hear from you in the comments below!
Here are even more wineries and weekend getaways to explore:
Looking for some other ways to spend some weekend adventure or go on a romantic getaway? Discover your next travel destination with Betsi World, your traveling storyteller!
5 Wineries In North Georgia To Visit This Fall
Top 15 Virginia Wineries to Visit
The Best Virginia Wineries To Visit This Winter
CHECK OUT WHAT'S NEW ON BETSI WORLD
Wineries | Travel Destinations | Gifts For The Wine Lover
Travel and gift resources for the wine connoisseur and travel enthusiast.