Coconut shrimp is one of those decadent appetizers there is never enough of. This awesome appetizer can get pretty pricey in a restaurant, so why not make it at home?!
This coconut shrimp recipe is a healthy low carb version so you can feel guilt-free about enjoying every last bite. I love to wow my guests with this popular party snack!
Low Carb Coconut Shrimp
This coconut shrimp recipe is made without bread crumbs like in the traditional recipe. Instead, almond flour is used to make it a healthy and low carb recipe. The other healthy swap is that I baked them instead of frying them. This reduces the calories and bad ingredients from the unhealthy oils. The coconut flakes are also low carb and gluten-free, making this a versatile recipe for all kinds of diets.
Don't worry, this version of coconut shrimp is just as good if not better than the original, without the bad stuff! This recipe is perfect for someone who is on a low carb, paleo or keto diet or someone who wants a lower calorie healthy alternative. 
How To Make Coconut Shrimp
First, you'll need to pick up some shrimp. I prefer to use wild caught 10/15 count large shrimp. Larger shrimp hold the coconut flakes better than smaller shrimp, however choose what you prefer. For larger parties it may be more cost effective to use medium shrimp.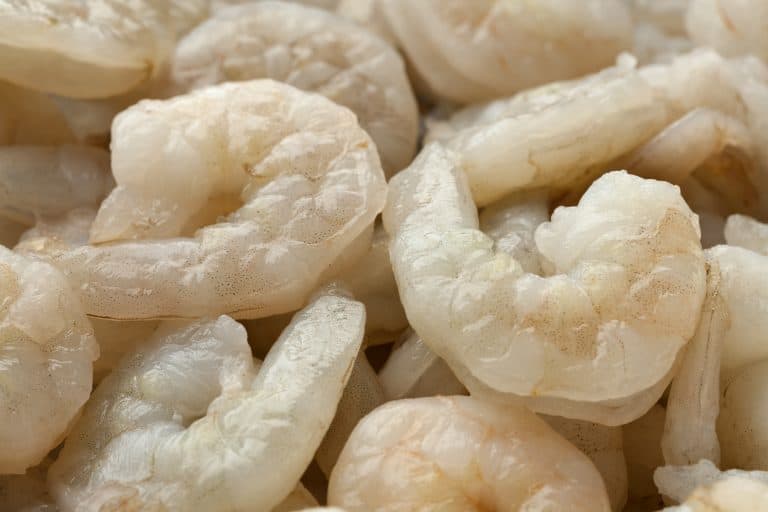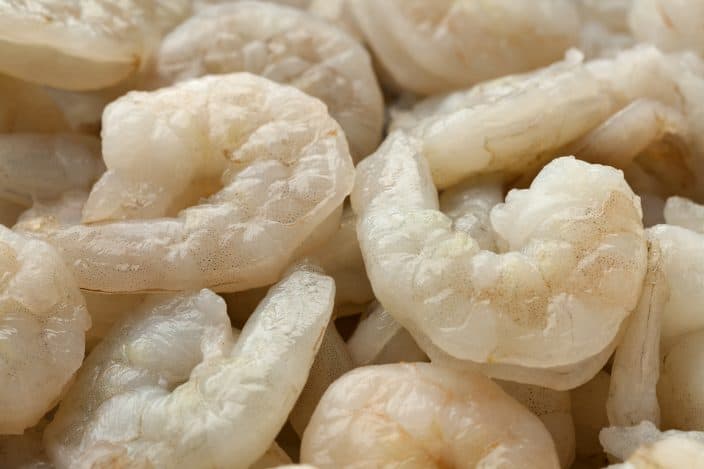 Make sure to rinse the shrimp and pat them dry. I like to use already peeled and deveined shrimp to lessen the work. 
To make the coconut shrimp batter, grab your almond flour. I recommend using  finely ground, blanched almond meal. In my opinion, it tastes similar to regular flour and has a better texture. If you don't like almond flour or have an allergy, you can substitute it for coconut flour!
Mix the almond flour (or coconut) in a bowl with smoked paprika, cumin, onion powder, garlic powder, salt and pepper. Then in a second bowl whisk together the eggs and water to make the egg wash. In a third bowl, pour in some shredded coconut. To maintain the sugar-free and low carb quality of this dish, use unsweetened coconut pieces.
Begin coating each shrimp in the almond flour seasoning mixture. Then dredge the shrimp in the egg wash and let the excess drip off. After you've cleared the excess, dip the shrimp into the shredded coconut. It's important to cover the shrimp as completely as possible, you want that extra coconutty flavor!
Baking The Coconut Shrimp
Prepare your baking surface by grabbing a baking sheet and placing a baking mat on top. The baking mat will make sure that your coconut shrimp are easily removed.
You are now ready to bake! Just pop the baking sheet in the oven and bake until the shrimp are golden-brown and crispy. Flip the shrimp halfway through the baking time at around 6 minutes.
To get them extra crispy, I recommend baking them for 9 minutes and then broiling them for the last few minutes. You'll want to keep the oven door cracked for air flow. Keep careful watch on them so that they don't burn! Alternatively, you could lay them in an air fryer or turn your convection setting on in the oven.

Avocado Lime Dip
The coconut shrimp sauce I made is an awesome avocado lime dip. This tangy dip really rounds out the flavors. It offers freshness and creaminess to balance out the crispy, nutty flavor of the baked shrimp. If you don't like avocado then you can serve the shrimp with a sweet sauce. For example, a sugar-free marmalade with orange would be delicious as well!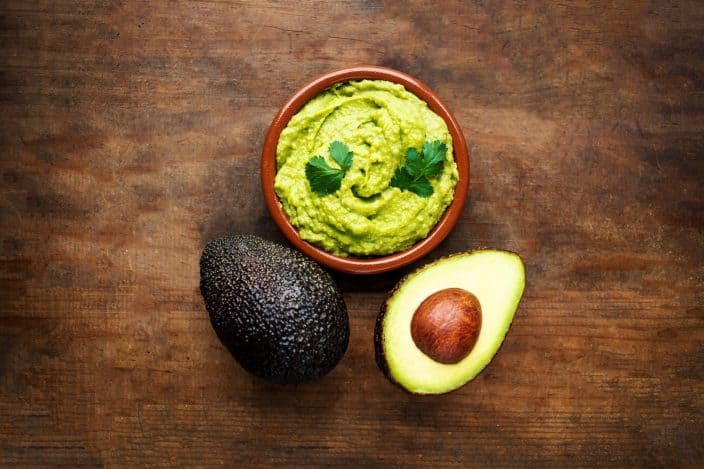 To make the sauce for coconut shrimp add avocado, cilantro, lime juice, and cumin to a food processor or blender and blend until its smooth. If the sauce is too thick you can add a little bit of water to thin it out.
Be careful not to thin the dip out too much! After its reached its desired consistency season the dip with salt and pepper.
You can serve the coconut shrimp dipping sauce in a beautiful bowl and top it off with a sprinkle of red pepper flakes and a lime for garnish. Set this aside until the shrimp are done cooking. After about 12 minutes remove the shrimp from oven and serve immediately with avocado-lime dip on the side.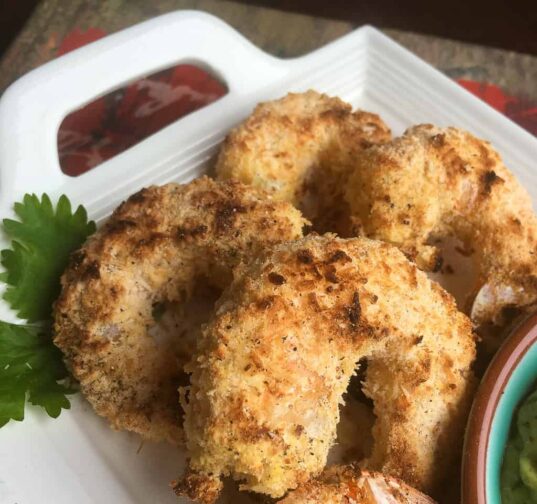 This post may contain affiliate links which won't change your price but will share some commission. As an Amazon Associate I earn from qualifying purchases.
Tools You Will Need To Make Coconut Shrimp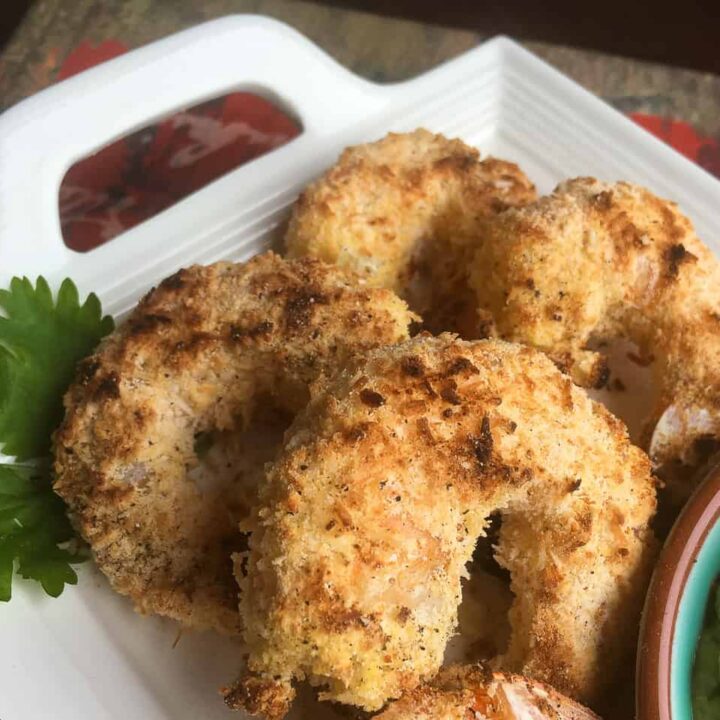 Baked Coconut Shrimp
This baked coconut shrimp recipe is low carb and gluten free. It comes together quickly and is as delicious as the ones you have restaurant!
Ingredients
½ c. almond (or coconut) flour
1 t. smoked paprika
1 t. ground cumin
1 t. garlic powder
1 t. onion powder 
2 eggs
2 T. water
¾ c. shredded coconut, unsweetened
1 lb. 10/15 count gulf shrimp, peeled and deveined, tails on
Salt and pepper, to taste
Avocado Lime Dip
1 large ripe avocado, pitted and peeled
3 T. fresh cilantro, stems removed
2 T. fresh lime juice
¼ t. ground cumin
½ t. red pepper flakes
Sea salt and black pepper, to taste
Instructions
Preheat oven to 400°F and line a large, rimmed baking sheet with a baking mat. Set aside.
Combine almond flour, smoked paprika, ground cumin, garlic powder, and onion powder in a pie pan or shallow bowl. Season with salt and black pepper, to taste, and set aside.
In a second pie pan or shallow bowl, gently whisk the eggs and water until frothy. Season with salt and black pepper, as desired, and set aside.
Add shredded coconut to a third bowl and set aside.
Working one at a time, dredge each shrimp in the seasoned almond flour, then dip in the egg mixture.
Allow excess egg to drip off before transferring shrimp to the bowl of shredded coconut.
Turn to coat shrimp thoroughly before transferring to the prepared baking sheet. Repeat with remaining shrimp and season with additional salt and black pepper, if desired.
Place baking sheet in preheated oven and bake until golden-brown and crispy, around 12-15 minutes, turning once halfway through.

To Make The Avocado Lime Dip

Add avocado, cilantro, lime juice, and cumin to a food processor or blender and blend until smooth.
Add a tablespoon or two of water, if necessary, to reach desired consistency. Season with salt and black pepper, to taste. Transfer to a small serving bowl and sprinkle with red pepper flakes. Set aside.
Remove shrimp from oven and serve immediately with avocado-lime dip on the side. Enjoy!
Nutrition Information
Yield

4 servings
Serving Size

1
Amount Per Serving
Calories

234
Total Fat

20g
Saturated Fat

11g
Trans Fat

0g
Unsaturated Fat

8g
Cholesterol

95mg
Sodium

204mg
Carbohydrates

11g
Fiber

7g
Sugar

2g
Protein

6g
The Best Appetizer For Parties
Coconut shrimp is always a hit, whether you're at a restaurant or at a party. Save the money, skip the line and the wait at restaurants and make this baked coconut shrimp recipe for your next party or date night dinner. I guarantee you and your guests will love every bite!
Have you ever had coconut shrimp? What did you think of it? We'd love to hear from you in the comments below!
CHECK OUT WHAT'S NEW ON BETSI'S WORLD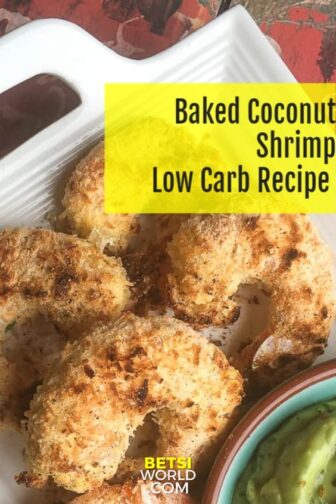 Other Recipes You May Like