Are you craving the taste of Mexican but don't feel up to dinner out?  Some days I want that Mexican goodness without the crowds. Other days we decide to save our budget and eat at home.  The good news is, with this recipe you can have it all! It's a delicious Mexican meal without the crowds or the cost.
As an Amazon Associate as well as a member of other affiliate programs, when you purchase from the links on our site it helps support Betsi's World.
This recipe uses homemade enchilada sauce.  Don't be intimidated if you've never made enchilada sauce.  It's super simple, and the taste is fantastic! I predict that if you make it once you will steer away from the canned stuff for good.
So what do you need for Pork Enchilada Casserole?  
3 cups shredded precooked pork

3 cups cooked pinto beans

1 package flour tortillas

¼ cup vegetable oil

2 tablespoons flour

3 tablespoons chili powder

8 ounce can tomato sauce

1 cup water

2 teaspoons cumin

1 teaspoon paprika

½ teaspoon onion powder

½ teaspoon garlic powder

¼ teaspoon salt

2 cups shredded cheddar cheese


Now that we have our ingredients let's move on to the instructions.
First, for this recipe, you want to preheat your oven to 350 degrees.
Now, let's make the enchilada sauce.  To do this, you need to start by heating your vegetable oil over medium-low heat in a small saucepan.  Once the oil has heated, add in the flour and chili powder. You need to stir the flour/chili powder mixture for a couple of minutes.  No one wants enchiladas that taste like raw flour right?
Next, add in your tomato sauce, water, and spices.  Cook and stir the sauce for about ten to twelve minutes, or until it reaches a thick sauce consistency.
Now that your sauce is finished, we are going to build your Pork Enchilada Casserole.
First, spoon some of the enchilada sauce into the bottom of a 13×9 pan.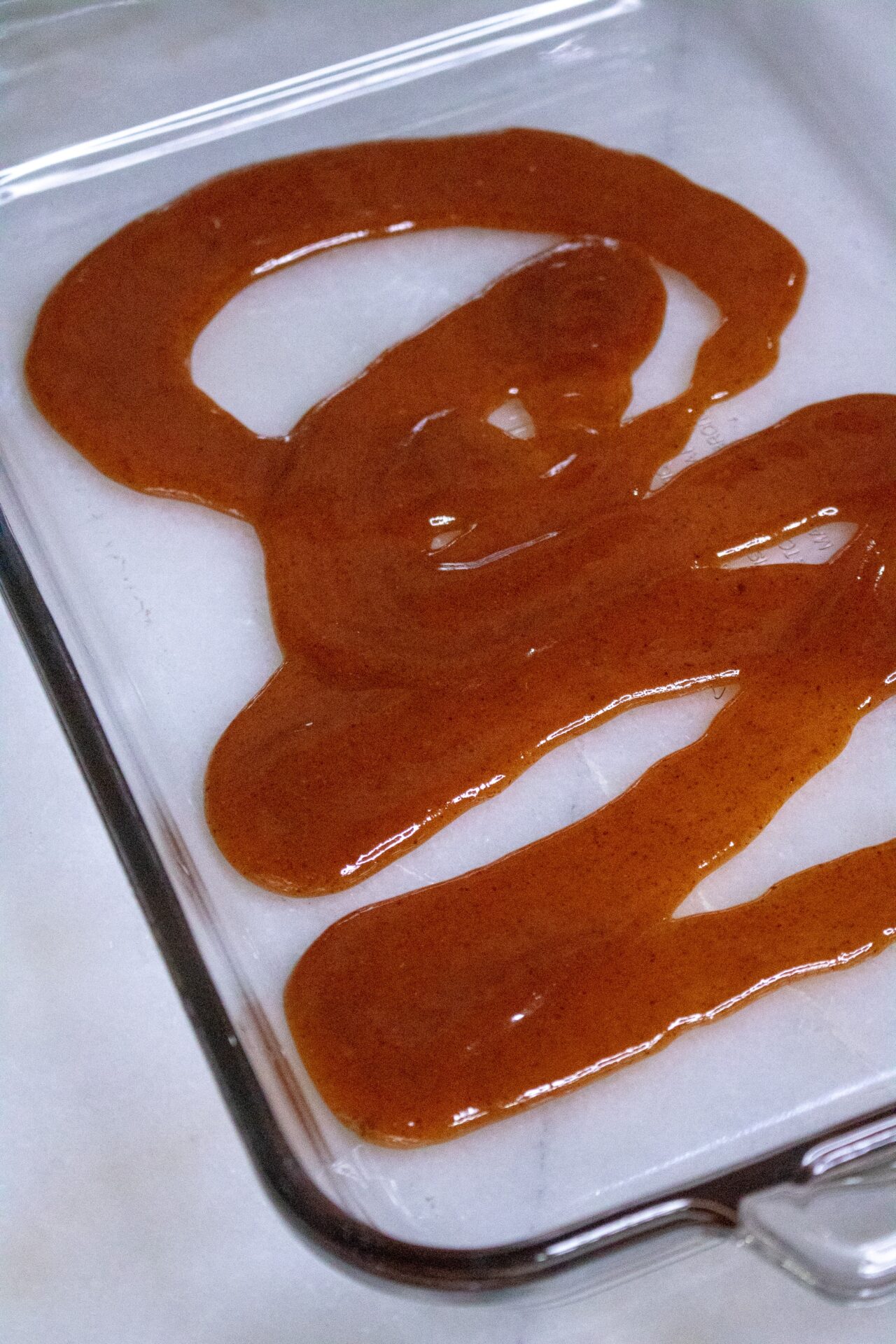 On top of the layer of sauce, add a layer of flour tortillas.
Now it's time to add the good stuff.  You want to top the tortillas with half of the shredded pork and half of the pinto beans.
Next, sprinkle 1/3 of the cheese over the pork and beans.  (Because let's be honest here, who doesn't love cheese?)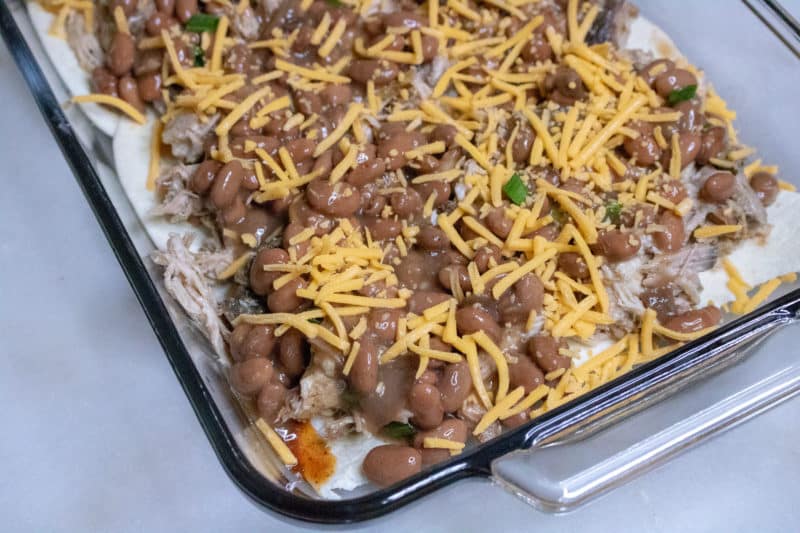 From there add 1/3 of your homemade enchilada sauce.  And as easy as that, you have built your first layer!
For the second layer, you want to repeat the same process.  Add the flour tortillas, the pork, the beans, and the cheese.  Top this off with more flour tortillas, the remaining enchilada sauce, and then more of that yummy cheese.
Now you are all ready to bake!  Place your casserole into your pre-heated oven and bake for 30 minutes, or until nice and bubbly, and just like that you are finished!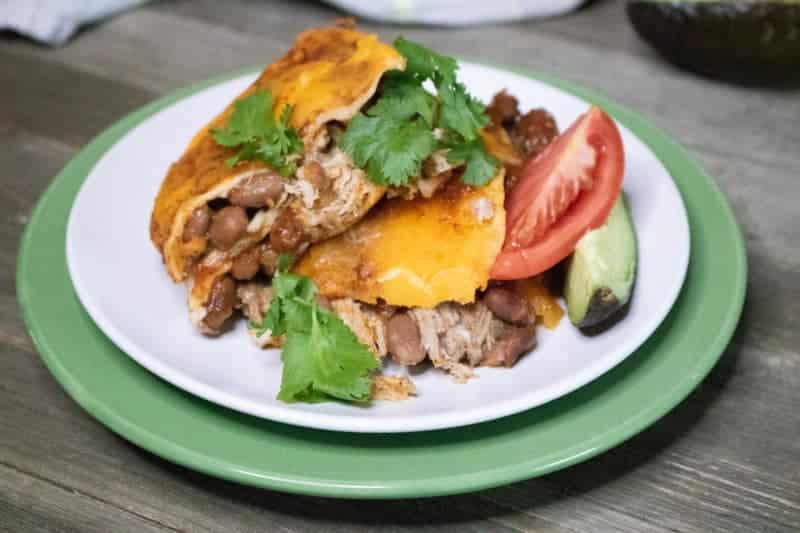 So there you have it, Pork Enchilada Casserole.  A fantastic Mexican recipe that you make from the comfort of your own home.  No blowing your budget today. What are you waiting for? Try this one out!
This recipe makes eight servings.
You May Also Like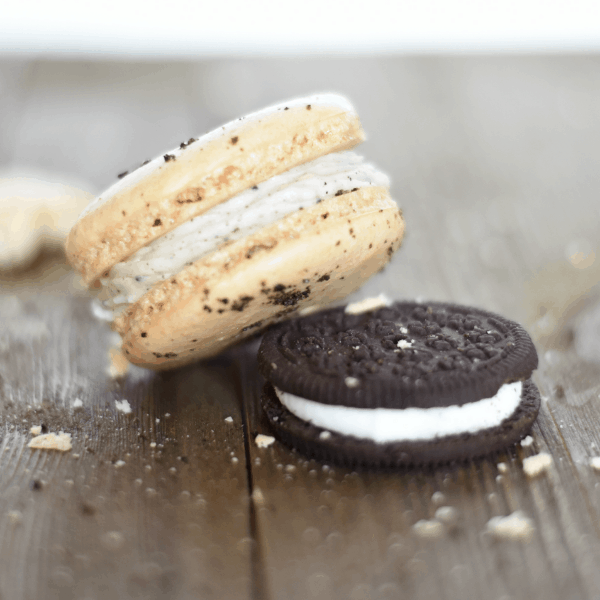 Instant Pot Loaded Mac n Cheese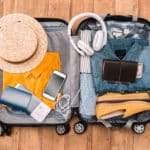 Travel Essentials for Your Carry On