Thai Chicken Thighs
Thai chicken thighs in peanut sauce are incredibly quick, easy, and delicious! The use of an instant pot makes this recipe a great option for family meals or meal prep for the week, without the mess.
The Thai chicken thighs get their intense flavor from a creamy peanut sauce, sure to delight your palate. This recipe goes great with a fresh green salad for some added brightness in flavor or coconut rice.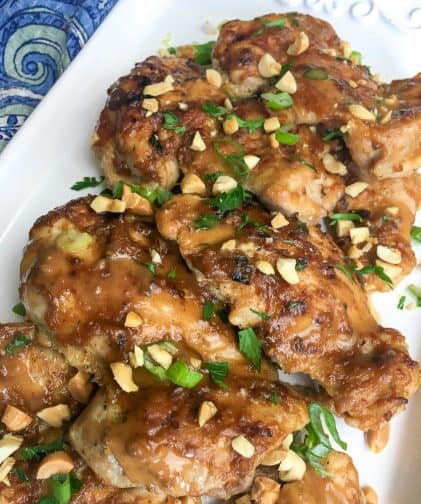 How To Cook Thai Chicken Thighs
Chicken thighs are a great cut to work with because the dark meat is very flavorful and moist. Cooking them in an instant pot or slow cooker is a bonus because it makes the chicken extremely tender. I love it when I take a bite and the meat just melts in my mouth, there's nothing better!
These Instant Pot Thai chicken thighs are first sauteed in sesame oil that completely perfumes each thigh. The benefits of browning the chicken in the instant pot versus in a separate pan is that the browning leaves little bits of chicken behind. Then, when you add your stock to the pot as a base for your sauce, the chicken bits infuse the sauce with incredible body and depth of flavor.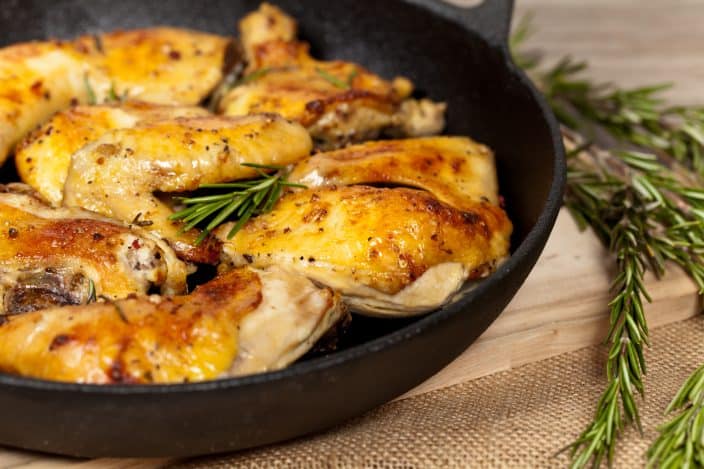 The Perfect Peanut Sauce For Instant Pot Thai Chicken Thighs
This Thai chicken is cooked with a peanut sauce that uses only the best and healthy ingredients! The Thai chicken peanut sauce includes fresh ginger, local honey, gluten free soy sauce or coconut aminos, fresh lime juice, and natural, sugar-free peanut butter. One trick to this recipe is to add enough liquid to the peanut sauce prior to cooking. If the sauce is too thick, the Instant Pot may not be able to reach adequate pressure. So, if you decide to add more peanut butter, be sure to adjust the amount of liquid, as well. This sauce is so delicious, make some extra and use it as a dipping sauce for things like wraps, snack packs of veggies, or left-over chicken! 
Presentation to Wow Your Guests
If you'd like to take your chicken to the next level, place your instant pot Thai chicken thighs in peanut sauce on a baking sheet lined with aluminum foil. Brush both thighs on each side with some extra peanut sauce. Place these under the broiler for a couple of minutes to let the peanut sauce caramelize and turn a lovely golden brown. Don't forget to garnish the meal with fresh cilantro (for added freshness), chopped peanuts (for some crunch), and green onions.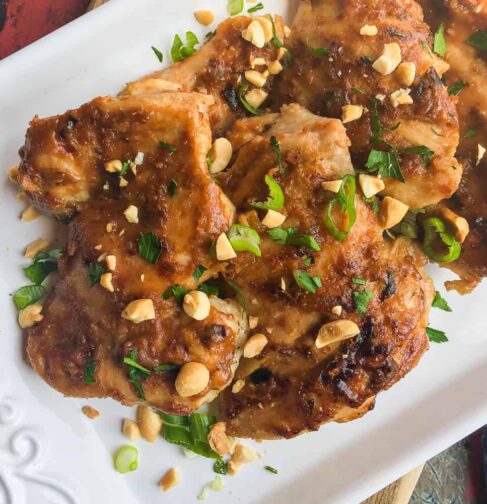 This post may contain affiliate links which won't change your price but will share some commission. As an Amazon Associate I earn from qualifying purchases.
What Tools Do You Need To Cook Thai Chicken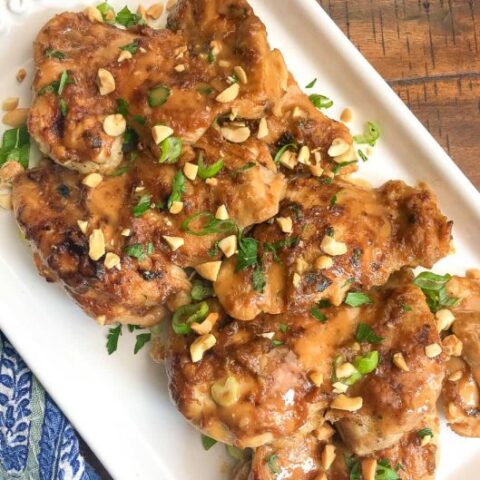 Instant Pot Thai Chicken Thighs
Additional Time:
10 minutes
5 seconds
Total Time:
30 minutes
5 seconds
Instant Pot Thai Chicken Thighs are so simple that they'll quickly become a staple in your family! Full of flavor Thai Chicken Thighs pair well with a salad and a glass of white wine.
Ingredients
2 T. sesame oil
2 lbs. boneless, skinless chicken thighs
2/3 c. chicken broth
¼ c. sugar-free peanut butter
¼ c. gluten-free soy sauce or coconut aminos
2 T. fresh lime juice
2 T. honey, preferably local
1½ T. Sriracha sauce
2 t. fresh ginger
1 t. black pepper, to taste 
1 t. Sea sa
Garnish
Fresh cilantro, chopped
½ c. roasted peanuts, chopped
3-4 green onions, cut into thin slices
Instructions
Add sesame oil to Instant Pot and set the "Sauté" setting to high. Working in batches, if necessary, brown the chicken thighs, approximately 3-4 minutes per side. Repeat this process with remaining thighs. Remove and set aside on a platter.
Pour chicken broth into a hot container and gently scrape up brown bits from bottom. Add peanut butter to the hot liquid and stir until completely melted. Add soy sauce, lime juice, honey, Sriracha sauce, ginger, and garlic powder. Season with salt and black pepper, to taste, and stir to combine.
Add metal rack to the Instant Pot and place the browned chicken thighs on top.
Add the lid and lock into place. Switch vent to "Sealing" position and set the "Manual" setting on high before adjusting the cook time to 10 minutes. After a brief pause, the Instant Pot will automatically start building pressure.
When finished, do a quick release (QR) to allow the pressure to escape. Unlock and carefully remove the lid when finished and transfer the chicken to a platter.
Optional: To thicken sauce, select the "Sauté" setting and heat, stirring continually, until the excess liquid is reduced and the sauce reaches the desired consistency.
Turn Instant Pot off and return the chicken thighs and the juices that accumulated on the platter to the sauce and turn to coat.
Remove chicken and transfer to a serving tray. Garnish with chopped fresh cilantro, chopped peanuts, and green onions, if desired. Serve immediately with extra peanut sauce and your favorite sides. Enjoy!

CHECK OUT WHAT'S NEW ON BETSI'S WORLD
If you liked this recipe, then you'll love our Spicy Chicken Satay