Oreo Truffles For The Holidays
These Oreo Truffles topped with candy cane are an Oreo, chocolate, and peppermint lover's dream. This holiday twist on truffles is a great way to stand out at your next party. 
The Oreo truffles are dipped in white chocolate and topped with crushed candy canes. Truffles are the perfect treat to bring to holiday festivities or wow guests at your own celebration.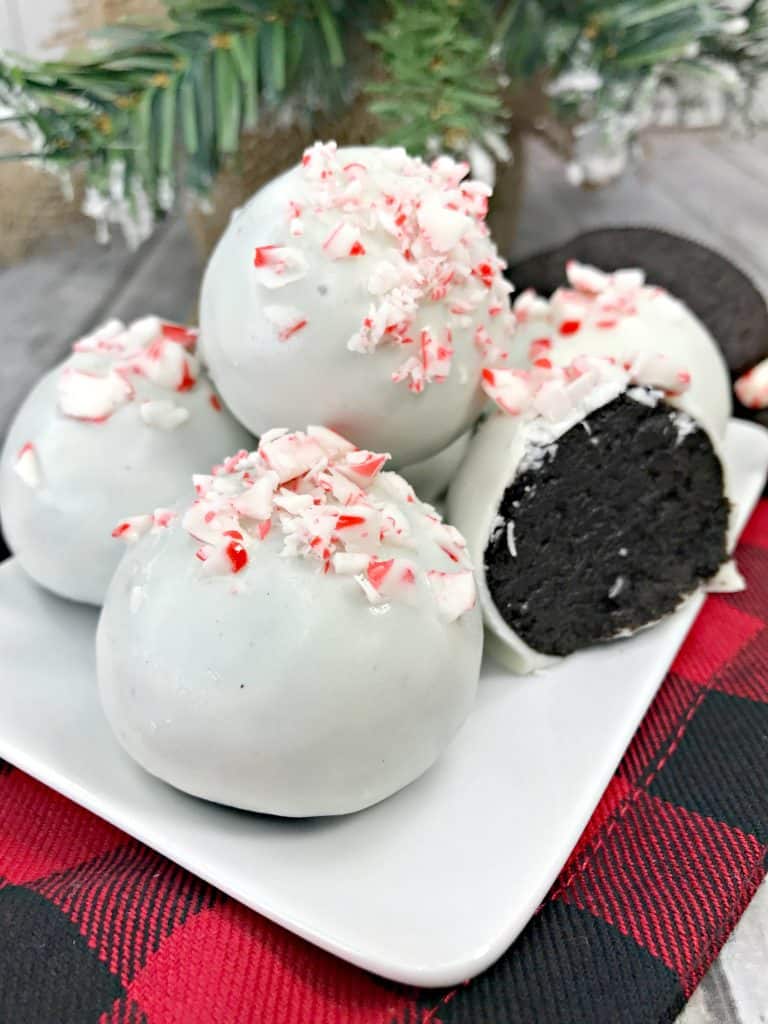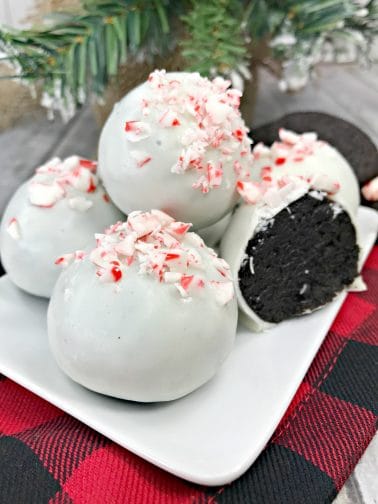 How to Make the Perfect Holiday Oreo Truffles
There are few things I like more than truffles, add Oreos (a childhood favorite), white chocolate, and candy cane and I'm hooked! For the holidays, I wanted a dessert that would not only taste amazing but look beautiful on a plate and Oreo truffles are definitely it!
The Oreos give a rich dark chocolate flavor to the truffle balls while the peppermint extract and candy cane kick up the holiday spirit. While, the cream cheese in this recipe gives the truffle its smooth, rich texture.
You can also mix up the recipe by choosing an Oreo with a different flavored crème (i.e. mint). We are purists here, so we stick to the plain Oreos, nothing beats the original crème and chocolate cookie!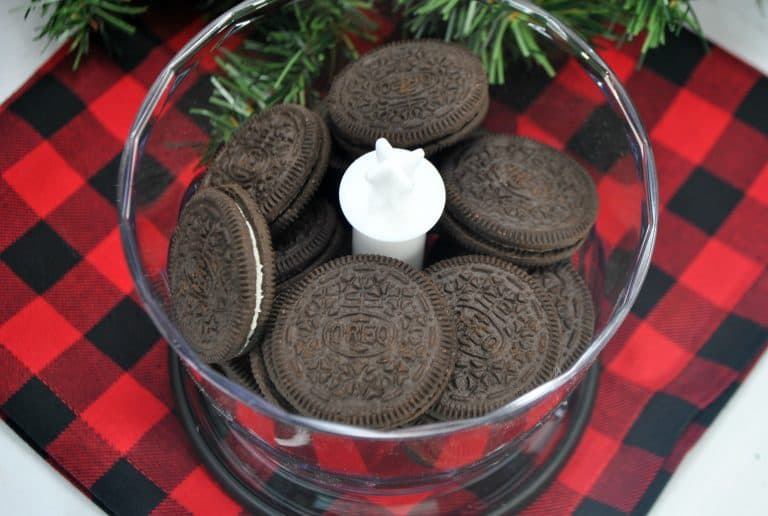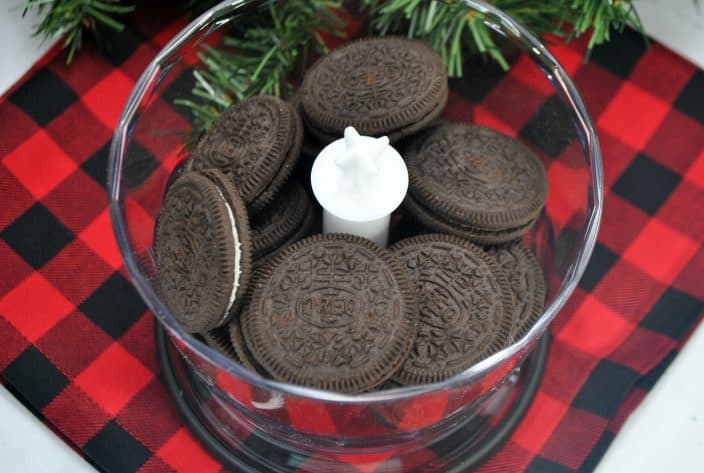 To make these Oreo truffles with cream cheese you will first need to crush the cookies into a fine crumb with a food processor. If you want to make Oreo truffles without a food processor or do not have one, then you can use a bag and a rolling pin. Just smash the Oreos with a rolling pin until they are fine crumbs.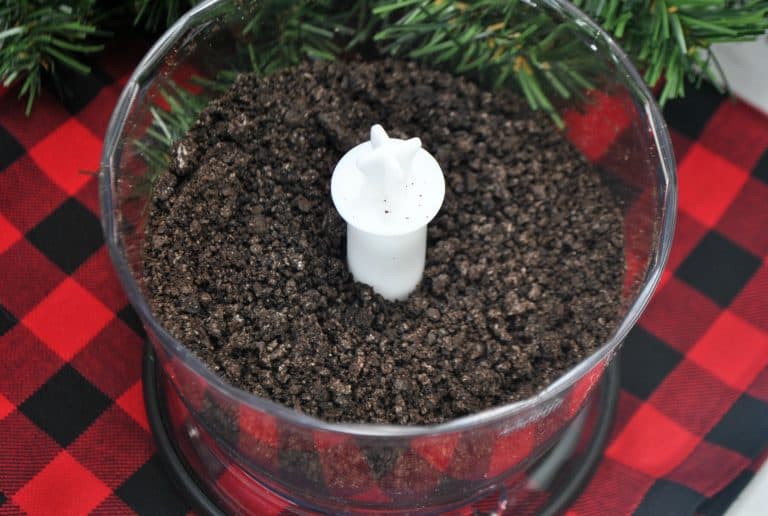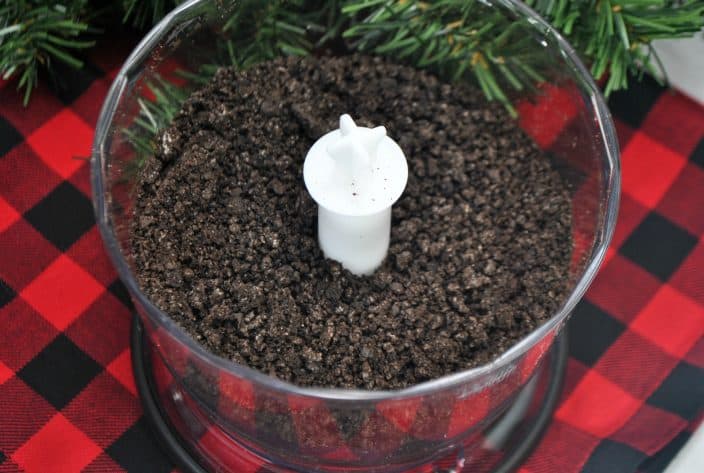 Then, add the cream cheese to the food processor, or bowl, and mix until well incorporated. I left the cream cheese out to soften for 10 minutes for ease of mixing.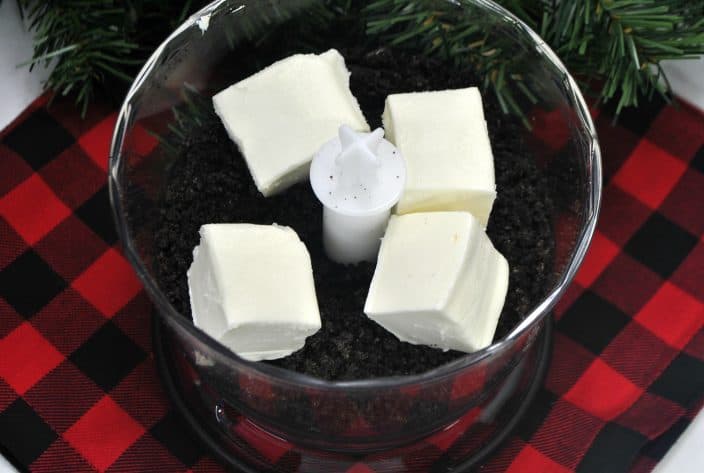 Your cookie cream cheese mixture should now look like this! Grab a cookie scoop or a tablespoon measure to scoop out the mixture and form it into small balls. Place each truffle on a baking sheet lined with parchment paper and freeze.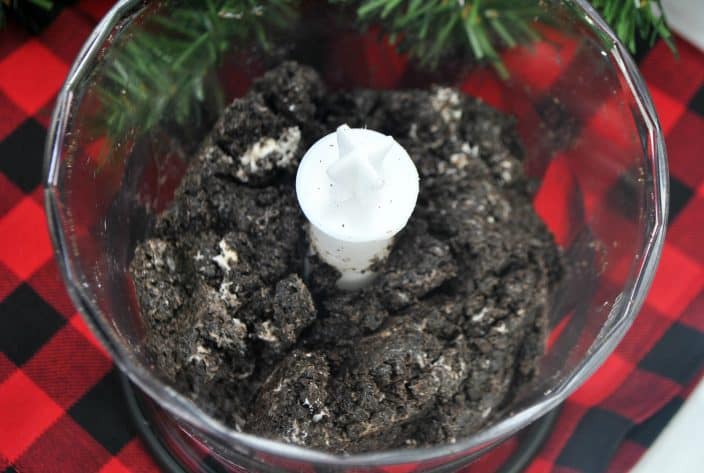 Oreo Truffles with White Chocolate
To make the white chocolate shell for the truffles, use a double boiler to melt the chocolate. Any white chocolate will do here, but we used Ghirardelli White Chocolate Baking Chips.
If you do not have a double boiler you can use a pot and a metal bowl. Fill a pot a quarter full with water and place a medium sized metal bowl on top (the bowl should not touch the water).
Pour the chocolate into the bowl and bring the water to a boil. Slowly mix the chocolate with a spatula until melted, then add peppermint extract.
Tip: if you prefer a very peppermint heavy truffle, try adding a couple extra drops of peppermint extract.
Finally, roll the truffles in the silky smooth chocolate and placed back on the baking sheet. Garnish the tasty treats with some crushed candy canes and sprinkle them all over the top!
How to Store Your Oreo Truffles
Candy cane Oreo truffles should be stored in the refrigerator for up to 3 or 4 weeks, although I doubt they will last that long! You may also freeze these truffles in a freezer safe and airtight container for up to 3 months.
Oreo truffles are made with cream cheese, so you can leave them out on the table for a few hours but they need to be refrigerated after that. Be sure to serve your truffles right out of the fridge, they taste the best cold.
Tip: pop the truffles into the freezer for 30 minutes before serving so they stay cold for longer. This way you won't risk your guests fingers getting covered with melted white chocolate!
 This post may contain affiliate links which won't change your price but will share some commission. As an Amazon Associate I earn from qualifying purchases.
Tips and Tools You Need To Make Your Truffles
Food Processor: If you do not have a food processor you can place your Oreos in a bag and crush them by rolling a rolling pin over them. It will be more difficult to get a fine crumb but will work all the same. 
Baking Sheet with parchment paper. You will need this to place and store your truffle balls on, and to transfer them to and from the fridge.
Cookie Scoop or Tablespoon Measure. This makes scooping your dough into small balls easier and the size between each ball, uniform.
Double Boiler. If you do not own a double boiler, you can use a pot and a medium-sized metal bowl. For instructions on how to use the pot and bowl method, please see the "Oreo Truffles With White Chocolate" section above. 
The Perfect Holiday Dessert
This holiday truffle is sure to be a crowd pleaser. I don't know anyone who doesn't love the chocolatey Oreo cookie; turn it into a truffle and you've got a big hit!
The look of these Oreo truffles on your holiday table is sure to stop your guests in their tracks. The crushed candy cane sprinkled on top is a real eye catcher. The flecks of red stand out beautifully on the white chocolate shell truffle coating.
Tasty and beautiful is a win-win in our book. Be sure to try this holiday dessert recipe at your next gathering!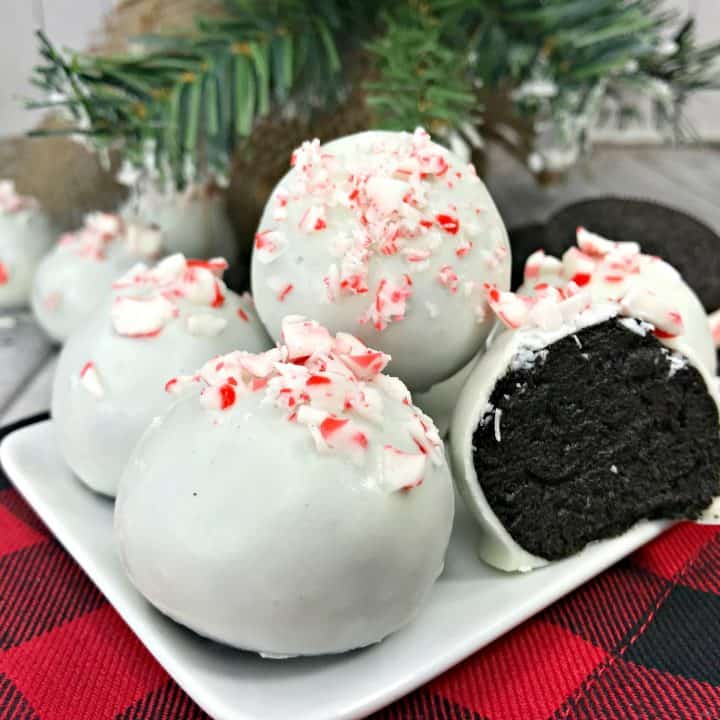 Oreo Truffles Candy Cane Topped Recipe
Total Time:
1 hour
25 minutes
These Oreo truffles topped with candy cane and dipped in white chocolate come together quickly and are a delicious dessert or sweet snack! Try making these chocolate peppermint truffles for your next holiday party. 
Ingredients
32 regular Oreos 
8 oz softened cream cheese 
2 tsp peppermint extract 
16 oz white melting chocolate 
1/4 cup crushed candy canes
Instructions
Line a cookie sheet with parchment paper
Place the Oreo cookies in the bowl of a food processor and pulse until finely ground.
Add the cream cheese and pulse until the mixture is well combined and smooth.
Using a small ice cream scooper, scoop some dough into your hands and roll into a ball, place onto cookie sheet.
Repeat steps until all dough is used.
Place the cookie balls in the freezer until well chilled, at least 1 hour.
Using a double boiler, melt the white chocolate and mix until smooth.
Add the peppermint extract into the chocolate and mix well.
Remove Oreo cookie truffles from the freezer and dip into the melted white chocolate.
Place back onto baking sheet and top with crushed candy canes.
Allow chocolate to harden before enjoying !
Nutrition Information
Yield

32
Serving Size

1
Amount Per Serving
Calories

162
Total Fat

9g
Saturated Fat

5g
Trans Fat

0g
Unsaturated Fat

2g
Cholesterol

10mg
Sodium

79mg
Carbohydrates

19g
Fiber

1g
Sugar

13g
Protein

2g
Are you gonna try this recipe with original Oreos or mix it up with a different flavor? Let us know in the comments below!
CHECK OUT WHAT'S NEW ON BETSI'S WORLD