Chicken Salad
Chicken salad has to be the best snack ever. Classic chicken salad is truly the perfect combination of flavors and textures. The creaminess of the mayo, the crunchiness of the celery, delicious chicken, it's fantastic, right?
This chicken salad recipe is different than your average salad, it uses fire roasted peppers and smoked almonds to add some spice. It takes a fantastic dish and moves it to a whole new level.
Chicken Salad Ingredients
Since this is not your average chicken salad recipe, you can serve it up at the next family reunion and be a superstar. Maybe even throw it together for a special picnic with the family.
You can use this chicken salad for sandwiches or eat it on its own. There's never a wrong time to eat chicken salad is there? Go ahead and gobble it all down on your own if you want.
So first, let's talk ingredients. Now, I know this seems like more ingredients than the typical chicken salad but hang with me. I promise it will be worth it in the end!

This recipe for chicken salad calls for dried cranberries, smoked almonds, fire roasted red peppers, coleslaw mix and green onions. Chicken salad with cranberries is the best salty and sweet combination. Toss in those smoked almonds and red peppers and you've got an explosion of flavor!
In order to keep this salad moist and creamy in texture I used a combination of Greek yogurt and mayonnaise. If you want to make this chicken salad healthy, you can substitute the mayonnaise for more Greek yogurt.
Make sure you have some of your favorite seasonings on hand while you make this! I used everything but the bagel seasoning, celery flakes and a little bit of all-purpose seasoning.
How To Make Chicken Salad From Scratch
After you've gathered your ingredients, its time to put it all together. Now don't worry, despite all of the unconventional ingredients, this is an easy chicken salad recipe!
First, in a large bowl, add the all-purpose seasoning, cranberries, Greek yogurt, mayo, crushed smoked almonds, minced fire roasted red peppers, and celery flakes. Stir the ingredients until well mixed and set this aside for now.
Next, take your coleslaw mix and green onion and mince them together in a food processor. If you don't have a food processor, use a sharp knife to mince the ingredients together. You want to get the onion and coleslaw as fine as possible!
Once you've completed this step, add the onion coleslaw mixture to your other prepared bowl of ingredients. Now give everything another good stir.
Now it's time for the star ingredient, the chicken. Throw in your can of chicken meat with the other ingredients. Give everything another good mix. You can also use a rotisserie chicken and cut it up into chunks, if you prefer!
Then it's time for the hardest part. To fully maximize the flavors, this recipe needs to sit overnight. Yes, I know that's super hard to do when you want to dig in. Go ahead and take a small bite, but I promise it will be better tomorrow. Once you have finished sneaking a taste, place the entire mixture in the fridge and let it sit overnight.
What To Serve Chicken Salad With
So now for the dilemma, what will you serve your chicken salad with? You can serve it with toasted bread or crackers.
Chicken salad sandwiches are so delicious. Sometimes, I go the extra mile and cut fresh bread into slices. Then I heat up a small pat of butter in my pan and toast my bread directly in it. This is a bit of extra work, but its totally worth it!
Whether you choose bread or crackers, it will taste amazing. For a little extra pizazz, you can sprinkle some 'everything but the bagel' seasoning (grab this at Trader Joes or Wal-Mart) on top of your chicken salad for extra flavor. It will take this dish over the top!

 This post may contain affiliate links which won't change your price but will share some commission. As an Amazon Associate I earn from qualifying purchases.
What You Need To Make Chicken Salad With A Twist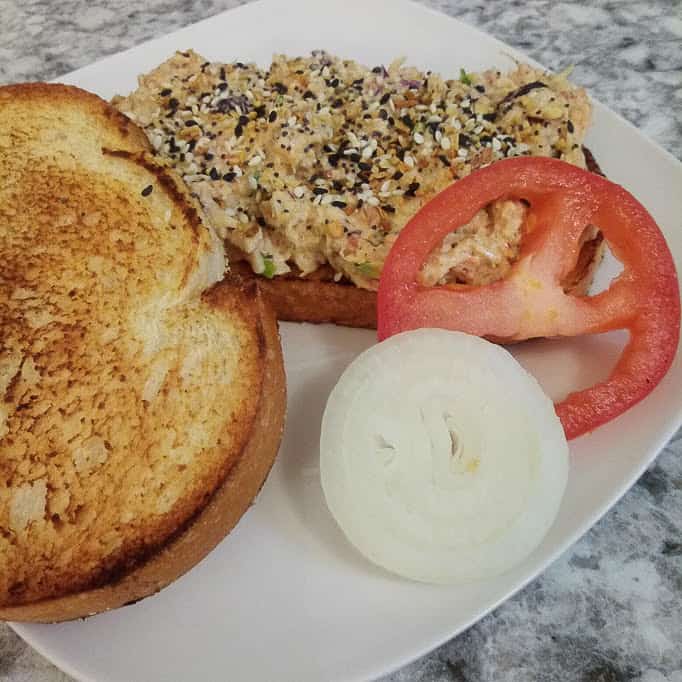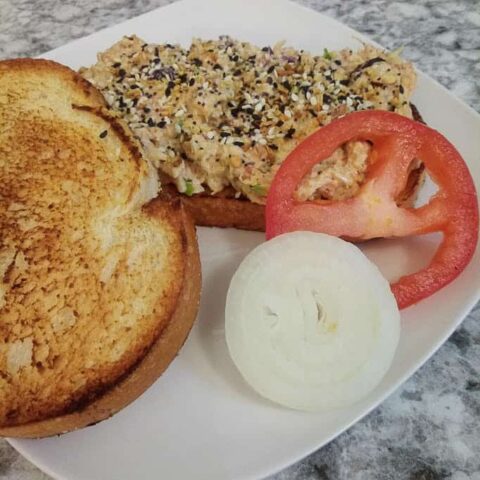 Chicken Salad
This creamy chicken salad is a tasty classic to have as a snack or for lunch. The addition of smoked almonds and fire roasted red peppers makes this recipe one your guests will never forget.
Ingredients
1/2 T all-purpose seasoning
1/4 cup dried cranberries
3 T plain Greek yogurt
1/4 and 3 T of mayo
1/3 cup of smoked almonds (crushed)
4-5 small fire roasted red peppers, about1/4 cup (minced)
1 T celery flakes
1 cup coleslaw mix (minced) 
2 stacks of green onion (minced) 
1 can of chicken meat drained well
Sliced bread or crackers (optional)
Everything but the bagel seasoning (add once mixed and plated-optional)
Instructions
Place seasoning, cranberries, Greek yogurt, mayo,
smoked almonds, roasted red peppers and celery flakes in a bowl and mix.
Mince coleslaw mix and green onion in a food processor.
Add coleslaw and green onion mix to the other bowl of ingredients.
Add your can of chicken meat to the bowl and mix well.
Place your chicken salad in an airtight container and refrigerate overnight.
Enjoy the next day on toast or crackers!








---
So there you have it, an amazing new twist on a classic dish. This one will not disappoint! Make it today and let us know how it goes in the comments below!
CHECK OUT WHAT'S NEW ON BETSI'S WORLD
Chicken satay is the perfect, simple side dish recipe. Treat your guests to this Thai inspired dish with this crowd favorite that includes spicy marinated chicken breast, paired with a creamy rich peanut dipping sauce.