Baked Zucchini Fries
Zucchini fries are the perfect healthy and satisfying snack. Although it may not sound as appetizing as a good old French fry, this alternative is surprisingly tasty.
Being healthy is important, but I don't want to have to sacrifice taste to do it. Those of you who are thinking about going keto, low carb, or just looking for healthy food recipes can turn to this zucchini fry recipe to curb cravings. I promise that these zucchini fries will serve as the perfect guilt-free snack!
A Low Carb Alternative To French Fries
Zucchini is naturally low carb, paleo and keto friendly. Therefore, it is the perfect alternative to higher carb, starchy vegetables like potatoes. It is also easy to cut zucchinis into little sticks for fries.
Zucchini is a very healthy vegetable. It is packed with fiber, vitamins, and minerals, as well as polyphenols which help protect your cells from damaging compounds. Zucchini can help with weight loss because it is high in water and fiber and therefore makes you feel full.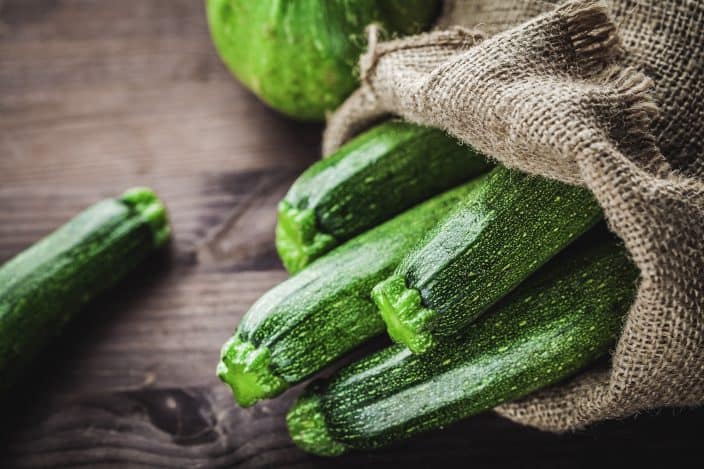 To make this recipe even more low carb, the zucchini is battered in almond flour instead of bread crumbs. Almond flour is a great low carb substitute for any recipe that calls for bread crumbs or flour.
This healthy recipe for zucchini fries uses an oven instead of a fryer with hot oil. Baked zucchini fries are healthier for you because they won't be fried in unhealthy oils. Plus, there is less mess when you bake instead of fry, an added bonus!
In my mind, zucchini is a star in the kitchen. It's healthy, may aid in weight loss and tastes great, what more could you ask for?
How To Make Zucchini Fries With Zesty Marinara Sauce
This zucchini fry recipe is so simple. It requires just a few ingredients. First you will need at least 2 zucchinis, but grab more if you are making it for a party. You'll also need almond flour, parmesan cheese, seasoning (I prefer Italian herbs), eggs, and water.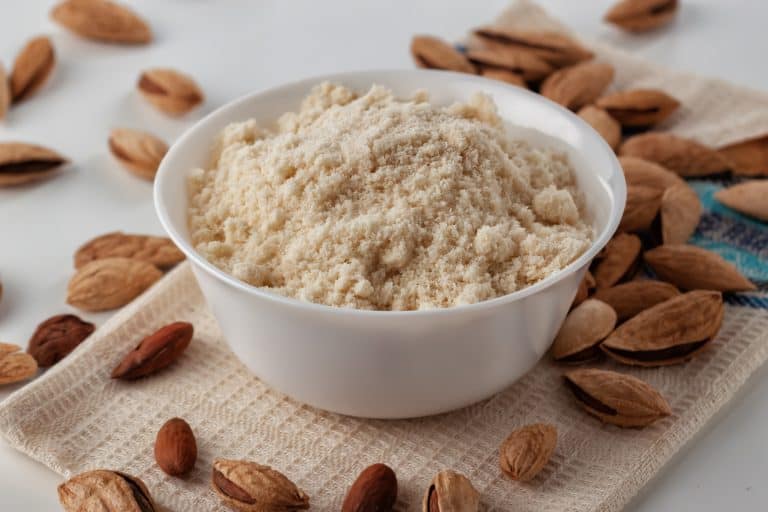 Another low carb flour substitute you could use is coconut flour. I prefer almond because coconut flour can feel a bit grainy, but coconut flour will work just as well. A mixture of the two would also be great!
For this low carb snack you will need to mix the almond (or coconut) flour together with the seasonings. Your seasonings can include garlic, parsley, paprika, salt , pepper…whatever you like! I like to have my fries to have an Italian flare because I also make a marinara dipping sauce to go with them. However, if you are a purist, using salt and pepper will be just as delicious.
How To Make Zucchini Fries Crispy
A quick and important note about how to get your zucchini crispy and not soggy. Zucchini has a lot of natural moisture in it, so it can be challenging to get crispy results when oven roasting it. For this reason, you'll want to salt your zucchini after cutting it into sticks. Lay your zucchini sticks out on paper towels or a kitchen towel and salt them well.
Then set them aside for at least 15 minutes. When you return to look at them you'll see water droplets have formed all over. This is because the salt draws out the water from the zucchini which will help you achieve a crispy fry. Gently pat the sticks dry, you may repeat this one more time, if you desire.
Preparing the Zucchini Fries
The zucchini fries in this recipe are dipped in 3 different mixtures: an almond flour mixture, an egg mixture and parmesan cheese. After you have mixed your almond flour and seasoning together in a bowl, begin coating each zucchini stick in the mixture.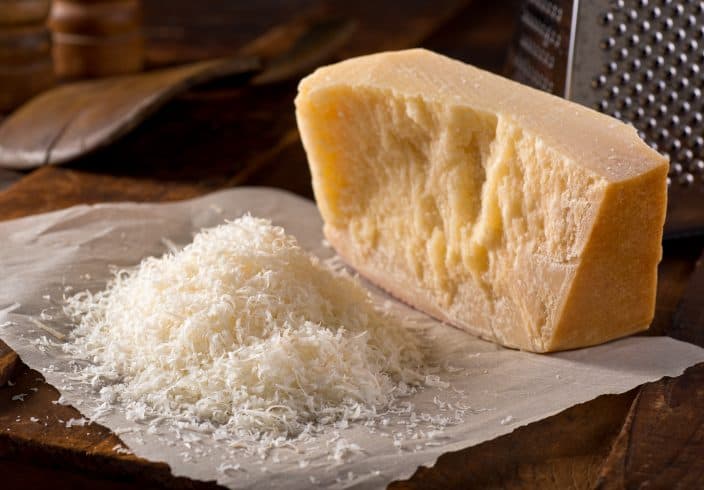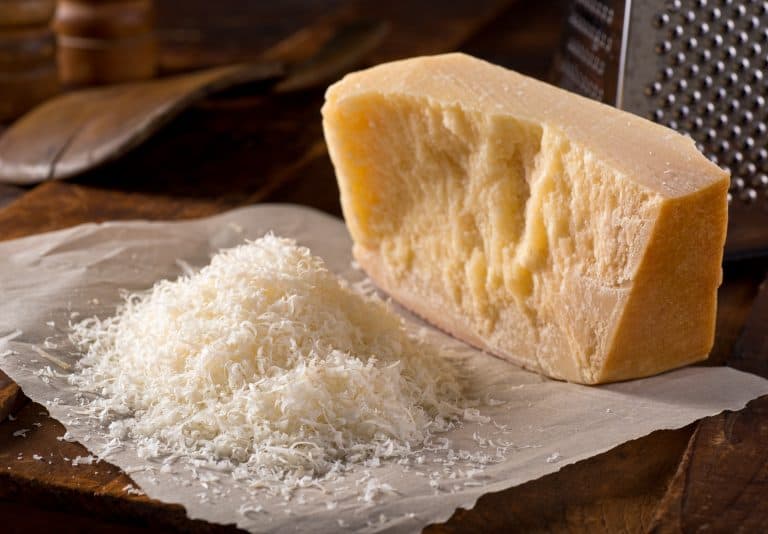 Then in another bowl, whisk your eggs together. Dip each piece of zucchini in the egg wash and then into the parmesan cheese bowl. Freshly grated parmesan cheese is the best. Just grab a big block and use a cheese grater to get fine pieces. Make sure each stick is evenly coated.
Place each coated fry onto a baking rack on a baking sheet. You may top your fries with some extra seasoning at this point. Then pop them in the oven for about 20-25 minutes on the roast or bake setting. I flipped my fries about half way through the baking time, so that each side could become golden brown. If you have a convection oven, use it, as it will make the fries even crispier!
Zesty Marinara Sauce
For the zucchini fries dipping sauce I like to make a zesty marinara. To make this marinara sauce you will need to combine olive oil, garlic, oregano, red pepper flakes, and tomato paste in a medium saucepan over medium-high heat. Stir the mixture frequently until the garlic is fragrant. Then, season it with salt and pepper and reduce the heat.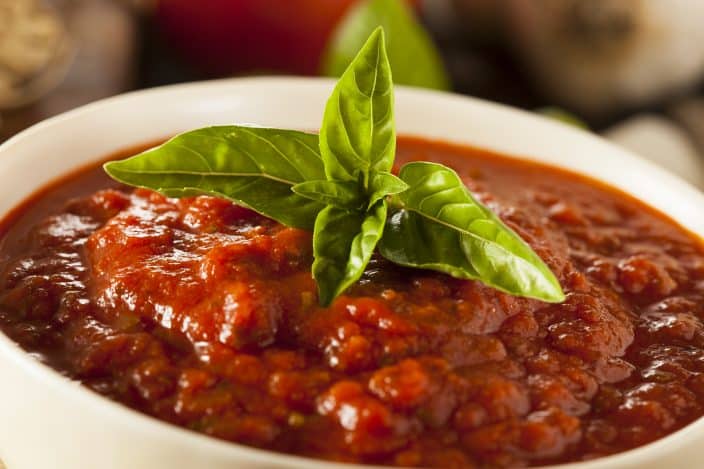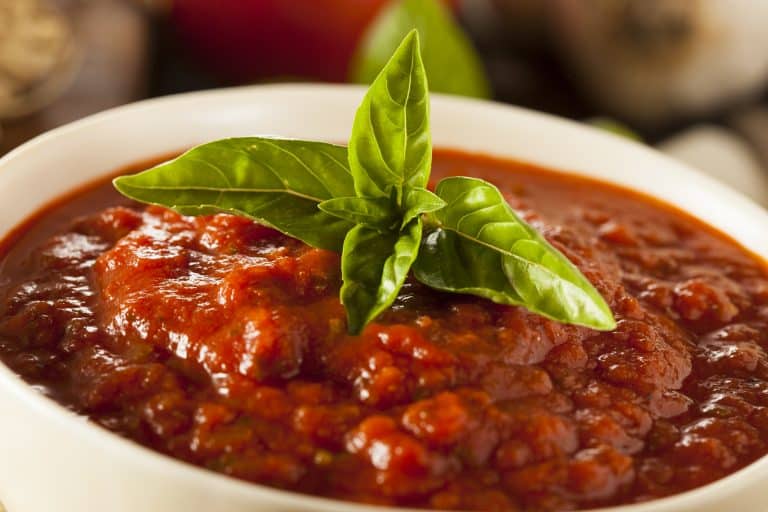 Add a can of crushed tomatoes, I like a can of Italian tomatoes, they are are more robust in flavor. Cook the tomatoes until they are bubbling and have slightly reduced. Remove the pot from the stove and gently stir in your fresh parsley and basil. Add a squeeze of lemon for extra brightness. Transfer your sauce to a ramekin and garnish with more fresh basil!
 This post may contain affiliate links which won't change your price but will share some commission. As an Amazon Associate I earn from qualifying purchases.
Tools You Will Need to Make Zucchini Fries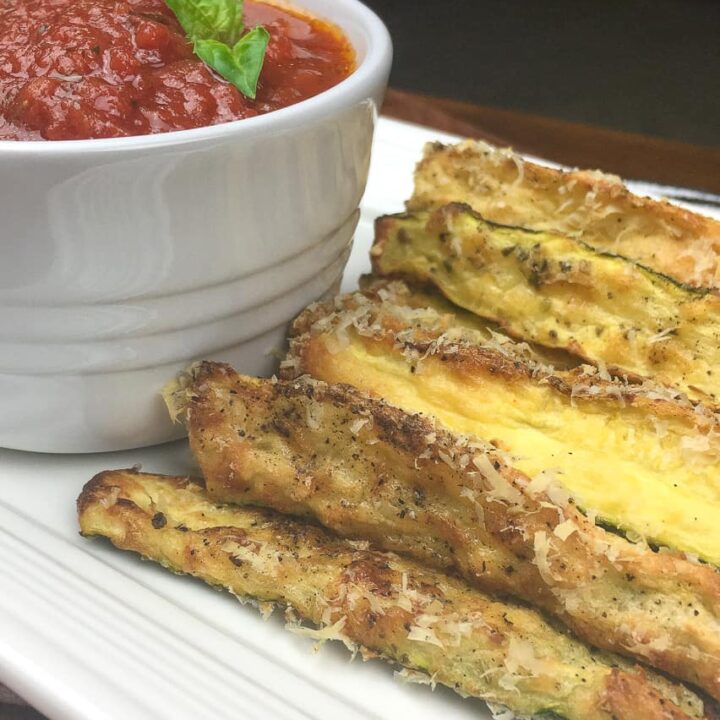 Low Carb Zucchini Fries
These low carb zucchini fries are made with almond flour instead of bread crumbs or regular flour. They are a keto friendly and a delicious snack.
Ingredients
½ c. almond (or coconut) flour
½ t. garlic powder
½ t. onion powder
1 t. smoked paprika
1 t. Italian seasoning
Sea salt and black pepper, to taste
2 large eggs
2 T. water
1 c. Parmesan cheese, freshly grated
2 small, firm zucchini, halved and cut into ¼-inch thick slices
Zesty Marinara Sauce
2 T. extra virgin olive oil
2-3 garlic cloves, minced
1 t. dried oregano
½ t. red pepper flakes
2 T. tomato paste
1 8-oz can crushed tomatoes
¼ c. fresh basil, thinly sliced
¼ c. fresh parsley, chopped
Sea salt and black pepper, to taste
Instructions
Preheat the oven to 400°F and place a metal rack inside a large, rimmed baking sheet. Set aside.
In a bowl, combine the almond flour, garlic powder, onion powder, smoked paprika, and Italian seasoning. Season with salt and black pepper, to taste. Set aside.
In a second pie pan or shallow bowl, gently whisk together the eggs and water until frothy and set aside.
Add the freshly grated Parmesan cheese to a third bowl and set aside.
Dredge zucchini pieces in the seasoned almond flour before dipping into the egg mixture. Allow excess egg to drain off each piece before transferring to the bowl with the Parmesan cheese.
Turn to evenly coat each piece of zucchini before transferring to the prepared rack. Season with additional salt and black pepper, if desired.
Place baking sheet into preheated oven and roast until golden and crisp, around 20-25 minutes. Flip the fries once halfway through the cooking time.


To Make The Marinara Sauce

Combine olive oil, garlic, oregano, red pepper flakes, and tomato paste in a medium saucepan over medium-high heat.
Cook, stirring frequently, until the garlic is fragrant, around 1-2 minutes.
Season with salt and black pepper, to taste, and stir to combine.
Reduce heat and add the crushed tomatoes and cook until bubbly and slightly reduced, around 8-10 minutes.
Remove from heat and stir in the fresh basil and parsley. Transfer to a serving dish and keep warm.
When ready, remove zucchini fries from oven and serve immediately with herbed marinara sauce. Enjoy!
Nutrition Information
Yield

4
Serving Size

1
Amount Per Serving
Calories

232
Total Fat

16g
Saturated Fat

5g
Trans Fat

0g
Unsaturated Fat

9g
Cholesterol

112mg
Sodium

657mg
Carbohydrates

12g
Fiber

3g
Sugar

4g
Protein

12g
A Low Carb Healthy Snack
Healthy living can be challenging. That's why great low calorie snack recipes like this one can come in handy. I make these zucchini fries regularly and have fun switching up the seasoning and dipping sauces. Zucchini is also a great alternative for pasta noodles, you can make linguini or lasagna with it! Give this recipe a try next time you have a craving for French fries, you won't regret it.
Have you ever used zucchini as an alternative for potatoes or pasta? Did you enjoy it? We'd love to hear from you in the comments below!
CHECK OUT WHAT'S NEW ON BETSI'S WORLD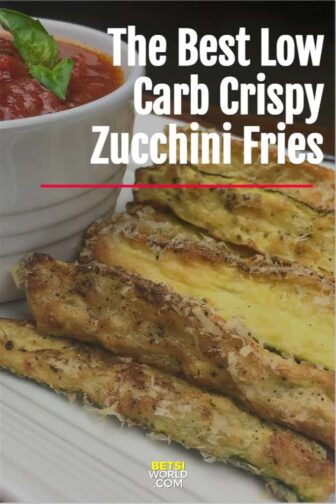 Other Recipes You Might Like