Oreo Macarons are the best of both worlds. A delightful French cookie and an American favorite! Macarons are known for their delicate texture, crisp and chewy at the same time. While Oreos are famous for their rich chocolate flavor and sweet cream center.
When purchased in the store or pastry shop, macarons are typically very expensive. This Oreo macaron recipe means you can enjoy this French treat without spending the money or leaving home (unless you want to, of course)!
What Exactly Is A Macaron
A macaron is a sweet, sandwich-like French pastry. It is often confused with a macaroon which is a coconut based pastry. Sometimes macarons are called "French macaroons", however they are not made with coconut.
The sandwich cookie shells are made with meringue (whipped egg whites), sugar and almond flour primarily. While the filling is typically made of a ganache, buttercream or jam.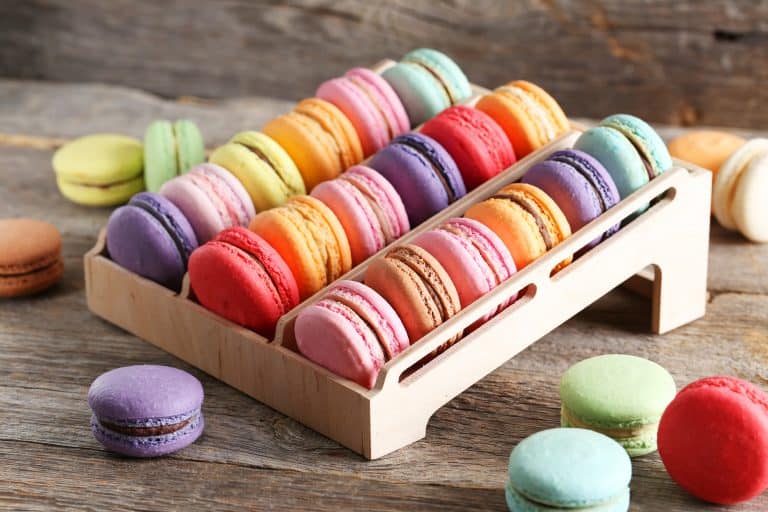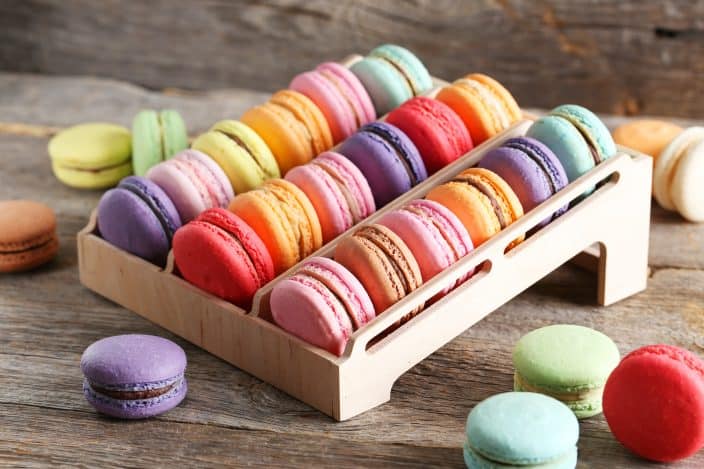 Macarons come in a variety of colors and flavors, ranging from pistachio to chocolate, to matcha (green tea). Their filling can differ from the flavor of the cookie, making the flavor combinations endless.
Some people wonder if you have to make macarons with almond flour and the answer is yes. Almond flour is what gives macarons their unique flavor and texture that you don't want to miss out on!
How To Make Oreo Macarons
Macarons come in many flavors but this recipe features Oreo. Oreo macarons are the perfect cookies and crème taste. Given my soft spot for Oreos and my undying commitment to eating French pastries, this recipe is an absolute dream.
Making macarons may seem like a daunting task but don't worry, I'm going to walk you through it. First, it is important to make sure you have the exact measurements for each ingredient. Baking is a precise science and with a recipe as delicate as the one for macarons, it is important to be accurate.
Making The Meringue
Next, separate your egg yolks from your egg whites and leave them on the counter in a small bowl. You want to make sure these are at room temperature (they whip up better than cold egg whites). Perform this step an hour before you plan to begin. You may also want to take out your butter to soften on the counter beforehand.
For this Oreo macaron recipe you will need an electric hand mixer or a stand mixer. I prefer a stand mixer because it requires less work, however either will do. Next, sift the almond flour and sugar into a large bowl. It is important to use a baking sifter in order to get the light fine grained texture that the macaron cookies are known for. If you do not have a baking sifter, you can use a fine mesh sieve.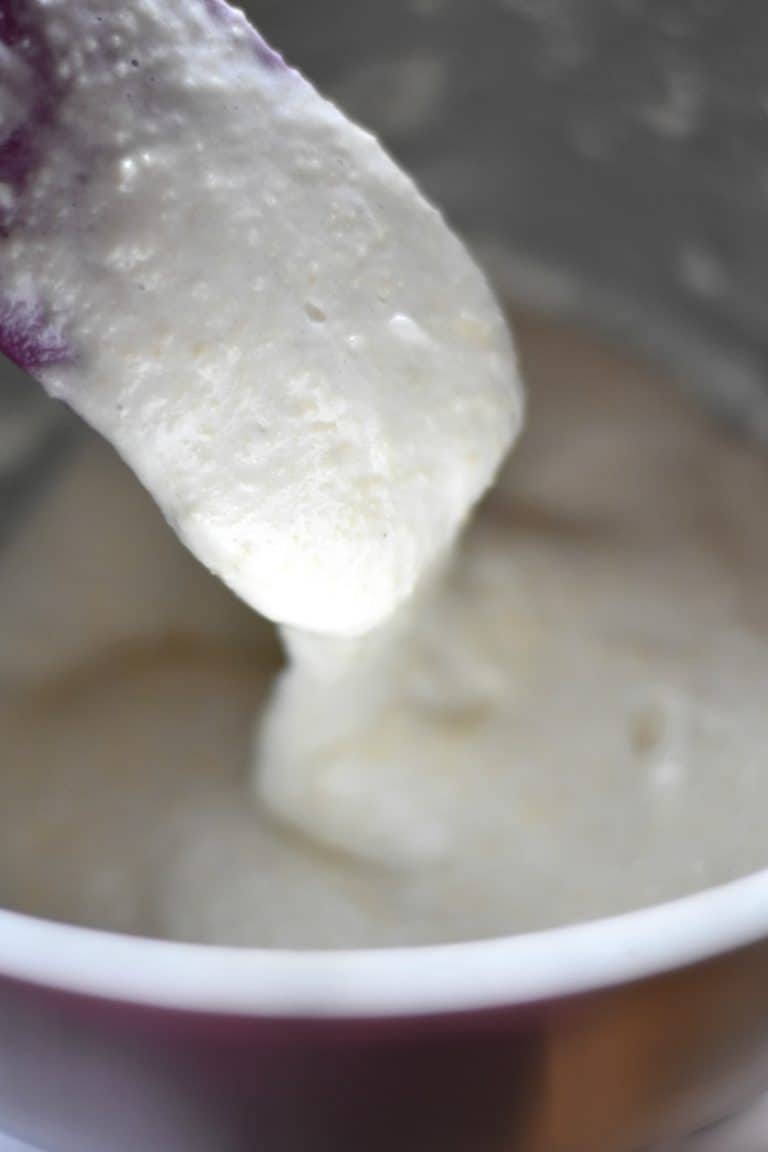 After your egg whites have come up to room temperature, add them to your electric stand mixer. Use the whisk attachment to whip them up on medium speed. While the egg whites are being whisked, slowly add the sugar in 3 additions until the whites form soft peaks.
Preparing the Macaroon Cookie
Following this, you will being to add in your dry ingredients to the egg whites. Use a silicon spatula to fold the almond flour and sugar into the peaked whites. Be careful not to break the peaks of your egg white, otherwise your macarons will not be the right consistency or texture.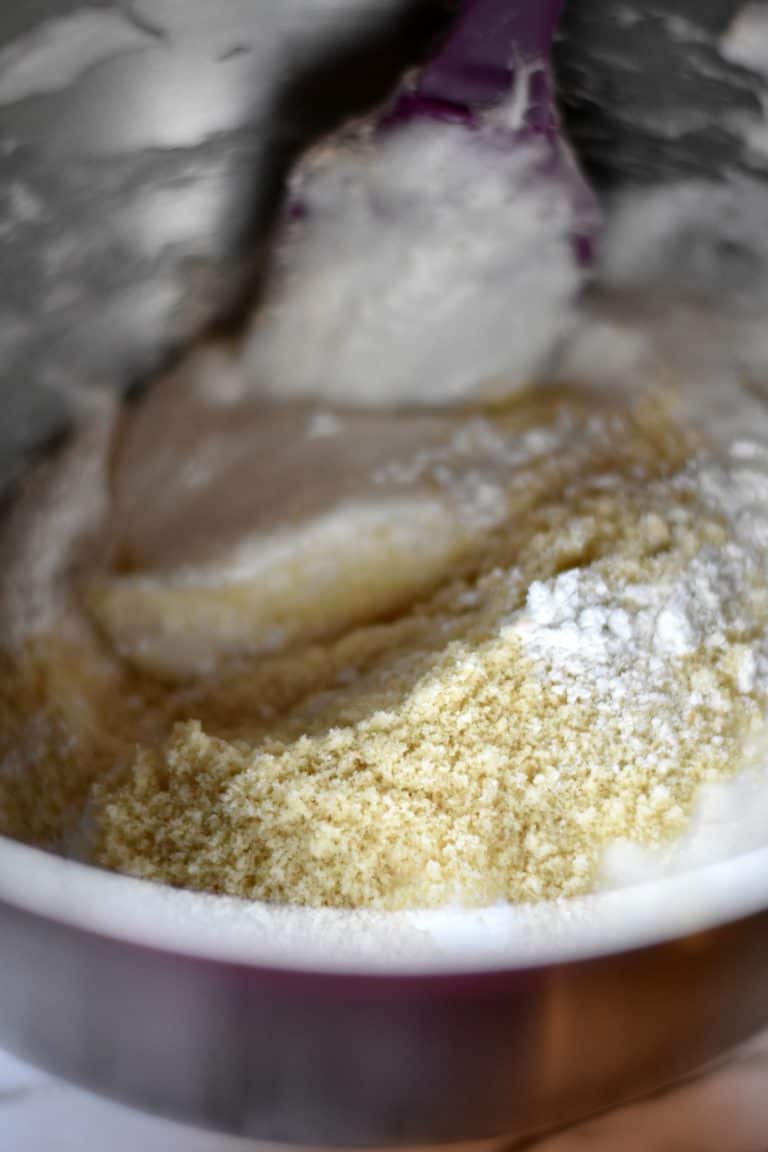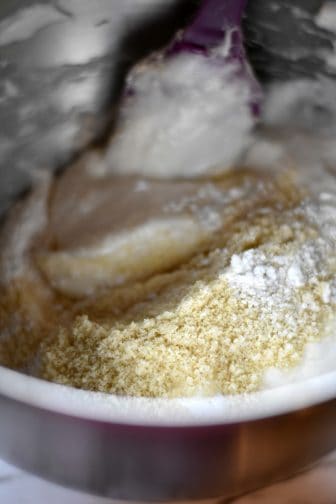 Your batter needs to get to the ribbon stage in which it falls off of the spatula "in ribbons". When it reaches this consistency and all of the dry mixture has been incorporated, it is time to stop folding.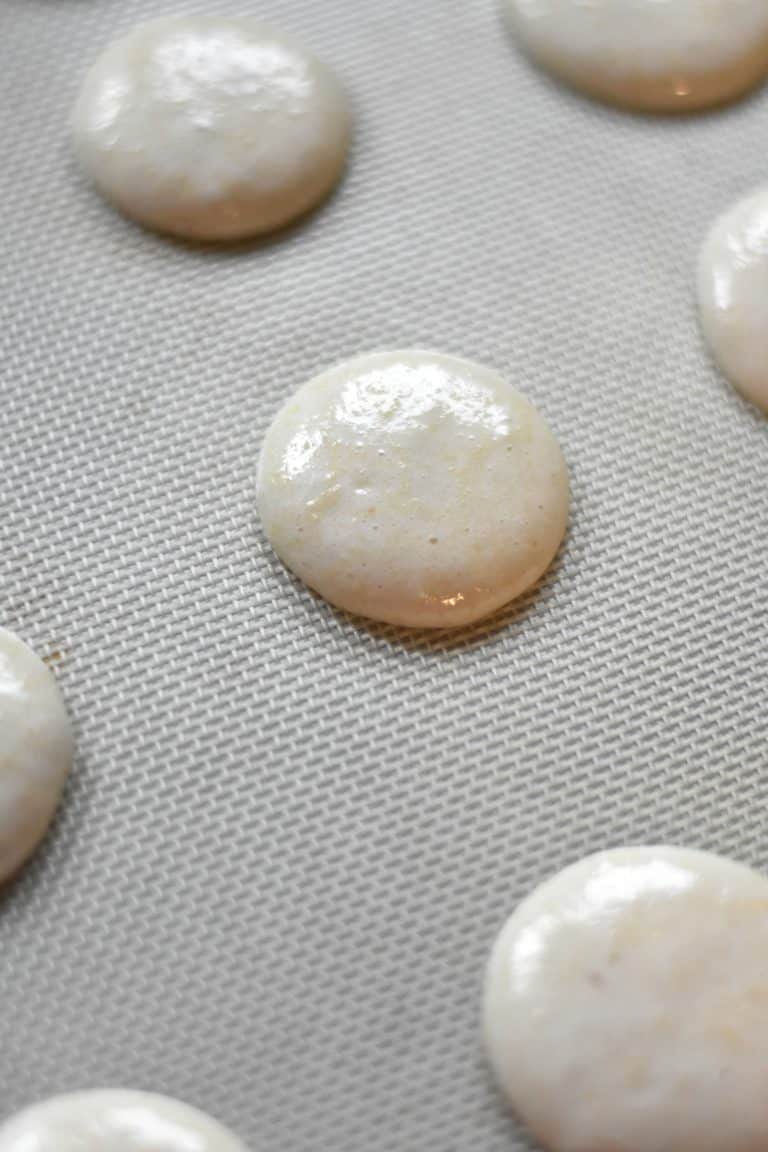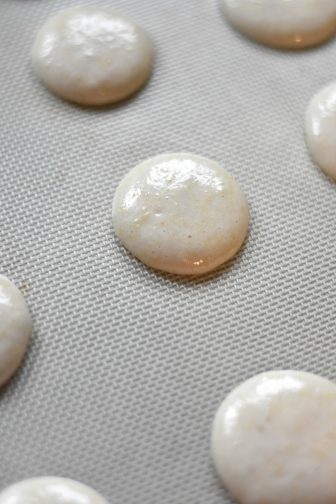 After the batter is at the right consistency you will begin piping. Fill a piping bag with batter and get out your silicone mat. You can place the mat on a baking sheet for stability and ease of baking. You may use a macaron form sheet or pipe it free hand to make the cookie circles.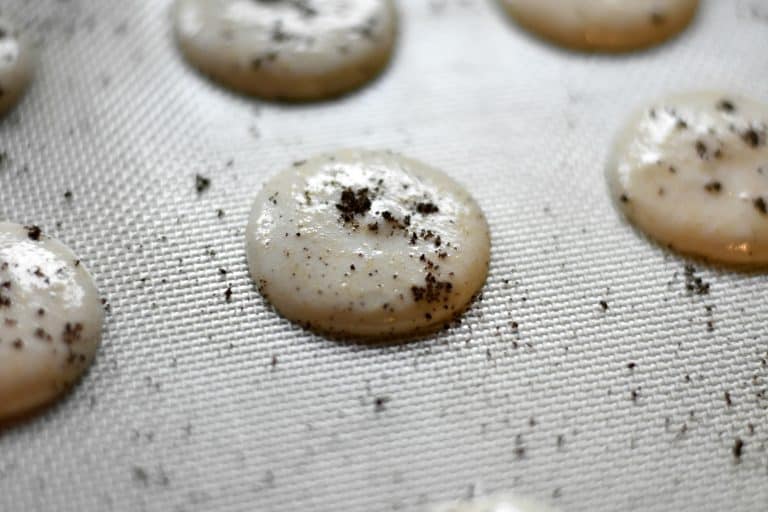 The macarons may not have any air in them so make sure to pop the air bubbles in the batter after piping! Add some crushed Oreos to the top for garnish. Now its time to dry them. Leave them on the counter for half an hour to an hour until they are dry to the touch. After this place them in the oven to bake for 10-15 minutes at 300 degrees.
Creating The Buttercream Filling
These Oreo macarons would be nothing without the amazing buttercream filling. To make the buttercream filling, first beat the softened butter and sugar together until well incorporated. Then add the vanilla and cream and mix until it is light and fluffy! Finally, add in the crushed Oreo cookies.
Using a star tip on your piping bag, add a bit of buttercream to half of the meringue cookies. Add a mini oreo in the center and smush the second meringue cookie on top to create a cookie sandwich.
You can store the Oreo macarons in an air tight container in the fridge to mature for 24 to 48 hours. After that, dig in and enjoy!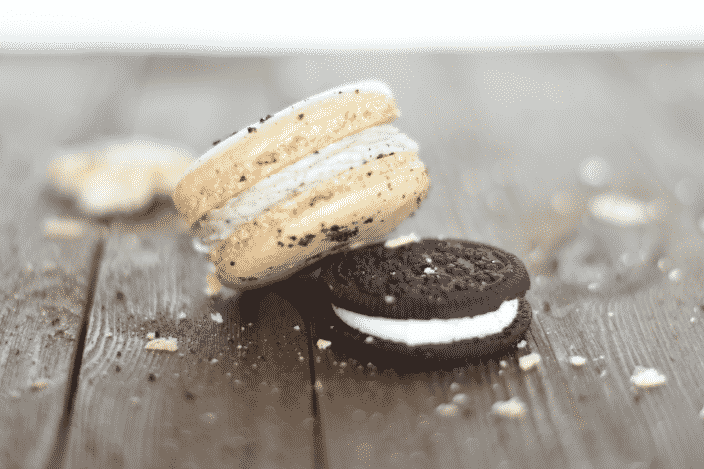 This post may contain affiliate links which won't change your price but will share some commission. As an Amazon Associate I earn from qualifying purchases.
Tools You Need To Make Macarons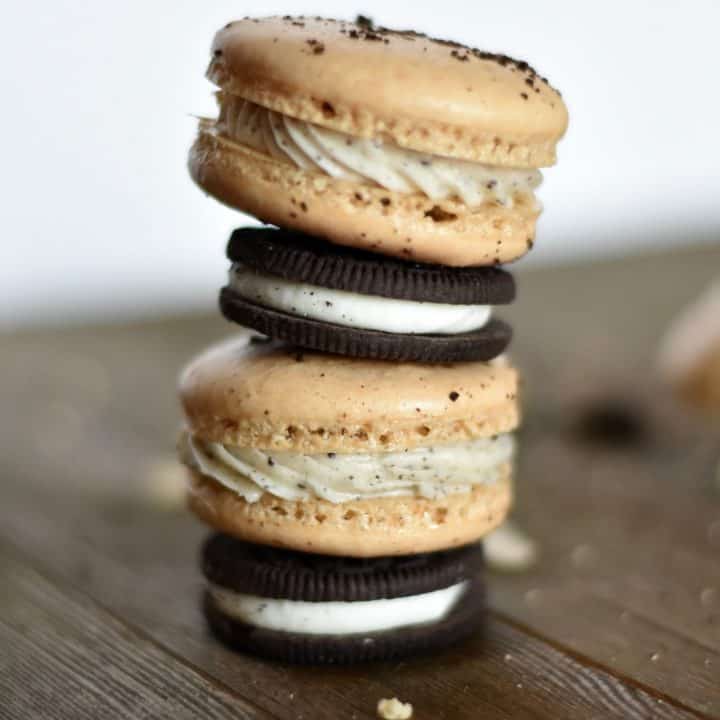 Oreo Macarons
Total Time:
1 hour
25 minutes
These Oreo macarons are delicious and the perfect treat for the holidays. They come together quickly with an electric mixer and are a great gift!
Ingredients
4 oz. confectioners sugar
2 oz. almond flour (I recommend Bob's Red Mill)
1 oz granulated sugar
1/4 tsp salt
2 oz. egg whites roughly two eggs (at room temperature)
1 tsp vanilla optional (or you can use your favorite extract)
1-2 tbsp crushed oreo cookie
Buttercream
1 stick softened butter
1 cup powdered sugar 
1 tsp vanilla extract 
2 tsp heavy whipping cream
3-4 tbsp crushed oreo cookie
12 mini oreo cookies (optional)
Instructions
First, weigh out all of your ingredients.
Next, sift together your almond flour and powdered sugar in a large bowl and set aside.
Add your egg whites to the bowl of your mixer and start mixing on a medium speed until they get frothy. Add in the salt.
Gradually add in your sugar to the egg whites and mix on a medium speed until you get a soft peak consistency. 
After the egg whites are the right consistency, add about 1/3 of the dry mixture to the egg whites and fold in until there are no dry spots left.
Add in the remaining dry mixture to the meringue and fold in until there are no dry spots. Begin to check for the "ribbon" stage, where the batter falls off in ribbons and you can make a figure 8 without it breaking off. Once you get to this consistency stop folding.
Prepare your piping bag with a medium round tip. Place your bag in a large cup to make it easier to add your batter. Slowly add in your batter.
Place the macaron template under a silicon mat on a baking sheet.
Hold your piping bag completely vertical when piping and lift straight up. Making about 1 1/2 to 2 inch circles.
After you have piped all the batter, bang the baking sheet on the counter 10-20 times (seriously) to remove all air bubbles. Use a toothpick or something sharp to pop them.
Top with crushed Oreo cookies if desired at this point.
Now it is time to let them dry. Leave them sitting on the counter for 30-60 minutes until you can touch them and you can feel a "shell" form over them. No batter should come off on your finger.
Preheat your oven to 300 degrees F. and bake your macarons for 10-15 minutes or until lightly browned. When you touch the top of the macaron it should not wiggle around on the "feet".
Allow them to cool COMPLETELY before taking them off the baking sheet.
To make the buttercream
Cream the butter in the bowl of a stand mixer or using a hand mixer. Add in the powdered sugar slowly with the mixer on a low speed and mix until completely combined. Add in vanilla and cream and mix until light and fluffy about 2-3 minutes. Finally add in the crushed cookies. 
Place the frosting in a piping bag with a star tip. Place a generous amount on half of the macaron shells in a circle, and add a mini Oreo to the middle. 
Sandwich them with the remaining macaron shells.
Keep in an airtight container in the refrigerator for 24-48 hours to allow them to "mature". Enjoy!
Nutrition Information
Yield

12
Serving Size

1
Amount Per Serving
Calories

328
Total Fat

17g
Saturated Fat

7g
Trans Fat

0g
Unsaturated Fat

9g
Cholesterol

52mg
Sodium

240mg
Carbohydrates

42g
Fiber

1g
Sugar

33g
Protein

4g
The Perfect Dessert To Wow Your Guests
Mastering how to make macarons like a French pastry chef will make you the talk of all your friends. Oreo macarons are an a fun and amazing dessert to have on your table for a dinner party or to take to a friend. Plus, they make a wonderful gift for the holidays. Box them up in a small pastry box and wrap a ribbon around its. Add a gift tag and Voila! You have a homemade, delicious and unique holiday gift.
Will you make these for the holidays? Have you ever attempted to make macarons? We'd love to hear from you in the comments below!
CHECK OUT WHAT'S NEW ON BETSI'S WORLD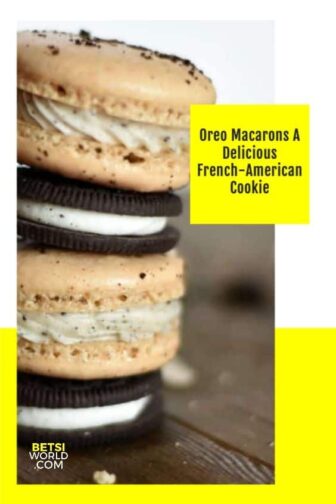 Other Treats You May Like