The Best Places To Hike In Florida
Hiking in Florida is something you may not have thought possible, given its flat terrain, but the Sunshine State is home to many beautiful trails, exciting wildlife, and adventurous activities, alone, with a partner or the family!
Hiking is the perfect healthy, fun, and socially distanced activity, especially during this time. Getting out in nature, breathing in the fresh air, and enjoying the great outdoors is a wonderful way to relax and get some steps in. Wondering where to find good hiking trails in Florida? We've got you covered! For the best hiking in Florida experience, we've rounded up our top 5 favorite parks from around the state.
Top 5 Hiking Parks in Florida
Florida's warm and sunny weather makes it a great state to plan a hiking trip. Florida is home to a large variety of plants and animals many of which you will be able to observe from a safe distance. Grab yourself, partner, and/or family, pack some snacks and a camera and get ready for an adventure you'll never forget!
Hiking at Blue Spring State Park
Location: Orange City, FL
Home to a huge population of manatees, Blue Spring State Park is the best place to go if you've always wanted to see a "Sea Cow" in its natural habitat. This Florida hiking trail leads you on a trip through lush greenery, shaded by a large canopy of trees to keep you cool. At Blue Spring you'll have the opportunity to hike along the Blue Spring River, a designated manatee refuge, and watch them play all day! You also have the option of hiking the 3.6 mile Pine Island Trail, displaying many different plant communities.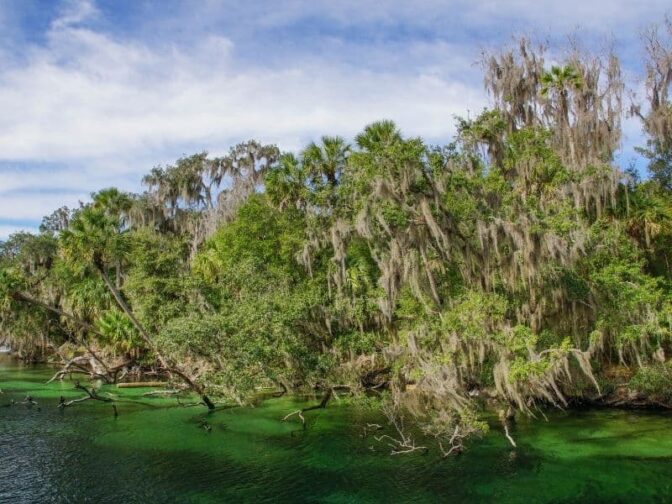 In addition to hiking, Blue Spring Park offers other fun activities such as birding (spot a scrub-jay!), boat tours on the St. Johns River, camping, fishing, canoeing, and kayaking on the Blue Spring Run (see the manatees!), tubing, swimming, snorkeling, scuba diving, and picnicking.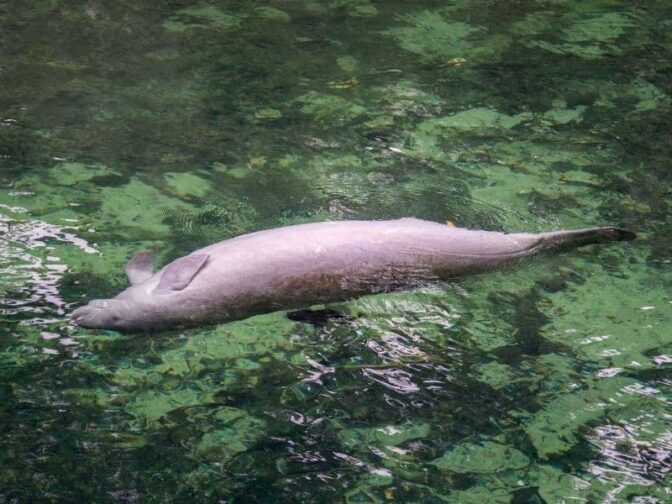 The springs are 72 degrees year-round making it the perfect temperature for swimming. However, keep in mind that water activities are not available from mid-November through March as the spring provides a safe and warm place for the manatees during the colder months.
Hiking in Myakka State Park
Location: Sarasota, FL
Myakka State Park contains a wide range of trails and terrain perfect for a day of hiking. The great Myakka River flows throughout the park providing many water sport opportunities for park visitors and a gathering area for many different plants and animals. If you're a fan of birds then I highly recommend the Bird Walk.
The Bird Walk leads you out into marshland and then to a lake where you may have a chance to spot everything from herons, egrets, ducks, turtles, tilapia, bass, and catfish to bald eagles, spoonbills, and alligators! Grab your binoculars and your camera and get ready for a show.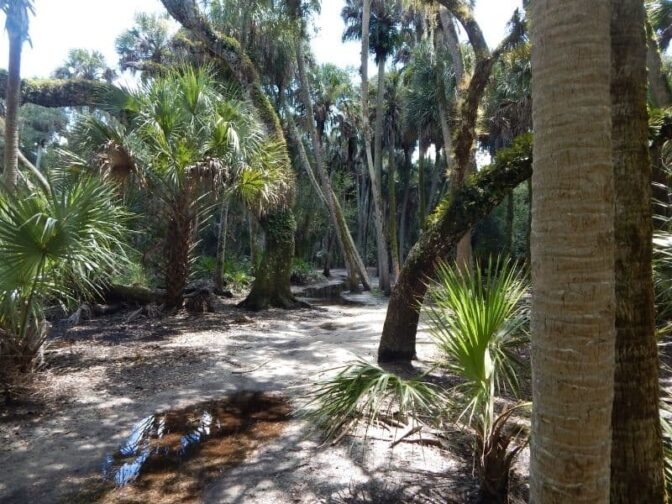 For a great overhead view, check out the Canopy Walkway. This hiking trail takes you over a suspension bridge 25 feet off the ground. At the end of the bridge you will reach a tower that you can climb for a view above the tree tops, be prepared for a climb though, the tower contains over 100 stairs! 
Hiking in Wakulla Springs State Park
Location: Wakulla Springs, FL
Wakulla Springs Park houses one of the world's largest and deepest freshwater springs, perfect for a dip after a long hike. The Nature Trail in the main park is 9 miles long and offers a mix of easy to moderate hiking. Observant hikers may spot a variety of orchids, precious wildflowers, and songbirds, like robins and warblers!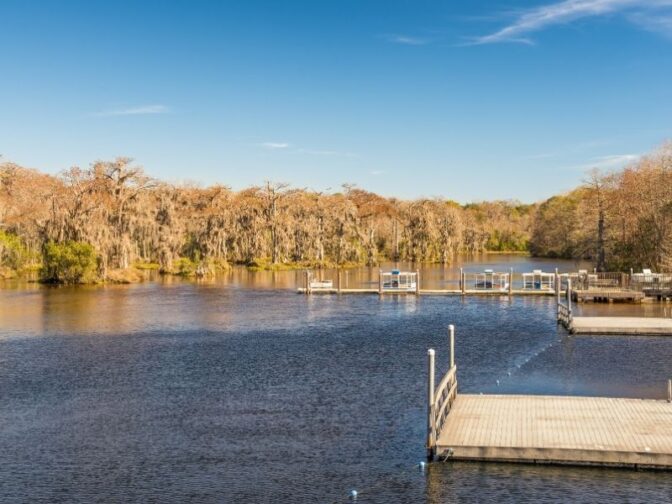 Looking for a short hike? Opposite the main park is the Cherokee Sink Trail, a 1.4-mile trail, that leads you right to a 80-foot deep sinkhole. Enjoy a snack or your lunch at one of the picnic tables placed at the edge of the sinkholes.
Besides being one of our top Florida hikes, Wakulla Springs Park offers a variety of activities including boat tours, snorkeling, wildlife viewing (manatees, white-tailed deer, and wild turkeys), and geo-seeking. The park even has a "beach" where adrenaline seekers can jump from a 22-foot dive/observation tower into the 69-degree spring!
Hiking in the Everglades
Location: Homestead, FL
Hiking in the Everglades isn't as difficult as it may seem. Although a majority of the park is marshy and underwater, there are many trails to explore on dry land.
The Everglades is a national wonder filled with a large range of plants and animals. Check out the Anhinga Trail, popular because of its abundance of easy to spot animals, like alligators, turtles, anhingas, egrets, and herons.
Given that much of the Everglades is made up of water, boat travel is also a fun and popular way to get around the park. If you do decide to see the sights from the water, I highly recommend an airboat tour.
Airboats are shallow boats that propelled by large fans on the back of them. These boat tours are a great way to see the alligators up close and personal along with many other types of wildlife. Be sure to hold on to your hats and sunglasses as this ride can get wild!
Hiking in Big Shoals State Park
Location: White Springs, Florida
Have you ever wanted to experience white water rapids? The Florida hiking in Big Shoals State Park has the largest white-water rapids in Florida. You'll be able to see the rapids and enjoy breathtaking views atop limestone bluffs, 80 feet above the Suwannee River.
 This post may contain affiliate links which won't change your price but will share some commission. As an Amazon Associate I earn from qualifying purchases.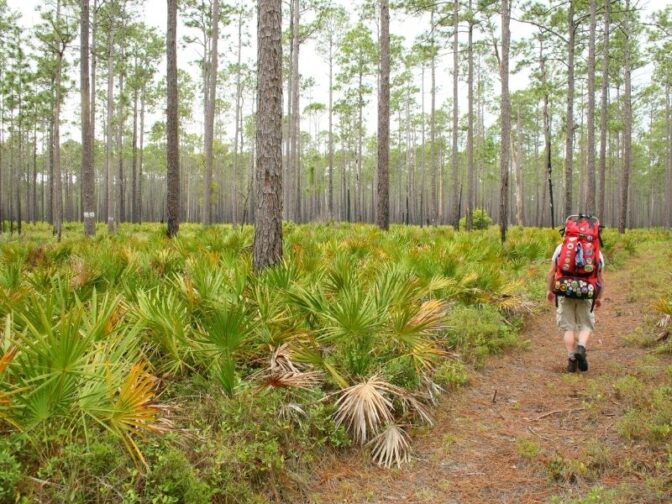 Big Shoals State Park has 33 miles of trails for hiking, biking, and riding but we recommend the walk along Big Shoals Trail to the vista overlooking the rapids.
The walk is shaded by a forest canopy and filled with gorgeous flora and fauna. Keep your eye out for the greenfly orchid, bald eagles, and hawks! Big Shoals is a must-see, as its diverse terrain of flat ground, steep slopes, and ravines is a nice change from Florida's generally flat nature.
Tips for Hiking in Florida
DO wear sunscreen (the Florida Sun is Bright!)
DO bring a large water bottle (the hot weather makes it easy to become dehydrated)
DO bring and apply bug repellent
DO keep your distance from alligators, snakes, bears and panthers
DO pay attention to the weather and potential flooding
What to Wear on Your Hike
Lightweight long pants or shorts with high socks
Hat and/or Sunglasses
Florida-A Great Destination for Hiking
Can you smell the fresh air? Well, what are you waiting for? Grab your supplies, family, your sense of adventure and hit the road to one (or all) of these 5 best places to hike in Florida!
CHECK OUT WHAT'S NEW ON BETSI'S WORLD
You May Also Enjoy…
Three Day Escape to West Volusia
Girlfriends Getaway to Orlando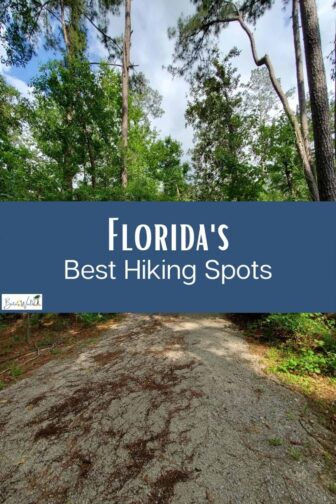 More Florida Travel Ideas You May Like