Escape to West Volusia
West Volusia? Where is that? West Volusia is between Orlando and Daytona Beach. West Volusia encompasses 14 different and distinct communities snuggled alongside the St. John's River. West Volusia is where you can find "Old Florida, New Vibe."
DeLand is located just an hour north of Orlando and is a great place to break up your Disney World trip. DeLand was named the "Best Downtown in the Nation" in 2017, and with all it has to offer is a fantastic way to spend a couple of days. It has a vibrant downtown, filled with restaurants, eclectic shops a meadery, and brewery.
What Do in West Volusia – Pancakes, Springs, & Beer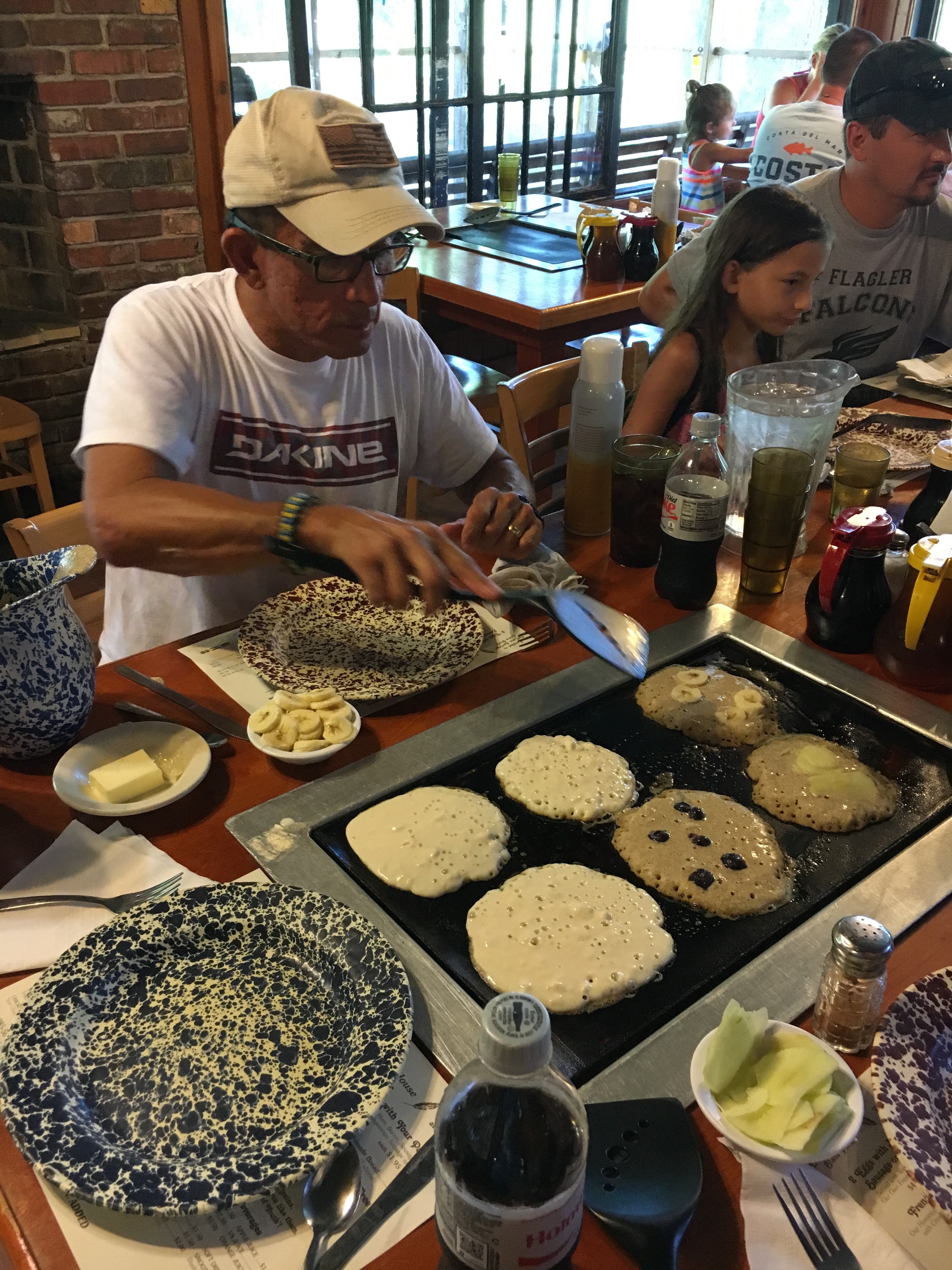 The Old Spanish Sugar Mill Grill & Griddle House
Make DeLeon Springs State Park and the Old Spanish Sugar Mill Grill & Griddle House  in West Volusia your first stop of the day.
Opened in 1961 by the Schwarze family, this unique restaurant is located inside DeLeon Springs State Park. Be forewarned though, that this is one popular restaurant, and the earlier you come, the better your chances of snagging a table without the wait.
Each table has a griddle, and the servers will bring you pitchers of homemade pancake batters – you get to choose between an "Early American Mix", made with unbleached white flour and the Old Spanish Sugar Mill's unique blend of 5 stoneground flours.
The all-you-can eat pancakes come with raw honey, syrup and molasses. Why not get creative with your 'cakes and add fruit, nuts, peanut butter or chocolate chips? Additional menu items include eggs, bacon, ham, sausage, and french toast. For those who need gluten-free pancakes, there is a vegan option available. Trust me, this is fun for the whole family! Who doesn't love cooking and creating their own pancakes!
Of course, the Old Spanish Sugar Mill has a history. In 1830 Colonel Orlando Rees purchased the property, which was a plantation back then, and built the only water-powered sugar mill in the state. In January of 1836, John James Audubon visited the springs and painted his first limpkin (a limpkin is also known as a  carrao, courlan, and crying bird that slightly resembles a crane).
The plantation was destroyed twice – the first time in 1835 by Seminole Indians at the beginning of the Second Seminole War, and again in 1864 during the Civil War by Union troops. The mill ceased operating in 1864, and the building literally deteriorated until only the wheel was left in the late 1800s.
When the Schwarze family purchased the mill in 1961 they renovated the building and opened the Old Spanish Sugar Mill Restaurant, which has operated continuously since 1961.
Next stop – DeLeon Springs, a 625-acre state park in West Volusia. Walk out the door of the Old Spanish Sugar Mill and you will see the centerpiece of the park – the spring. The spring is a balmy 72 degrees year-round, and once you take the plunge, it is really comfortable.
The swimming area is accessible by stairs, and there is a ramp and swimmer lift if needed. During the summer, there are lifeguards on duty, and it's a wonderful respite from the Florida heat.
If you lean more toward being on the water rather than in the water, kayaks, canoes, and paddle boats can be rented. Take a canoe and explore the paddling trail. You never know what you might catch in the spring, so make sure and grab your rod.
Like most of Florida, Henry Flagler left his touch on DeLeon Springs. After Flagler's rail line arrived in the 1880s, DeLeon Springs was a winter resort, hailed for the healing powers of the spring, it was called the "Fountain of Youth," though Ponce de Leon was never reported to have visited the area.
The 14 room Ponce de Leon Hotel was built overlooking the springs in 1925 and was the first resort with all the amenities you could think of to attract the swanky, upscale clientele from up north. In 1953 the Ponce de Leon Springs attraction opened with exotic birds, alligators, an Audubon trail, jungle cruise, a hotel, and two waterskiing elephants – Sunshine Sally and Queenie – can you possibly imagine elephants who could waterski? In the mid-1960s the attraction closed and the hotel was demolished. In 1982 DeLeon Springs State Park opened.
Blue Springs State Park is a natural next stop. Blue Springs covers over 2,600 acres and is a designated manatee refuge and home to a large population of West Indian manatees. On a cold day during the winter months, you might spot a hundred or more mantee from the overlooks.
The springs are closed to all water activity during manatee season from mid-November to at least mid-March, but during the late spring and summer you can swim, float, or snorkel in the springs – and you might see a turtle or two sunning on a rock. This is one of our favorite springs because it is all natural, and a great way to relax as you float or snorkel down the spring. Of course, you have to be careful and keep a vigilant eye out as you float or snorkel downstream. If you want to stay at Blue Springs State Park there are air-conditioned cabins available for rent.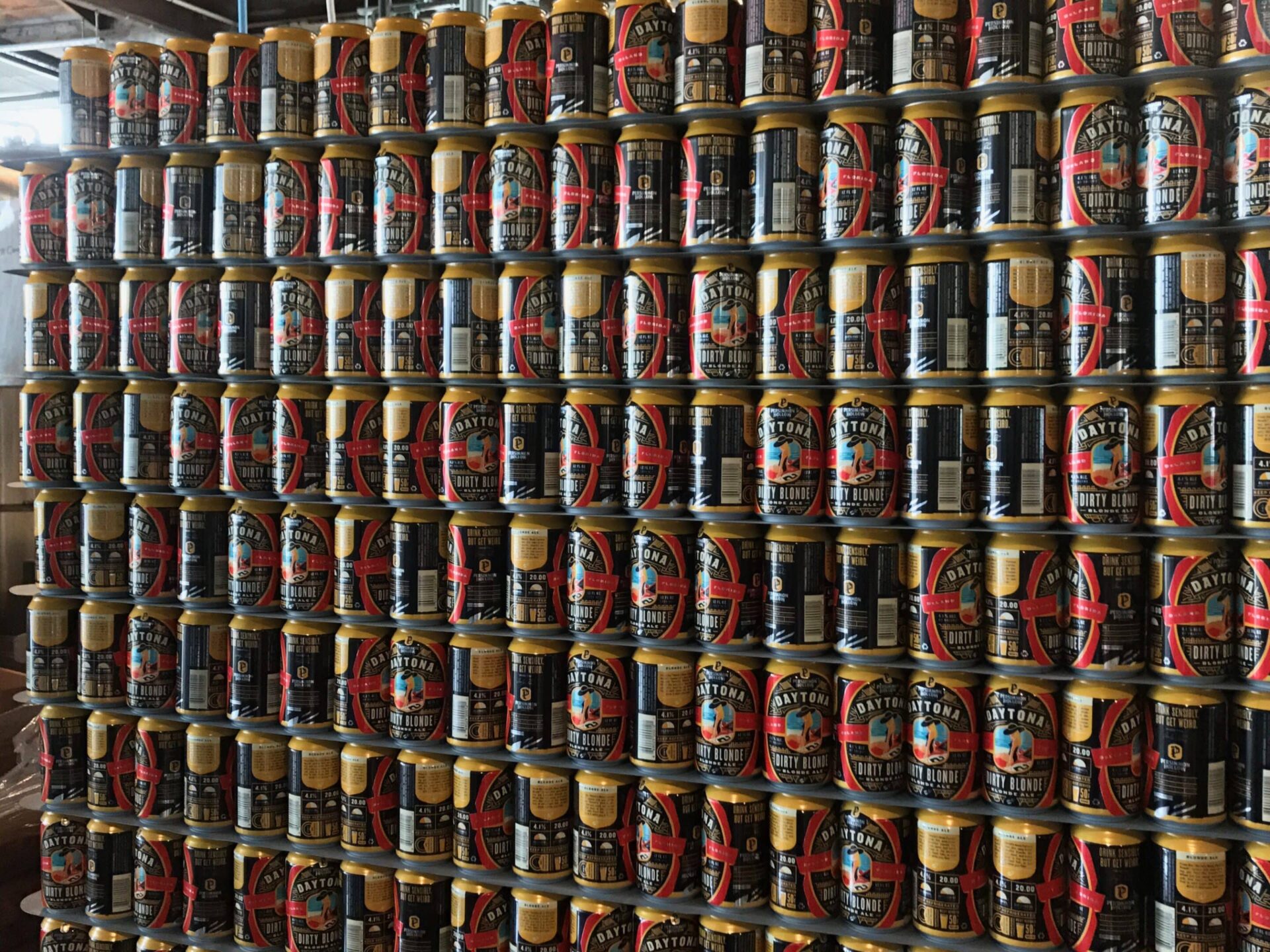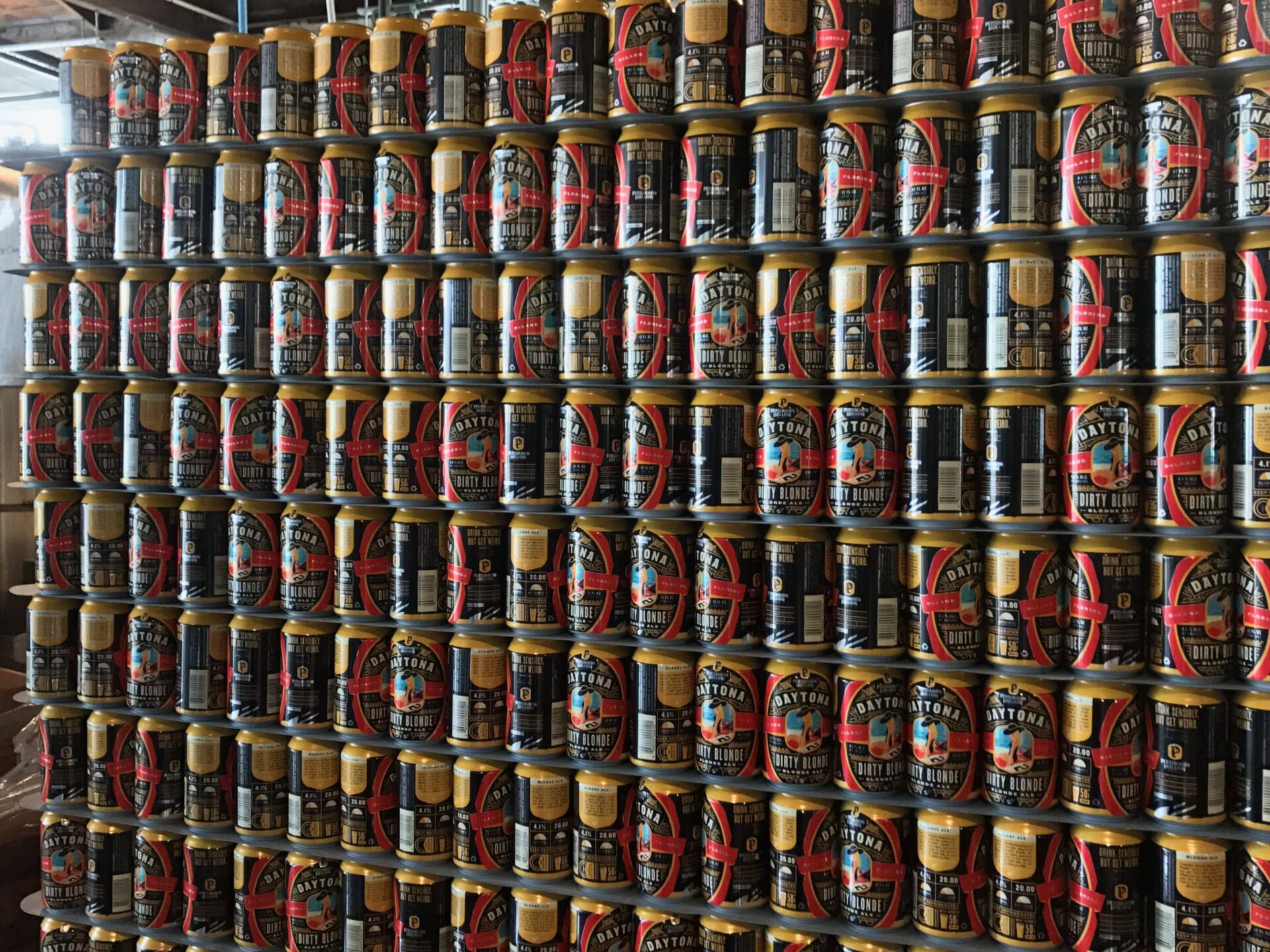 After a fun-filled day exploring making pancakes, and exploring DeLeon Springs and Blue Springs, head back to DeLand for a stop at Persimmon Hollow Brewery.
Persimmon Hollow is the dreamchild of brewers Andy Sistrunk and Robbie Carelli. With a passion for their craft in every glass, Sistrunk and Carelli are crafting some mighty fine beer in DeLand. I had the opportunity to sit across the table from Andy and chat about Persimmon Hollow.
I wanted to know where the name came from. "In the 1800s this area where DeLand is now was known as Persimmon Hollow because of all the persimmon trees that were here."
" Our company motto is "Drink Sensibly, But Get Weird", as we believe that craft beer should be fun, a little weird, and truly a work of art in every glass." 
Paying tribute to the history that flows through West Volusia and DeLand, the brewing tanks at Persimmon Hollow are named John B for John B. Stetson (more on him in a bit) and Henry for Henry DeLand. As DeLand's first downtown brewery, Persimmon Hollow has been brewing beer for three years. Sistrunk and Carelli connected over music and beer, and when they began they began Persimmon Hollow they wanted it to feel like a friend's garage, and Old World style brewery – a vibe that they have achieved. You might walk in as a stranger but you will leave as a friend.
What Do in West Volusia – Naval Aviation, Skydiving, Mansions & History
DeLand Naval Air Station Museum
The DeLand Naval Air Station Museum started life as a municipal airport, built in the 1920s. When World War II broke out in 1939, the US Navy had need of airfields, and in 1942 the municipal airport became the DeLand Naval Air Station.
With a burgeoning number of military personnel and equipment flowing into DeLand, the Navy began to build facilities and purchased additional land. DeLand NAS was now a major training base. In March of 1946 DeLand NAS was closed, the tower abandoned, and the facility was given back to the city. Fifty years later, the DeLand Naval Air Station Museum was born and is housed in the former Master of Arms residence.
It is filled from the top to the bottom with historical artifacts, veteran's memorabilia and military art. This small military museum is worth the stop while you are DeLand – you may discover a hidden gem, as you look through the memorabilia and exhibits.
Just a side note – some of the pilots from DeLand NAS played a role in the Battle of Midway – comment below if you know the connection! DeLand saw a plethora of weddings during the World War II days. Pilots and their teams would train at DeLand NAS. While in DeLand they would meet a girl, fall in love, get married and then ship out to war. Today, there are still a few of those aviators who were stationed in DeLand that live in the area.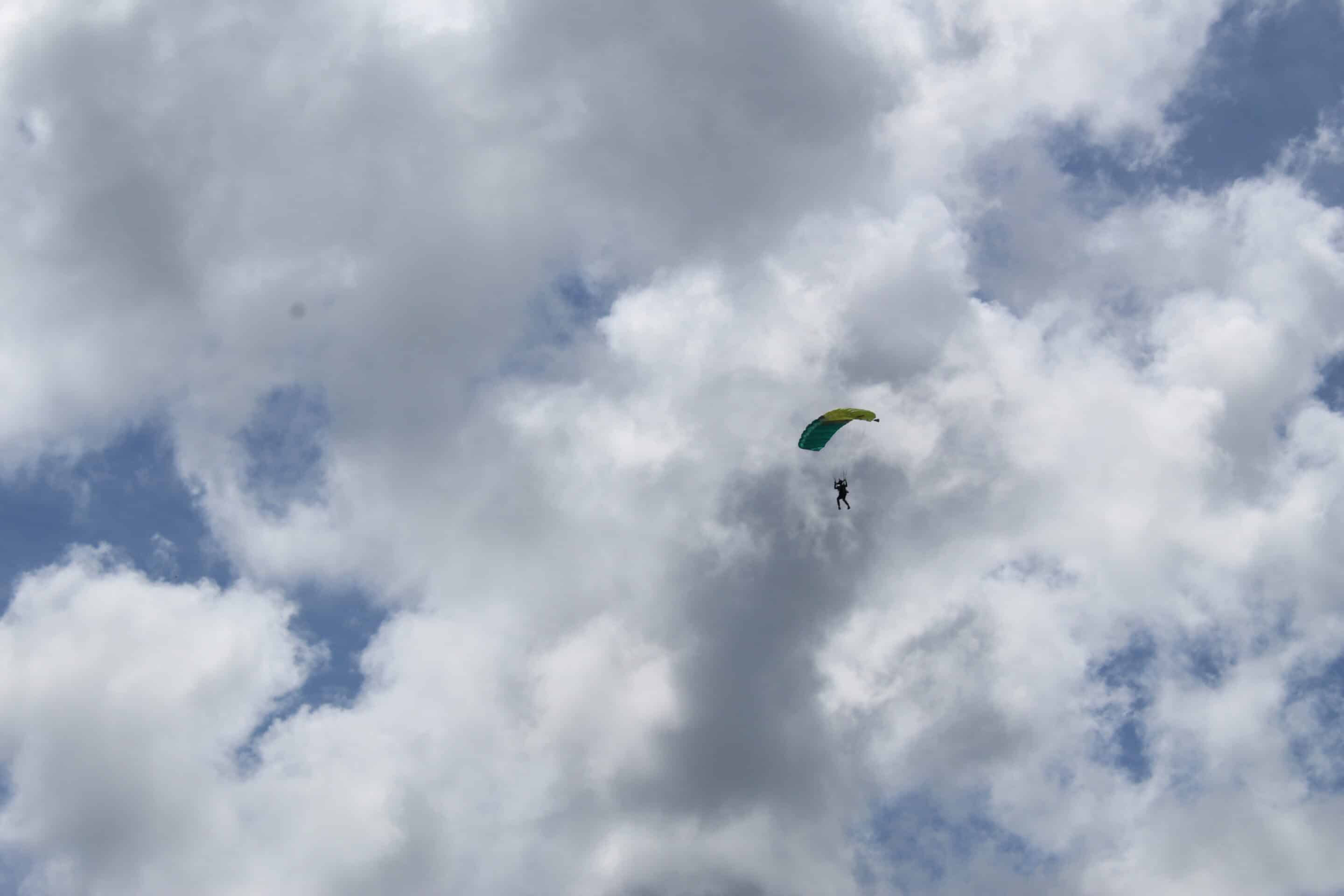 Since we are talking aviation, let's jump over to Skydive DeLand in West Volusia.
Though we did not skydive on this visit, it is on our bucket list, and there is only one place to go – Skydive DeLand! Skydive DeLand is considered a "mecca for skydivers" and one of the most sought-after skydiving facilities in the US. Honestly, I can't wait to do a Tandem jump with Skydive DeLand!
Skydive DeLand is open year round, 7 days a week. It was right here in DeLand that Tandem Jumps were conceived. And to tie in with the DeLand's military heritage, it is right here that the Airforce, Army, and Navy come to train. With 60,000 to 90,000 jumps a year, Skydive DeLand has a stellar safety record, and is one of three of the largest skydive facilities in the world to date – Arizona, Paris, and DeLand.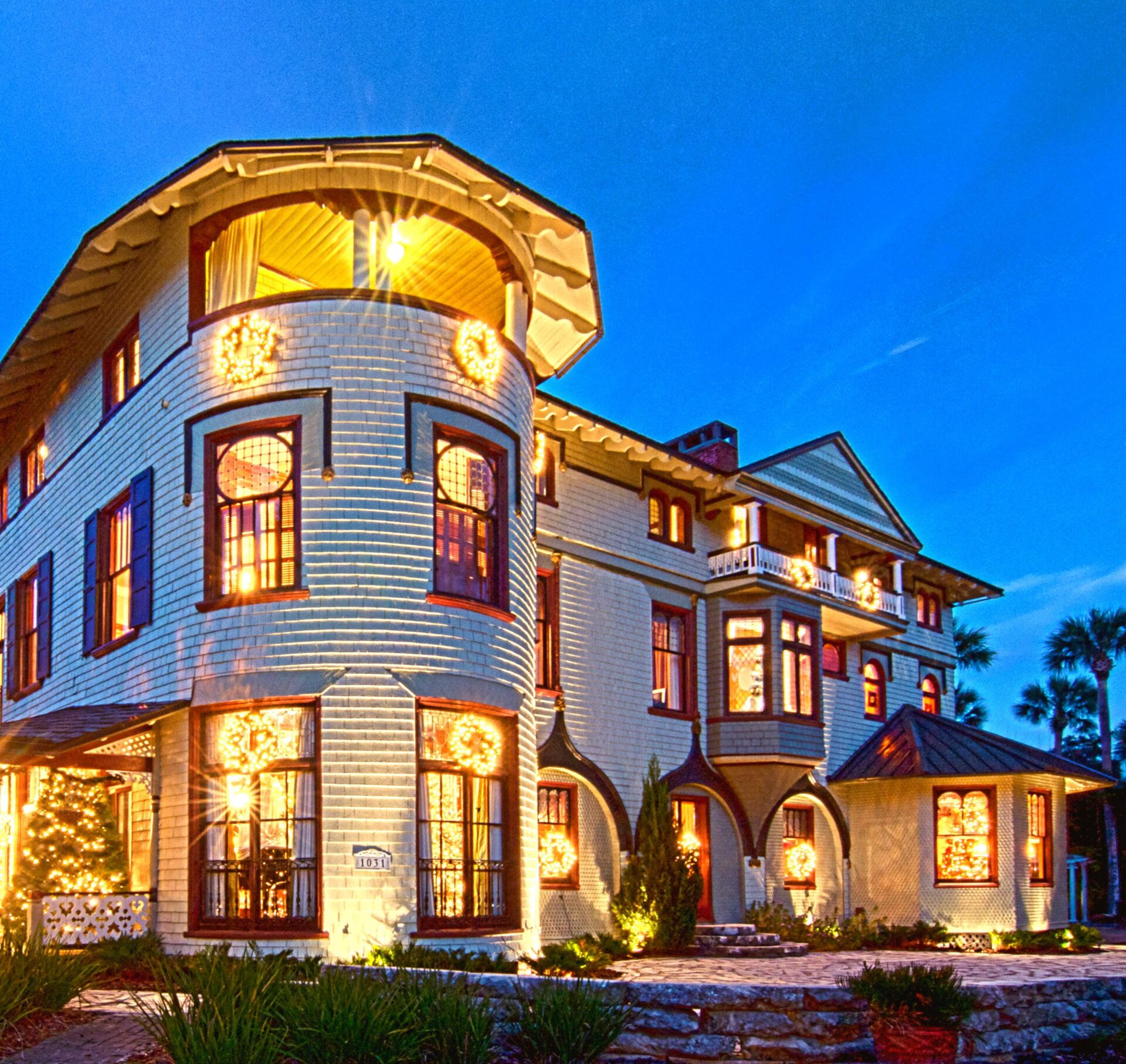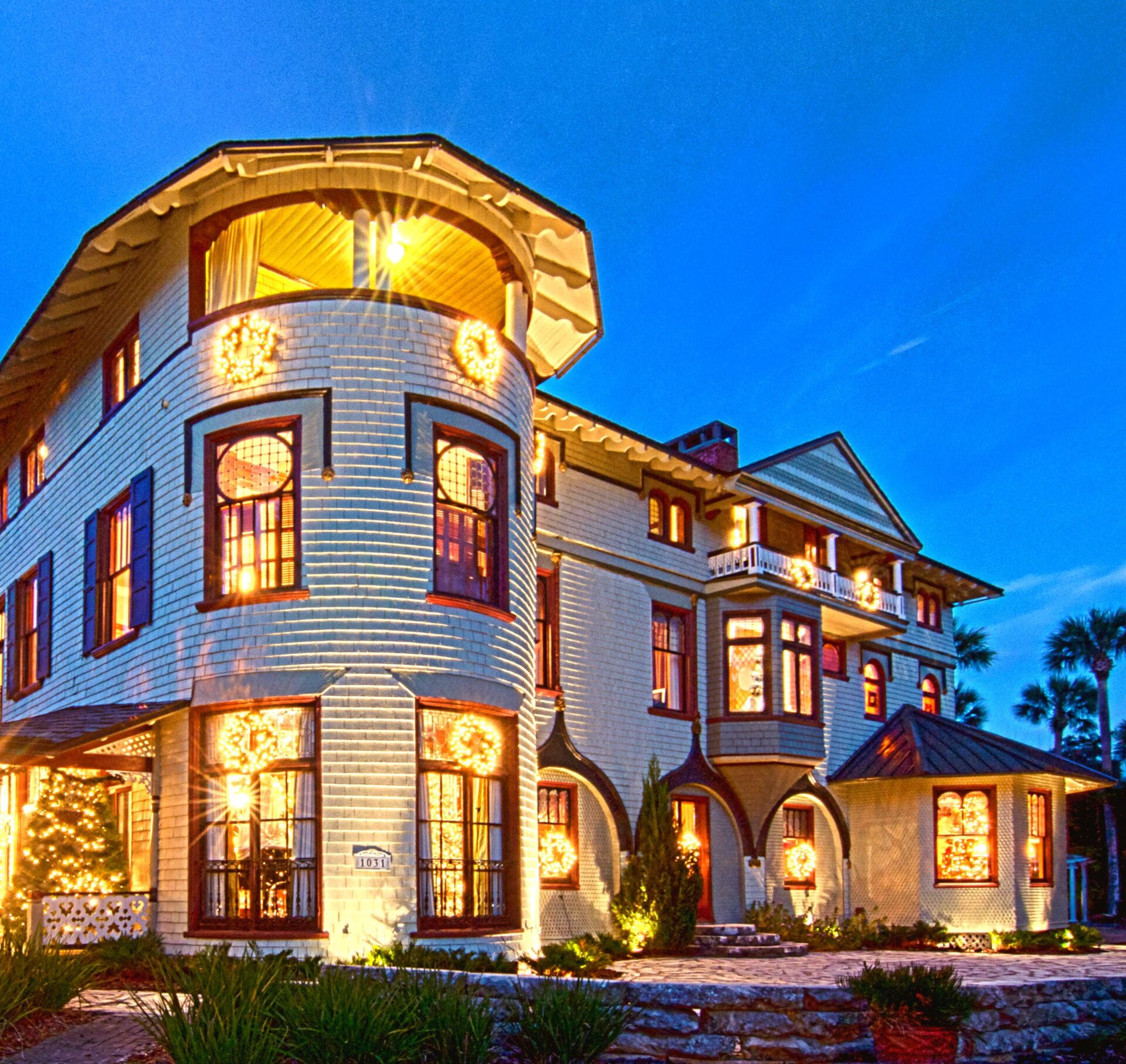 This post may contain affiliate links which won't change your price but will share some commission. As an Amazon Associate I earn from qualifying purchases.
Former home to multi-millionaire John B. Stetson, the Stetson Mansion is spectacular to visit any time of the year! Stetson was from Orange, New Jersey, and in a short 3-year span he became a multi-millionaire from his hat making company.
Stetson met his wife Elizabeth and married her when she was 25 and 28 years younger than he. With a huge mansion in Philadelphia, Elizabeth did not want a large home in Florida; in fact, she did not want to live in Florida at all.
Built in 1886, the Stetson Mansion was their "small" winter home. After John's death in 1906, the family sold the mansion.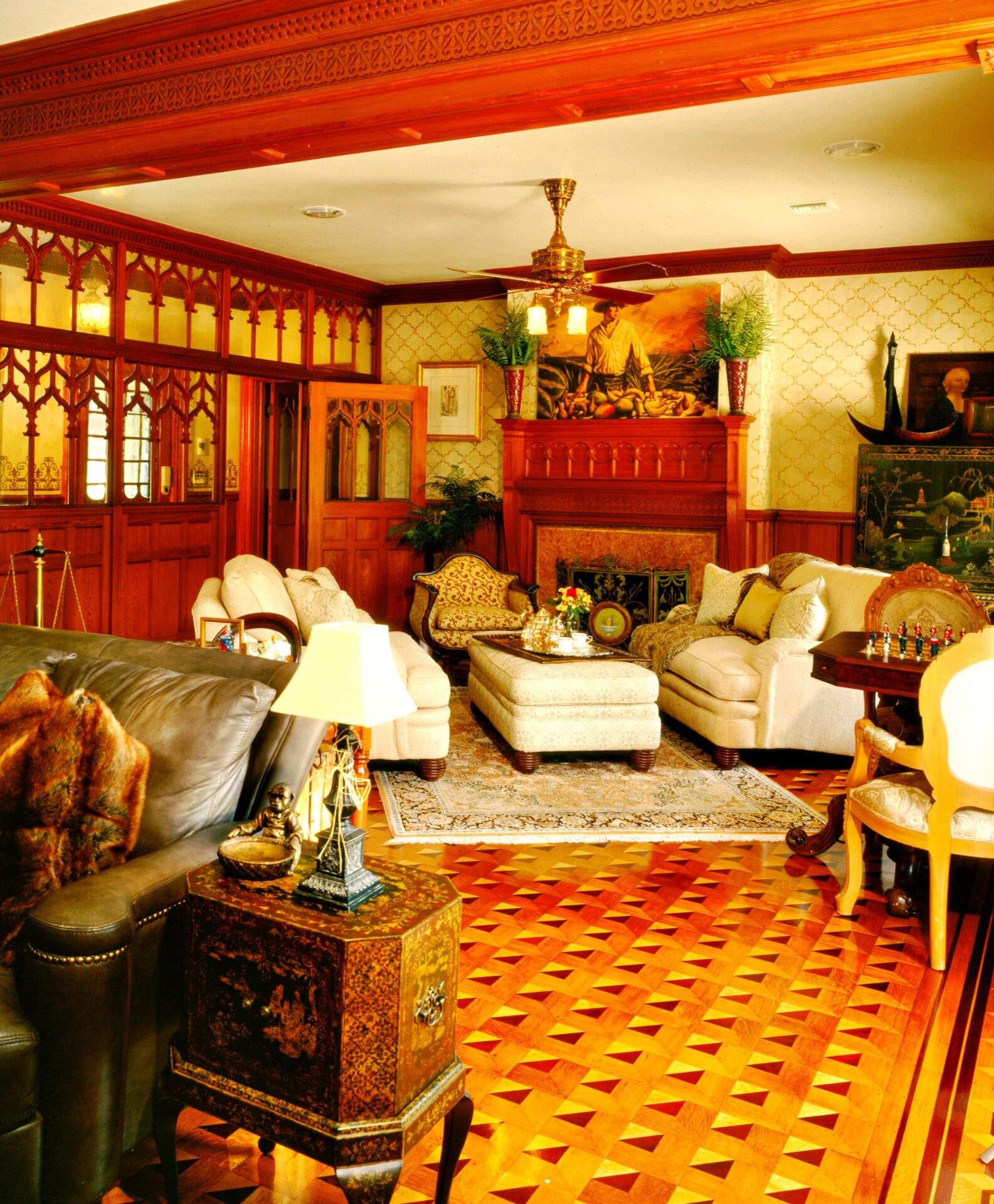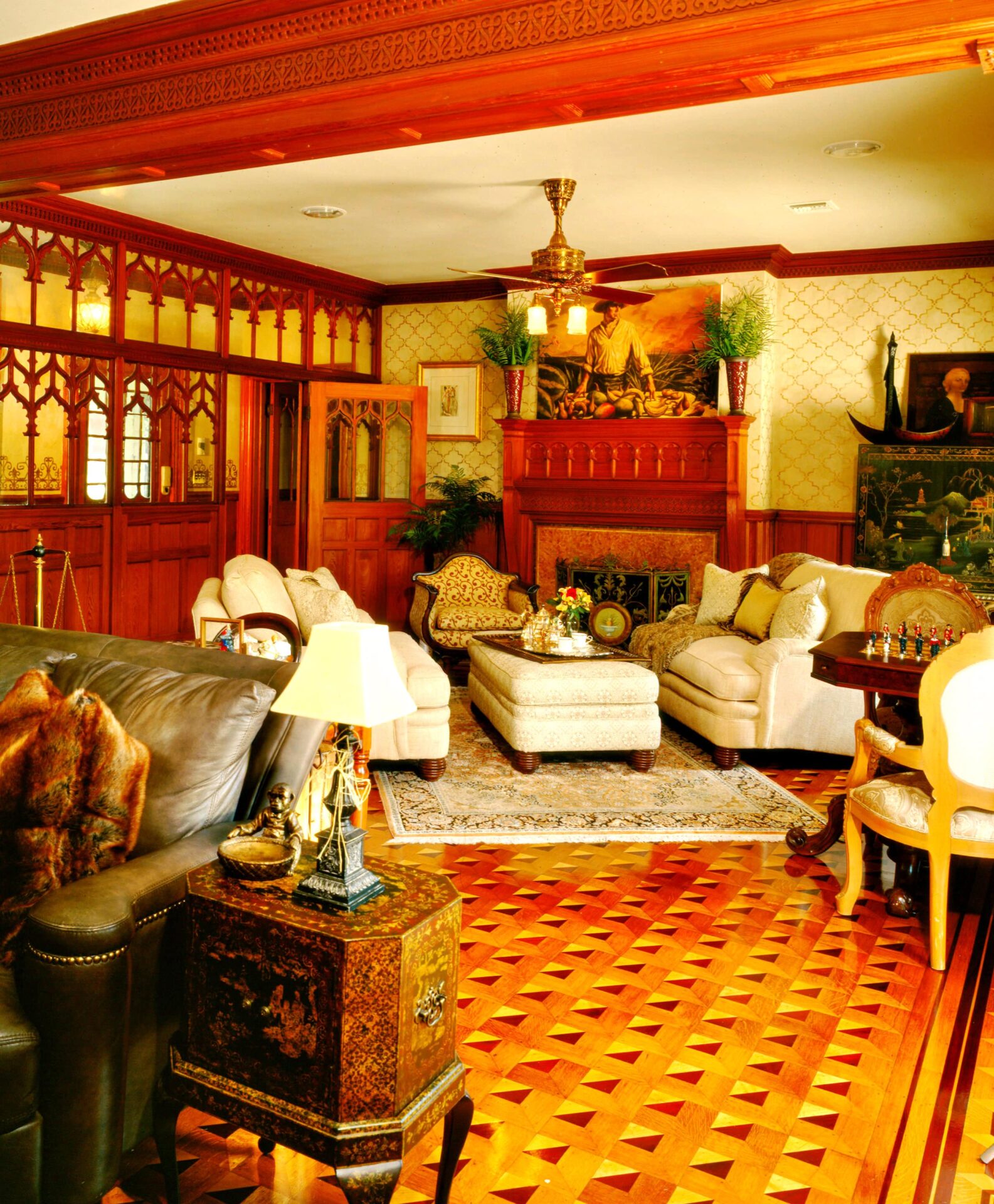 The Stetson Mansion is the grandest home ever built in Florida prior to the 20th century, and a perfect example of what homes during the "Gilded Age" were like. John and Elizabeth Stetson were famous for hosting over-the-top parties for locals and famous people like Grover Cleveland, Thomas Edison, Henry DeLand and Henry Flagler. In fact, Flagler brought his famous railway right to Stetson's estate.
As you tour the mansion, you'll notice that many of the original wood floors have been designed with a quilt design. In the kitchen, there are a few remaining original features including the window over the sink and the brick chimney. You will see original touches throughout the home.
When the current owners purchased the home in 2006 it had fallen into a state of disrepair, so an "adaptive restoration" done over 18 months. Touring the mansion you are taken back to the Victorian era, with intricate architectural details through the home. The Stetson Mansion is Trip Advisor's #1 attraction in DeLand. Reservations are needed to tour the mansion, so book early.
For more on the Stetson Mansion, check out Stetson Mansion Estate, by Michael Solari and How to Polish a Diamond (The Stetson Mansion) by JT Thompson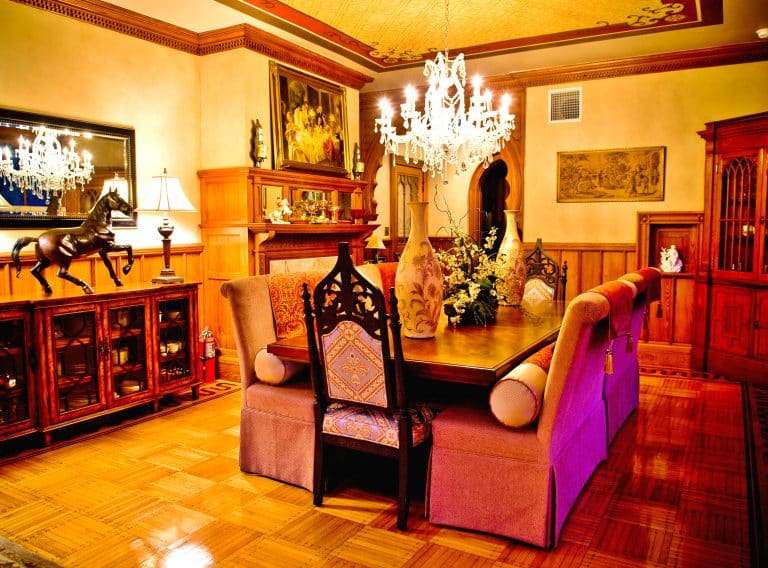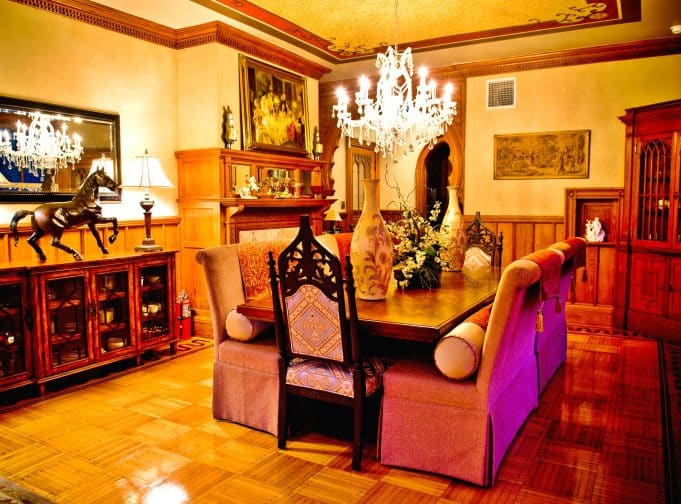 What Do in West Volusia – DeBary Hall & Exploring the St. Johns River
Located a short distance from DeLand, DeBary Hall was built as a hunting retreat for Frederick DeBary in 1871. Seeing the future of the area as a mecca for visitors, DeBary soon began a steamboat company to enable trade from Jacksonville to West Volusia. DeBary Hall was in close proximity to the springs and offered bountiful hunting. Like the Stetsons, the DeBarys entertained some of the elite of society – Grover Cleveland and General William Tecumseh Sherman among them.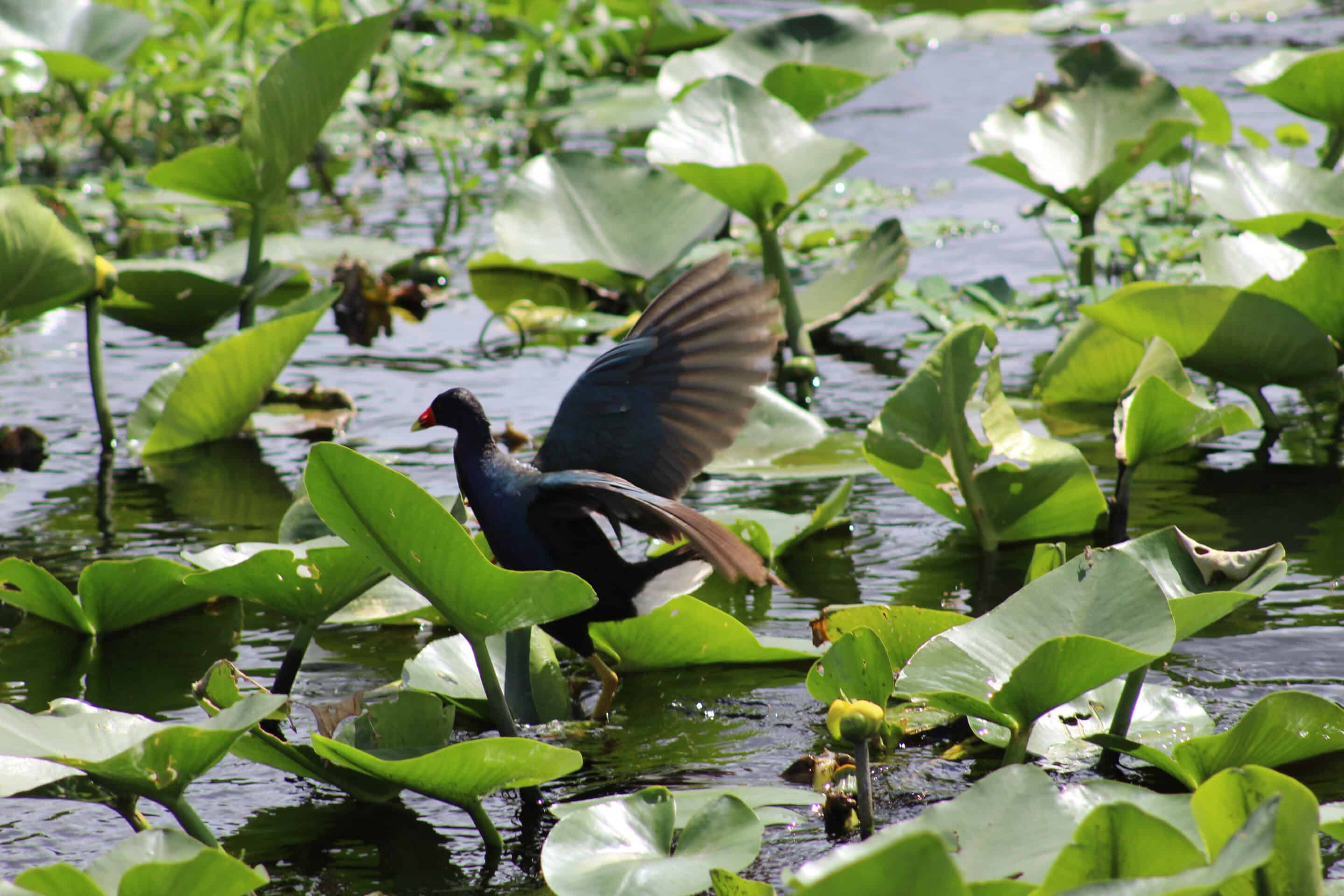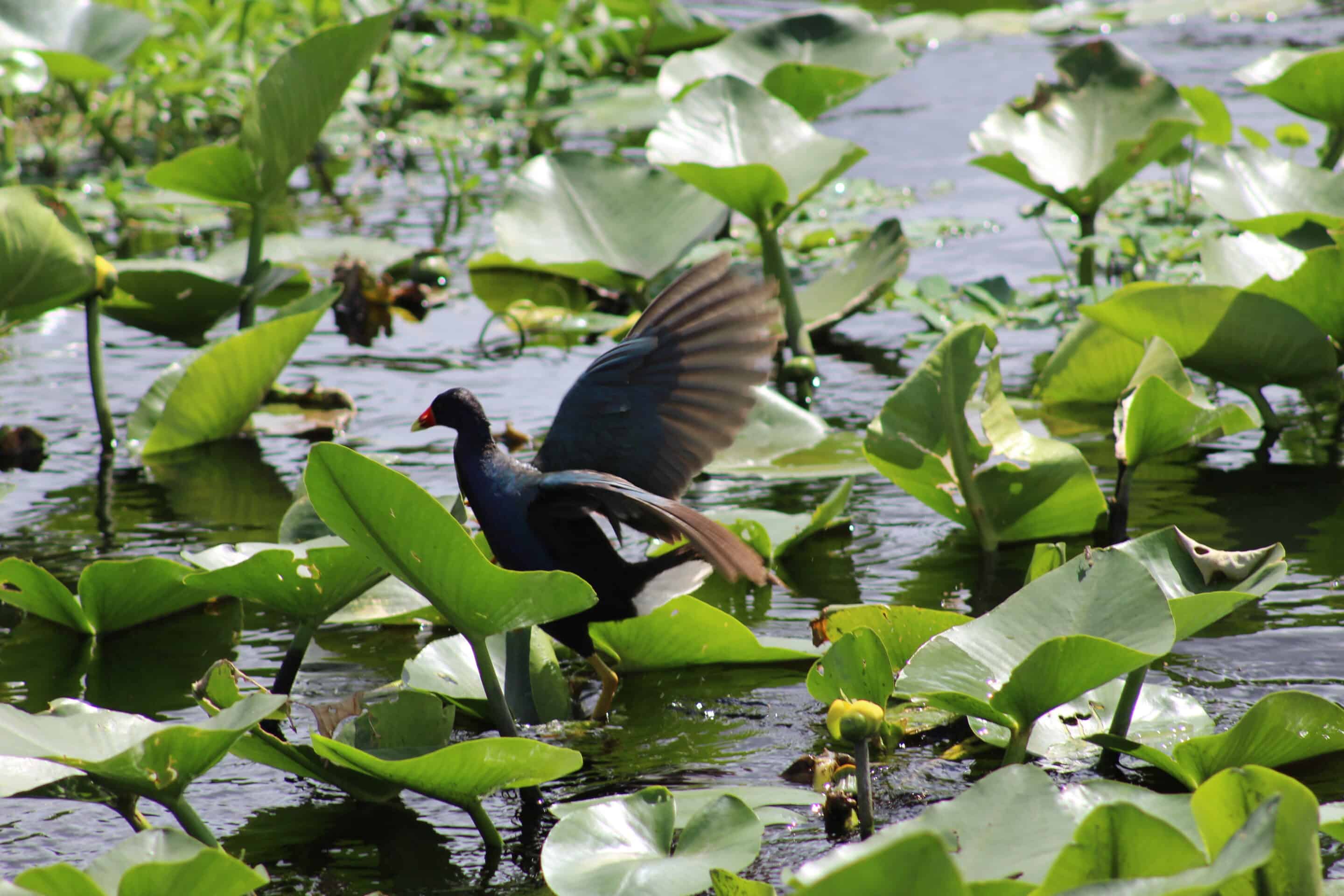 The St. Johns River Eco Tour operates from the Highbanks Marina & Camp in West Volusia and is a great way to explore the nature of the St. Johns River. On any given day you may see alligators, manatees, and a plethora of birds.
One of the treats that we had was seeing two barred owls – a rare sighting. St. Johns River Eco Tour and Doug Little gives a spectacular tour and makes you feel right at home. With his running commentary, you leave the tour feeling more knowledgeable about the St. Johns river and its history and wildlife!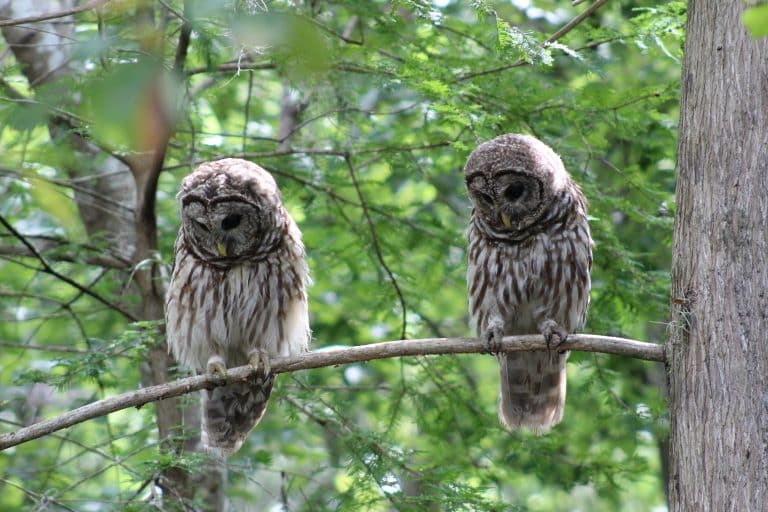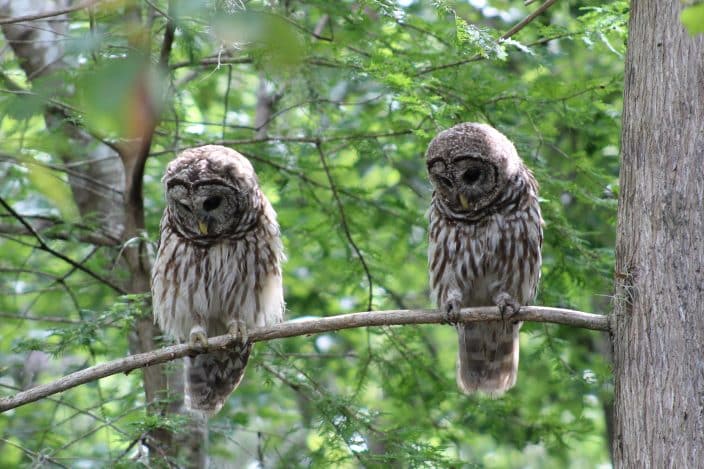 No matter what era of history you look at in Florida, the St. Johns river plays a major role as the "highway through Florida". When Flagler built his railroad, he designed it to run east to west, and connected the river to the coastal areas like Enterprise, DeBary, and Jacksonville.
The tours last about two hours and will keep you on the edge of your seat with stories of the area's history and your head will feel like it is on a swivel as you quickly turn from side to side to catch a look at the fascinating wildlife and the interesting flora and fauna.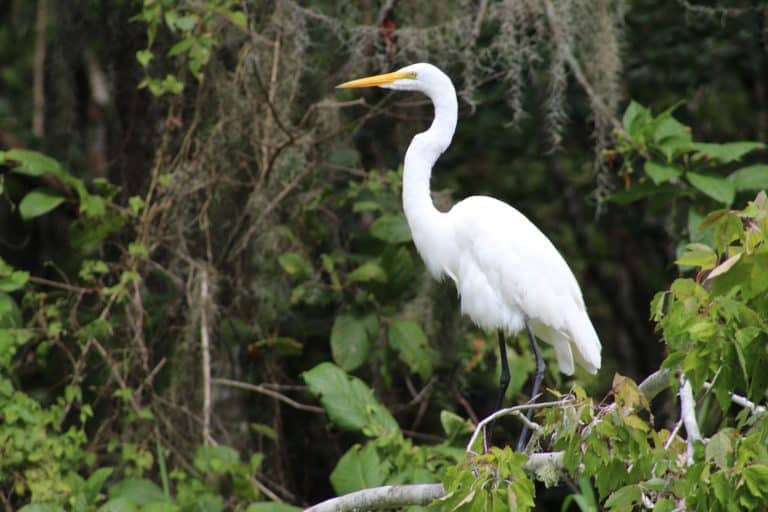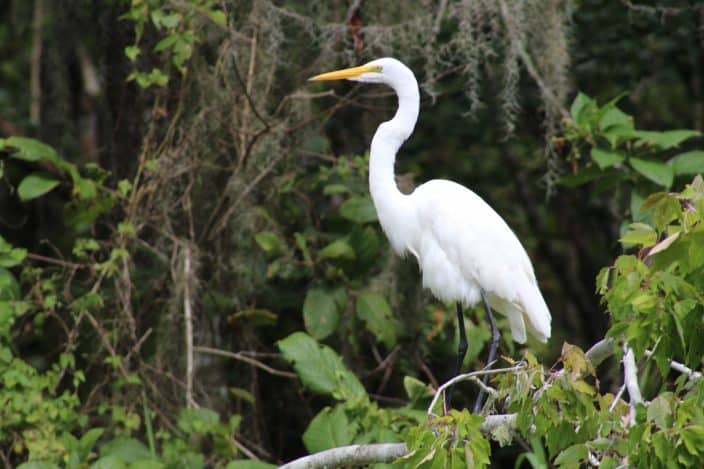 With so many options to see and do, West Volusia is a great escape from the Disney World crowds, and offers something for the whole family!
CHECK OUT WHAT'S NEW ON BETSI'S WORLD

We bring you the best destinations we have discovered! Subscribe to our newsletter so you can be "in the know"! When you subscribe, you'll get our Florida Getaway Packing List.
Join the newsletter
Subscribe to get our latest content by email.
Other Weekend Getaways You May Like