Where To Go For A Romantic Weekend In Florida
A Florida weekend getaway is the best way to relax and soak up some sun with your loved one. If you've been to all of the major spots in Florida and are planning romantic getaways in the south with a twist, you're in luck. Florida is home to plenty of fun and funky towns well worth exploring.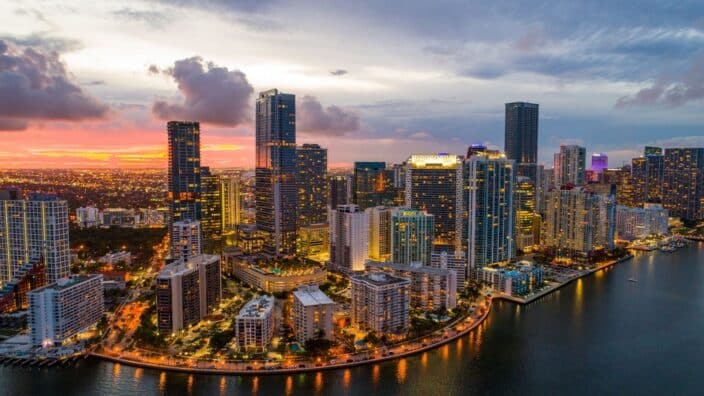 Largely hidden from tourists, these are spots that locals have fallen in love with and made their own, creating a vibe you'll have a hard time finding in places like Orlando, Tampa, or Miami. Use these ideas to help you plan the perfect Florida weekend getaway with a funky twist!
This post contains affiliate links. When you make a purchase through these links Betsi's World receives a small commission at no additional cost to you. As an Amazon Associate, I earn from qualifying purchases.
The Best Florida Towns For A Weekend Getaways for Couples
We all know that the stress of life can get to us. When that happens, it's time for a weekend getaway with your partner. Reconnect with each other as you explore Florida and all the choices for a Florida weekend getaway for two. Weekend getaways in Florida are plentiful.
Ready to experience a different side of Florida? Here are just a few of Florida's funky towns you need to visit on your Florida weekend getaway:
Florida Weekend Getaway to Jensen Beach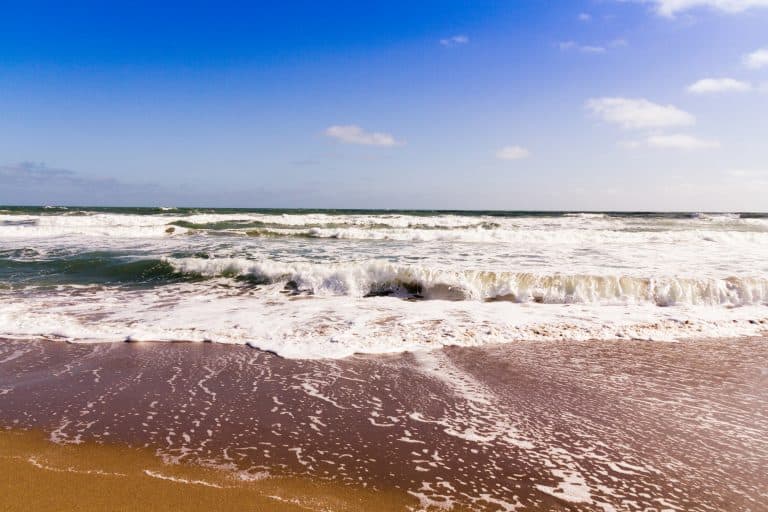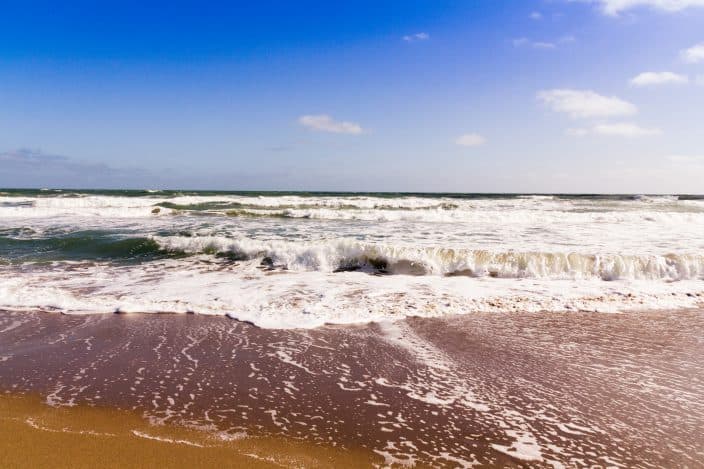 Part of Port St. Lucie, Florida, Jensen Beach is a small town full of charm. Incredible beaches with plenty of beachfront hotels make this coastal location a must visit for one of your romantic getaways in Florida.
Jensen Beach is known as the pineapple capital of the world and even hosts an annual pineapple festival. Taste one of the pineapple-inspired dishes that pop up on restaurant menus during the festival, or sign up for the Pineapple Eating Contest and see just how much you can eat.
Stroll around town and take in the colorful, porch lined cottages and shop local creations. The small town charm is what makes Jensen Beach a delight to visit in the Sunshine State.
A trip to Jensen Beach is high on our list for one of the best affordable romantic getaways in Florida!
With lots of local restaurants to indulge in, boutique shopping options, and a variety of fun seaside motels to stay at, Jensen Beach is a great choice if you're looking to get away for a couple of days.
Restaurants to check out:
There are plenty of great eats in Jensen Beach! Check out some of these great choices while you are in town!
Hotel and lodging ideas:
There's something for every budget and something for everyone who is looking for oceanfront views, spas, and even something more quaint and quiet!
Weekend Getaway to Florida- New Smyrna Beach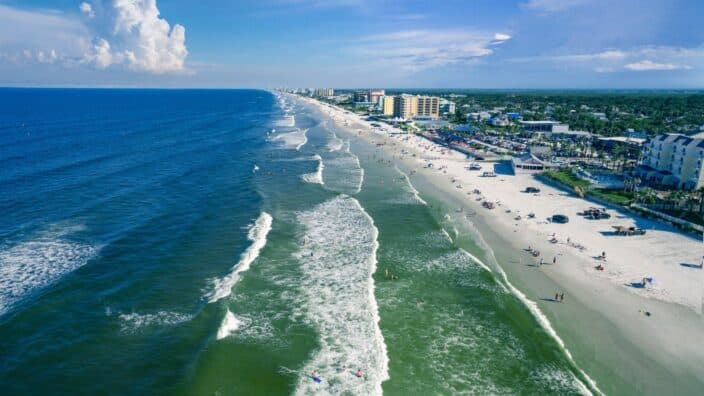 This charming beach town is a great place to rest, relax, and enjoy life at the beach for your weekend getaway in Florida. The laid-back surf town vibe you'll find here makes it the perfect spot for anyone looking to slow down and take it easy.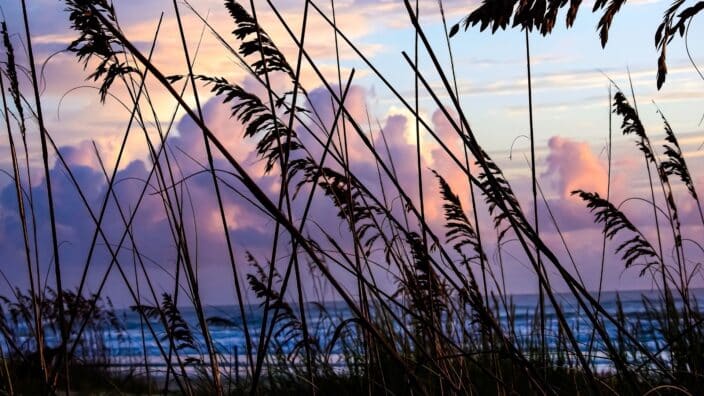 Rent bikes and cruise along the beach, take a river tour, or stroll through Canal Street Historic District. This area of downtown is perfect for pedestrians and is filled with fun independent shops, quirky art galleries, and lots of different dining options.
Restaurants to check out:
When you take your weekend getaway to Florida you'll need somewhere to eat, right?! Here are some great choices for when you are in New Smyrna Beach!
Hotel and lodging ideas:
Looking for a place to stay when you are in town for your romantic getaways in the south? Whether you are looking for an ocean resort or romantic hotel, these are some places to check out in New Smyrna Beach.
Florida Weekend Getaway to DeLand
You'll find DeLand directly west of New Smyrna Beach, roughly a half hour's drive from the ocean. Home to a small but lively downtown, a handful of interesting local museums, the old-school Athens Theater, and the Stetson Mansion, it's a spot unlike most others in the state. DeLand makes an ideal Florida weekend getaway for couples and families alike.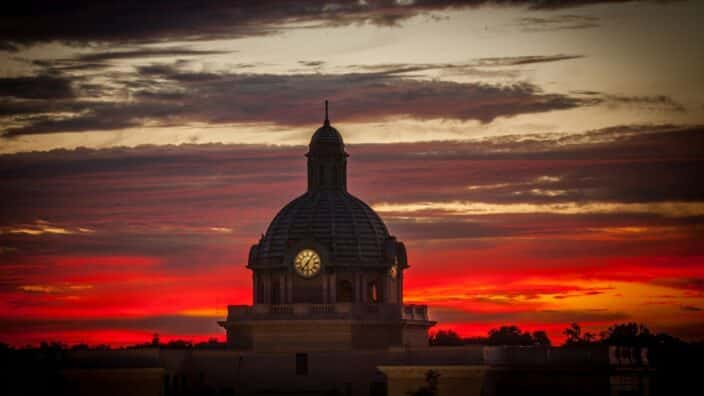 You can stroll among the oaks and admire the architecture of Stetson University, the oldest college in Florida, or plan a trip to nearby De Leon Springs State Park, where you can start the day at the Old Spanish Sugar Mill. Inside this local favorite, you'll find tables featuring griddles, which diners use to cook up their own pancakes.
Then, head outdoors to take a dip in the icy waters of the spring, or try to stay dry and explore the area by canoe. For military history buffs, a must-see stop is the DeLand Naval Air Station Museum. This small museum is jam-packed with some of the best Naval aviation memorabilia we've visited! The museum is focused on World War II aviation history, and they have several restored aircraft that will take your breath away!
Restaurants to check out:
On your trip to DeLand you'll want to check out these awesome restaurants! These choices will make your trip fun and tasty!
Hotel and lodging ideas:
When you visit DeLand on your romantic Florida getaway you are going to need a place to stay. Here are some great choices in DeLand for hotels and other lodging options!
Florida Weekend Getaway to Tarpon Springs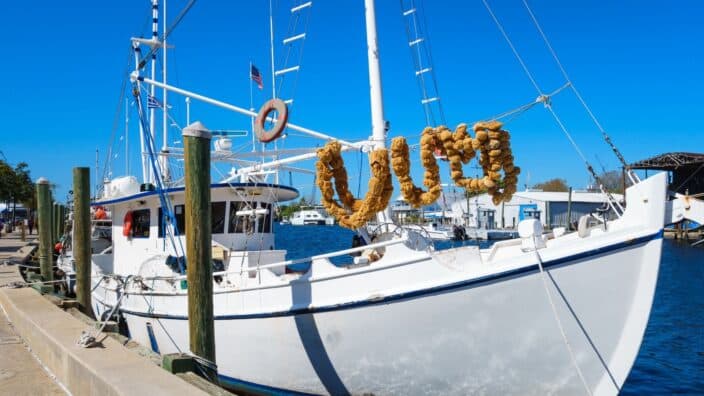 For something a little different, check out Tarpon Springs. One of the best romantic Florida getaways, this little town is considered the sponge capital of the world, and it's been home to one of the state's largest Greek populations for years, giving it a flair you won't find anywhere else in the state.
While you're here, indulge in some Greek cuisine, check out the Greek Village at the Tarpon Springs Sponge Docks, and experience the area's natural beauty with a sightseeing cruise.
You'll also want to spend some time exploring the downtown area, which is home to plenty of bars, restaurants, antique shops, galleries, souvenir stores, and other spots worth exploring.
Restaurants to check out:
You can't do better than these awesome restaurants in the Tarpon Springs area. During your romantic getaway in Florida check out these great choices for food!
Hotel and lodging ideas:
After you've explored and eaten your fill you'll need a cozy bed for the night. Here are some great options for a romantic hotel in the Tarpon Springs area.
Florida Weekend Getaway To Sarasota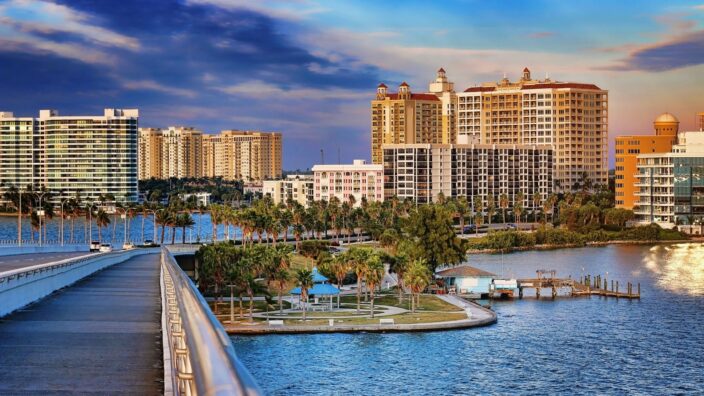 A gem on Florida's gulf coast, Sarasota is a great way to indulge beautiful beaches, art, good eats, and lovely hotels. Sarasota, Florida is located about an hour south of Tampa and his home to The Ringling Museum and Van Wezel Performing Arts Center. If you love art, I highly recommend a visit to this historic museum. Their collection is updated frequently, with new exhibits every month, as well as having their classics always available.
Visit the Van Wezel and watch world renowned artists perform on an epic stage. Check their website for upcoming performances!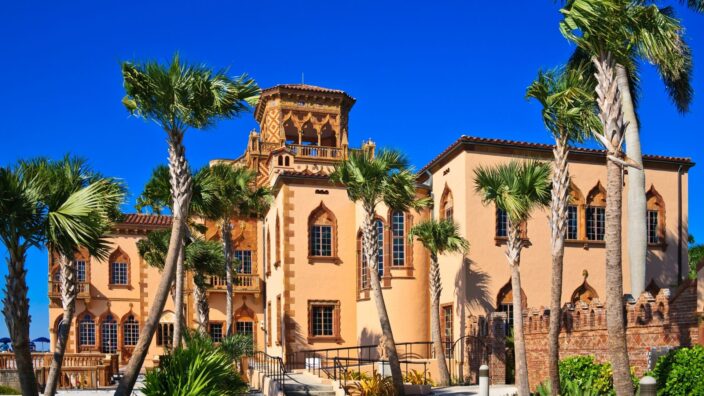 If you want to soak up some sun, don't miss out on the amazing white sand beaches Sarasota has to offer. Siesta Key has been named the best in the nation on more than one occasion. The powdery white sand feels like a spa day for your feet and the blue, clear water will wash your troubles away.
Fun Fact: the sand on Siesta Key is made of crushed quart instead of shells, making it extremely fine, white and glittery!
Afterwards, head to "The Village" just walking distance from the beach. Enjoy tropical drinks and fresh seafood, plus fun boutiques to grab some gifts from!
Head to downtown Sarasota where you will find interesting architecture, art sculptures on the bay, and great restaurants where you can dine outdoors.
Restaurants To Check Out
You will find a variety of great restaurants in Sarasota, Florida. From seafood, to BBQ and eclectic local fare there is something for everyone to enjoy! All of these have outdoor seating available. Here are some of my favorites:
Indigenous. Well known for their freshly caught seafood and sustainably sourced ingredients. Their menu changes frequently as the chef comes up with new and creative dishes to share with their guests. It is the perfect place for a romantic dinner.
Melange. This restaurant focuses on small eclectic dishes with locally sourced ingredients. If you like non-traditional food pairings and incredible drinks, this one is for you.
FushiPoke. If you love poke bowls, then check out this awesome casual restaurant. Their fish is extremely fresh and their toppings really elevate the bowls.
C'est La Vie. A lovely French café that serves the best sweet and savory crepes!
Bricks's Smoked Meats. This is a great option for those of us who love anything smoked. They serve brisket, ribs, pulled pork and smoked sausage, as well as some tasty southern sides!
Hotel and Lodging Ideas
There is a lot to choose from when deciding where to stay in Sarasota. Relax with a private balcony and outdoor pool, just minutes from gorgeous beaches. Here are some of my recommendations for the most romantic hotels:
Amelia Island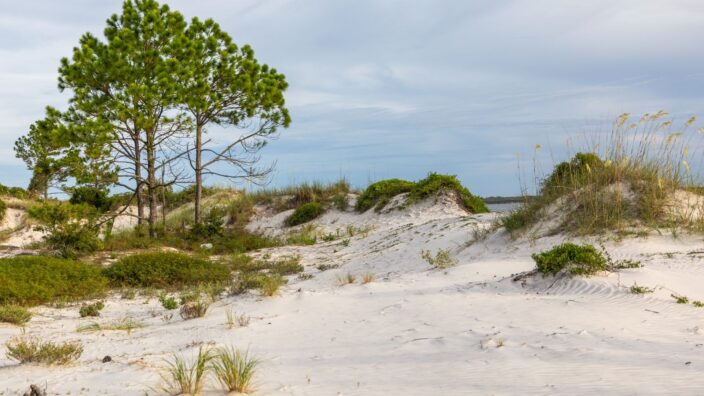 For a relaxing romantic vacation in Florida Amelia Island is the ideal destination. This barrier island located off of the northeast coast offers 13 miles of stunning beaches, beautiful hotels and spas for you and your loved ones. Walk along the pristine beach and even try riding horseback, one of the few places this is allowed!
Home to a unique ecosystems, Amelia island is a nature lovers paradise. Go bird watching, kayaking, or fishing with a charter. It's a great opportunity to learn all about the nature of Amelia Island.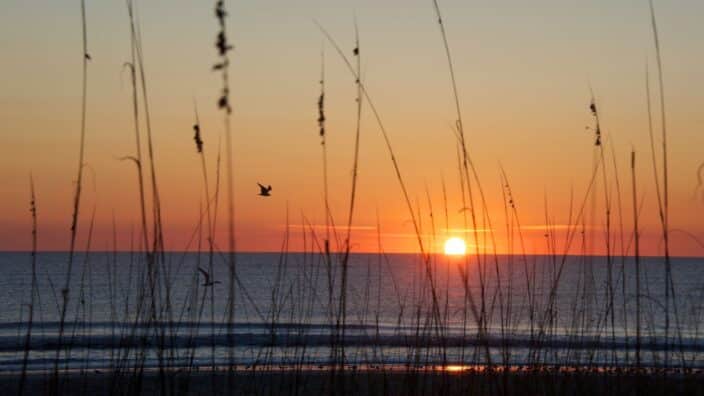 If you like adventure, try river cycling! It's exactly what it sounds like- biking on the water. It is a fun way to soak up the views of the east coast.
If you're looking for relaxation, don't miss out on the Ritz Carlton spa treatments. Located on the waterfront, their spa treatments range from facials and body treatments to massages and salon specials. Amelia island is definitely one of the best romantic getaways in Florida.
Restaurants To Check Out
There are plenty of delicious restaurants to visit while in Amelia island, many of which offer fresh seafood and amazing views of the Atlantic ocean!
Lagniappe. Experience French Creole dishes with a twist of Southern influence in a trendy and hospitable environment.
Verandah Restaurant. Enjoy seaside dining inside the Omni Hotel with Mediterranean inspired dishes and fresh seafood.
The Salty Pelican. Indulge in shrimp tacos and lobster rolls at this open air restaurant!
Hotel and Lodging Ideas
There are plenty of romantic resorts to stay at while in Amelia Island. Many are just a stone's throw away from the white sand beaches. Indulge in oceanfront pools, private beach, and spa treatments at these fantastic resorts!
Sanibel Island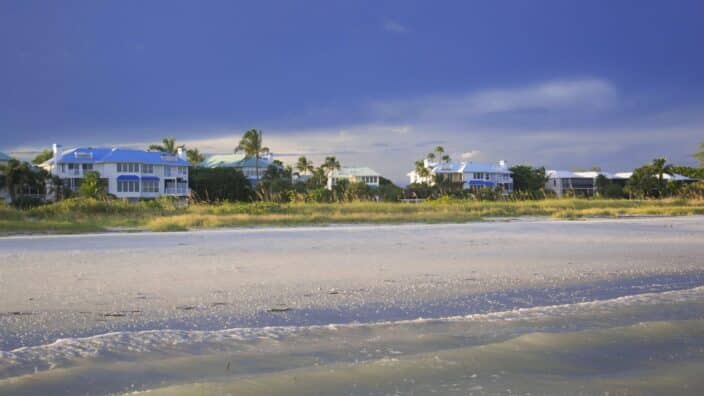 Sanibel Island is one of the best romantic getaways in Florida. It is ideal for romance where couples can enjoy building long-term memories. There are many romantic places in this paradise for a couple. It is an idyllic barrier island in Gulf waters which provides gorgeous sunsets and plenty of white sand beaches to explore.
Sanibel Island offers couples a sense of romance through an extensive collection of exclusive restaurants, shops and wedding sites. Moreover, this peaceful location gives lovers a perfect romantic environment to enjoy quality time.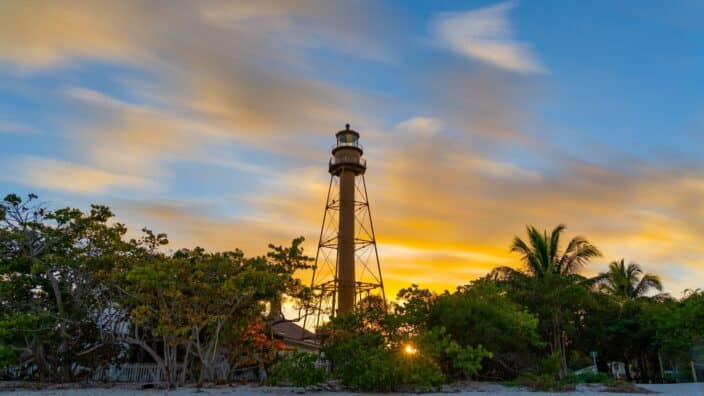 There are plenty of unique things to do on Sanibel island, including visiting the old lighthouse and spotting plenty of exotic flora and fauna. If you love nature, don't forget to visit the Darling National Wildlife Refuge. Explore Wildlife Drive by car or take a tram tour! The park is open daily from 9 am to 4 pm.
Whether you enjoy shelling, golfing, bird watching, or relaxing on the beach, Sanibel island has something for everyone on their romantic getaway.
Restaurants To Check Out
Enjoy fine dining or causal dining at these romantic restaurants.
Mad Hatter Restaurant. Truly fine dining at its best, indulge in spectacular waterfront views alongside eclectic dishes including fresh seafood.
Doc Ford's Rum Bar and Grill. Cool off with one of their famous mojitos and taste the flavors of the Caribbean with freshly caught seafood.
The Blue Giraffe. For a great breakfast, try this quaint restaurant offering everything from omelets to tacos and cakes!
Hotel and Lodging Ideas
Everything you need from a boutique hotel to a large resort is available on Sanibel Island. These lodging options are perfect for a romantic getaway.
These are some of the best romantic getaways in Florida. From small cities that celebrate Florida's rich history to spots known for their local specialties, like sponges and pineapples, there are lots of great spots in Florida to visit if you're looking for something other than the typical tourist experience.
Of course, Florida beaches are always a reason to visit the sunshine state. These fun and funky destinations offer some of the most romantic getaways and a taste of something a little different – something you won't find anywhere else.
Did your favorite Florida weekend getaway spot make the list? If it didn't leave a comment and let me know where you'd recommend!
Other Romantic Getaways You May Like