Multi-Generational Getaway
Plan the perfect multi-generational Disney getaway at the Contemporary Resort. The Contemporary Resort offers multi-generational travelers an abundance of dining and recreational choices, and with Disney's monorail running right through the resort to the Magic Kingdom and Epcot, it is the perfect choice for a getaway. The Contemporary Resort is within walking distance of Magic Kingdom, and it has a great pool and waterslide – perfect for the kids to play in!
About Disney's Contemporary Resort
The most striking feature of the resort is its futuristic modern design. As I was driving into the resort, the magnitude of the resort was overwhelming. The main resort building seemed to soar into the heavens. A one-of-a-kind architectural design, the A-frame shape dominates the resort.
Sleek, modern touches fill the lobby and exude a relaxed, welcoming atmosphere for young and old alike. The location of the resort, only a 10-minute walk to the Magic Kingdom, or a short monorail ride away. Speaking of the monorail, it runs right through the resort – how cool is that?
You can take the monorail to the Magic Kingdom or Epcot  from the Contemporary Resort which makes it so accessible for families! Just walk down to the monorail station, catch the next train, and in nothing flat, you are at the park and ready for a full day of action and excitement!
Accommodations
When you arrive and check-in to Disney's Contemporary Resort, you are given your magic bands, which act as your door key, enter the parks, and to buy food and great gifts while at Disney World.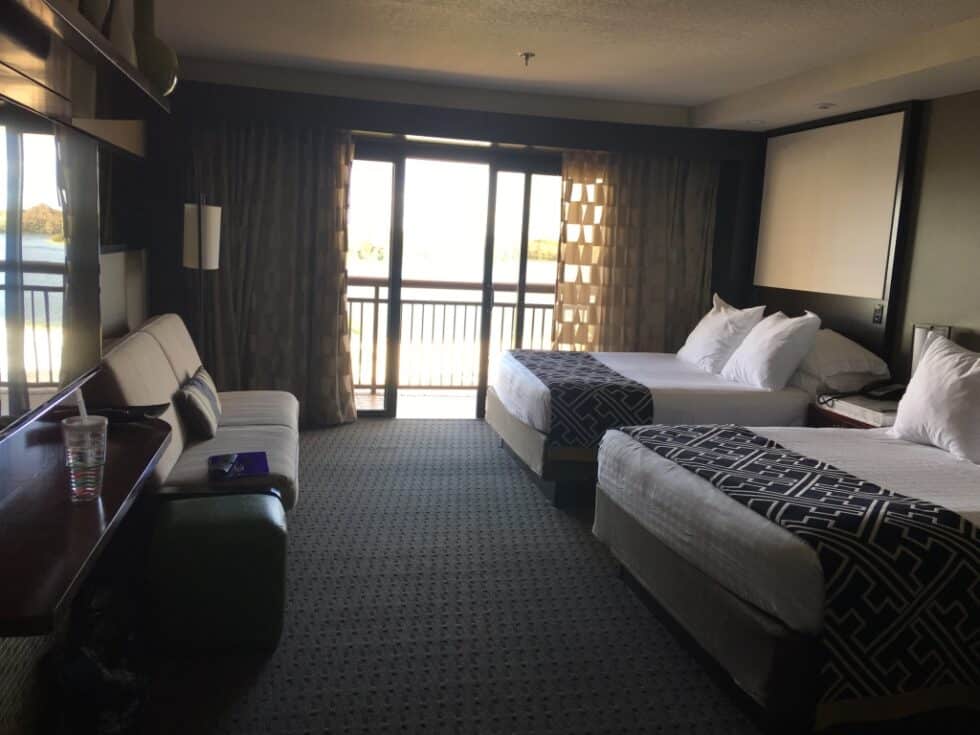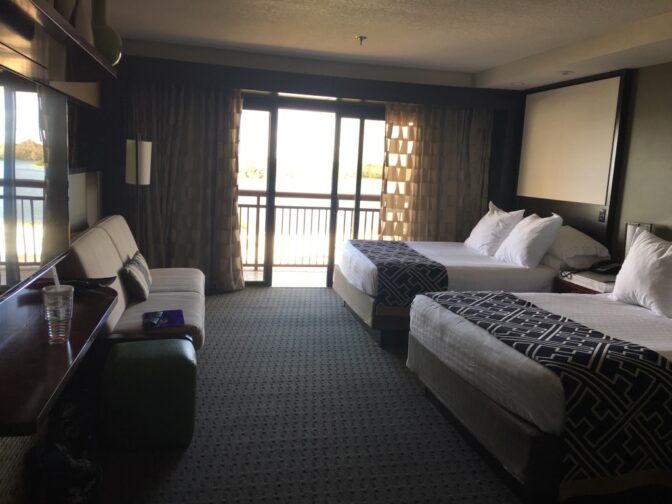 Even standard rooms at the Contemporary Resort are spacious – boasting an impressive 442 square feet. Boasting a large, built-in sofa bed, and sleek dark wood finishes, these rooms are fit for a King (or Queen.)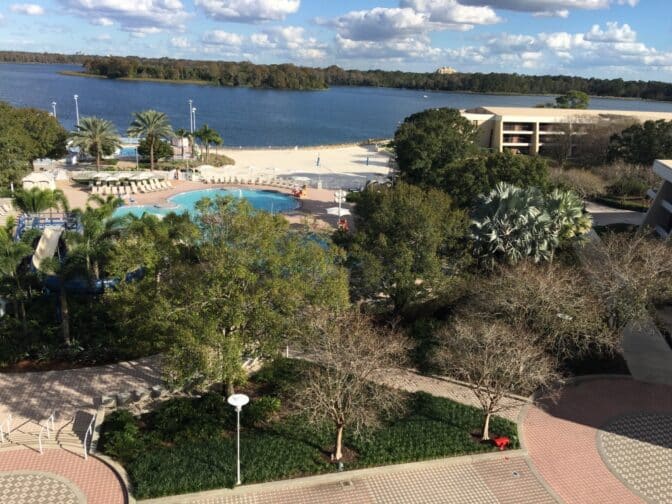 I enjoyed the expansive balcony, which overlooks the resort pools, marina, and lake. Taking my cup of coffee onto the balcony each morning and enjoying the beautiful lake view was such a treat.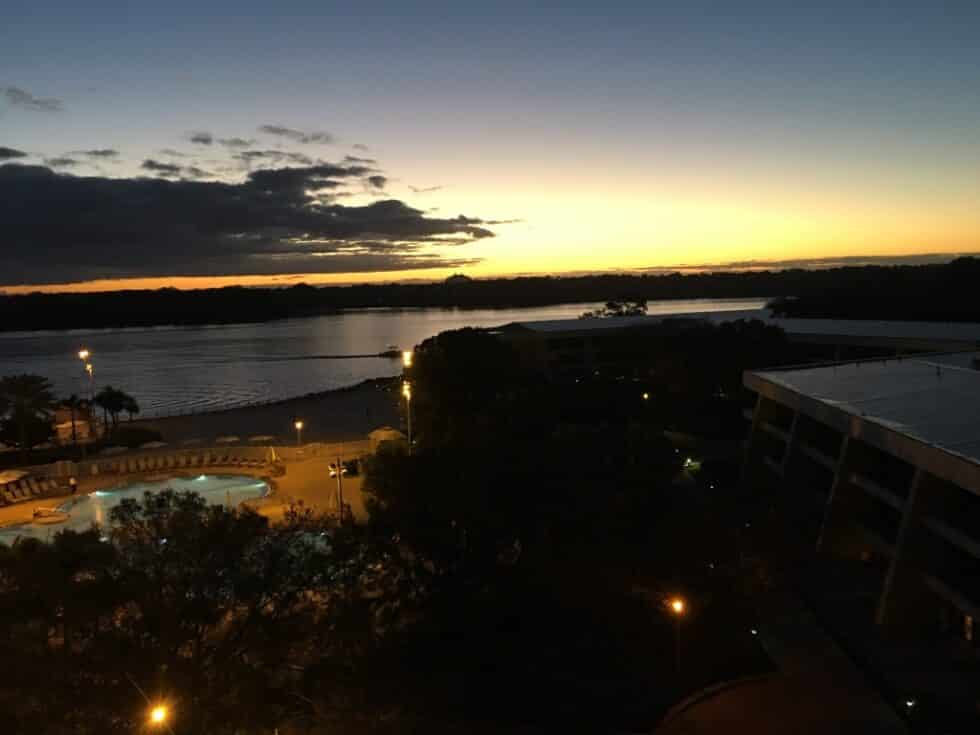 Each room comes with a single serve coffee maker, and it makes a perfect cup of coffee! There is a coffee shop in the lobby, which serves delicious hand-crafted coffee concoctions, smoothies, and various sweet treats.
I loved the bathroom design with its clean look. Instead of entering through a traditional hinged door, you have a sliding pocket door. Sleek, flat bottom white sinks, curved shower rod and a ladder like a towel bar holding five towels, enhances the modern look. The shower head offered a nice amount of pressure, enough to rejuvenate you after a day in the parks.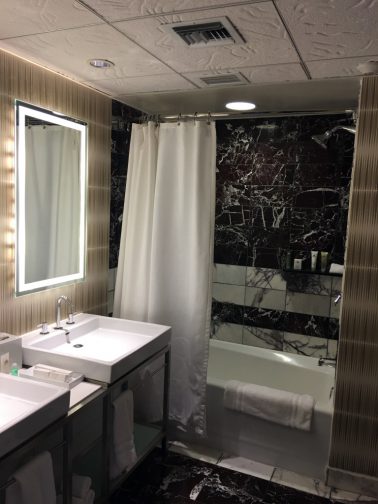 Amenities – Restaurants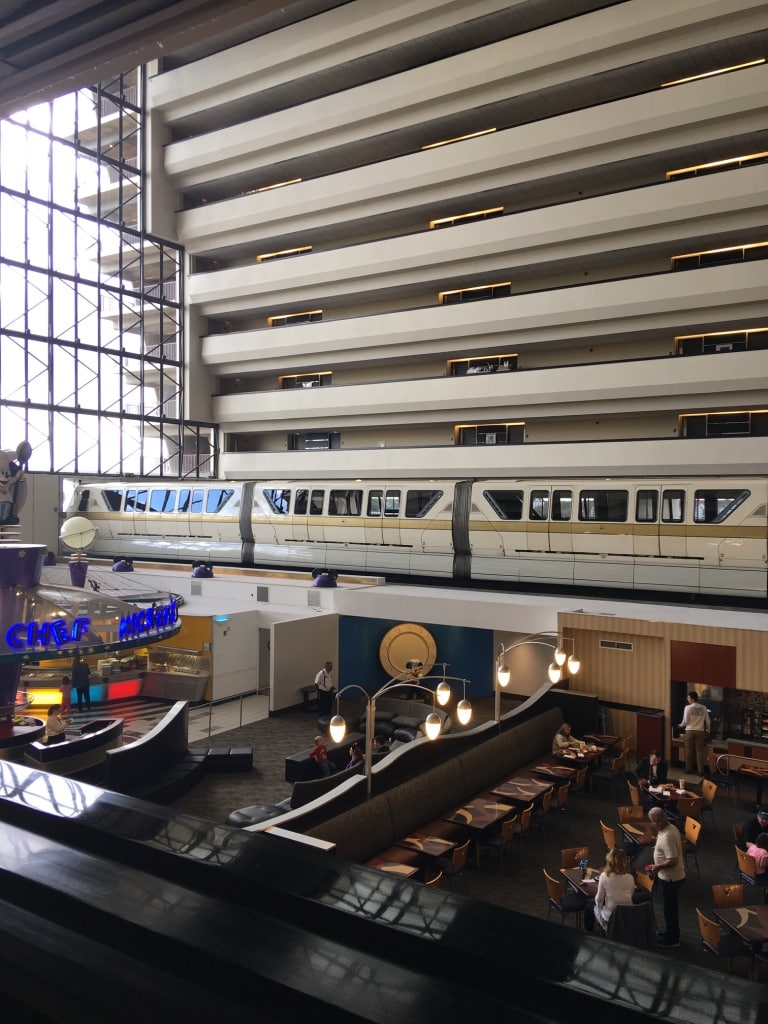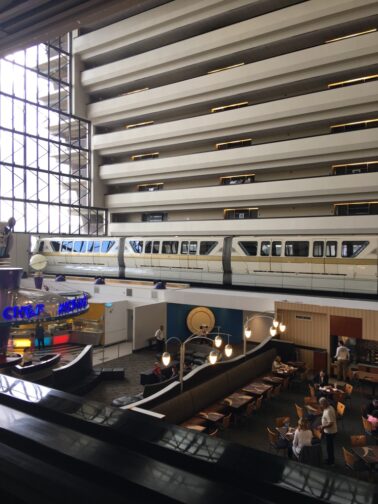 Chef Mickey's Fun Time Buffet.
For the kids and the kid in all of us, Chef Mickey's is an excellent choice! This lively dining venue features a character breakfast and dinner, with Mickey and his friends, Minnie, Goofy, Pluto and of course, Donald. You'll find yourself singing and clapping along to favorite Disney tunes. It's a great way to start or end your day at Disney! Chef Mickey's is open from 7 am to 2:30 pm and 5 pm to 9:30 pm.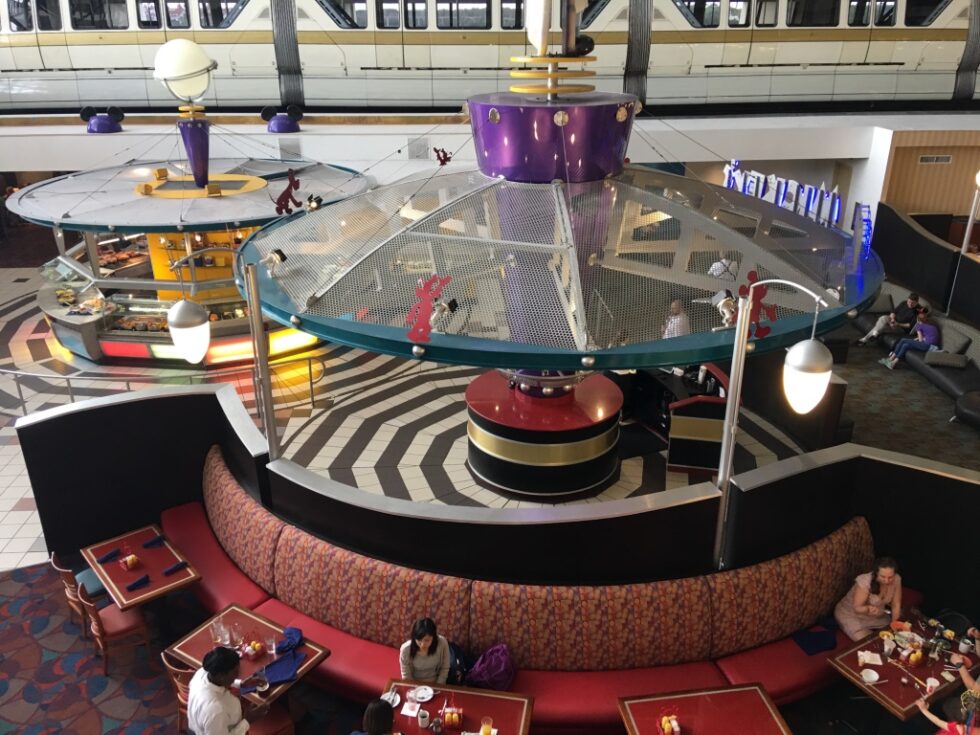 Contempo Cafe
The Cafe is open for breakfast, lunch, and dinner and is a great place to grab a quick meal and fuel up. They offer selections like waffles, breakfast platters, pasta dishes, sandwiches, salads, and pizzas. The Contempo Cafe is the perfect place for families who want a nice varied selection of culinary choices. The Cafe is open from 6 am to 12 am.
The Outer Rim Lounge
This Out of this World lounge offers expansive lake views, and a wide variety of cocktails (non-alcoholic and adult cocktails) and appetizers. The Outer Rim is open from 4:30 pm to 10:30 pm.
The Wave
The Wave can be found just off the lobby of the resort and features good old America cuisine. The focus of the eatery is to use foods that are locally sourced, organic and sustainably farmed. Preparing flavorful dishes and offering a variety of choices, I found the Wave to be my favorite place. The Wave serves breakfast, lunch, and dinner from 7 am to 10:30 pm.
California Grill
This upscale dining choice is the place for viewing the Magic Kingdom's nightly fireworks display. Offering a wide variety of cuisine from freshly made sushi, oven-baked pizza, seafood and vegetarian dishes, you'll have a hard time making a decision for dinner. The Grill offers a unique entertainment with an open kitchen where the chefs are "onstage" performing their cooking magic, preparing guests' meals. The Grill is open daily 5:30 pm to 10:30 pm.
Amenties – Pools & Spas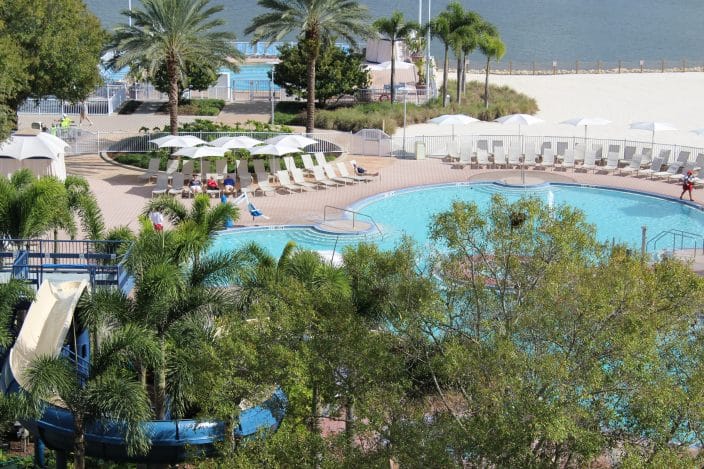 A 17-foot waterslide that meanders through the outdoor recreation area ends with a splash in the large pool that is the centerpiece of the recreation area. The slide offers plenty of fun for kids and adults.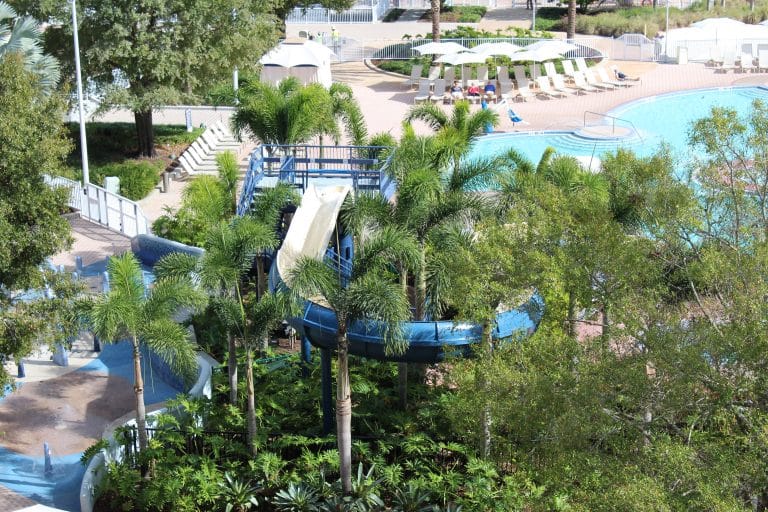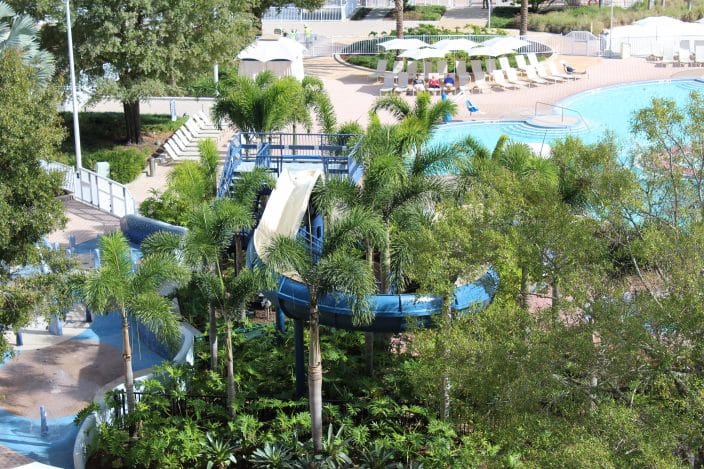 A second pool,  snuggled up to the lake area offers shallow sides and a deep middle, perfect for older teens and adults. The younger kids can join in the fun with a wading pool created just for them. Well thought out, and near each other, the recreational pool area is perfect for multi-generational family travelers.
 This post may contain affiliate links which won't change your price but will share some commission. As an Amazon Associate I earn from qualifying purchases.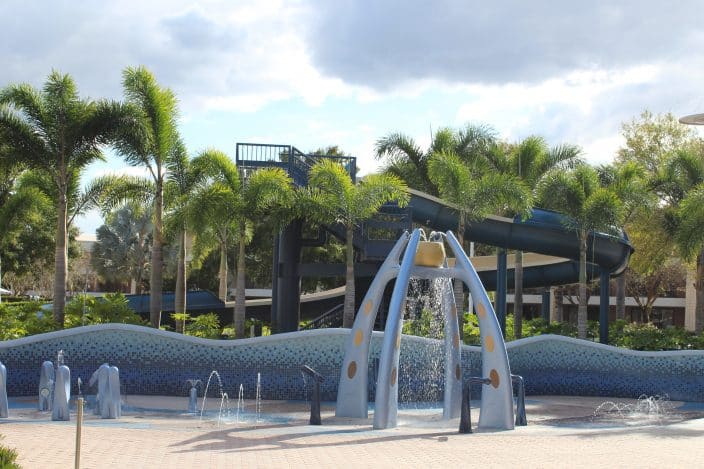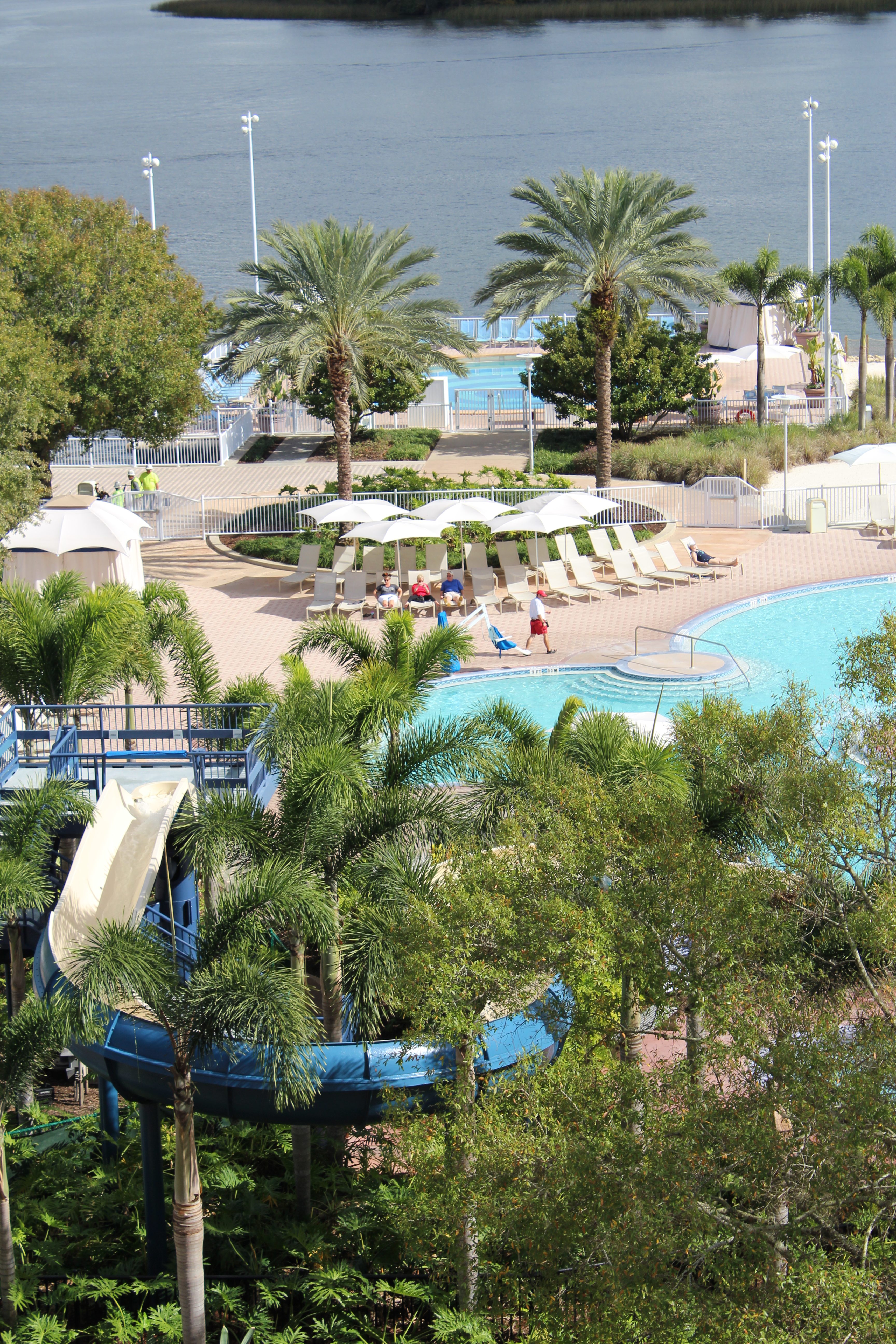 Amenities – Fitness Center
Boasting an impressive array of Nautilus equipment, including life cycles, treadmill, stair masters and hand weights, you'll be able to keep in shape for all the Disney park activities. After your workout, be sure and relax in the sauna.
Disney's Contemporary Resort is a Perfect Choice for a Multi-Generational Vacation!
The Contemporary Resort is a go-to choice for multi-generational travelers. With so many dining options, a full array of amenities and it's proximity to the Magic Kingdom and available transportation via the monorail or the Disney buses, it's the perfect location for your multi-generational vacation to Disney. Disney hit it out of the park with the Contemporary Resort!
CHECK OUT WHAT'S NEW ON BETSI'S WORLD
For more Florida travel ideas, check out our Orlando Hotel review. Fort Pierce has lots of family adventure, and Florida's largest Farmer's Market! Have you tried snorkeling in the Florida Keys?
We love to hear from our readers! Drop us a line and let us know your favorite Florida getaways!
More Florida Travel Ideas You May Like
SaveSaveSaveSave