A Romantic Getaway To Amelia Island
Pristine beaches, a unique history, and an abundance of impeccable dining are only a few of the reasons to consider a romantic getaway to Amelia Island Florida. Amelia island has all the charm and hospitality of the South, with the incredible beaches of Florida all bundled into one great, sunny destination.
Florida's Amelia Island is perfect for a romantic getaway
If you're looking for a romantic beach getaway in Florida, consider Amelia Island. Located just south of the Georgia border, Amelia Island boasts a unique history.
Known as the Isle of Eight Flags, the Amelia Island area was, of course, first home to the Timucuan tribe. Later, the area was ruled by eight different nations throughout its history. It is this historical distinction that draws history buffs to this unique sea island.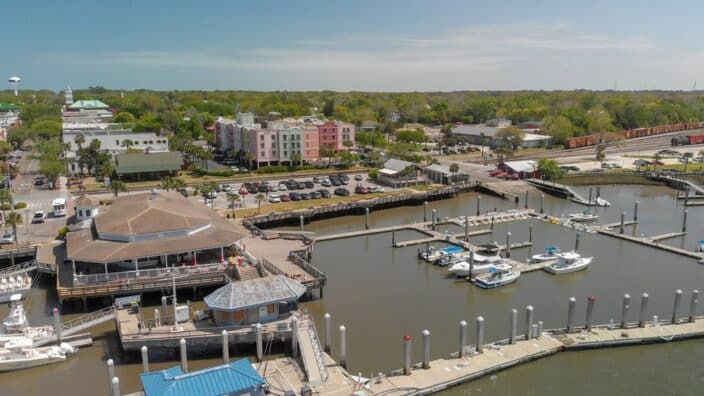 Places to Stay on Amelia Island for a Romantic Getaway
Seaside Amelia Inn
If you're planning an Amelia Island romantic getaway there are plenty of options for beautiful beachfront accommodations. Seaside Amelia Inn is located in the heart of everything close to the downtown Fernandina Beach area.
The crisp, fresh rooms of this stunning boutique hotel offer a welcoming retreat from a day at the beach. The inn features a rooftop deck and daily hot breakfast for free making it a great spot for an active, on-the-go romantic getaway.
The Hoyt House Bed and Breakfast
If you're seeking a more personal touch, The Hoyt House Bed and Breakfast is a charming and luxurious destination. Boasting southern charm and a relaxed setting, it is quiet and reserved yet in the heart of everything. You'll be close to downtown Fernandina Beach and surrounded by plenty of shopping and dining options.
Each guest room is beautifully decorated to reflect the early 1900s, each has its own private bath and as an added special touch, fresh cookies are presented upon check-in. The home was built in 1905 and resembles the Rockefeller Cottage located on Jekyll Island. The impeccably landscaped property features 10 guest rooms, a pool, and a hot tub. The Hoyt House is also home to the Amelia Lounge so you can share an in-room bottle of wine or enjoy a refreshing cocktail by the pool.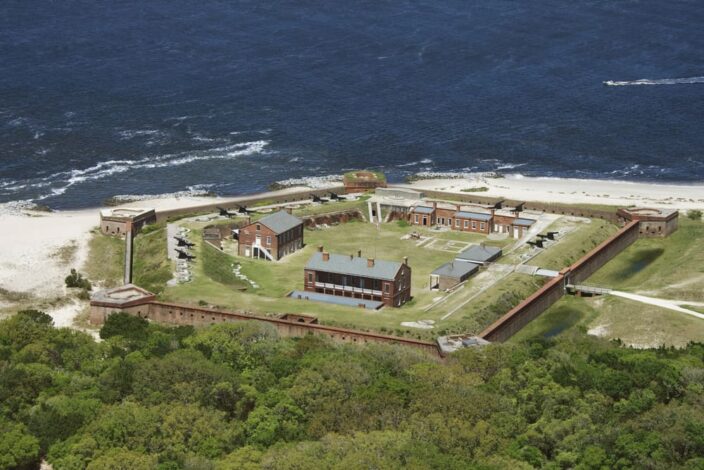 What to do on Amelia Island?
Amelia Island is perfect for couples looking for either a romantic beach getaway or one full of activity and adventure. Visit Fort Clinch State Park or go horseback riding on the beach. Spectators will enjoy learning about the history of the area on a carriage tour. There are also plenty of golf courses, boutiques, and antique shops to visit and fill your days.
Visitors to Fort Clinch State Park can explore the fort and learn about its Civil War history or take advantage of a number of walking and biking trails within the park. It's a great spot to get in a little history, get some fresh air, and enjoy time together exploring and making memories.
Don't forget your hat and polarized sunglasses while on your park exploration!
Each year, tourists visit Amelia Island to experience a wide variety of festivals and events. For budget-minded couples able to travel in the off-season, Amelia Island Restaurant Week is a multi-day culinary event. Held in mid-January it's a great way to experience a delicious dinner during your romantic getaway at a fraction of the price.
Seafood lovers will enjoy the yearly Isle of Eight Flags Shrimp Festival held in the Spring. The event is the areas most popular and his held in the downtown Fernandina area, kicked off each year by the Shrimp Festival Parade.
Fall is a great time to plan a getaway for two to Amelia Island. Auto fans and jazz aficionados head to Amelia Island for fun in the sun while enjoying their favorite things. Both the Amelia Island Jazz Festival and the Eight Flags Car Show are popular events.
Whether you enjoy getting in on the action or simply watch from the sidelines, Amelia Island is a great romantic getaway destination.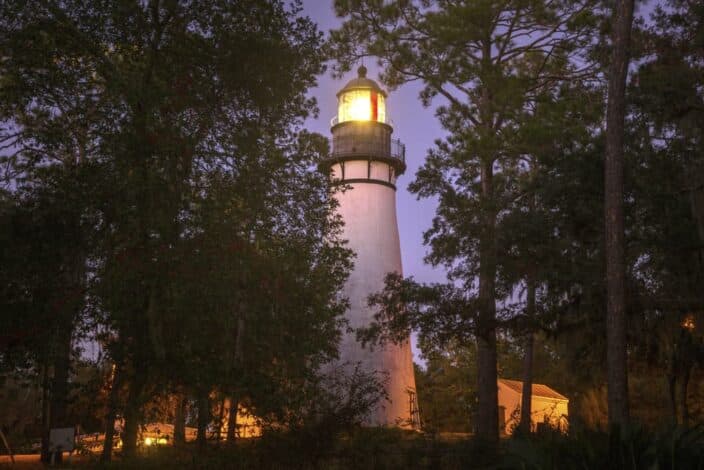 Amelia Island Romantic Dinner Ideas for Your Getaway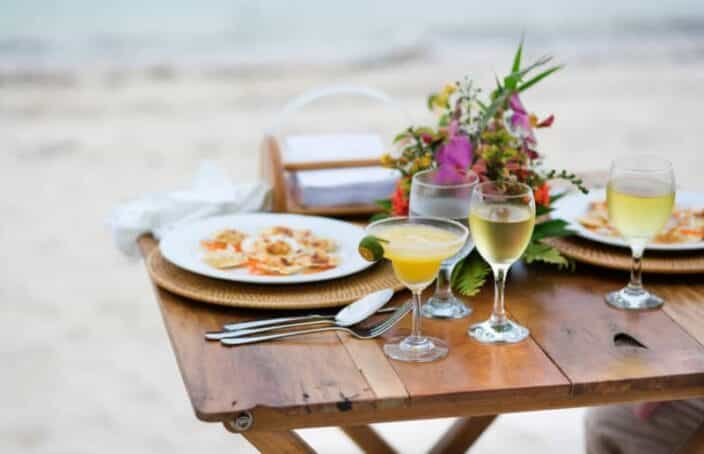 What would a romantic getaway be without a romantic dinner for two? Amelia Island is home to plenty of options for even the most discriminating tastes.
David's Restaurant and Lounge offers a unique steak and seafood dining menu that correlates to the elements. From the Ice menu, diners can choose from a selection of caviar, shrimp cocktail or a charcuterie platter. The Wind and Earth menus include crabcakes, clams, escargot, soups, and salads. Finally, rounding out the element theme, the Water menu includes fresh seafood offerings like Chilean Sea Bass and Alaskan King Crab.
Espana Restaurant is another cozy, hidden gem. Located in the nearby historic Fernandina Beach area, Espana is the place to go for wine or sangria. Here you can savor traditional Spanish and Portuguese foods, enjoy tapas or try an authentic paella.
For a cozy but luxurious romantic meal, Burlingame is the perfect couples romantic getaway dinner spot. With fresh ingredients that change seasonally, prepared by a talent chef local to the area, Burlingame is sure to be one of your favorite restaurants on your Amelia Island getaway.
If you're looking for a great place to have some drinks, look no further than Marlin and Barrel. This local distillery makes all their own spirits including vodka, rum, cello, and gin! It is truly a hidden gem of Amelia Island. You'll get an inside look at how the spirits are made, you may even seen someone zesting the oranges to make their Orangecello! The staff is extremely friendly and knowledgeable, making you feel right at home and ensuring you'll have a fun evening out with your sweetheart. Don't miss out on this distillery for an education in fine spirits and a delicious tasting during your romantic getaway!
 This post may contain affiliate links which won't change your price but will share some commission. As an Amazon Associate I earn from qualifying purchases.
Enjoy a Romantic Getaway on Gorgeous Florida Beaches
A romantic getaway to Amelia Island wouldn't be complete without a day at the beach. With several public beach access points, there are hardly any crowds to deal with.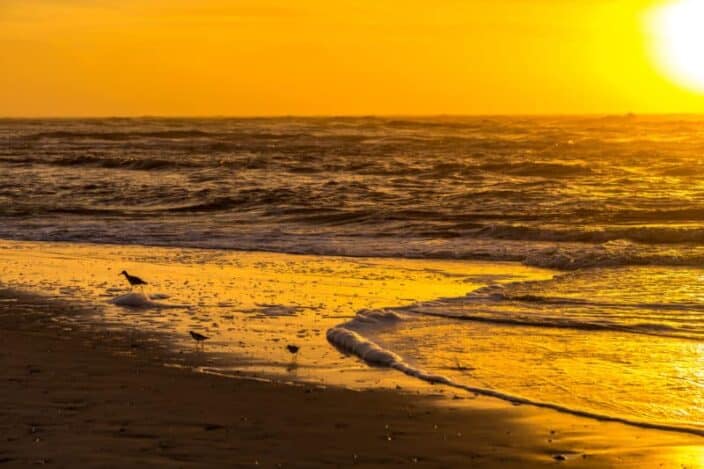 Aside from Fort Clinch State Park, Burney Park, Seaside Park offer stunning beach views with sandy areas to relax and play. There are also several numbered beach access points dotted throughout Amelia Island. You'll be able to find that perfect spot to make lasting memories with the one you love.
---
Amelia island is a true southern oasis, offering all the luxuries a romantic getaway needs! Explore the beautiful Atlantic coast while vacationing on this barrier island with your sweetheart, you're sure to have an incredible time.
If you are looking for some more romantic getaways in the south, check out our posts on Affordable Romantic Getaways in the South, Romantic Getaways in the South, and Romantic Getaways in Florida.
CHECK OUT WHAT'S NEW ON BETSI'S WORLD
Have you ever been to Amelia Island? Which of these restaurants and hotels look the best to you? We'd love to hear from you in the comments below!
Romantic Getaways in the South