If you are planning to visit Nashville, Tennessee and this is your first time you're in for a treat! Nashville, Tennessee is perfect for a romantic getaway or a fun, casual trip away. In fact, it's such a hot destination, you may never want to leave!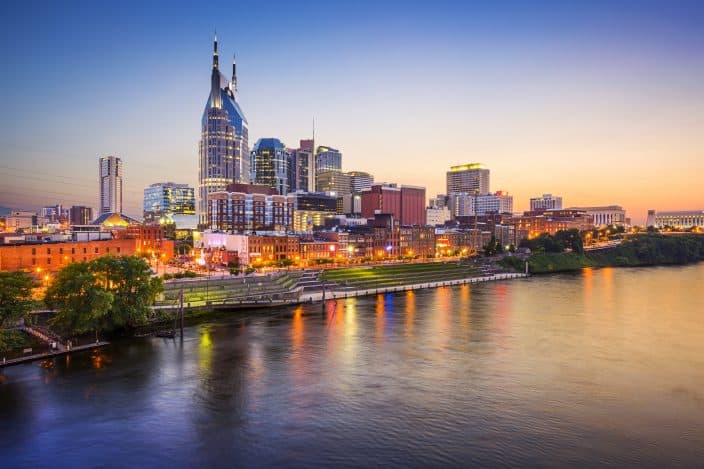 While Nashville, Tennessee is known for its scenic beauty, luxurious resorts, and exquisite fine dining, experiences which are ideal for couples, there is a lot that travel enthusiasts and a group of friends can enjoy, as well.
To help you make the most out of your next trip to Nashville, Tennessee, we've prepared a mini-guide containing all the hot spots, where to stay, and dine while on your vacation.
Where to stay in Nashville, Tennessee
Nashville, Tennessee is an exciting metropolitan city with plenty of wonderful places to stay. These include everything from high-end luxury hotels to more budget-friendly, comfortable lodging. We recommend that you plan ahead and book some incredible accommodations before you arrive. Here are some of our top choices to have a comfortable stay in Nashville, Tennessee.
Gaylord Opryland Resort & Convention Center
This luxurious resort is ideal if you are looking for the ultimate experience and a lovely time. The Gaylord Opryland Resort & Convention Center is one of the 30 largest hotels in the world. Its amazing architecture, resort facilities, and other services are top notch amenities you'll want to take full advantage of. Plus, it has a whole water park with plenty of slides to beat the heat!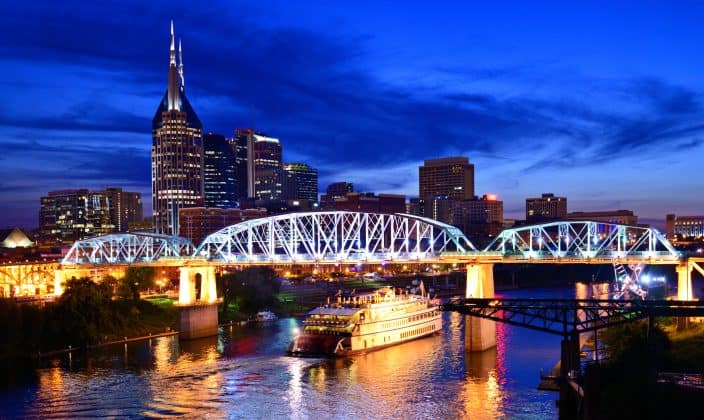 Gallatin Hotel Nashville, Tennessee
This boutique hotel is a beautiful architectural marvel. Located in the most creative district of Nashville, the Gallatin Hotel offers modern facilities plus the aesthetics you want. This is a great option if you are looking for something budget friendly and artistic during your stay in Nashville.
Element Nashville Vanderbilt West End
Element is a great hotel for an extended stay in Nashville. The rooms are spacious an modern, offering suites with kitchenettes and plenty of workspace. The hotel has a relaxed and fresh interior with wood and blue accents, the perfect place to relax after a busy day in the city.
If you wanna get a workout in, you can do that in their modern gym and grab a drink afterwards their very, chic bar. Plus, you'll get access to a rooftop pool with a beautiful view of the whole city. What more could you ask for?
JW Marriot
Well, this is another high-end, posh, and very expensive accommodation available in Nashville Tennessee. However, with extra bucks, you are surely getting a lot in return. JW Marriot is one of the giants in the hospitality industry and the level of comfort they provide is simply unparalleled. 
Amongst other facilities, the hotel has a spa, a pool on the rooftop, impeccable restaurants that serve local fare, a few bars, a bakery, and a huge convention center. The JW Marriot never disappoints and it certainly won't in Nashville.
Loews Vanderbilt
The Loews, Vanderbilt hotel is a romantic oasis for couples in Nashville. Their most beautiful rooms, the king's rooms are located on the rooftop, so you will wake up to an amazing morning view each day.
Don't forget to stop by their famous Mason's Bar during your stay. Chill by the pool while you enjoy that chilled margarita. Also, if you are on the road, the one-night park and stay package is worth a try! 
What to do & Where to go in Nashville Tennessee
Nashville is a bustling city full of life. Once you are there, you'll have plenty of opportunities to explore and sight-see. Here are a few must-see things that will leave a lasting impression. 
Country Music Hall of Fame & Museum
The Country Music HOF and Museum in Nashville, Tennessee is one of the biggest museums in the world. It is dedicated to preserving and celebrating country music. The museum is also known to have the world's most extensive musical collections. If you, like many others, love Country music, you will love exploring its fascinating history.
Central Park: The Parthenon
Well, this one is one for the photo and memory books. Let us tell you that this spot in Nashville, produces some of the best pictures possible. 
Centennial Park in Nashville, Tennessee is a huge field of green grass, trees, beautiful views, and a breath of fresh air. On it lies one of its most famous attractions: the Parthenon! It is an exact replica of the historic Greek landmark. Don't forget your camera!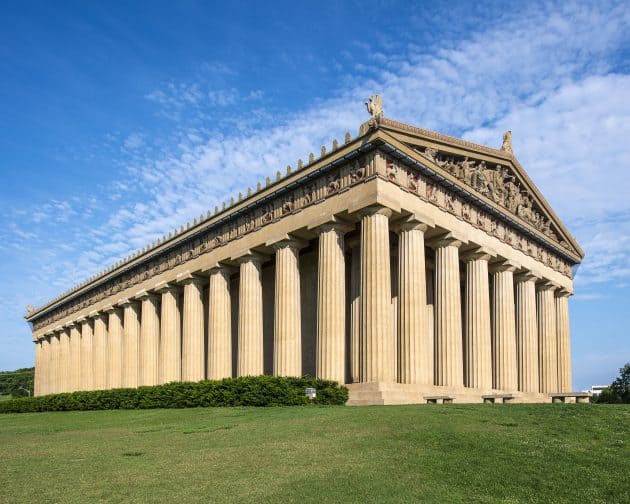 Tennessee State Museum
If you are a history buff, you will definitely want to visit the Tennessee State Museum. It is the largest museum in Nashville and it depicts the entire history of the state. If you are a car lover, the Lane Motor Museum is another museum that should be on your list. Home to the largest European car collection, as well as classic cars and motorcycles, this museum a sweet journey back in time.
Adventure Science Center
The Adventure Science Center in Nashville is a non-profit science museum and recreation center. This center is perfect for the kids, as it has over 175 interactive exhibits that carry different themes. If you are visiting Nashville with your family, this should definitely be on your list.
Broadway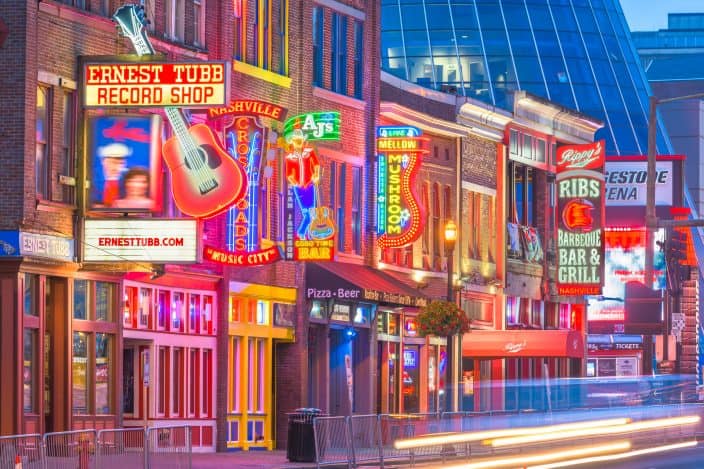 Broadway street is one of the most famous streets in the world. It is located in the downtown area of Nashville. Walking down this street at nighttime feels like you are in a colorful, festival. With scenes like live country music with bright lights, this street is always bustling with excitement. 
You will find many restaurants, dessert spots, hotels, stands, retail shops, and other must-see attractions here. Don't miss out on this iconic spot during your trip.
Warner Parks
The Warner Parks are considered a legendary part of Nashville's illustrious history. If you are in Nashville, Tennessee and want to have a camping trip outdoors, the Warner Parks offer a lot of conserved wilderness. Settle into your tent in a huge field of greenery and peace. 

 This post may contain affiliate links which won't change your price but will share some commission. As an Amazon Associate I earn from qualifying purchases.
Where To Eat
Just like everything else, Nashville, Tennessee offers top notch dining options, as well. From high-end restaurants to the local street food, you will always find something to satisfy your taste buds in Nashville,Tennessee.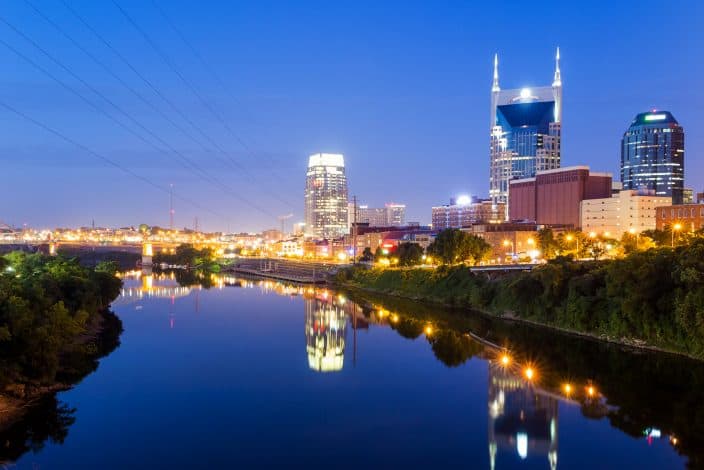 If you are looking for convenient eating options, the aforementioned hotels have some very nice restaurants and bars as well. Here you will have all kinds of cuisines to choose from. Broadway in the downtown area is also a good spot to find something nice to eat, as well as delicious local street spots. Here are a few of the places we think are definitely worth a try and will never disappoint. 
Valentino's Ristorante
Valentino's is another great option for lovers on their romantic getaway to Nashville, Tennessee. This Italian restaurant serves the best homemade pasta you will ever eat. While you enjoy the pasta, the moment becomes magical with live music and wine. 
The ambiance at the restaurant is also an added plus. The beautiful décor and soft atmosphere really soothes the mind and sets up the mood for a great rest of the night. 
Kayne Prime Steak House
Kanye Prime Steak House serves one of the best steaks in America, hands down. If you are a steak lover and you can't make a trip to Nashville without trying this hot spot.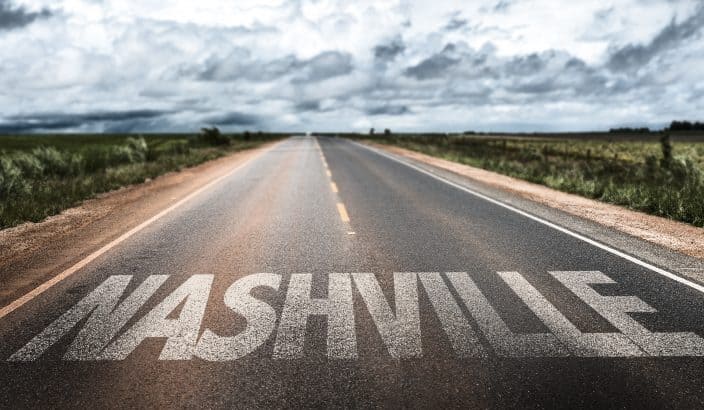 ---
Nashville, Tennessee has to be on your list for a travel destination this summer. The hot spots we just covered are just a small fraction of what this beautiful city has to offer. Simply put, it is a blend of soulful American country music, illustrious history, and magical landscapes- a perfect recipe for an unforgettable vacation. 
In fact, Tennessee is filled with more beautiful locations that are suited best for blissful romantic vacations. Find out more about what you can do in Tennessee with our guide  Romantic Tennessee Getaways For Two!
CHECK OUT WHAT'S NEW ON BETSI'S WORLD
Have you ever visited Nashville? What did you love most about it? Let us know in the comments below!
More Southern Getaways You May like