Great Places To Stay In Charlotte
There are plenty of great hotels in Charlotte, North Carolina. Small bed and breakfasts to large resort style hotels are available in this metropolitan area.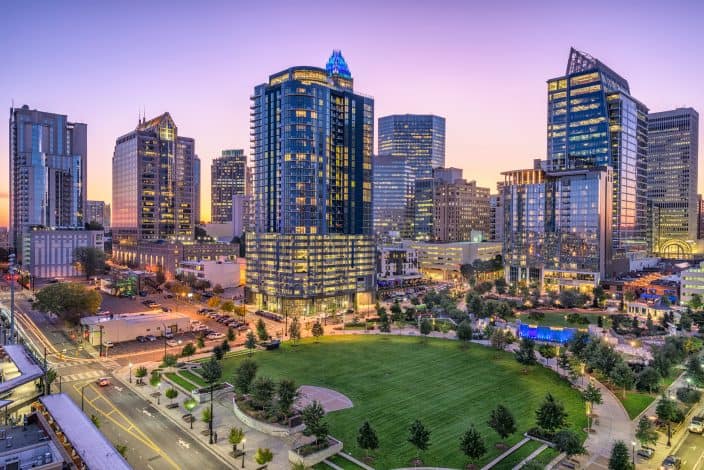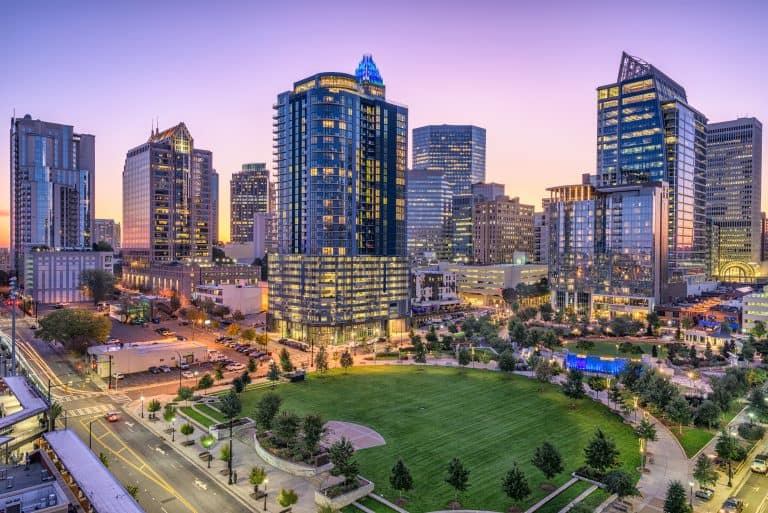 However, there are just a handful that are truly special. If you are looking for a extraordinary experience on your next vacation to Charlotte these choices are bound to wow you.
The Best Luxury Hotel in Charlotte
Kimpton Tryon Park Hotel
Located in Uptown Charlotte, The Kimpton Tryon is one of the best known luxury hotels in Charlotte, NC. The hotel over looks beautiful downtown Charlotte and is a true reprieve from the bustling and busy nature of the city. After a long day exploring the city, come and relax at the rooftop bar.
The Kimpton's rooftop bar, Merchant and Trade, is expertly designed with chic furniture and a sleek bar. You have the option to sit inside or outside while listening to the hottest music, munching on tasty bites, and sipping on creative cocktails. The view from the rooftop is truly spectacular and gives you a quick break from reality. Enjoy the atmosphere with your romantic partner, friends or colleagues!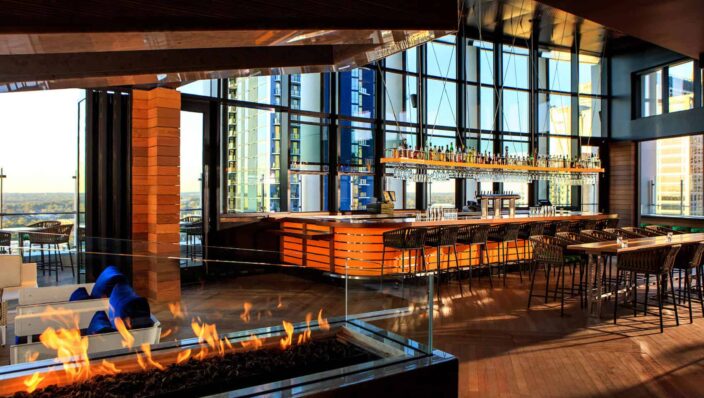 After drinks on the roof, you can grab a hearty dinner at their onsite restaurant Angeline's. Angeline's is an Italian inspired modern American restaurant that uses seasonal ingredients to craft delicious dishes with flare. Don't miss out on their Italian beverages like Limoncello and Negroni you'll be instantly transported to Italy!
Retreat to your room to find a comfortable and modern aesthetic with marble bathrooms and plush bedding. The rooms feel light, airy and best of all clean! Take in the view of the city through a large window and settle into your luxurious bed.
The Best Boutique Hotel In Charlotte
The Ivey's Hotel
Another hip Uptown hotel in Charlotte, The Ivey's Hotel is a boutique hotel, known for its Parisian inspired décor and opulence. The atmosphere, attention to detail, and close proximity to the main attractions in Charlotte, make it a perfect place for a romantic getaway.
Cuddle up with your loved one in their Library Room (yes, it's exactly what it sounds like) and enjoy breakfast, charcuterie boards, as well as cocktails. It's a cozy lounge on the second floor that is ideal for engaging conversations and relaxation among old books.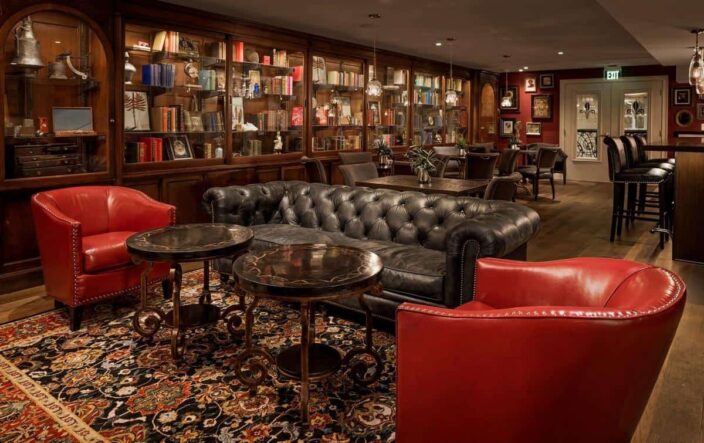 When staying at the Ivey's, you'll never have the same experience twice. Each room at the Ivey is decorated in a fun and unique way. Whatever room you end up in, however, you're sure to have a wonderful experience. The floors are made from 400 year aged oak, custom art hangs from the walls, and beds are made up with Italian bedding.
When you aren't enjoying the Library Room or the other onsite amenities like their extensive gym, you can visit the Mint Museum,The Blumenthal Performing Arts Center, or the NASCAR Hall of Fame. The staff at The Ivey's is extremely knowledgeable and friendly, whatever your needs and inquiries are, they are sure to be of service!
The Best Resort- Style Hotel in Charlotte
The Ballantyne Hotel
Nestled in Southern Charlotte on a gorgeous estate, The Ballantyne Hotel is an oasis all its own. Tucked away from the hustle and bustle of downtown Charlotte, this hotel offers its guests a luxurious resort experience. If your goal is to relax and be pampered you can visit their incredible spa, swim in one of four pools (both indoor and outdoor), relax under a cabana or play lawn games.
Golfers take note, the Ballantyne offers an incredible championship golf course on which you can putt for hours. The views of the surrounding countryside instantly bring you a feeling of peace and tranquility.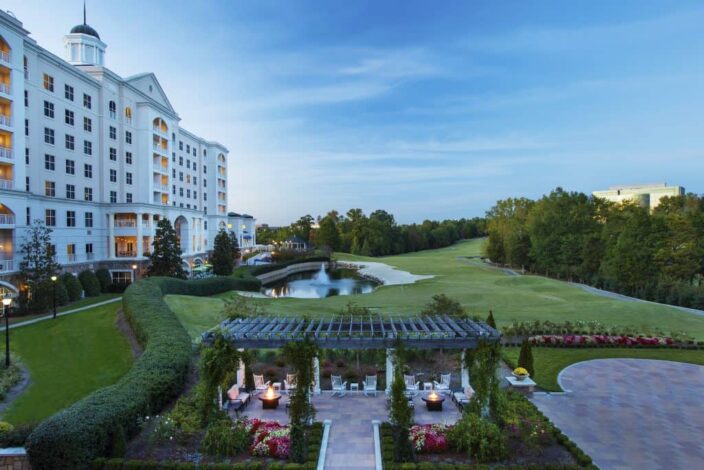 Whiskey lovers will love The Gallery Bar which houses the largest collection of whiskeys in the state. Here you can awaken your senses with daily whiskey flights and choose from more than 700 different wines!
Enjoy dinner at The Gallery Restaurant which features the freshest ingredients from local farms. For breakfast, don't miss out on the Shrimp and Grits which comes with andouille sausage, creamed charred corn, and prosciutto. It's the perfect southern breakfast! A stay at the Ballantyne is certainly southern luxury at it's finest!
 This post may contain affiliate links which won't change your price but will share some commission. As an Amazon Associate I earn from qualifying purchases.
A Bed and Breakfast In Charlotte
The Duke Mansion
If you're craving a bed and breakfast experience you won't forget, look no further than The Duke Mansion. Let yourself be transported back in time at this traditional southern mansion.
The Duke Mansion rests on 5 acres of land filled with beautiful gardens and trees. It is the perfect place to enjoy a slower romantic getaway. Visitors can sit on the porch and drink tea while gazing out over the lush green grounds.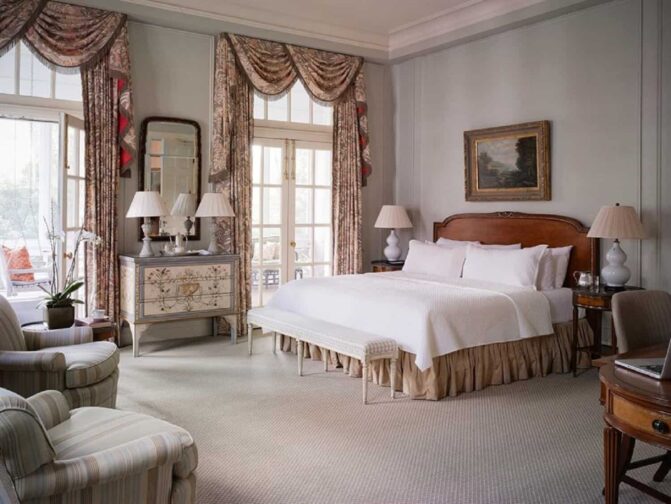 This historic mansion in Charlotte only has rooms, ensuring that each guest gets specialized attention. The rooms are full of southern charm, with windows over looking the gardens. The Duke mansion also offers packages for guests like the Picnic in The Garden package. In this package guests can picnic in one of there many gardens. For the picnic you will receive a basket with food prepared by the chef, champagne or wine, and a blanket. It's a great option for those looking for a romantic getaway in Charlotte, North Carolina!
A Historic Hotel In Charlotte
The Dunhill Hotel
For an extraordinary taste of history, consider staying at the Dunhill Hotel. Originally opened in 1929, the Dunhill Hotel is part of the Historic Hotels of America and features vintage bedrooms, and even a ghost! Of course, modern amenities are now in place, but the hotel still holds its original early 1900s charm.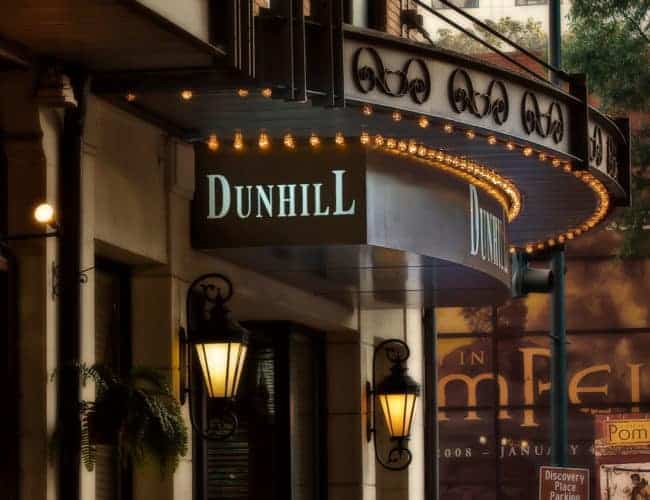 While staying at this boutique hotel, you can dine at the Ashbury. The restaurant was named after the architect who originally designed this historic hotel. The Ashbury showcases the South through its creative dishes, ingredients and hospitality. While there, you can taste everything from sticky biscuits, to braised pork cheeks, to a fried snickerdoodle whoopie pie. Plus, the restaurant is open for breakfast and lunch, as well as dinner. It is true food indulgence at it's finest!
Enjoy Luxury In Charlotte
These luxury hotels are some of our top choices for hotels in Charlotte, North Carolina. What is great about Charlotte is that you can get a little bit of everything. History buffs, nature adventurers, and city explorers can find happiness in this booming city. Best of all, the exploration doesn't stop when you reach the hotel!
Charlotte, North Carolina has a lot to offer in the way of food, lodging and fun activities. If you're looking for ideas on what to do while visiting Charlotte, North Carolina, check out our recommendations on The Best Things To Do In Charlotte.
Planning your trip to Charlotte soon? Make sure you have durable luggage to travel with! I love this carry-on for a weekend getaway or other short trips. It is light, durable, and has 360 degree spin wheels, perfect for easy maneuvering in the airport and city!

CHECK OUT WHAT'S NEW ON BETSI'S WORLD
Which of these hotels sounds perfect for you? We'd love to hear from you in the comments below!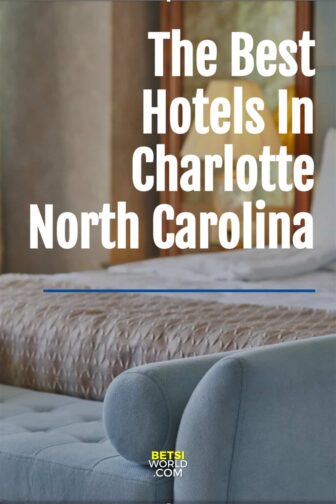 You May Also Enjoy These Getaways