Romantic Getaway in Virginia
Virginia is a beautiful state that offers a wide range of locations to enjoy. While in Virginia you can have fun at many of the attractions, check out the magnificent scenery or simply stay in your room for a bit of weekend fun. Whatever you choose to do during your Virginia romantic getaway these Virginia romantic getaways will give you some options for accommodations so that you can plan your getaway with ease.
We all know that the stress of life can get to us. When that happens, it's time for a romantic getaway with your partner. Reconnect with each other as you explore the South and all the choices for a romantic couples getaway.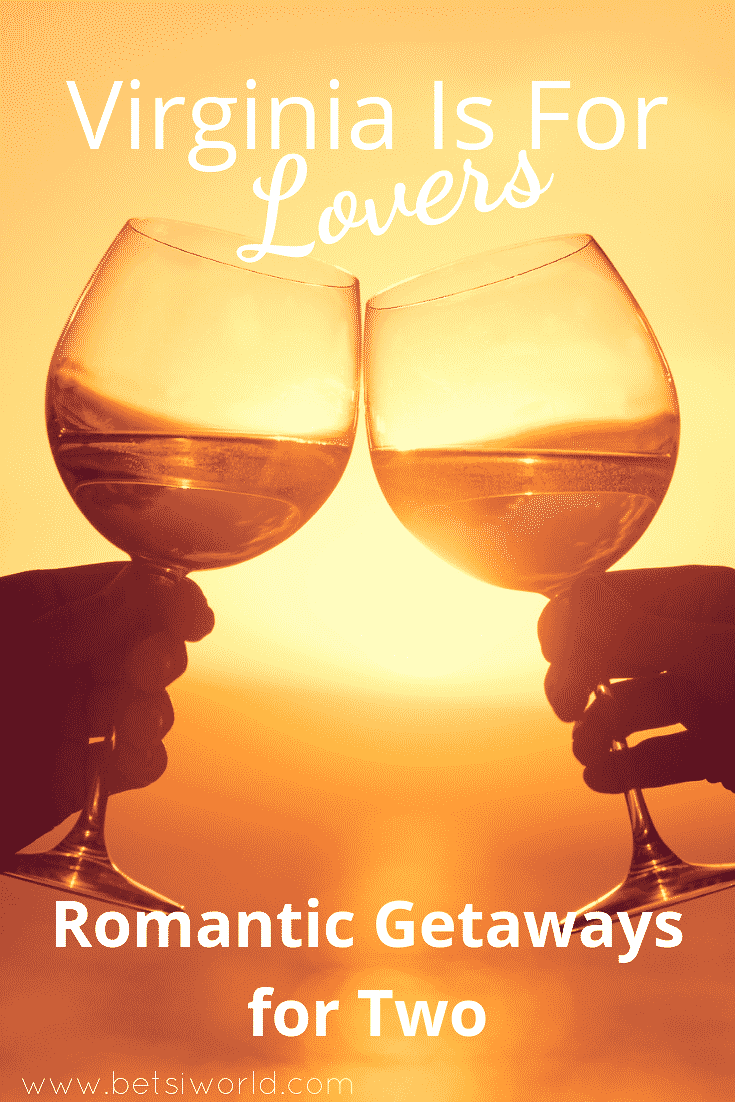 Romantic getaways in the South are plentiful. There are lots of options for a Virginia romantic getaway. Take a Virginia romantic getaway and escape from the pressures of everyday life. Mountains, beaches, and vineyards give you opportunities to relax, unplug and focus on romance.
This post may contain affiliate links which won't change your price but will share some commission.
Virginia Romantic Getaways: Chincoteague Island 
Where to Stay
This small beach community on Virginia's Eastern Shore oozes southern charm. The sunrises and sunsets are spectacular.
There are several choices of where to stay in Chincoteague. Here are our top choices for a Virginia romantic getaway in Chincoteague:
Channel Bass Inn – Built in 1892, the Channel Bass Inn has six beautiful rooms with private baths. Enjoy an after glass of wine with the other guests. The inn also offers breakfast and afternoon tea. If you are musically inclined, teatime is a wonderful chance to hone those musical chops and share your gift! Borrow a bicycle and take a spin exploring the area. The inn is close to Assateague Island, so grab towels, chairs, and umbrellas from the inn, and make it a beach day on Assateague Island.
The Island Manor House – Built in 1848, the Island Manor House Bed & Breakfast is Chincoteague Island's most historic home. The Manor House is an ideal choice for your Virginia romantic getaway! The Island Manor House knows does romance well! They have nine elegant rooms and four common rooms for relaxing, games, conversation, or an afternoon glass of vino. The inn will happily let you borrow bikes, towels, and other beach items. The Chincoteague seashore is the "last frontier" between Ocean City and Virginia Beach and is unspoiled and undeveloped. The inn is located on historic Main Street, and within walking distance from restaurants, shops, and other activities.
For a more modern stay, Marina Bay Hotel & Suites is our top choice! Marina Bay Hotel & Suites is Chincoteague's first boutique hotel. Uniquely situated on the harbor, you'll be breathing the fresh ocean breeze as the stress leaves your body. Watch the sunset from your balcony. Walk down Main Street for superb seafood and shopping galore. Travel + Leisure rated the Marina Bay Hotel & Suites #1 for "most comfortable hotel bed".
What To Do
The top draw for many to visit Chincoteague is to see the wild ponies on Assateague, just a short ride over from Chincoteague. The ponies are "owned" by the Chincoteague Volunteer Fire Department. They are allowed to live on Assateague with a special US Fish & Wildlife permit.
During the month of July, 40,000+ people descend on this little slice of island paradise for the annual pony swim & auction. "Saltwater Cowboys," members of the Chincoteague Volunteer Fire Department, round up the ponies and swim them across the channel from Assateague to Chincoteague. All money raised from the event go to the fire department to offset the cost of providing firefighting services to the town.


Assateague National Seashore has a lighthouse that you can climb, along with wild and beautiful seashore, hiking and biking trails galore!
Take a stroll and go shopping! You'll find plenty to catch your eye – from beachy souvenirs, shells, saltwater taffy, kites, beach towels, and clothing can all be found in some of the cute shops.
One of the coolest things that Jim and I would often see when sailing the Chesapeake Bay, were the rocket launches from Wallops Island. Wallops Island is the home to the NASA facility and launch center. Although it's not open for public tours, they have a visitor's center that is open to the public Tuesday to Saturday from 10 am to 4 pm. Admission is free. You can learn about the history of this facility and the programs that are conducted there. This facility still launches rockets with the launch pad located 4 miles from the visitor's center and you will have a clear view from the ground to the sky from there. On major launch days, you would need to be at the facility 4 to 5 hours prior to the launch as it gets very crowded.
Virginia Romantic Getaways: Virginia Beach
Virginia Beach is a paradise for foodies, making it our 2nd choice for a Virginia romantic getaway.
Where to Stay
Cavalier Hotel – The Cavalier Hotel is certainly the grand dame of Virginia Beach. Opened in 1927, she has stood on a high hill overlooking the oceanfront of Virginia Beach. Movie stars and dignitaries from around the world have graced her halls. Will Rogers, F. Scott Fitzgerald, Frank Sinatra, Bob Hope, Calvin Coolidge, Herbert Hoover, Harry Truman, John F. Kennedy, Mohammad Ali and others have stayed at the Cavalier.
Oceanaire Resort Hotel – With valet parking and a bar with a lounge, you'll have a blast getting away for a little romance right on Virginia Beach during your Virginia romantic getaway at Oceannaire Resort Hotel. This fabulous hotel offers deluxe rooms high-end suites with oceanfront outdoor pools, jetted tubs and stainless steel appliances to suit any couples desires while venturing out for a romantic getaway together.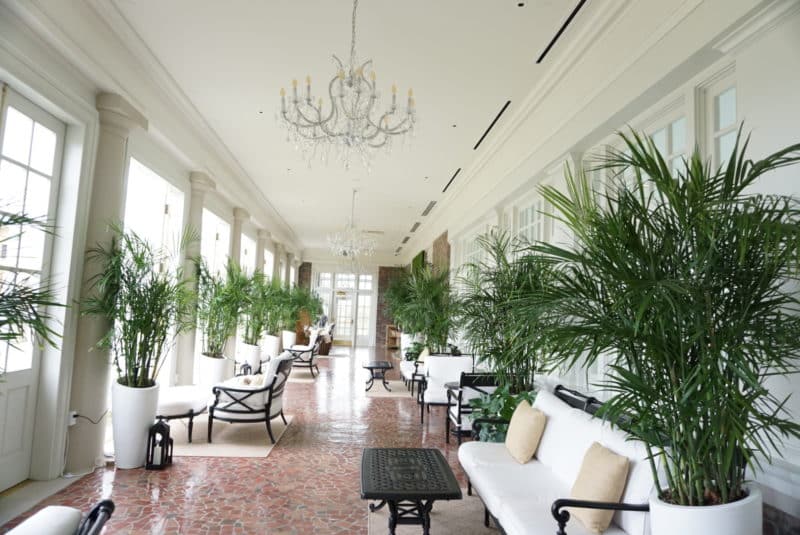 What To Do
A perfect recipe for romance can be found in Virginia Beach. Start your day walking hand-in-hand on the beach watching the sunrise. Then head out for some hiking adventure, exploring the many hiking and biking trails at the beach – a great place to start is First Landing State Park. After hiking the trails, cool off with some amazing Virginia Beach craft beer! Click here for the Beer Trail Guide to Virginia Beach Craft Beer and Breweries. A couple of our favorite breweries are Wasserhund Brewing Company and Young Veterans Brewing Company.
If your taste leans towards good spirits, Virginia Beach has several craft distilleries. Check out the Chesapeake Bay Distillery located in the heart of the ViBe District. Tarnished Truth Distillery, located in the Cavalier Hotel, is brewing up some good Bourbon Whiskey.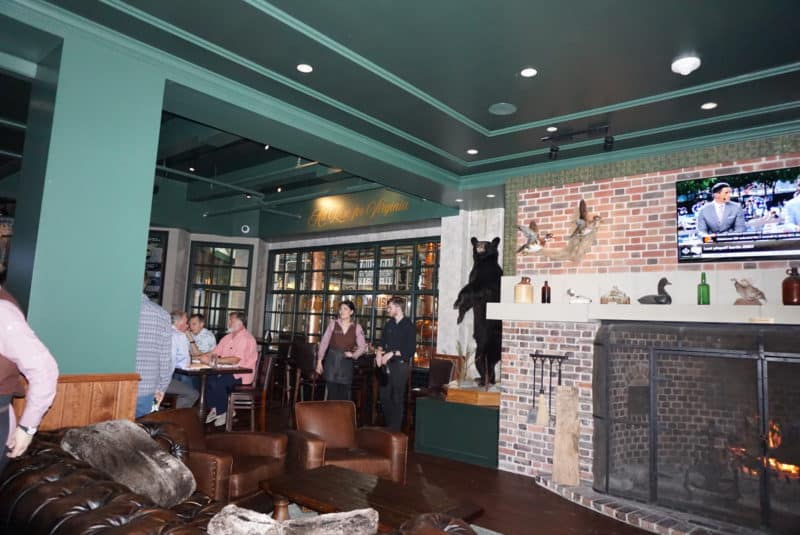 With so many restaurants serving up a diversity of food, Virginia Beach is a true foodie town. No matter what you choose, Virginia Beach is sure to please your palate!
Virginia Romantic Getaways: Williamsburg
Williamsburg seeps history no matter where you go!
Where To Stay
Kingsmill Resort – Whether you opt for the bed & breakfast package or just select a room that fits your needs for your next Virginia romantic getaway, the Kingsmill Resort will provide you with a much-needed place to relax, rejuvenate and reconnect. With a spa for two option right there at the resort, as well as a shuttle to get you around the resort and to other Williamsburg attractions you won't need to do much when you stay at this location during your time away from home together.
The Williamsburg Inn – The Williamsburg Inn, located in downtown Williamsburg is luxurious, and perfect for a romantic Virginia getaway!
What To Do
Williamsburg was founded in 1699 and has so much to offer! If you love being immersed in history and culture, then definitely put Williamsburg on your list for a Virginia romantic getaway! The historic district of Williamsburg will give you a peek into what daily life was like in Williamsburg. This is an opportunity to unplug and reconnect as you explore together.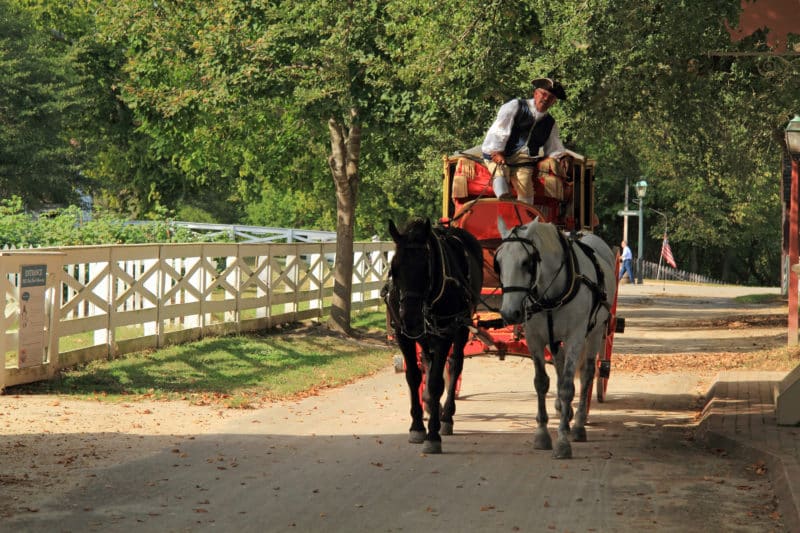 If you are an art lover, then take some time and explore Williamsburg's art scene.
For more history, explore Freedom Park. Freedom Park is one of the first free black settlements in America, dating back to 1803. It is also the site of the Revolutionary War Battle of Spencer's Ordinary in 1781. Hiking trails, a 600-acre forest, and 20 miles of mountain bike trails can also be found here.
Make Waller Mill Park a stop, with its 36-acre lake and hiking trails. Rent a pedal boat, or spend the day fishing or playing disc golf.
Virginia Romantic Getaways: Waynesboro / Charlottesville
Snuggled up against the foothills of the Blue Ridge Mountains, you'll encounter roads that snake up the mountainside, vineyards tucked away, and little bed & breakfasts scattered throughout the area, making a perfect backdrop for a Virginia romantic getaway.
Where To Stay
This list of Virginia romantic getaways could go on forever, but I wanted to focus on the top locations that seem to work well for other couples who have sought out a romantic weekend in Virginia. These inns and hotels will provide you with the right amount of privacy, accommodations, and views to sit back, relax, and reconnect with that special loved one in your life. If planning a romantic getaway overwhelms you, we can help!
For More Getaway Ideas, You Might Like