A Virginia getaway is the perfect way to experience some of the best that the South has to offer. It is a beautiful state that has a wide range of locations to enjoy. While in Virginia you can have fun at many of the attractions, check out the magnificent scenery or simply stay in your room for a bit of weekend fun.
No matter the season, Virginia is beautiful. The variety of landscapes from beaches to mountains to vineyards makes it a popular choice for couples, families, and solo travelers alike. Whatever you choose to do during your Virginia getaway this travel guide will give you some options for accommodations so that you can plan your getaway with ease.
Virginia Getaway: Chincoteague Island
Where to Stay In Chincoteague Island
This small beach community on Virginia's Eastern Shore oozes southern charm. The sunrises and sunsets are spectacular.
There are several choices of where to stay in Chincoteague. Here are our top choices for a Virginia romantic getaway in Chincoteague:
What To Do In Chincoteague
The top draw for many to visit Chincoteague is to see the wild ponies on Assateague, just a short ride over from Chincoteague. The ponies are "owned" by the Chincoteague Volunteer Fire Department. They are allowed to live on Assateague with a special US Fish & Wildlife permit.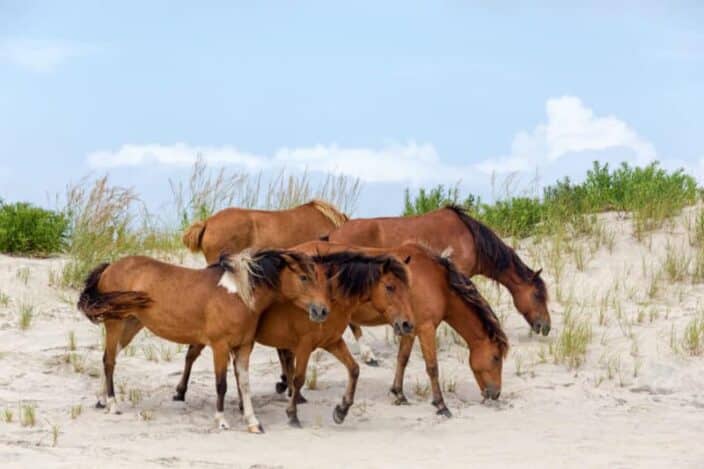 During the month of July, 40,000+ people descend on this little slice of island paradise for the annual pony swim & auction. "Saltwater Cowboys," members of the Chincoteague Volunteer Fire Department, round up the ponies and swim them across the channel from Assateague to Chincoteague. Also, all money raised from the event go to the fire department to offset the cost of providing firefighting services to the town.

Assateague National Seashore has a lighthouse that you can climb, along with wild and beautiful seashore, hiking and biking trails galore!
Take a stroll and go shopping! You'll find plenty to catch your eye – from beachy souvenirs, shells, saltwater taffy, kites, beach towels, as well as clothing can all be found in some of the cute shops.
One of the coolest things that Jim and I would often see when sailing the Chesapeake Bay, were the rocket launches from Wallops Island. Wallops Island is the home to the NASA facility and launch center. Although it's not open for public tours, they have a visitor's center that is open to the public Tuesday to Saturday from 10 am to 4 pm. Admission is free. Learn about the history of this facility and the programs that are conducted there! This facility still launches rockets with the launch pad located 4 miles from the visitor's center and you will have a clear view from the ground to the sky from there. On major launch days, you would need to be at the facility 4 to 5 hours prior to the launch as it gets very crowded.
Virginia Getaway To Virginia Beach
Virginia Beach is a paradise for foodies, making it our 2nd choice for a great Virginia getaway.
Where to Stay In Virginia Beach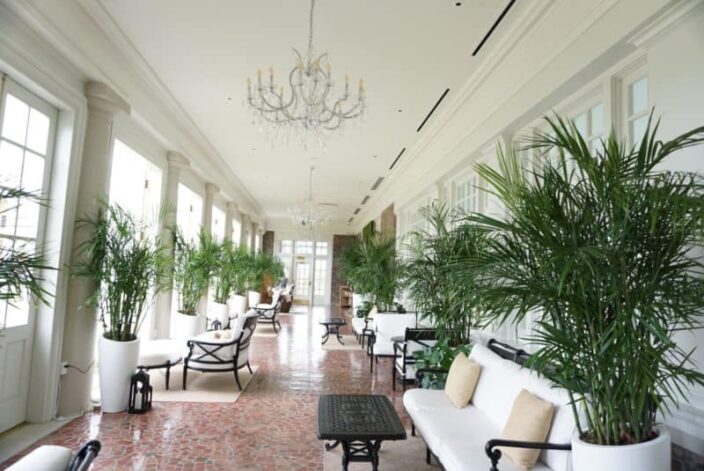 Things To Do In Virginia Beach
Start your day walking hand-in-hand on the beach watching the sunrise. Then head out for some hiking adventure, exploring the many hiking and biking trails at the beach – a great place to start is First Landing State Park. After hiking the trails, cool off with some amazing Virginia Beach craft beer! Click here for the Beer Trail Guide to Virginia Beach Craft Beer and Breweries. A couple of our favorite breweries are Wasserhund Brewing Company, as well as Young Veterans Brewing Company.
If your taste leans towards good spirits, Virginia Beach has several craft distilleries. Check out the Chesapeake Bay Distillery located in the heart of the ViBe District. Tarnished Truth Distillery, located in the Cavalier Hotel, is brewing up some good Bourbon Whiskey.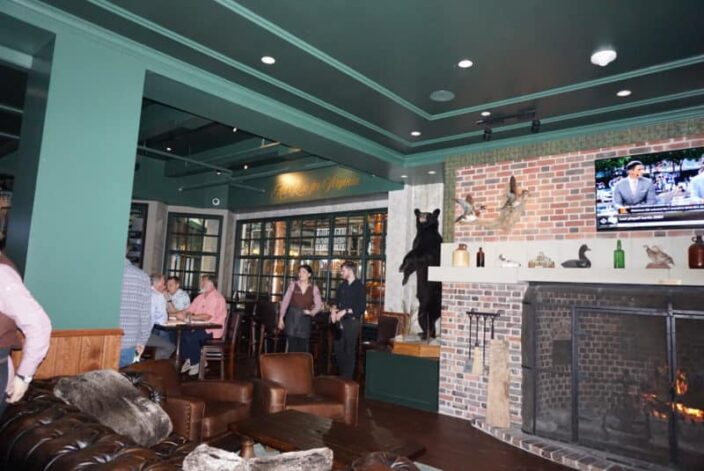 With so many restaurants serving up a diversity of food, Virginia Beach is a true foodie town. No matter what you choose, Virginia Beach is sure to please your palate!
Virginia Getaway: Williamsburg
Where To Stay In Willamsburg
Things To Do In Williamsburg
Williamsburg was founded in 1699 and has so much to offer! If you love being immersed in history and culture, then definitely put Williamsburg on your list for a Virginia romantic getaway! The historic district of Williamsburg will give you a peek into what daily life was like in Williamsburg. This is an opportunity to unplug and reconnect as you explore together.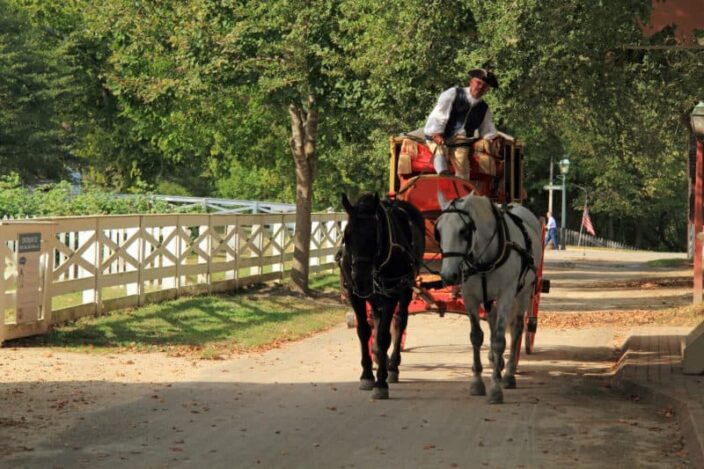 If you are an art lover, then take some time and explore Williamsburg's art scene.
For more history, explore Freedom Park. Freedom Park is one of the first free black settlements in America, dating back to 1803. It is also the site of the Revolutionary War Battle of Spencer's Ordinary in 1781. Hiking trails, a 600-acre forest, and 20 miles of mountain bike trails can also be found here.
Make Waller Mill Park a stop, with its 36-acre lake and hiking trails. Rent a pedal boat, or spend the day fishing or playing disc golf.
Virginia Romantic Getaways: Waynesboro / Charlottesville
Snuggled up against the foothills of the Blue Ridge Mountains, you'll encounter roads that snake up the mountainside, vineyards tucked away, and little bed and breakfasts scattered throughout the area. This is truly the perfect backdrop for a Virginia getaway.
 This post may contain affiliate links which won't change your price but will share some commission. As an Amazon Associate I earn from qualifying purchases.
Where To Stay In Waynesboro/Charlottesville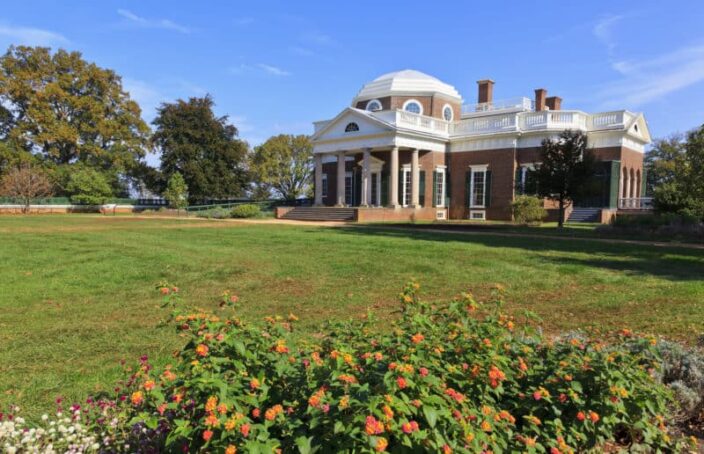 Things To Do In Waynesboro /Charlottesville
You are in the heart of Virginia Wine Country, so it's time to go wine tasting! Our favorite Virginia winery is Barren Ridge – we love their Barren Red – a good medium body red that goes with everything!
A wonderful option for exploring this area is a wine tour. There are several to choose from, and the bonus is you can taste to your heart's delight, and not have to drive!
Be sure to visit Carter Mountain Orchard when you are in Charlottesville. Located on a mountain top, it gives incredible views of the surrounding area, including the Blue Ridge Mountains and The Piedmont. You can even pick your own peaches and apples, seasonally! Stop by the bakery and indulge in fresh pies, cookies, and doughnuts!
Virginia Wine Country
Virginia has its own wine country right here in the South. You can visit wineries at any time during the year, even winter. During the winter time the vineyards are less crowded but just as romantic. 
Snuggle up by the fire and enjoy a wine flight or cozy up under a blanket outside! Here are some of our top recommendations for wineries in Virginia:
For even more inspiration and options check out our recommendations for the 15 Best Wineries In Virginia. 
---
Virginia is a truly versatile state that offers a wide range of activities and lodging for all types of travelers. Don't forget to take the necessary precautions to stay safe and healthy during your travels.
Can't choose just one spot to visit? Consider road tripping through the entire state! There isn't a better way to see Virginia and all its beauty.
CHECK OUT WHAT'S NEW ON BETSI'S WORLD
Which one of these towns would you most like to visit? Let us know in the comments below!
Other Fall Travel Destinations You May Enjoy