A South Carolina romantic getaway is best taken in the fall! The autumn season is an ideal time to visit this southern state because the heat of summer is gone, but the weather is still undeniably pleasant! Spend plenty of time at the beach during the day or in the evenings to enjoy a cool fall breeze. Plus, there are fewer crowds, creating the perfect environment for a romantic getaway.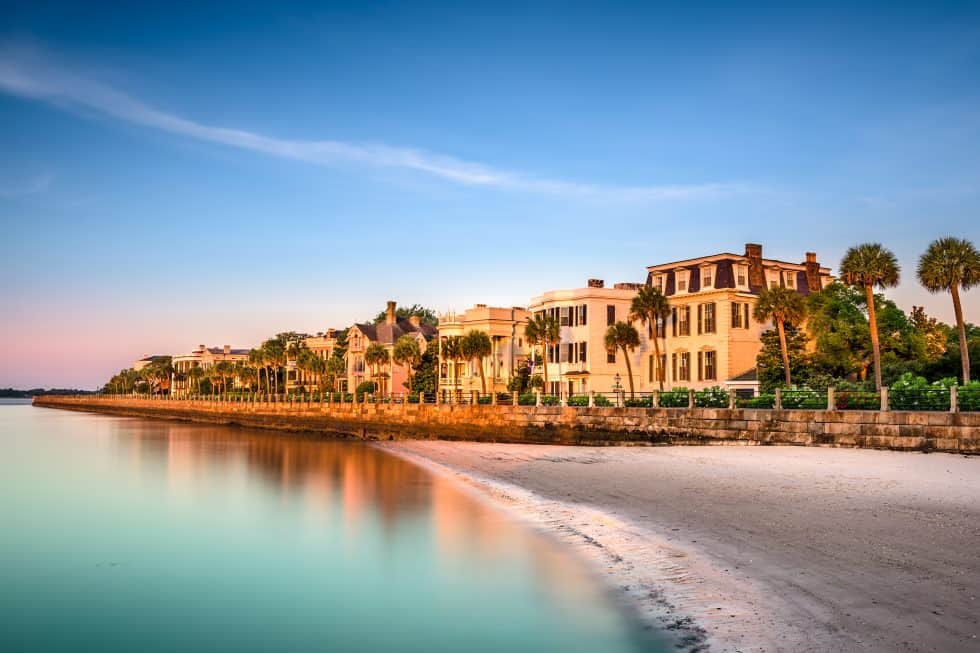 If you're thinking about a South Carolina vacation, let this be your guide. There are so many things to do, see, and eat in this lovely state. To help you plan your trip we've rounded up our favorite 3 destinations for the best South Carolina romantic getaway.
South Carolina Vacation Ideas
A South Carolina romantic getaway is filled with an incredible amount of history and beaches. Architecture lovers will marvel at the colorful houses lining the streets of Charleston. While lovers of luxury will find plenty to indulge in at the numerous hotels and restaurants ready to serve you!
Southern hospitality will leave you feeling like you never want to leave. Whether you seek luxurious spas or private beaches, one of these towns will be the perfect place for a South Carolina romantic weekend getaway.
South Carolina Romantic Getaway In Myrtle Beach
Myrtle Beach might be known as a popular Spring break destination, but it is also well suited for a romantic getaway. It is a perfect combination of beautiful beaches and fun activities.
You and your sweetie will love spending time on the Atlantic Ocean. There is plenty to take advantage off such as water activities such as sightseeing tours and parasailing.
Plus, you can see the sights from the top of one of the tallest Ferris wheels in the US! Its a great ending to a romantic night on the beach.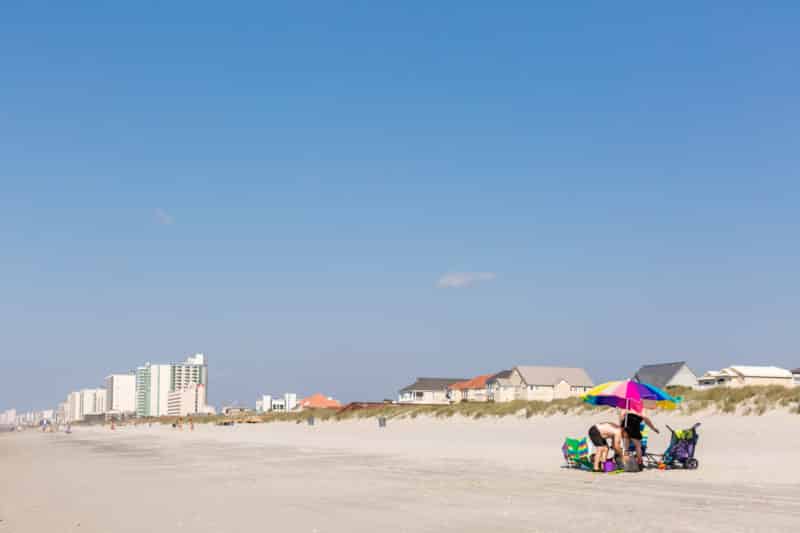 Where to Stay
Myrtle Beach, South Carolina has a plethora of options for lodging. The hotels lining the beach may seem crowded and better suited for families, but there are a few stunningly romantic hotels that you'll want to check out. The Marina Inn at Grand Dunes is a luxury hotel located a few miles from the beach. This gorgeous location overlooks a marina and a golf course.
What we love about the Marina Inn is that It takes you away from the hustle and bustle of the tourist areas. The location provides you will some privacy while still keeping you a reasonable distance from all the action.
Another great option for where to stay in Myrtle Beach is The Island Vista. It is located right on the beach and offers many amenities that will make you feel like you are on a private island. Romantic dining options, a private beach, and a spa are just a few reasons that couples love the Island Vista. Myrtle Beach has wonderful seafood so make sure that you indulge a little during your romantic getaway.
Where To Eat In Myrtle Beach
The Library. Located on the Grand Strand, The Library has delighted visitors for years with its French Steakhouse cuisine. A truly elevated experience, smartly dressed servers, prepare cuisine table-side for you. The Library offers everything from escargot and French onion soup to steak Diane and lobster tail. You can't go wrong with a visit to this French haven.
Hook & Barrel. This nautical restaurant is committed to sustainability and environmental friendliness, using recycled materials and eco-friendly products. They source the freshest, seasonal produce to ensure that your meal is as delicious as it is earth-friendly. The interior has an eclectic vibe with wood accents, crystals, and LED lights. Grab one of their house-made cocktails and oysters at the bar!
Crave . If you're craving Italian food, Crave has got your covered. Located across from the beach, you can have a day in the water and then indulge in authentic Italian cuisine. Crave offers the classics like veal saltimbocca, broccoli rabe and sausage, pasta Pomodoro, as well as a carefully curated wine list.
Things To Do In Myrtle Beach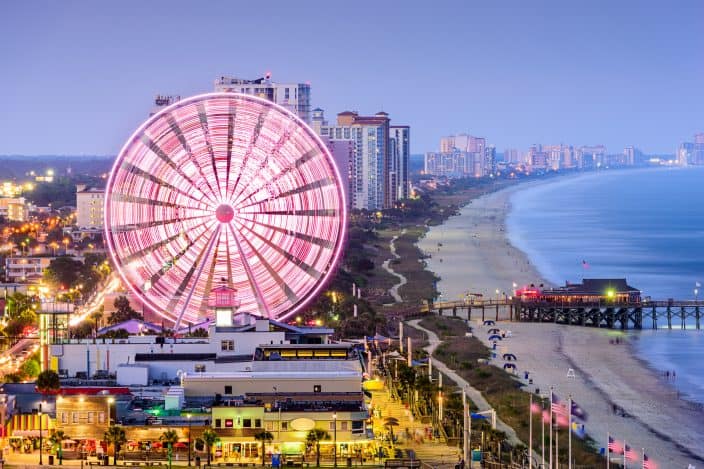 Check out the Art Museum of Myrtle Beach located on the south end of Ocean Boulevard. This is Myrtle Beach's only art museum, and they have works by local, regional, national and international artists on display. The museum features a wide range of mediums, including painting, sculpture, fashion, quilts and more. The building that houses the art museum is a beach house that dates back to 1924, and is just a short distance from the ocean.
Walk the beach and spend some time just relaxing! But don't forget sunglasses, hat, and sunscreen!
Broadway at the Beach is the happening place in Myrtle Beach! Here you'll find dining, shopping, and some of Myrtle Beach's best attractions including a wax museum, helicopter adventures, Top Golf and a zipline.
Stop by and visit Duplin Winery. Make this an end of the day stop, and relax as sit back and sip on some cool, sweet wine as you watch the bottling process. Duplin offers wine tastings as well. A perfect way to cap off a day exploring Myrtle Beach!
No visit to Myrtle Beach would be complete without a taste of history! Georgetown's Hopsewee Plantation is waiting about an hour's drive south of Myrtle Beach. This plantation, built back in 1735 is the birthplace of Thomas Lynch, Jr., one of the signers of the Declaration of Independence. The home has been preserved, but not restored. Sitting on the banks of the Santee River, you can walk through oaks covered in layers of moss and just let your cares float down the river.
South Carolina Romantic Weekend Getaway: Hilton Head
Hilton Head Island has won many awards for its beauty and hospitality and it's easy to see why. This beautiful town is located right on the coast. Bicycles are the preferred mode of transportation and sunset cruises are a must.

Where to Stay
The best place to stay for your South Carolina romantic getaway to Hilton Head Island is the Inn & Club at Harbour Town. The Inn & Club is the only Forbes Four Star hotel on the island, and they do luxury well! The low country hospitality rivals some of our favorite hotels. Imagine lounging pool side with a cool drink in your hand, with a view of a gorgeous golf course. Guest service is always attentive and personal.
Another fabulous place to stay on the island is the Sonesta Resort where you can walk through tropical gardens on the way to their private beach. After that, relax at the spa, or enjoy the zero entry swimming pool. You'll be surrounded by luxury and still a short bike ride away from all the excitement of Hilton Head.
No matter which you choose, these lodging options will surround you with luxury!
Where To Eat In Hilton Head
Hudson On The Docks. For an incredible waterfront experience, visit Hudson On The Docks. They pride themselves on bringing only the freshest seafood to your plate. It is sourced from nearby fishermen, whole, and fileted in house. Located in an old, converted seafood processing plant, this restaurant has as much charm as it does flavor!
Charlie's L'etoile Verte. If you're looking for a restaurant to satisfy your French food craving, then Charlie's is it! Located in a quaint, old style home, Charlie's has a romantic, old world vibe with a beautiful garden around it. The food is focused mostly on seafood and showcasing French flare, with an impressive selection of wines. You can't go wrong at Charlies!
Skull Creek Dockside. Another great waterfront dining experience can be found at Skull Creek Dockside. SK Dockside has a casual atmosphere and features amazing BBQ as well as fresh seafood. Choose from one of there many seating options: on the dock, inside the restaurant, at the outside bar, or on the covered patio. You're guaranteed incredible views no matter where you choose to sit.
Things To Do In Hilton Head Island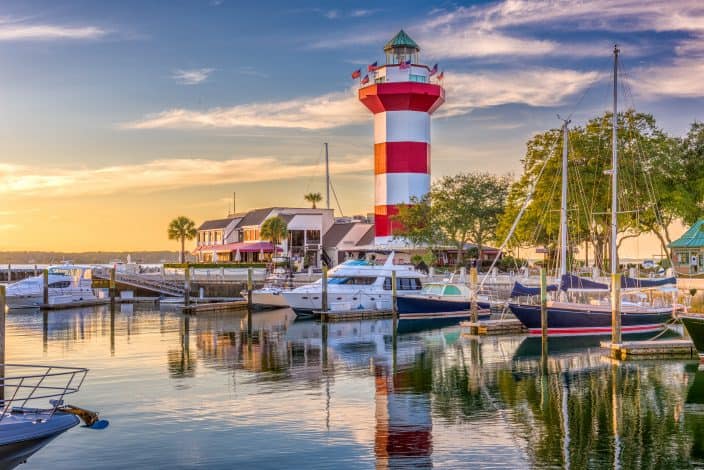 Play a round or two on some fabulous golf courses:
Take a long walk along the 12 miles of beach and catch a sunrise or sunset
Visit little know Fish Haul Creek Park. The beach here is not a swimming beach, and that's the draw. This 31-acre preserve offers a shaded trail leading to the shore, and is fantastic for shelling and clamming. Another bonus is Fish Haul Creek Park is dog-friendly!
Take a kayak trip through the many waterways of Hilton Head.
Romantic South Carolina Weekend Getaway: Charleston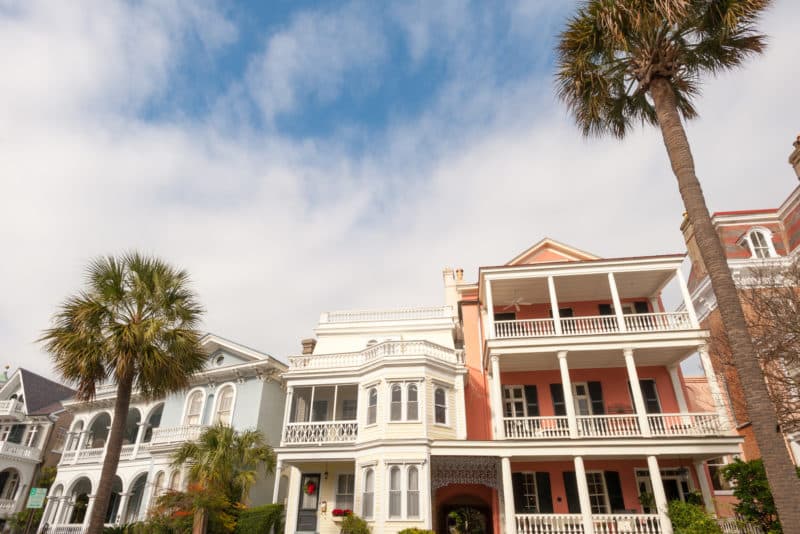 This post may contain affiliate links which won't change your price but will share some commission. As an Amazon Associate I earn from qualifying purchases.
Charleston isn't located on the beach, but it is full of historic charm and style that is sure to give you plenty of opportunities to connect with your sweetie. Downtown boasts of tree-lined streets with cobblestone roads and colonial-style housing. It's a beautiful piece of history that everyone is sure to love.
Where to Stay
If you are looking for luxury and can afford the price, Wentworth Mansion is a spectacular place to stay. This mansion turned boutique hotel has taken every detail into account. The Wentworth Mansion is a tribute to the gilded age. Filled with Italian crystal chandeliers, Tiffany stained glass, and hand-carved marble fireplaces, the Wentworth Mansion transports you back to a time when luxury and indulgence were done on a spectacular scale. This 21-room boutique hotel exudes luxury and will be an experience you will never forget.
Planters Inn is another great option for a South Carolina romantic weekend getaway. The Planters Inn is in the heart of Charleston's historic district. The intimate 64 room Planter's Inn overlooks Charleston's historic City Market. The understated elegance and Southern charm of the Planters Inn will have you returning, again and again, ~ if for nothing else but the hidden courtyard!
Where To Eat In Charleston
Husk. If you're looking for incredible Southern food, Husk is the place to be. The chef's are fiercely loyal to shining a spotlight on Southern cuisine and celebrate it in each dish. Indulge in cornmeal fried catfish, peel and eat shrimp, confit duck leg, custom cocktails and so much more. It is an experience in elevated and unique Southern cooking.
Laurel. Located in downtown Charleston, Laurel offers its guests delicious Spanish and Portuguese inspired fare. It has a gorgeous modern vibe with wood, white marble, and copper accents, including a stunning bar. Grab a tapa and a cocktail for the perfect lunch!
High Cotton. This exquisite restaurant has an old world vibe to it, featuring exposed brick, rich dark wood, and crisp white linens. A truly fine dining experience, High Cotton uses fresh, local produce and presents an extensive range of seafood, meats, and deliciously Southern appetizers. Don't miss out on the Shrimp and Grits tossed with ham, fennel, and a tomato-saffron gravy!
What To Do In Charleston, South Carolina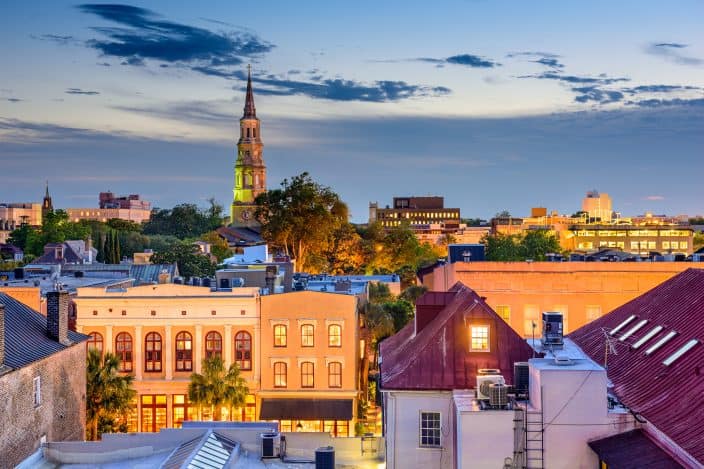 You can also enjoy a walk to the Morris Island Lighthouse or through Charleston City Market, where you'll find a variety of local vendors.

Take a drive over to Shem Creek, in Mount Pleasant, or better yet, catch a Charleston water taxi and taste your way through the different low country cuisine offerings. This popular waterfront dining district has a boardwalk that runs 2,200 feet and at the harbor end of the walkway, you can see the way from Fort Sumter to Castle Pinckney. Castle Pinckney, built in 1810, is a small fortification in Charleston harbor.
Visit Fort Sumter by boat and tour the fort.
Take a culinary tour of the low country with Bulldog Tours.
Take a tour of Charleston – Charleston Tours offers a collection of tours so you can explore 350 years of Charleston's history, culture, and of course, inimitable Southern charm!
---
A romantic getaway is all about finding time to step away from everyday life and focus on the one that you love. The South is full of many beautiful places but you'll be hard-pressed to find a destination more versatile and exciting than a South Carolina romantic getaway!
If you're looking for other wonderful getaways to take this fall our Fall Bucket List Destinations will provide you with plenty of information!
CHECK OUT WHAT'S NEW ON BETSI'S WORLD
Have you ever been to South Carolina? Which of these getaways would you love to visit? Let us know in the comments below!
Romantic Getaways in the South