Mount Dora is one of Florida's underrated small towns that packs a lot of punch! Heron Cay is located just a quick four-block walk from the heart of this small town, the historic downtown. This luxury bed and breakfast overlooks gorgeous Lake Dora and is filled with some of the Highway Men's rustic old Florida artwork.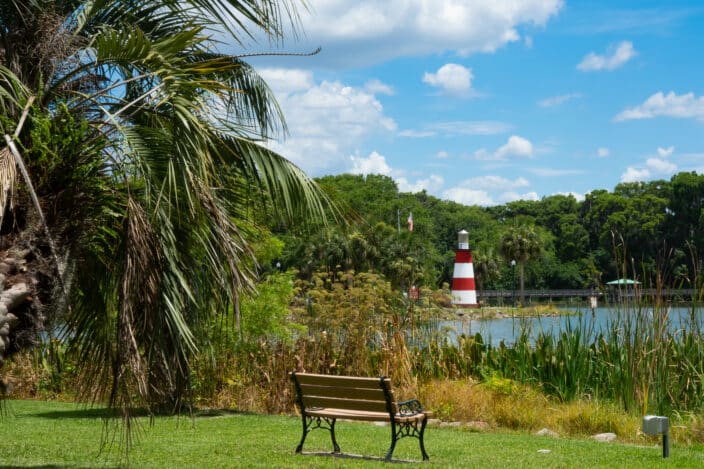 As you wander the streets and back alleyways of downtown, you'll encounter unique shops, scrumptious food delights, and history at every turn.
When To Visit Mount Dora, Florida
Our favorite time to visit Mount Dora is in the late fall, November, and December when the temperatures have dropped just a bit, and there is a brisk nip in the early mornings. During the late morning into the afternoon, you'll be comfortable in short sleeves with a light sweater. The summer temperatures, especially in late July into mid-September tend to be a bit on the hot and humid side.
Luxury Getaway At Heron Cay
Perched on a hill that offers incredible views of Lake Dora, Heron Cay embodies what you would expect from a mansion from the Victorian era. Taking a page from Europe and particularly France, the wealthy in America began moving outwards from the large cities and built expansive estates in the less populated areas, such as Mount Dora.
The architectural influence for these estates was drawn from styles ranging from Gothic, to Queen Anne, to Romanesque. Architectural features included gables, false chimneys, and false fronts. Homes were furnished with rich dark mahogany, carpeting, and curtains at all the windows.
Heron Cay Bed and Breakfast
Heron Cay Bed and Breakfast is filled with touches that are uniquely personal to the owner, and reflect her travels and her two Borzois: Max and Ringo. The breakfasts are scrumptious at Heron Cay! There is always an egg dish, fresh fruit, and more. You won't leave hungry after one of Margie's breakfasts!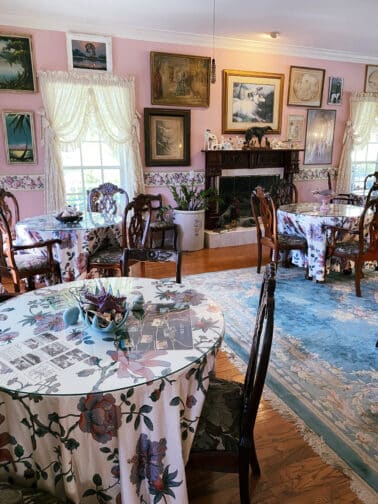 There are eight rooms and suites, each unique and with a theme. The rooms come with fluffy white robes, hairdryers, a refrigerator, and a flat screen TV in each room. There is one room that is pet-friendly. After a full day of exploring Mount Dora, enjoy sipping a glass of wine on one of the porches (we loved the front porch for sunset sips), or a dip in the pool.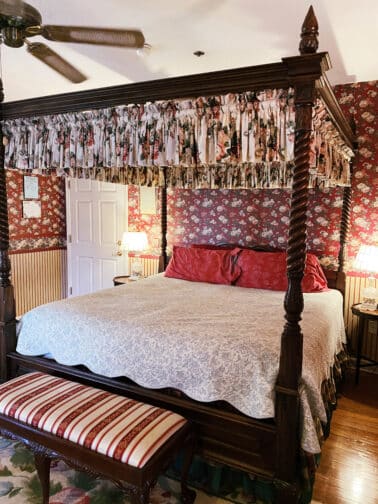 Our room was the Queen Victoria Suite, which was decadently luxurious! With a gorgeous four-poster bed, a second double bed, as well as a wonderful sitting room and ensuite bath, it was perfect for an unplugged romantic getaway!
The bed was comfortable and filled with pillows. It is the perfect spot to read before bed and spend a long lazy morning as the sunlight filters in. The bath was a nice size and allowed both of us to brush our teeth and get ready in the mornings.
As you walk through the rooms downstairs remember that this is someone's home, and as such, it is filled with personal items, many of which reflect the owner's fondness for the Bahamas, and her love of Borzois dogs.
Highway Men Artwork
You'll also see some of the Highway Men's original artwork hanging throughout Heron Cay. The Highwaymen were a group of African American artists, with a similar approach to their art, each with an individualized style of landscape artistry.
The common threads running among all of the Highwaymen was the fact that most of them were self-taught, and their ability to paint quickly, enabling them to produce large quantities of art in a short time. Creating multiple paintings in a day allowed them to offer their work at affordable prices on the side of the roadways – hence the name – The Highwaymen.
The Highwaymen devoted themselves to capturing the very essence of Florida in their natural landscapes. When you look at one of their pieces of art, which is done in a very rustic style, it's almost as if you are transported into the scene, it is just that alive and filled with vibrant colors, that just capture the mesmerizing natural Florida landscapes perfectly!
During the 1950s, when Jim Crow, segregation, and Civil Rights were the hot buttons, the Highwaymen did not give in and work in the local citrus groves. Rather, they forged a path to economic independence with their artwork.
Exploring Mount Dora
Historic Mount Dora Tour
No getaway at Heron Cay Bed and Breakfast is complete without fully exploring all that Mount Dora offers. A terrific way to get an overview of Mount Dora is to take a history tour of downtown Mount Dora with Mount Dora Transit. This 30-40 minute tour will introduce you to some of Mount Dora's treasures – Lakeside Inn, J.P. Donnelly House, Starry Starry Night House (this is so cool, you have to see it!), shopping, restaurants and more!
Glide Adventure Tours
For those more adventurous, try Glide Adventure Tours. Glide offers a combo tour that gives you the best of two worlds – Mount Dora history tour and parks tour. You'll hit Palm Island Park, to see the Mount Dora Lighthouse, and out over the raised boardwalk where you'll be immersed in nature. Keep your eyes peeled for Anhingas and alligators. Then you're off "climb Mount Dora" and head into historic downtown Mount Dora.
CatBoat Adventure
 This catboat tour is wickedly fun, and perfect for adrenaline junkies!! Imagine skimming across the wavetops of Lake Dora at high speed, on two pontoons that look more like skis, with a platform connecting them and two seats on top – that is a catboat. Think of it this way: a jet ski and an airboat had a baby, and it was the catboat!
These little boats are very agile, and it doesn't take much to throw a nice size rooster tail at high speed! They are quick, fun, and a wet ride, perfect for a steamy summer afternoon on Lake Dora!
Stroll Downtown
Mount Dora is full of small-town Southern charm and hospitality. Its downtown is filled with eclectic local boutiques, shops, and restaurants. One of our favorite shops is Juliane's Coastal Cottage. I like to think it has something to do with the variety of home decor items she carries, which in fact I love!
Jim thinks I love Juliane's because she offers the most delightful (and sinful, I might add!) wine slushies! I am working hard to recreate them at home, and when I do, I'll make sure to share the recipe! Needless to say, we stopped into Juliane's multiple times!
Another of our favorites was Papilio. This garden and nature-inspired gift shop is filled to the brim with fun things for home and garden!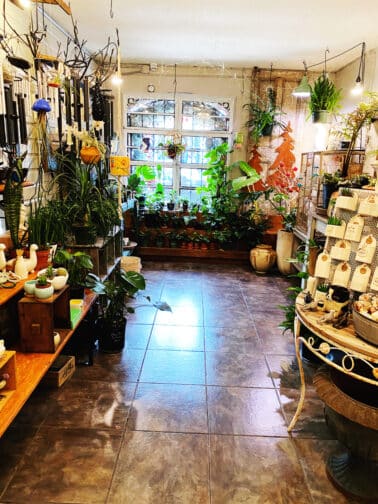 For those who don't know, I LOVE clothes! And I will never pass up the opportunity to pop into a clothing shop and see what I can find.
Mount Dora is filled with unique boutiques that carry items that range from the unusual, not sure where I'll wear this to the I really can't leave without this perfect piece! Stroll through downtown and take it all in. You will not be disappointed!
Mount Dora Food Scene
The Mount Dora food scene is surprisingly good! Here are some of our "not to be missed" places to indulge when visiting Mount Dora.
Pisces Rising overlooks Lake Dora, which is the perfect spot to catch the sunset while imbibing in a delightful glass of wine or cocktail of choice. The food is fresh and well presented. I am partial to the mushroom ravioli, and Jim loves the shrimp and grits. Do not miss the bananas foster prepared tableside!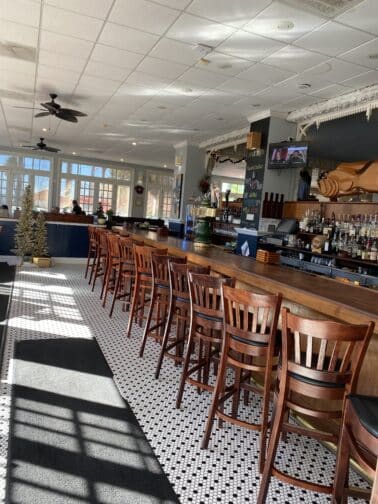 For those who love to eat and listen to live music, The Magical Meat Boutique will not disappoint! We both loved the lamb burger, and Jim is not a huge fan of lamb! The cocktails are great, and they have a nice selection of beer on tap.
 This post may contain affiliate links which won't change your price but will share some commission. As an Amazon Associate I earn from qualifying purchases.
For craft beer lovers, do not miss a stop at Wolf Branch Brewing! Jim came out of his comfort zone of IPAs and tried several types of their beer. He absolutely loved it, so I'll take that as a "you must stop into Wolf Branch Brewing!"
I love the fact that locals own Wolf Branch, and their passion for brewing good beer shows in each sip. Another plus for us is that Wolf Branch Brewing is owned by a service-disabled Army veteran, and we love supporting our vets!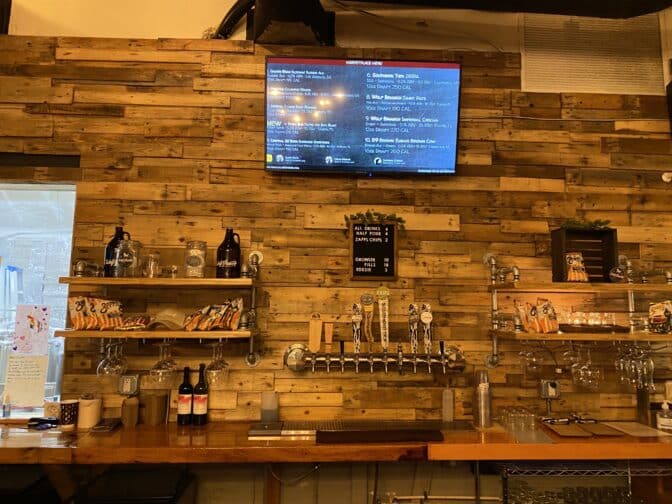 If you are looking for a small-town getaway filled with Southern hospitality and lots of charm, you cannot go wrong with a visit to Mount Dora and of course, a luxurious and romantic stay at Heron Cay! 
Interested in other small, luxury stays? Read all about our experience at the wonderful St. Francis Inn in St. Augustine!
CHECK OUT WHAT'S NEW ON BETSI'S WORLD
Have you ever visited Mount Dora? What was your favorite part? Let us know in the comments below!
More Florida Travel Ideas You May Like