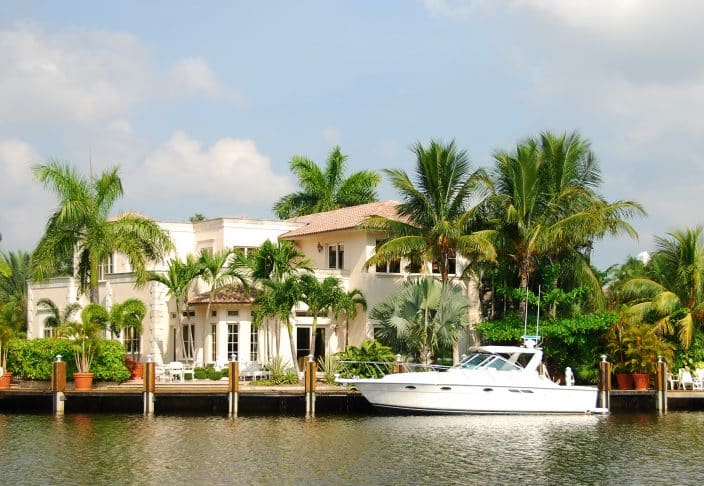 Living on Florida's East Coast provides tons of opportunities for us to head down to Ft. Lauderdale, Miami, and the Florida Keys and beyond by boat. Some of the best Florida boating is Ft. Lauderdale to the Florida Keys. And the best time to do it? In the summer when slips at marinas are plentiful and the prices are lower.
Ft. Lauderdale is Paradise for Florida Boaters
For boaters who spend their winters in Florida, Ft. Lauderdale is a perfect spot to stop, reprovision and get work done before heading off to the Keys, Cuba, or the Bahamas.
With lots of marine service providers and craftsmen, Ft. Lauderdale is a great place to have work done. We have just had our second marine mattress made by Custom Comfort Bedding – they have great prices, superior service, and wonderful mattresses!
Ft. Lauderdale is home to Florida's Flagship West Marine store – the boaters toy store! Seriously, this store carries literally anything you can imagine! This trip was a stop to pick up some odds & ends that we needed – cupholders for the flybridge, sunshirts and other supplies. A visit to this West Marine store is worth the stop in Ft. Lauderdale!
Ft. Lauderdale – Great Place to Start a Florida Boating Adventure!
Need to reprovision? What better place than Ft. Lauderdale? Trader Joe's, Whole Foods, and Publix are all located nearby to the Ft. Lauderdale Beach area.
We love to eat, and Ft. Lauderdale is a foodie paradise! A few of our favorite restaurants are Coconuts, Casablanca, The Catalina Restaurant, and Boatyard.
Coconuts is just a really chill place to hang out, have a great cocktail and enjoy the gorgeous Florida sunsets right on the Intracoastal. We love to take Zach there – it's dog-friendly and the wait staff always bring waterbowls and treats for your four-legged pal.
Casablanca Cafe, located on A1A is a perfect place to sit down, relax, enjoy a glass wine and linger over lunch or dinner as you people watch. It is a really popular place in Ft. Lauderdale, so there is usually a wait – but it is so worth it!
Mario's Catalina is one of our "go-to" restaurants each time we are in Ft. Lauderdale. Serving up Cuban food, using mom's recipes, it does not get any better than the Catalina! And cocktails? Only the best mojitos & sangria we've had! But be careful – they'll sneak up on you!
For fresh seafood, try Boatyard, located on the Intracoastal. Watch the sun slip slowly down as you sip an excellent glass of wine, and dine on creative favorites, like their charred octopus – it is divine!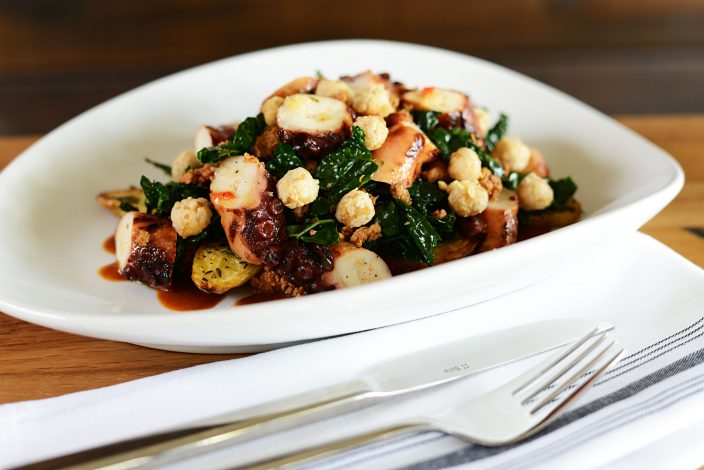 Bahia Mar Yachting Center – Our Marina of Choice
We like to stay at the Bahia Mar Yachting Center for several reasons. The marina (and hotel!) is dog-friendly, and everybody makes Zach feel right at home.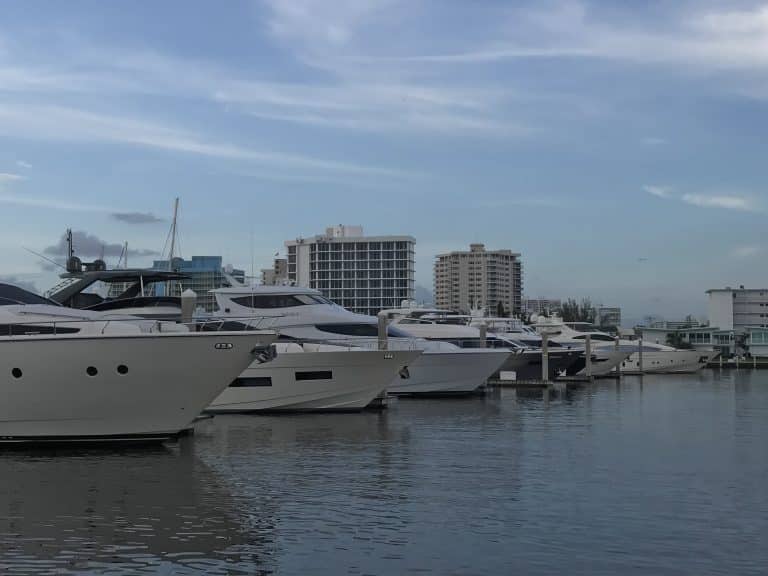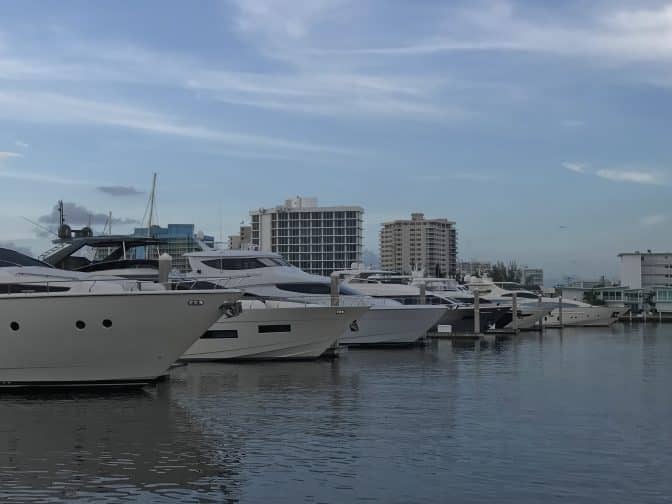 Bahia Mar has floating docks, which we need – this short girl has a hard time without floating piers! Night security roams the docks, and each dock is gated, and the gates are locked after 8 p.m. The office has a lounge where you can work, and they are more than happy to let you print documents if necessary.
The Bahia Mar is a Hilton property and has a Double Tree on site – we've stayed in the hotel, and it is clean, comfortable and has a very friendly staff. With a rooftop pool, charter fishing fleet and the Bluefoot Pirate Ship tour it's a perfect choice to begin your Florida boating.

 This post may contain affiliate links which won't change your price but will share some commission. As an Amazon Associate I earn from qualifying purchases.
Walk across the pedestrian bridge that starts at the pool and you are right on the beach – doesn't get any better than that!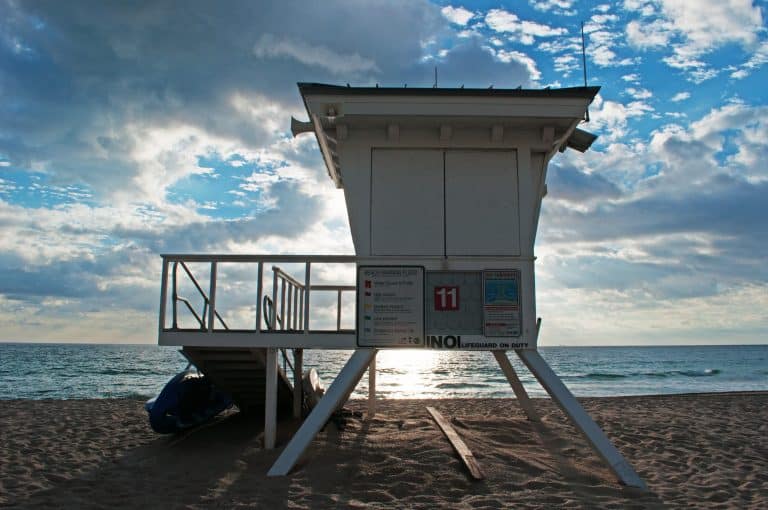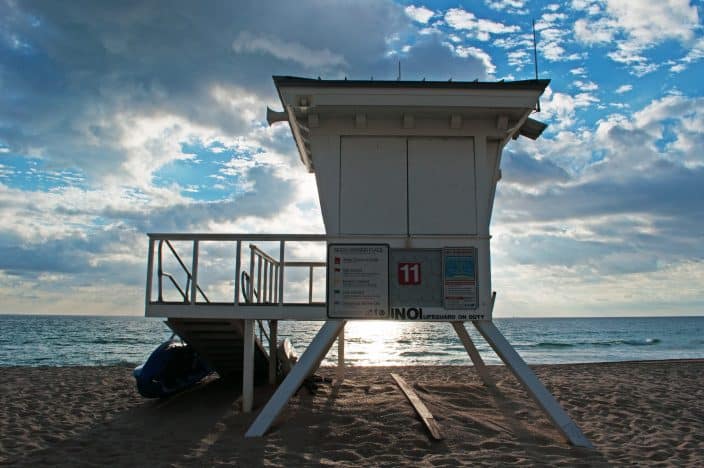 Walk to a wide variety of restaurants, cafes and coffee shops. And don't forget to stop down on Los Olas – filled with restaurants and shops, you could spend the day just wandering down the street.
Jump on the water taxi right at the Bahia Mar. With its collection of 300+ miles of canal "streets," its no wonder they call Ft. Lauderdale the "Venice of America"!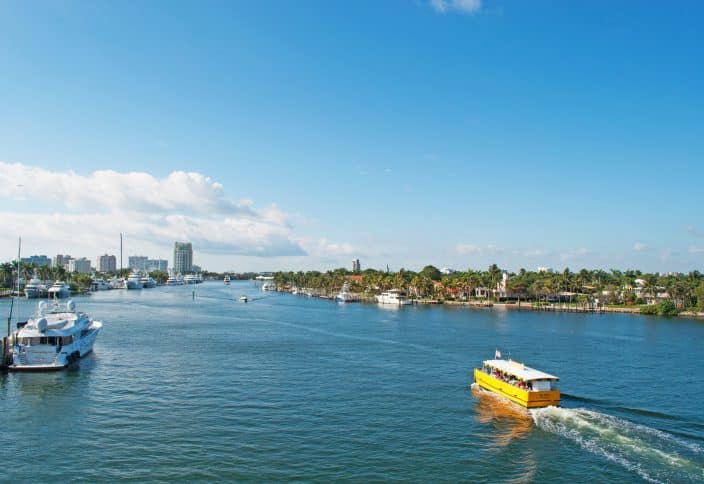 >>>Looking for more things to do in the Florida Keys? How about a unique experience at the Turtle Hospital in Marathon, Florida? <<<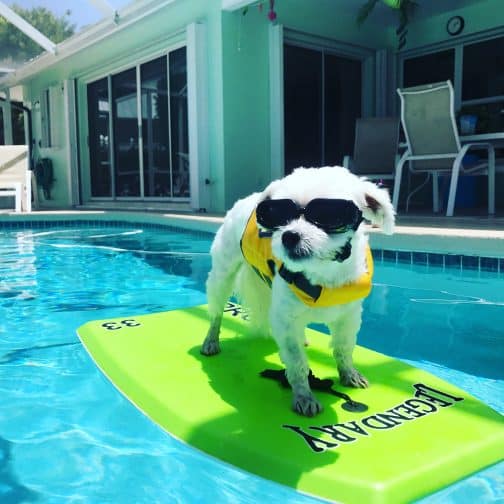 Ft. Lauderdale is Paradise for Boat Pets
Pet sitters, pet groomers and pet stores are in abundance. To take care of any last minute vet services, there are plenty to choose from.
Florida boaters who are looking for a massage before they head out, there are a plethora of spas to choose from – many within walking distance of the Bahia Mar. My personal favorites are the spa at the Atlantic Hotel (try the Atlantic Massage – you will not be disappointed!) and the spa at the Ritz Carlton.
Next time you are planning a boating trip, visit Florida and check out Ft. Lauderdale! Hint: Plan a trip to visit the Everglades & take an airboat ride while you are here!
CHECK OUT WHAT'S NEW ON BETSI'S WORLD
Beach Vacations You'll Love