For anyone seeking epic epicurean adventures combined with a stunning historical pedigree and awe-inspiring views, St. Augustine will amaze you!
On September 8, 1565 Pedro Menéndez de Avilés landed at what is now Matanzas Bay and began the Presidio of San Agustin.
St. Augustine is the oldest city in the United States. Within St. Augustine you'll find more than 60 attractions, historic sites, national monuments, and churches.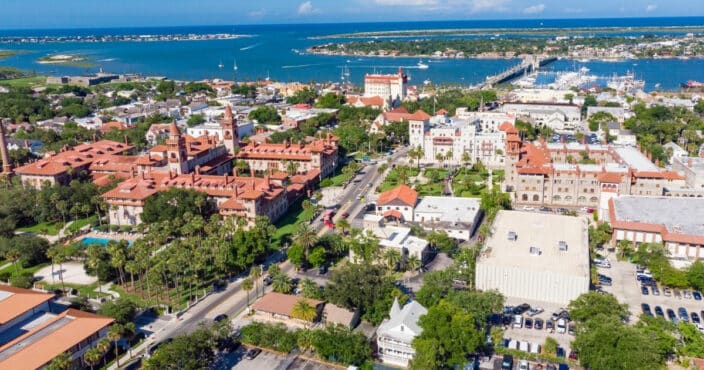 A short distance from St. Augustine's historic downtown you'll find Ponte Vedra, the home of TPC Sawgrass and the Players Championship. You'll also find a large selection of boutique shopping – perfect for the shopaholic.
From Ponte Vedra to Marineland there are 42 miles of gorgeous beach and coastline for you to choose from for a beach adventure day. You can hunt for shark teeth, swim, paddle board, kayak….the list is extensive.
St. Augustine's history spans 450 years, so bring your walking shoes! Top draws in St. Augustine include the Castillo de San Marcos, St. Augustine Lighthouse and Marine Museum, Colonial Quarter, Pirates Museum, and the Fountain of Youth Archaeological Park.
The Tasting Tours
For a proper introduction to the culinary delights of any city, Jim and I look forward to taking food tours. And let me tell you, St. Augustine and The Tasting Tours do not disappoint. The staff is enthusiastic and very knowledgeable on St. Augustine's vast history. But they are also fun and engaging, making any of their tours an entertaining way to while away 3 hours while getting to know America's Oldest City.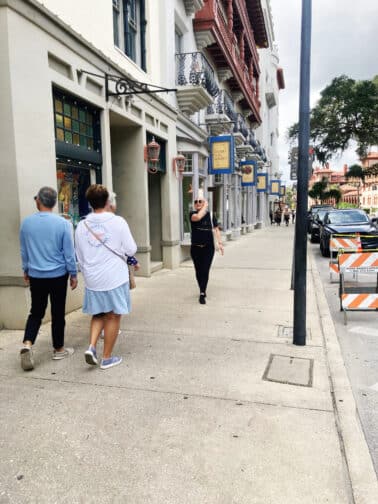 With the guiding hands of three amazing female powerhouse entrepreneurs, The Tasting Tours has earned its place as one of the top culinary experiences in Northeast Florida. CEO Andrea Jones, CFO JoAnna Page Engel, and tour guide, now elevated to General Manager and shareholder, Niki Kemper are the women behind this growing company that is setting the culinary bar in St. Augustine and Jacksonville. Let's meet them!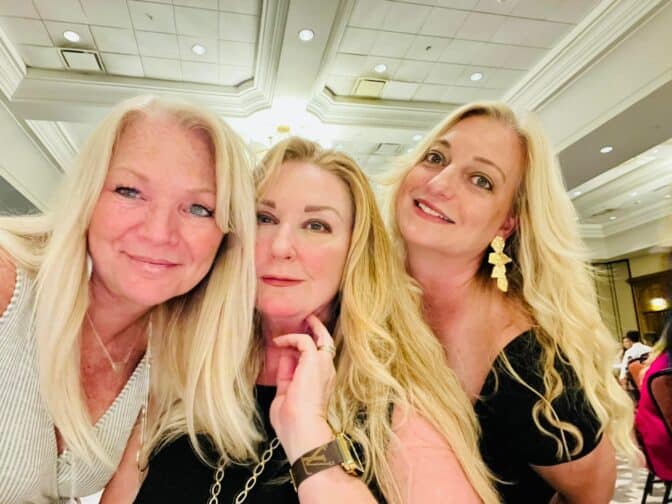 Andrea Jones, Chief Executive Officer
I met Andrea at one of my first meetings of the Womens Food Alliance four years ago, and she literally blew me away with her energy! She is also a wine lover, so needless to say, when we get together, whether it's for dinner in St. Augustine or a gathering of the Women's Food Alliance, there is always wine involved!
Andrea is a Florida native through and through. Born in Lake City and raised in Ocala Andrea is one who loves to work hard, play harder, and have a ton of fun doing it all! Like a lot of entrepreneurs, Andrea's entrepreneurial drive and spirit were influenced by her parents. As she shared, "I never wanted to work for someone else. I have stayed true to this statement since becoming self-employed in 1998."
Andrea got her first taste of hospitality in a big way – on the "Big Red Boat" – Disney's cruise line, Premier Cruise Line. She was, in her words, "Julie McCoy, Cruise Director extraordinaire!" With her larger-than-life personality, and take-charge attitude, she absolutely chose the perfect job in hospitality!
From Premier Cruise Lines, it was an easy transition to entrepreneurial life. First Coast Talent Agency was and still is Andrea's baby. Established in 1998, the agency provides on-camera talent for film, television, commercials, and video.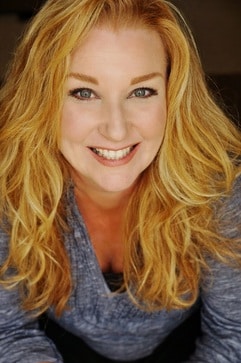 As is often the case, nothing is accidental. Andrea and JoAnna met through mutual friends, and immediately clicked. One afternoon they met at Cellar 6, which is now Forgotten Tonic on Aviles Street.
Over a bottle or two of wine, the conversation wound around to common denominators and how these two awesome women could work together on a new project….because what is life with a project or three to keep things interesting?
After talking about where they liked to go on vacation, what they liked to do, and why friends love to come to St. Augustine and what they like to do in St. Augustine a common thread emerged.
They love to eat, they love to drink, and they love to talk. Hmmm….now what to do with these commonalities? And the idea was born. Why not start a food company? Why not indeed!
JoAnna Engel, Chief Financial Officer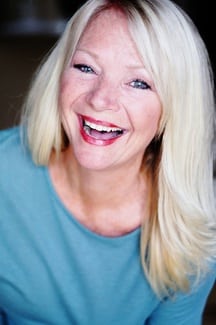 A Florida gal born in Columbus, Georgia, and raised in Lake City, JoAnna is a fun-loving gal at her core. One of the biggest influences in her life was her grandmother, who was the mother of ten children, including two sets of twins! Whew! That is an accomplishment in itself!
Working in the cotton fields for most of her life, JoAnna's grandmother impressed on her that a good education, hard work, and self-reliance were the cornerstones of a successful life. So using these things, JoAnna has shaped her entrepreneurial life her way.
From the humble beginnings of opening and owning her own hair salon in 1985 and selling it 17 years later to opening and operating a successful real estate business for ten years and selling that business JoAnna needed a fun and creative endeavor to keep her busy in her "semi-retirement" phase of life.
Moving to St. Augustine was the dream retirement destination, so off to St. Augustine she went. And once in St. Augustine, it was the pirate's life for her…literally. To indulge her creative side, JoAnna became a pirate; a signing and dancing pirate onboard the Black Raven Pirate ship.
It was onboard The Black Raven and working with the owners Gunnar and Monica that JoAnna discovered a treasure of her own – St. Augustine's tourism and hospitality world. Of course, her friends came to visit JoAnne, and she just had to share St. Augustine's foodie finds with them!
And that is when the entrepreneurial light bulb went off in JoAnna's mind and she and Andrea had their historic meeting at Cellar 6, which is now Forgotten Tonic on Aviles Street.
After talking about where they liked to go on vacation, what they liked to do, and why friends love to come to St. Augustine and what they like to do in St. Augustine a common thread emerged.
They love to eat, they love to drink, and they love to talk. Hmmm….now what to do with these commonalities? And the idea was born. Why not start a food company? Why not indeed!
It shouldn't surprise you at this point to learn that The Tasting Tours called the bar at the Casa Monica their office for the first year of its existence. Why? Why wine of course, and the atmosphere was conducive to conceiving, birthing, and nurturing this new endeavor called The Tasting Tours.
Now in its 11th year The Tasting Tours has grown dramatically. They offer five regular tours, with more on the way. During St. Augustine Nights of Lights they offer even more tours. Tip: If you are planning a holiday visit to St. Augustine during Nights of Lights, book your stay and tour(s) well in advance as they consistently sell out.
 This post may contain affiliate links which won't change your price but will share some commission. As an Amazon Associate I earn from qualifying purchases.
The Creative Process of Expansion
No company succeeds without a lot of work, and in the case of The Tasting Tours, that work involves a lot of eating and sipping. When new restaurants come on the scene, the TTT team is out there tasting and sipping, and networking with the restaurateurs and culinary creatives.
The team loves to present the history of St. Augustine, which spans an extensive time line in a fun way. And what better way to learn St. Augustine's history that with friends over food and wine? The Tasting Tours team is in the know about all the hidden foodie gems in St. Augustine, making it the ideal way to kick off any visit to America's Oldest City.
TTT Team And Their Vision For The Future
Andrea handles all the group sales, marketing, website, and booking integrations for The Tasting Tours. JoAnna is the financial mind behind the company. Together Andrea and JoAnna have grown their idea from $5,000 a year (2011) to over $700,000 (2021)!
Niki Kemper began as a tour guide for The Tasting Tours in 2016. In 2019 she was elevated to General Manager. As GM Niki works with securing and nurturing the venue selections for the company. She also oversees the daily management of the company, including tour guide management and tour development (keep your eyes and ears open – there are some fantastic and unique tours in the works!)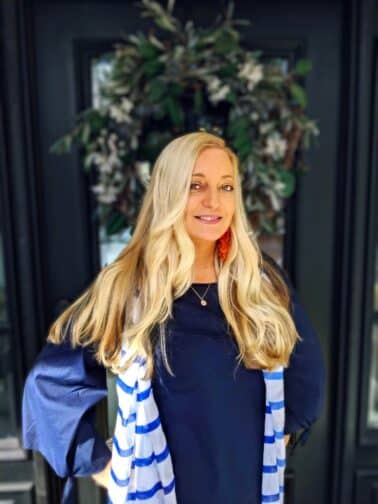 The Tasting Tours has expanded into Jacksonville's Riverside and there are more expansion plans on the horizon. They now offer "Rolling Tours" via electric cart transportation. These "rolling tours" will allow expansion into areas outside of the historic downtown; Lincolnville, Uptown, and Island tasting tours are planned.
The vision for The Tasting Tours is up, up, and up with more to come! Evolve and Elevate the experiences for visitors is the mantra of The Tasting Tours. And with that, Andrea, JoAnna, and Niki invite you to come Eat, Drink, and Socialize with The Tasting Tours in St. Augustine and Jacksonville!
CHECK OUT WHAT'S NEW ON BETSI'S WORLD
You May Also Enjoy These Getaways