Mexico is known for some of the best beaches in the world. It has many wonderful beach locations to choose from when you want to vacation south of the border and enjoy the tropical climate. This is especially true of those from the northern climates who want to escape the cold winter months and get a break from the snow and low temperatures.
As traveling increases, many people are looking to get out of the country and relax in paradise. Mexico is a popular choice, as it is not too far from home and houses some incredible resorts. Whether you're planning to travel soon or are waiting it out, these Mexico beach vacations are sure to give you some inspiration for your next trip.
1. Puerto Vallarta
Puerto Vallarta is one of the most popular and most well-known of the Mexico beach vacation destinations. Banderas Bay has 26 miles of wide sandy beach. One of the unique things about choosing Puerto Vallarta is that you really get a sense of what this town was like in colonial times in the atmosphere and the architecture. Besides walking and laying out on the beach you can take one of the town's many tours. The tours range from food focused, to adventure, to historic!
Interested in seeing some wildlife? Try a whale watching tour with Ocean Friendly Tours! Puerto Vallarta is known as a prime spot to see humpback whales splashing around in the water.
Playa de Los Muertos is the most popular beach in this town and contains numerous small restaurants and cafes. Here you can engage in a variety of watersports, parasailing, beach volleyball, and people watching! Puerto Vallarta is definitely one of the best beaches in Mexico.
2. Puerto Escondido- An Affordable Beach Vacation
Surfers flock to Puerto Escondido for the world-class surfing experiences it provides. Whether you are an experienced surfer or just learning, there is a place for everyone. For surfing lesson from experienced surfers or just a safe place to explore your skills head down to La Punta. Here, the you'll find people of all experience levels and some really great waves!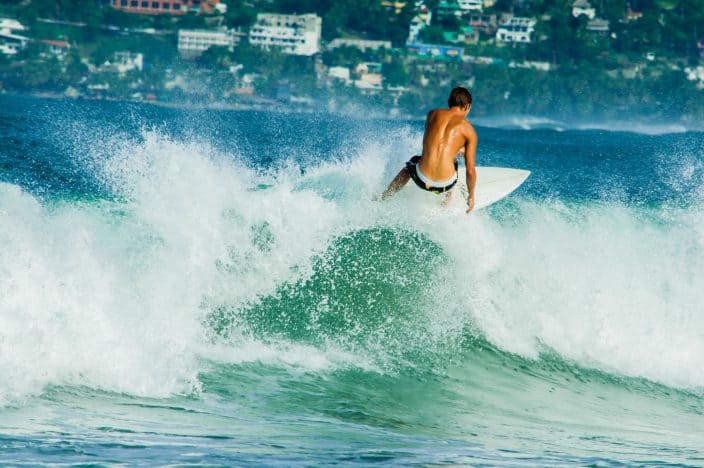 Puerto Escondido has a laid back vibe and is popular with surfers, backpackers, yoga lovers, and free spirits. Besides, La Punta, there are several beaches in this area that have an appeal all their own. Accommodations and dining venues are really inexpensive giving you one of the best beach vacations in Mexico at a low cost. Hotel prices can range from 15 dollars a night to 60 dollars for a luxury stay. If you're looking for a beach vacation in Mexico with a chill atmosphere and less emphasis on tourism, Puerto Escondido is for you.
3. Ixtapa and Zihuatanejo
These two beach locations are side by side offering something for everyone. First, the comfort and convenience of having amenities at your fingertips in the resorts. Second, the simplicity of the casual atmosphere and way of life. You can even swim and play with dolphins at Delphiniti, Ixtapa! Playa La Ropa is an exquisite beach that is very close to Zihuatanejo.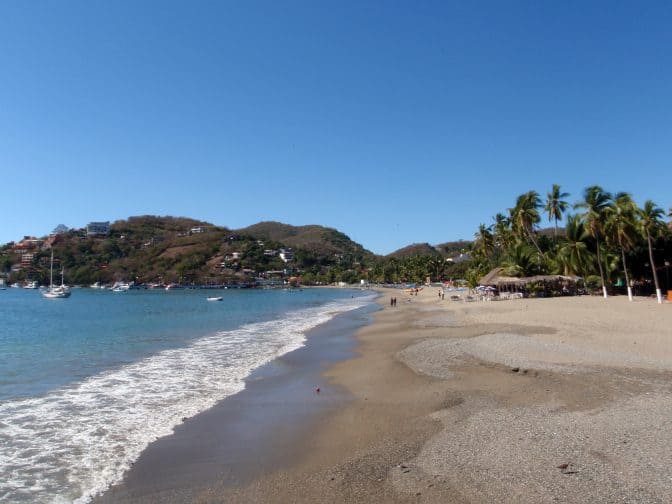 Another beach in this location is that of Playa Los Gatas where you have a wide variety of restaurants for your dining needs and exceptional sites for snorkeling. Playa Palmar in Ixtapa is ringed by high-rise hotels and has a large stretch of sandy beach that leads down to the gentle waters.
4. Cancun
Cancun is one of the best known beach destinations of Mexico and sees millions of tourists each year. The whole coastline of the Yucatan Peninsula is home to some of the most beautiful beaches of the country. The powdery white sand is a stark contrast to the turquoise color of the water and makes a glorious image.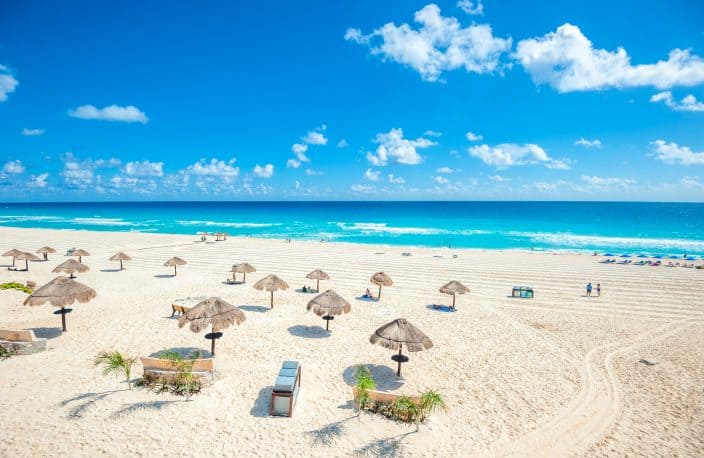 Because of the immense popularity of Cancun, it is the location of the widest assortment of luxury resorts and beachfront hotels and has more nightlife, restaurants and shopping possibilities than any other Mexican beach destination.
If you're looking for a place to stay try Le Blanc Spa Resort. This resort is an adults only, all inclusive luxury haven that will truly spoil you. They offer a top of the line culinary experience, 24 hour room service, a personal butler, incredible rooms and views, and decadent spa treatments. A beach vacation in Cancun will be a true retreat into luxury.
5. Isla Mujeres
The beach at Isla Mujeres is absolutely superb and has a large number of possible activities. Isla Mujeres is a Mexican island off of the coast of Cancun. Visit the Mayan temple of the goddess Ichxel at Punta Sur, in the South of the island.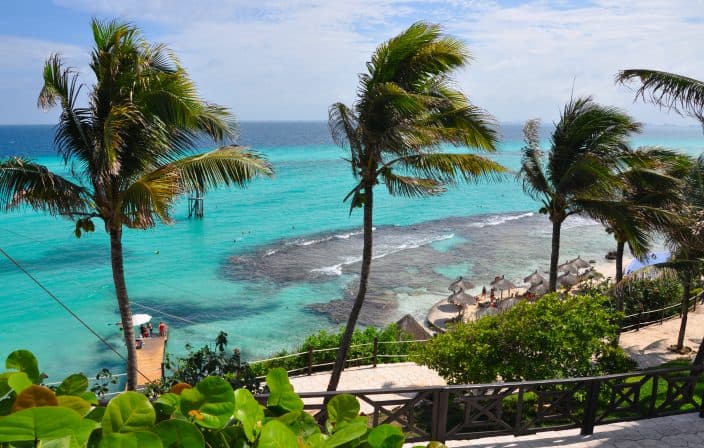 The island offers a diverse array of culinary treats, however you must try their signature dish Tikin-Xic fish. In this dish, a white fish, like snapper, is seasoned and rubbed with achiote. Then it's wrapped in a banana leaf and cooked in a pit! You can try this tasty treat at many restaurants, but it is best known at Playa Lancheros.
After lunch, swim off the beach, dive to the El Garrafon Reef, snorkel among the colorful marine life or take a boat excursion to the national wildlife reserve on Isla Contoy.
6. Tulum- A Mayan Beach Vacation
Experience the legacy of the Mayan people when you choose Tulum as your beach vacation destination in Mexico. It is not as crowded as Cancun and has adorable beaches where you can enjoy the sand and the warm and gentle waters.
All the hotels here are somewhat smaller than you will find on other locations in the country and this helps to keep down the numbers of people on the beaches. The North beaches have better access to public parking and are often more crowded than the South beaches. The South beaches are easily accessed by staying at resorts on the beach.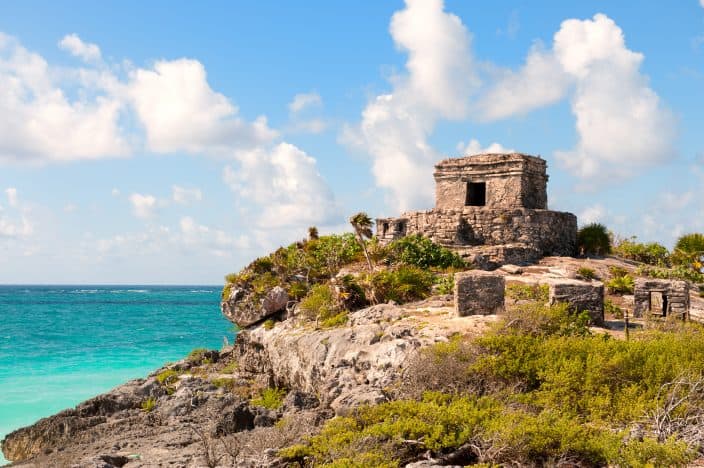 Of course, you must visit the Mayan ruins while there. The ruins were built to be a fortress, with 3 walls and the Caribbean sea serving as the forth. A visit to this historical site will allow you to marvel at this world wonder and teach you so much about their ancient culture. Tulum is high on our list of the best beaches in Mexico!
7. Playa del Carmen
If you are looking for a beach destination for your vacation in Mexico that is low key, yet hip, then you should definitely consider Playa del Carmen. Playa del Carmen has a large number of cenotes, a limestone sinkhole filled with water, where you can swim in the cool water on a hot day. If you haven't experienced this yet, it is definitely a must while visiting Playa del Carmen.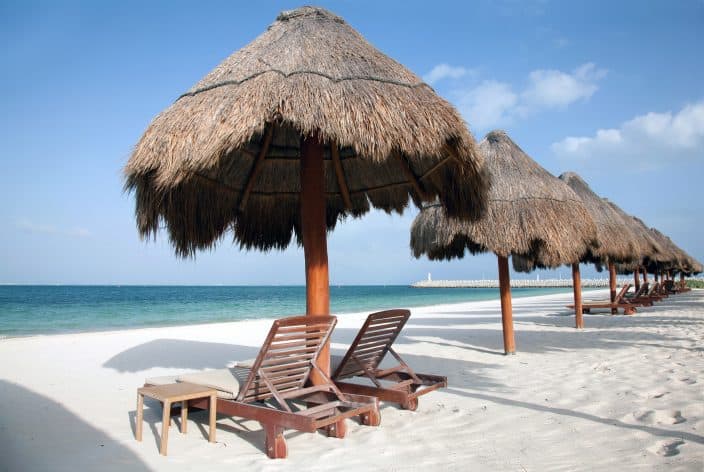 The beach is right on the doorstep of the hotels and there are many restaurants where you can have traditional Mexican cuisine or something with an international flavor. Many beach clubs on the shoreline offer lounge chairs and umbrellas where you can sit and enjoy the view of the water. The sandy beaches are lapped by clear waters that are just perfect for swimming. Plus, the Mayan ruins and Cancun are close enough for day trips.
 This post may contain affiliate links which won't change your price but will share some commission. As an Amazon Associate I earn from qualifying purchases.
8. La Paz- A Peaceful Beach Vacation
The peaceful port town of La Paz makes for a great beach vacation with its open-air restaurants and colorful playgrounds. It is the perfect place to connect with nature and others who love it, given it's emphasis on marine biology. The best beaches, though, are not in the town itself, but rather they are just minutes from the downtown area.
Due to the exquisite nature of these beaches, this has become the prime location for those interested in engaging in scuba diving, kayaking and other watersports adventures. It's beauty and abundance of activities makes La Paz one of the best beaches in Mexico.
9. Los Cabos
Finally, on our list of the best beaches in Mexico, is Los Cabos. The crashing waves and the stretches of serene, soft sand make Los Cabos an excellent choice as a beach destination in Mexico. The terrain is rugged, with many rock formations, making it a gorgeous backdrop for photos. If you want to swim and snorkel, or just relax on the beach, this is place to do it!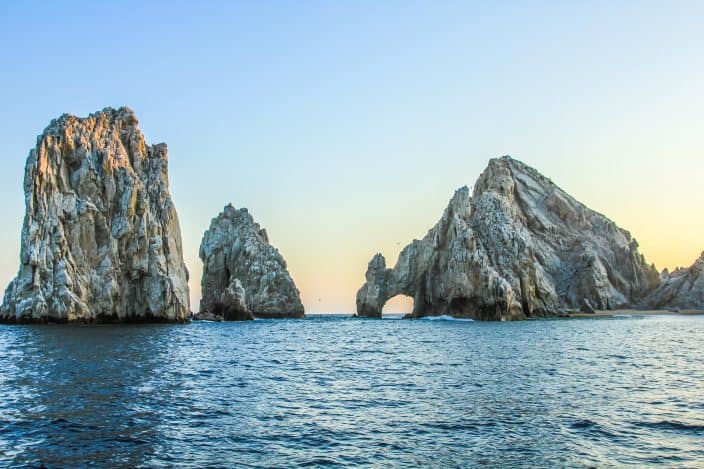 Playa Palmilla is the starting point of the corridor leading to the renowned Lover's Beach. Lover's Beach is an incredible natural wonder that you can only reach by boat. It is filled with large limestone rock formations, making it an amazing site to behold. Because of the strong undercurrent, some of the beaches are not suitable for swimming. However, Playa Palmilla allows visitors to swim in it's waters. Not to worry, other beaches offer the luxury of soaking up the sun with gorgeous views, grabbing a drink at a beachside bar and relaxing.
The Perfect Beach Vacation In Mexico
These are some of the best beaches in Mexico, offering a variety of experiences from quiet to busy, affordable to luxury, historic to adventurous. No matter what type of beach vacation you prefer, you're bound to find a beach you love in Mexico. Whether you are ready to go or just planning for the future, this list will help you narrow down the many spots of paradise Mexico has to offer.
Before you go, don't forget to pack some of these travel items, essential for a great beach vacation!
Sunglasses. The sun's rays are harsh, especially out by the water, protect your eyes with some polarized sunglasses!
Hat. I like wearing this brimmed hat to protect my face from sun damage.
Turkish Towels. These towels dry fast and can be also used as a wrap over your bathing suit!
Protective Sun Tops. If you are planning on spending a lot of time out on the water engaging in watersports and activities, I recommend these tops. They will help protect your skin from sun damage and sun burns!
If you're interested in great domestic beach vacations check out our article on The Best Beaches In Florida for some inspiration!
CHECK OUT WHAT'S NEW ON BETSI'S WORLD
To which of these beaches in Mexico are you dying to go next? Let us know in the comments below!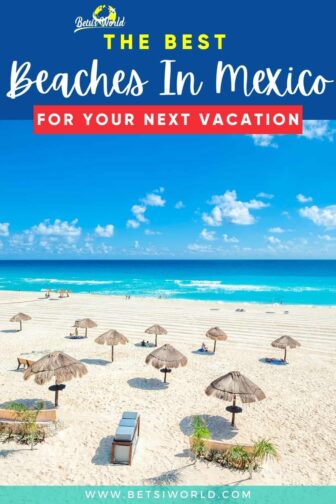 Other Vacations You May Like