Beaches in Aruba are some of the most captivating and breathtaking beaches in the world. This island paradise is located in the Caribbean sea, fourteen miles off the coast of Venezuela. The beaches of Aruba are so inviting that many cruise ship passengers who dock in Oranjestad (the island's capital) forego the usual activities of shopping and casino play to spend a day just enjoying the water!
Aruba's top beaches host a variety of sights to be seen, each perfect for different activities. On the eastern shore of Aruba, huge waves crash against the rocks, great for sightseeing, but not for swimming. But, on the western side, it's all about gentle, calm waters. To inspire your next summer vacation trip, we've rounded up the best beaches in Aruba.
Traveling To Beaches In Aruba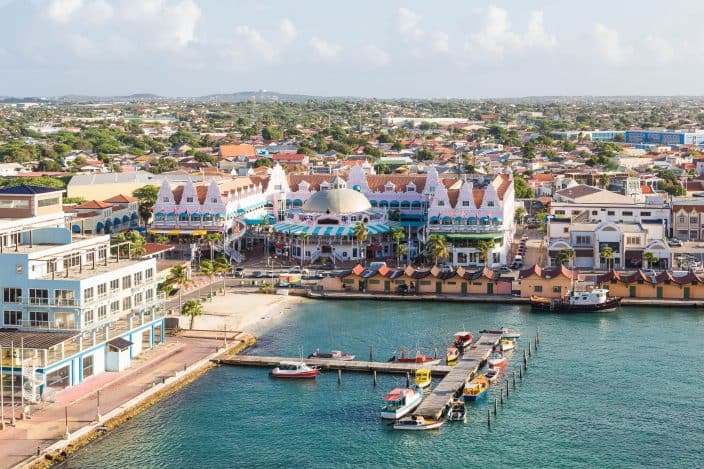 Aruba and its beaches are currently open to with some safety regulations in place. You are no longer required to show a negative COVID-19 test upon arrival. The usage of masks is up to the discretion of each establishment in Aruba. Before embarking on your beach vacation in Aruba make sure to double-check the entry requirements on their website.
Beaches in Aruba are public, with the exception of Flamingo beach (Renaissance Beach), so you can have your choice of beach and decide for yourself which is the best beach on the island! These are just a few of our favorite beaches to visit while on vacation.
Beautiful Beaches of Aruba
Baby Beach
Baby Beach is a great family-friendly beach in Aruba. Nestled in the Southern tip, this lagoon has very shallow waters, ideal for those with small children. Baby Beach is also popular beach to practice your laps, as you can swim a far distance and still touch the sandy bottom!
Baby Beach is in the shape of a half moon, protecting you from the wilder waves of the Caribbean. Put your face in the water and you'll see schools of colorful fish darting in every direction. Baby Beach is the perfect place for a beginning snorkeler to get the hang of it without having to combat wave action.
Rodgers Beach is another family friendly beach you'll want to visit if you're looking to escape the crowds. During the week it Rodgers Beach is very quiet, while on the weekends you'll find many locals families spending time there. Rodgers Beach is a quick minute ride West from Baby Beach.
Eagle Beach
Eagle Beach is north of Oranjestad and is the favorite spot for condo resorts known as "Low Rises." It has been named one of the best beaches in the world and is the widest beach in Aruba. This special beach is also known for housing two beautiful Fofoti trees. Fofoti trees look like large bonsai trees with their trunks twisted up like a work of art.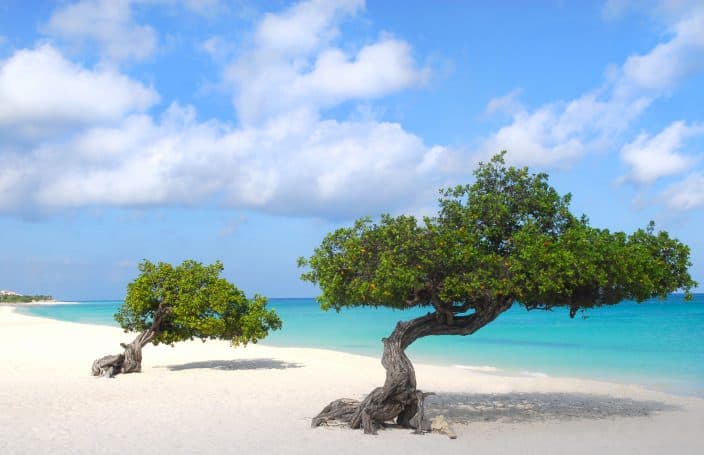 Eagle beach can be sparsely populated in some areas, thanks to its size, and there's a nice roped off swimming area that extends for quite a distance. It's easy to get lounge chairs on Eagle Beach where you can relax and sip on a tropical cocktail!
Fun Fact: You can find many turtles and their nests on Eagle beach- keep your eyes open during the season!
Malmok Beach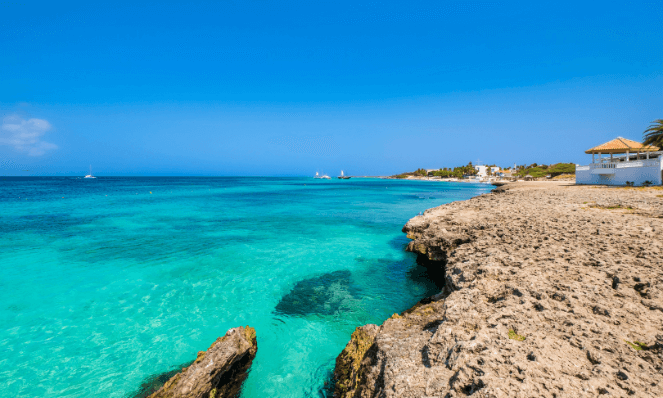 Malmok beach is a rocky beach known for snorkeling tours. It is located just North of Palm Beach past the high-rise hotels. Because of it's clear water is the perfect beach to go snorkeling and see numerous fish, sea turtles, and other marine life.
Pro-Tip: there are many rocks and sea urchins at this beach, so be sure to wear appropriate footwear!
Manchebo Beach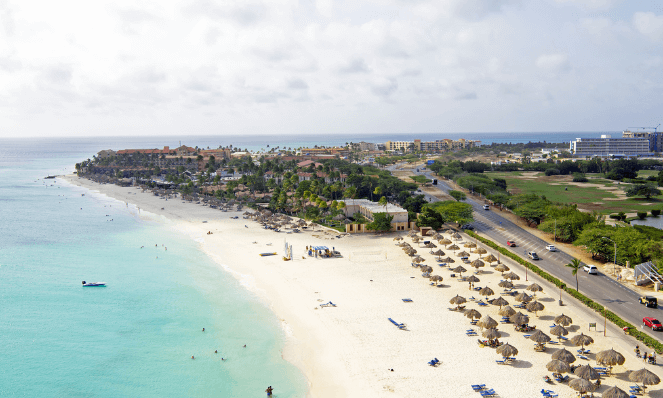 Manchebo beach is located just after Eagle beach in front of the Manchebo resort. This beautiful stretch of white sand beach offers both choppy and calm waters.
If you're looking for a romantic getaway in Aruba, a stay at the Manchebo resort will top off your couples getaway. Manchebo beach is quiet and is the perfect beach to lay down your towel and relax all day long. Grab a drink at one of the beach bars or visit a nearby restaurant and enjoy the stunning sunset!
Hadicurari Beach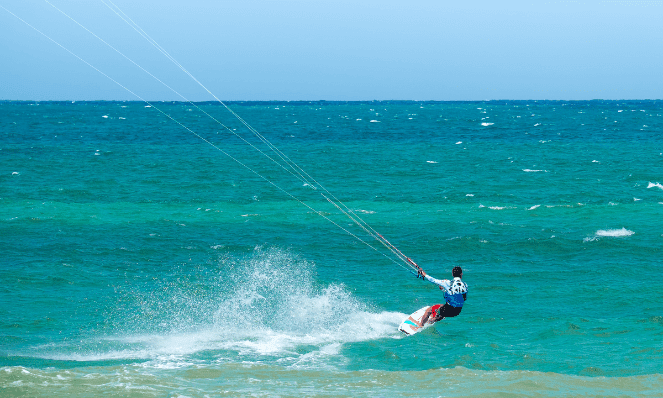 If you love wind and kite surfing, this is one of the best beaches in Aruba to do it. If you've never tried these fun water sports, there are many schools where you can take lessons right on this Hadicurari beach.
Traveling with children? This beach is a great choice because of its gentle surf and shallow waters. Don't forget your snorkeling gear because Hadicurari Beach is also a great place for snorkeling and spotting beautiful tropical fish!
Flamingo Beach
You've probably seen photos of (pink) Flamingo beach or Renaissance Beach- the picturesque soft white sands, turquoise water, and a bright pink flamingo! Flamingo beach is a private beach located on a private island (Renaissance Island) owned by the Renaissance hotel.
This secluded beach is only available to those who stay at the Renaissance island hotel. On days where occupancy is less than 80 percent, you can get a day pass to the island without having a hotel room.
This incredible private beach is the perfect place to spend a relaxing afternoon and is just walking distance from the hotel. The beach is known as a relatively quiet beach most days but it can get busier in the afternoons.
Palm Beach
Palm Beach is one of the most well-known beaches in Aruba. It is many visitors' favorite beach and is definitely one of the more crowded beaches. This stretch of sand is where the "High Rises," elegant hotels with beautifully-landscaped grounds make their popular statement. Palm Beach is the image that most travelers have of Aruba.
Here, you can bask under tall palm trees in between swims in the ocean or beautiful pools, and then return to your 5 star luxury hotel room to get dressed for dining in one of the many excellent restaurants in the area. Feeling lucky? There are lots of great casinos located on Palm Beach, as well.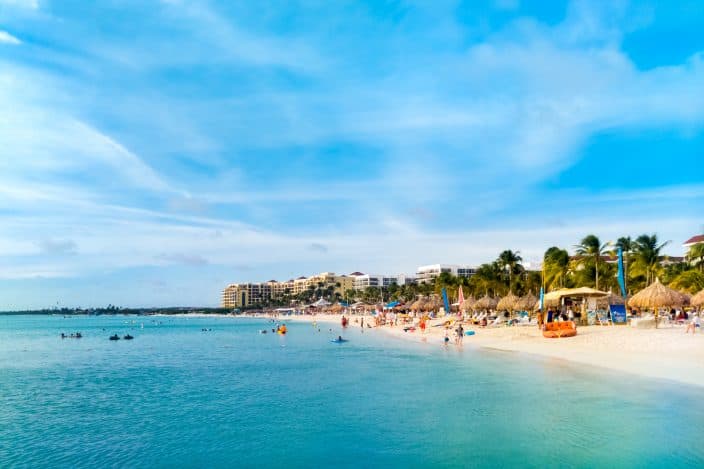 The pathways between the hotels on Palm Beach are lined with tropical flowers and one hotel has an aviary with birds reflecting every color in the rainbow. You'll also find high end boutique shops scattered amongst the hotels and in shopping malls across the street. If you want to be close to great amenities and action, Palm Beach is definitely a great beach in Aruba.
 This post may contain affiliate links which won't change your price but will share some commission. As an Amazon Associate I earn from qualifying purchases.
Arashi Beach
The northernmost beach of Aruba is Arashi Beach, the best snorkeling spot on the island. It has beautiful white sand and the perfect amount of surf.
Arashi beach is great for body surfing, swimming, and exploring the underwater wildlife. Arashi beach is a popular beach among the locals, with its laid back vibes, beach huts, and the occasional live music show! Grab a drink at the beach bar and get some grab some shade under a beach shack.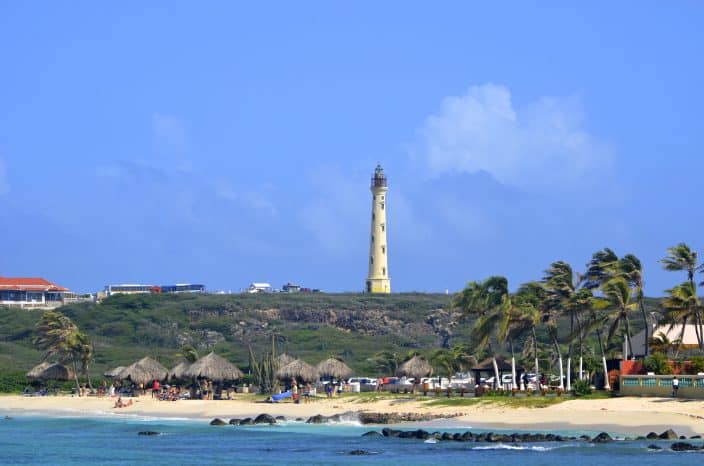 Take a short hike to visit the California Lighthouse up on a nearby cliff. The views are breathtaking and worth every step!
---
So which is the best beach? Ask ten different people and you'll get ten different answers. If you're a snorkeler or surfer, go to Arashi but you'll need a car or taxi to get there as it's beyond the end of the bus line.
For elegance near the hotels, try Palm Beach, but you won't be alone on the beach as this is the most popular one. For a laid-back experience with good swimming and free beach chairs, go to Eagle, and for a family-safe ocean that you can really wade in, Baby Beach is the ticket.
Don't forget to pack some essentials for you trip like protective sun tops, for spending time on the water and being active on the beach, Turkish towels, and sunglasses!
A beach vacation to Aruba will show you why it is known as "one happy island." The warmth of its people, warm weather, charming towns, and beautiful beaches will have you revisiting this Caribbean island again and again! We hope this inspired your next beach hopping trip around the best beaches in aruba!
Interested in some other great beach vacations? Check out our round up of The Best Beaches In Mexico!
OTHER AMAZING BEACH GETAWAYS YOU'LL LOVE
Romantic Beach Getaways In The South
Vero Beach Florida Perfect Getaway
CHECK OUT WHAT'S NEW ON BETSI'S WORLD
Have you ever visited Aruba? Let us know what your favorite Caribbean island is in the comments below!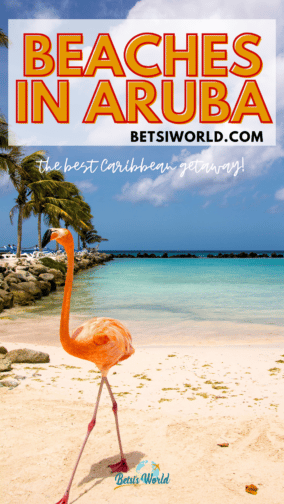 Other Vacations You May Like