The Florida Keys are arguably one of the most romantic locations in Southern Florida. Dotted along the Florida Straits, the Florida Keys extend toward Key West and the Dry Tortugas. This stretch of islands begins just 15 miles from Miami.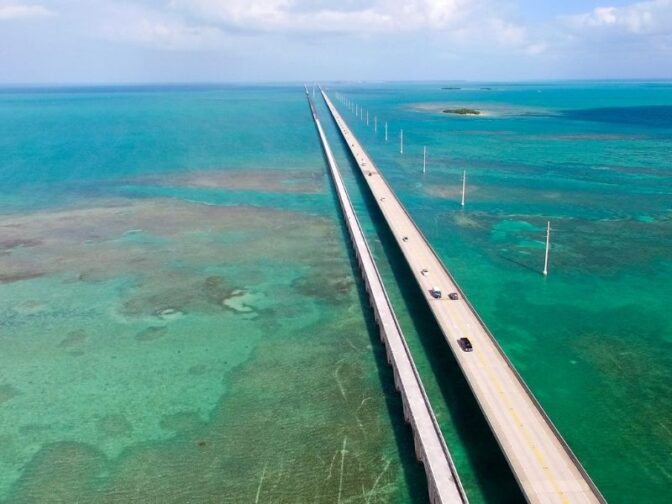 The Florida Keys Overseas Highway is the ultimate romantic road trip for couples. The highway is 113 miles long and takes about 4-hours to drive from end-to-end. If you're looking for a romantic getaway to the Florida Keys, we're sharing our best romantic getaways in the Keys with you.
Florida Travel During Covid
Jim and I have made several trips around Florida during COVID. We've found that all of the hotels we've stayed in, boutique hotels, B&Bs, and chain hotels are all implementing a high level of sanitation and safety standards.
We've not stayed in a hotel where the staff is not wearing masks, and hand sanitizer is readily accessible. For instance, the rooms are sanitized to an even higher level than normal. 
Similarly, when we've eaten out we are finding the staff all wear masks, and patrons are wearing masks until they are seated at their table. We do choose, where possible, to eat outside in Florida's fresh air and sunshine.
Romance Reigns Key Largo Florida
Outdoor lovers will enjoy all that Key Largo has to offer. From John Pennekamp Coral Reef State Park to Dagny Johnson Key Largo Hammock Botanical State Park, there's plenty to explore. The flora and fauna of this marine sanctuary are teeming with wildlife.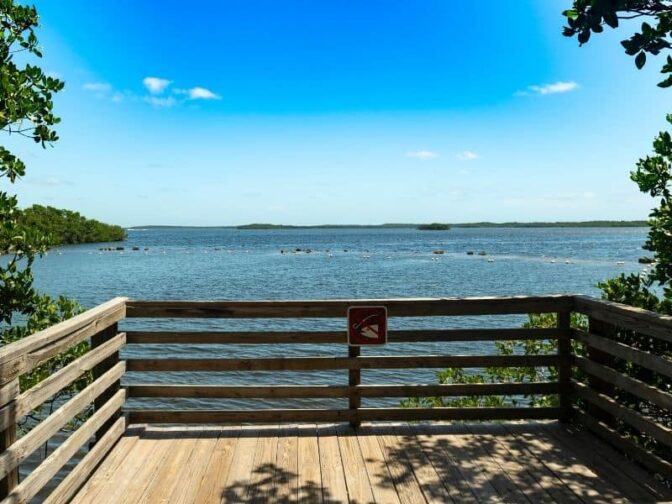 For the ultimate in luxury and romance, The Bungalows all-inclusive resort in Key Largo is the perfect getaway for couples looking for an upscale experience with a stunning tropical backdrop. Jim and I love all-inclusive resorts, and The Bungalows do not disappoint!
Each bungalow comes with two bikes for couples to explore the grounds. It's the only 5-star, all-inclusive resort in Florida and boasts an upscale experience for discriminating couples.
Four on-site restaurants and bungalows with ocean or garden views make this the perfect retreat for a luxurious and romantic couples getaway in the Florida keys.
Romance for Two in Islamorada Like Bogey & Bacall
If you're seeking a romantic getaway resort in Islamorada on the Florida Keys, look no further than the Islander Resort. The resort features a private beach, an on-site beachfront restaurant, and three pools. It is the perfect getaways for couples looking for some secluded one-on-one time together. 
This rustic fishing village is home to countless seafood restaurants and a rich history. Islamorada Key is ideal for couples looking to get away from it all and spend a romantic getaway in the Florida surf and sun.
For movie lovers, make a stop at The Caribbean Club, where Key Largo is rumored to have been filmed.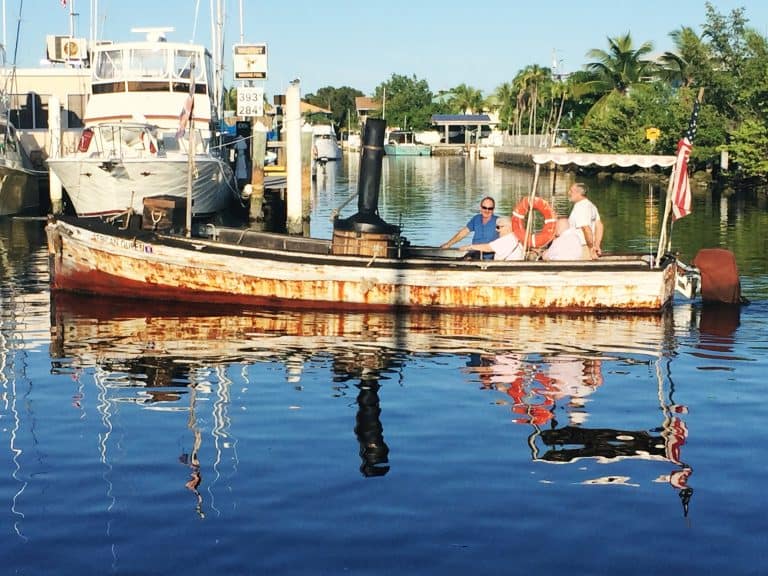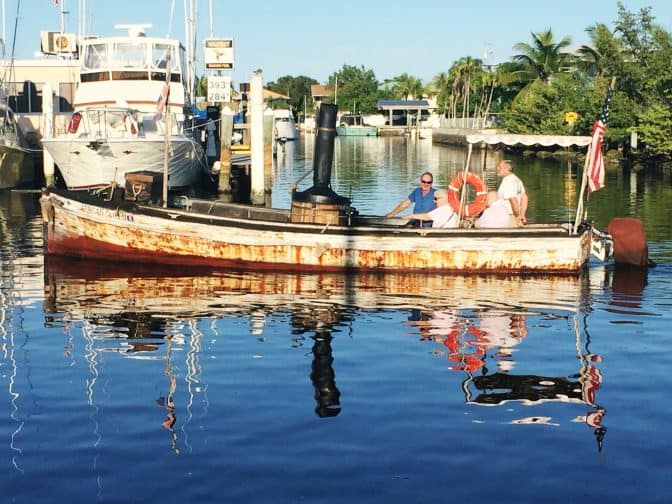 Bogey loved Key Largo, and Key Largo is home to the "African Queen" the boat which was used in the 1951 Humphrey Bogart and Katherine Hepburn film "The African Queen."
If you love doing out of the ordinary things,  take a romantic sightseeing cruise along the canals. You can opt for a daytime cruise or dinner cruise at dusk. Take advantage of this one-of-a-kind experience African Queen Canal Cruise with your beau at the Holiday Inn Complex in Key Largo. 
Romance in the Lower Keys
Plan a day trip exploring some of the lower Keys. The Overseas Highway has plenty of scenic stops along the way. Just beyond the 7-Mile Bridge, the Lower Keys are comprised of 30 smaller islands that extend westward.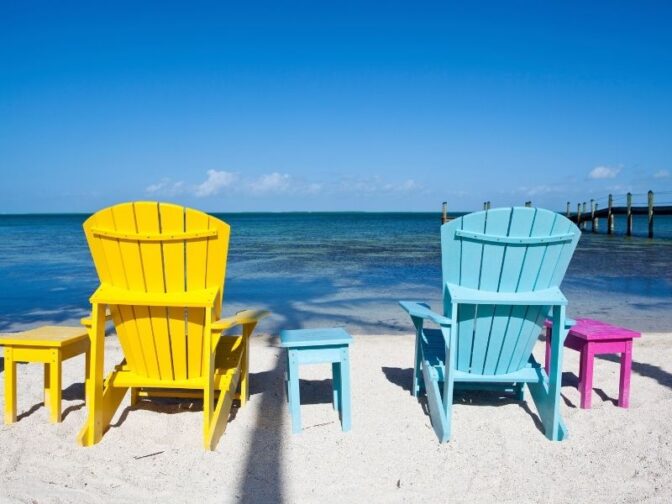 If you're seeking an overnight spot before heading toward the Lower Keys, consider a romantic stay at the Seascape Resort and Marina. Located in Marathon, it's a perfect jumping-off spot to explore the Lower Keys.
Spend a morning exploring Bahia Honda State Park and Recreation Area and explore the white sand beaches and gorgeous views. This is one of our favorites slices of the Keys.
The iconic Bahia Honda Rail Bridge part of Henry Flagler's rail line through the Keys. In 1935 the Labor Day hurricane destroyed the rail bridge. Today, the rail bridge is one of the most photographed sites in the Florida Keys.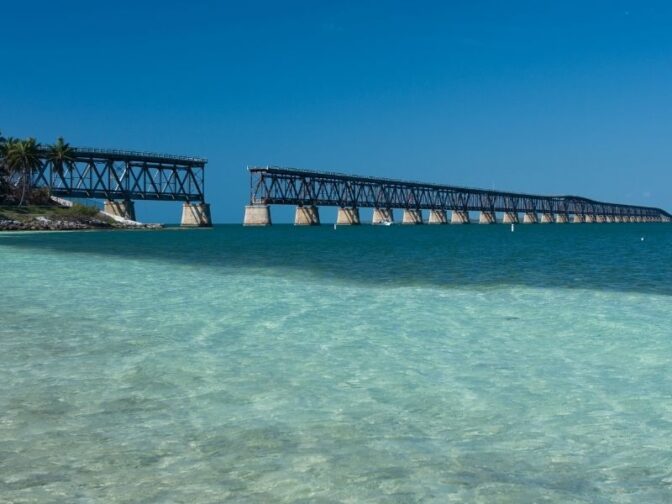 Bring your swimsuits and take a dip in the water at Bahia Honda – it makes the perfect romantic day trip in the Keys!
Big Pine Key suffered a lot of damage during Hurricane Irma in 2017, however, the No Name Pub is still around and doing a brisk business. This renowned bar is worth a stop if you are in the area.
It's a bit dark, but when you are in the Keys, you have to stop in. It's reported that there is over $90,000 in dollar bills on every wall and the ceiling of No Name Pub!
Key West is a Romantic Oasis for Couples
Touted as the Southernmost City in the USA, Key West Florida is a must-visit for couples seeking a romantic getaway along with the Florida Keys. In addition, those with a love of the written word will be especially enamored with this tropical paradise as Tennesee Williams. Ernest Hemingway and Robert Frost who among other authors and writers found inspiration in the Keys. With a multitude of attractions like eco-tours and dolphin encounters, there's plenty to do here.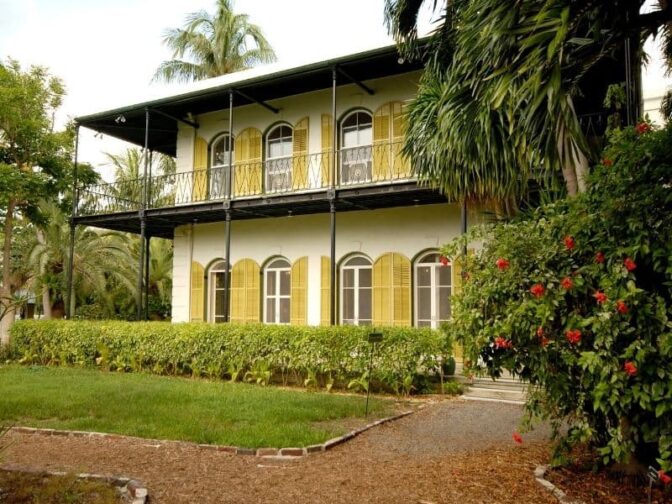 For the ultimate in ambiance for a romantic dinner, couples will enjoy a delicious meal overlooking the ocean at Southernmost Beach Cafe. This beachside oasis serves breakfast, lunch, and dinner. If you're looking to reconnect over coffee or end the night with dinner by candlelight, Southernmost Beach Cafe at the Southernmost Beach Resort is the perfect romantic fit.
Where To Stay For A Romantic Getaway in Key West
One of our top choices for a romantic getaway to the Florida Keys in Key West is the Perry Hotel on Stock Island. Stock Island is a short 15-minute drive to Key West, and the Perry is top-notch for romantic getaways!
We love how the staff treats everyone like VIPs, and the rooms are gorgeous! Above all, the views over the marina are absolutely stellar!
A Romantic Trip to Dry Tortugas
Consider a romantic escapade to the Dry Tortugas, located 70-miles away from the tip of Key West. Visitors can get to these small islands by either ferry or seaplane.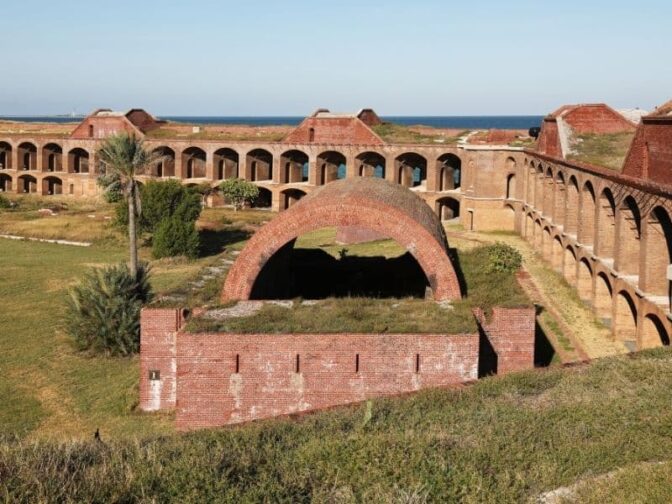 These islands, known as Dry Tortugas National Park are teeming with wildlife, birds, and marine animals. Bring your swimsuit and towel, and take a snorkel around the Fort. We promise you it is a once in a lifetime, unforgettable experience! 
Via seaplane, it takes approximately one hour to get to the islands. Seaplane Adventures of Key West offers tours to the Dry Tortugas and Fort Jefferson while the Yankee Freedom III ferry takes couples on a romantic adventure to the islands.
 This post may contain affiliate links which won't change your price but will share some commission. As an Amazon Associate I earn from qualifying purchases.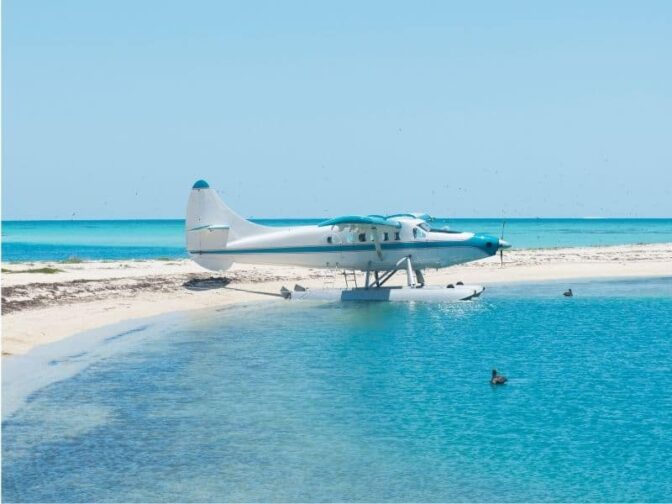 If you are on the fence about whether to take the seaplane or the ferry ~ take the seaplane! We took the seaplane across on our visit to the Dry Tortugas and it was amazing! The plane flies about 500 feet off the ocean and you can look down and see sharks, turtles, underwater sand formations as big as the Egyptian pyramids! It is fantastic!
Romantic Dining in the Florida Keys
Latitude's Restaurant – located at Sunset Key Cottage's, latitudes is open for breakfast, lunch, and dinner and boasts sweeping views of the Gulf of Mexico. Couples will enjoy relaxing oceanside and discovering the local fresh seafood and locally sourced fruits and vegetables. 
Cafe Marquesa – nestled in the Key West Hotel Marquesa, Cafe Marquesa is the place to go during a romantic getaway in Key West, Florida. From breakfast to dinner and everything in between, this cozy little cafe is the perfect date-night spot. 
Little Pearl – seafood-loving couples will enjoy a delicious and romantic meal at Little Pearl Key West where guests can enjoy a fun afternoon pop-up menu or come back in the evening and linger over an upscale seafood dinner. 
Bistro 245 – Jimmy Buffet fans will enjoy visiting Margaritaville Resort & Marina where you'll find a casual lunch spot, Bistro 245 with views of the harbor, and a delicious selection of fresh seafood, light bites, salads, and refreshing cocktails.
What To Bring For A Florida Keys Romantic Getaway
Florida Romantic Getaway For Two
No matter where you go in the Florida Keys, you won't be disappointed. The Florida Keys are an oasis of lush, tropical beaches, gorgeous views. With a variety of things to do, you're bound to enjoy your romantic getaway in the Florida Keys no matter what you have on the itinerary.
CHECK OUT WHAT'S NEW ON BETSI'S WORLD
Drop a comment below and let us know your favorite destination for a romantic getaway!