EASY SAUSAGE GRAVY
When things get chaotic at home, and we need a quick, tasty breakfast or dinner, we turn to breakfast for dinner and this easy sausage gravy recipe tops on our list.
Sausage gravy with biscuits is a staple in the South. I can remember back to when Jim and I were first married and would visit my grandparents on their farm in Middlesex County, Virginia. We'd usually arrive after dinner on a Friday night. As we sat in the den and chatted with my grandmother, she would turn her head to Jim, and get a smile on her face and ask "Will you make sausage gravy and biscuits while you are here?" Of course, Jim was more than happy to oblige and has tweaked this sausage gravy recipe over the years to make it super easy to prepare.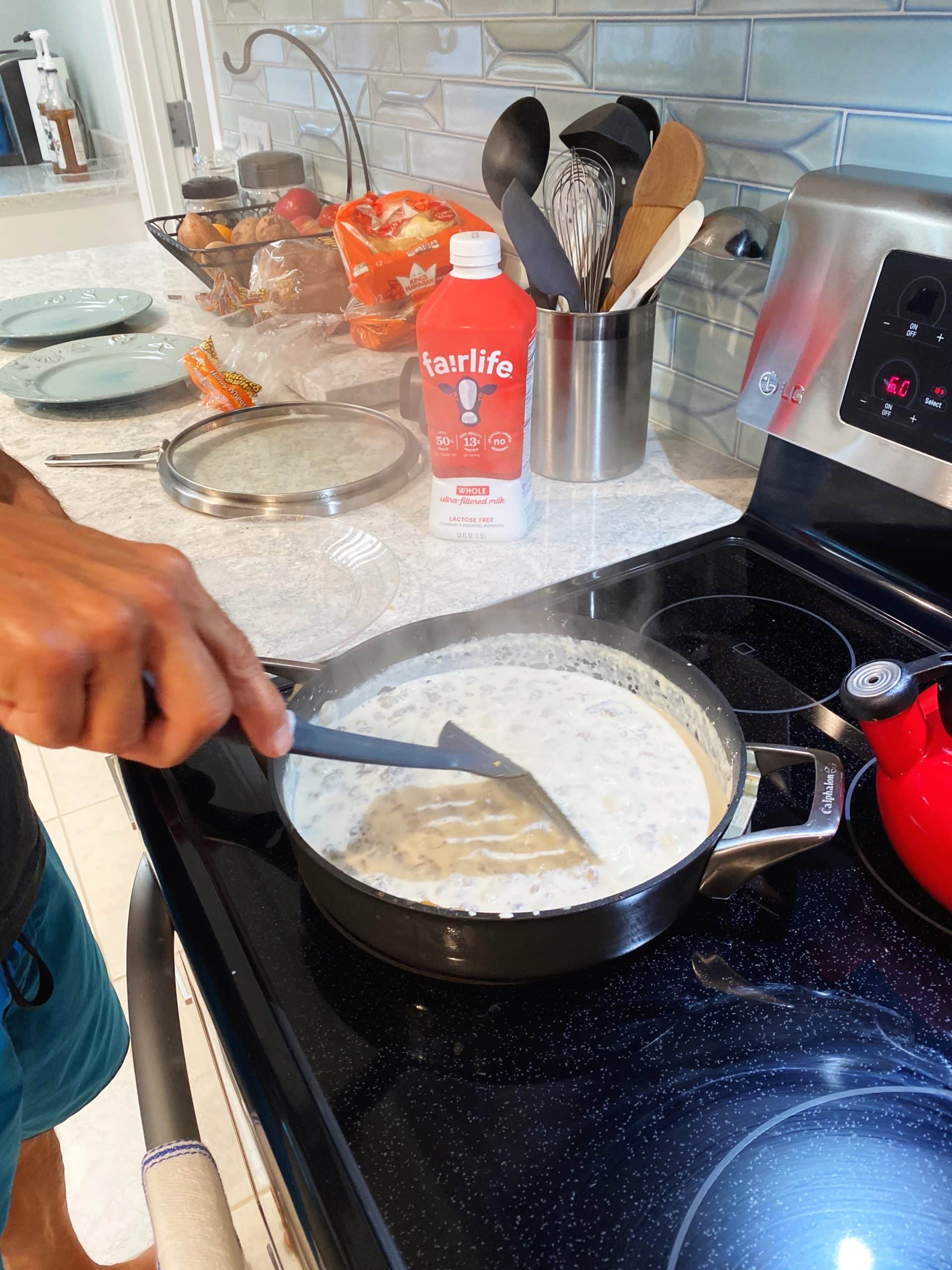 This post may contain affiliate links which won't change your price but will share some commission. As an Amazon Associate I earn from qualifying purchases.
In our home, sausage gravy with biscuits has become a comfort food of sorts. When we are sick, when we don't want to go out, or cook a huge meal, we turn to sausage gravy and biscuits – easy, and quick – ideal for breakfast or dinner.
This easy sausage gravy recipe is a family favorite!
Easy Sausage Gravy
This easy sausage gravy is bursting with flavor and is delicious.
Ingredients
Two 12-ounce packages of pork sausage; prefer Jimmy Dean with Sage
1/3 - 1/2 cup all-purpose flour
4 cups milk
Salt to taste
Fresh ground pepper to taste
Instructions
In a large skillet, cook the sausage over medium heat until cooked through and browned (approximately 10-15 minutes)
Once the sausage is cooked, drain the sausage, but don't clean the skillet - you'll want to keep the rendered fat.
Whisk 1/3 cup flour into the rendered fat in the skillet.
Whisk in the milk until smooth and bring to a simmer over medium heat. Cook until thickened, approximately 5 minutes.
Add drained sausage to the gravy and stir.
Season with salt and pepper.
Notes
If gravy is too thin, add a little more flour.
If too thick, add milk 1-2 tablespoons at a time).
If you prefer, you can substitute hamburger for sausage.
YOU MIGHT ALSO LIKE
Jim's Amazing East Meets West Burger
Loaded Mac & Cheese with Pulled Pork 
CHECK OUT WHAT'S NEW ON BETSI'S WORLD
PIN IT FOR LATER
For an easy and quick meal at home, this one is hard to beat. Add it to your recipe boards on Pinterest so you can find it when you need it.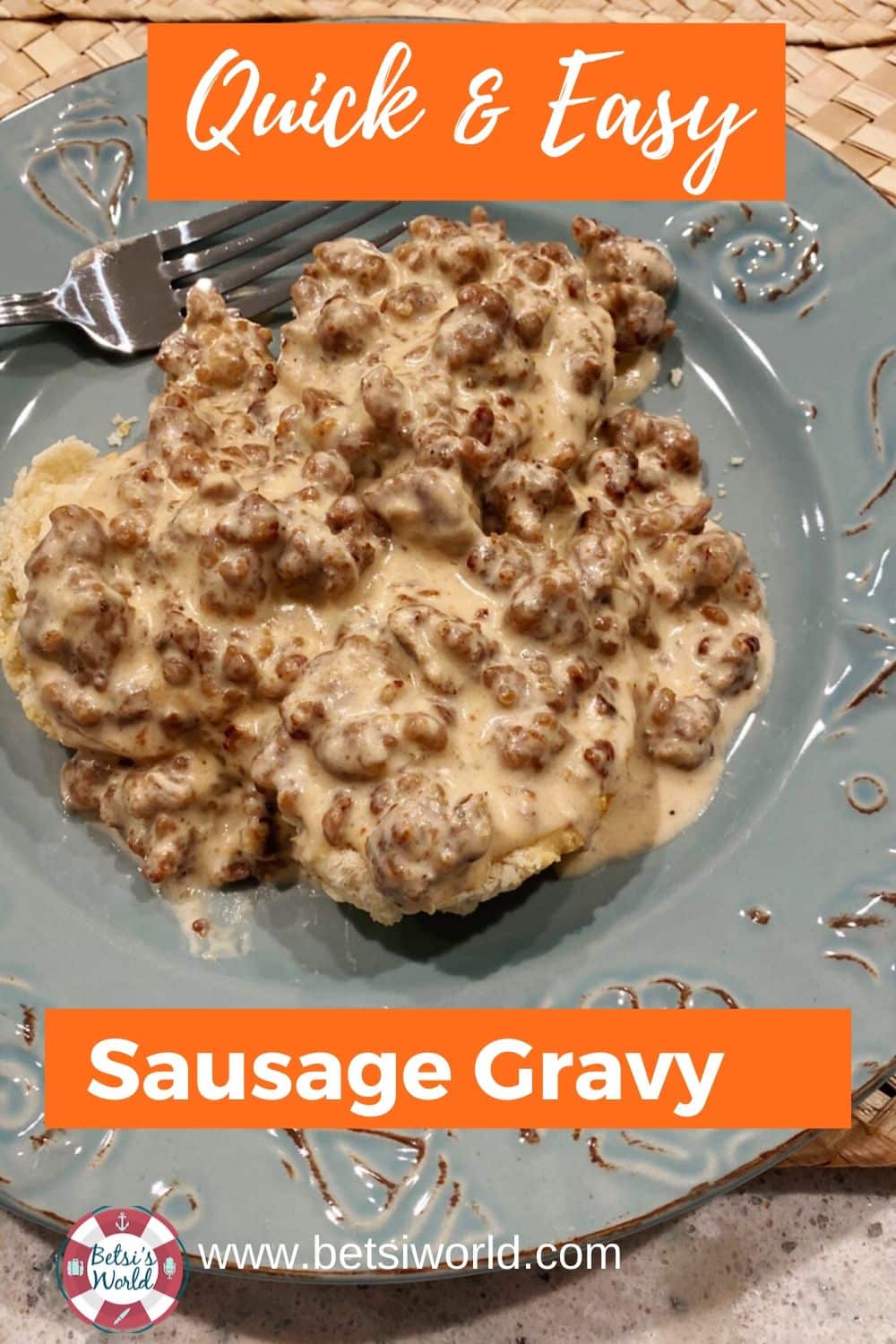 And when you make this dish, please rate it! If you love it (we think you will), share with your friends! Home-cooked can be easy, quick, and tasty! Enjoy!
You Might Also Enjoy