Easy Melt-in-Your-Mouth Homemade Biscuits
Who doesn't love a good biscuit? These Southern-style melt-in-your-mouth easy homemade biscuits will have you smiling from Florida to North Carolina! Seriously, they are that good! And the great thing is these biscuits are delicious served with jam, jelly, preserves, or smothered in some tasty sausage gravy! In fact, our favorite way to serve these delightful biscuits is smothered in some good, tasty sausage gravy. And they can be served for breakfast, or dinner – because who says you have to eat breakfast in the morning?
Easy Homemade Biscuits
This post contains affiliate links. When you make a purchase through these links Betsi's World receives a small commission at no additional cost to you. As an Amazon Associate, I earn from qualifying purchases.
Memories of Grandma's Homemade Biscuits
As a little girl, whenever I would visit my grandmother, I remember her pulling out her old blue mixing bowl, and pouring in the ingredients for biscuits, rolls, pancakes or waffles. My grandmother is gone now, but when I pull out that worn blue mixing bowl, I can feel her watching over me, with a smile on her face, waiting to see what I will create from the old blue mixing bowl.
The Blue Bowl
The ancient age-spotted hands patiently mixed the batter. The mixing came from experience born from repetition. The hot steamy griddle waited patiently for the first scoops of batter to be poured upon its surface from the worn blue bowl.
Passed down through the generations the bowl has seen many cataclysmic events that have shaped the families it has served – the Civil War that terrorized the family and lives were lost to World War I where a son left the family homestead and returned a war-ravaged veteran to the Great Depression that saw the bowl being used in so many different ways.
Countless meals, too many to count, had been prepared in the ceramic confines of the blue bowl. By far the favorite meal of the blue bowl and the family was Sunday breakfast. Oh, the feasts that adorned the groaning table and the interesting people that were invited to join in the feast! The bowl sat silently on the kitchen counter as ingredients were added to its confines to make the final spectacular dish – from pancakes, waffles, biscuits, cakes and more, each one lovingly prepared by hands that worked by repetition, experience, and intuition.
Conversations swirled about the kitchen as the meal was prepared. Children running into the kitchen, chattering, hoping for a sneak peek and taste of the feast to come. The woman's voice calming the chattering chaos about her.
Now the bowl sits silently in the cupboard. It waits for the gentle hands to lift it from its resting place, so it can continue the tradition of the hands that came before.
–Betsi Hill, 2020
An easy meal, ideal for any size crowd, and a crowd-pleaser for Sunday brunch is easy homemade biscuits topped with delicious sausage gravy. For additions, you can serve applesauce, fresh fruit, mimosas, and bloody marys.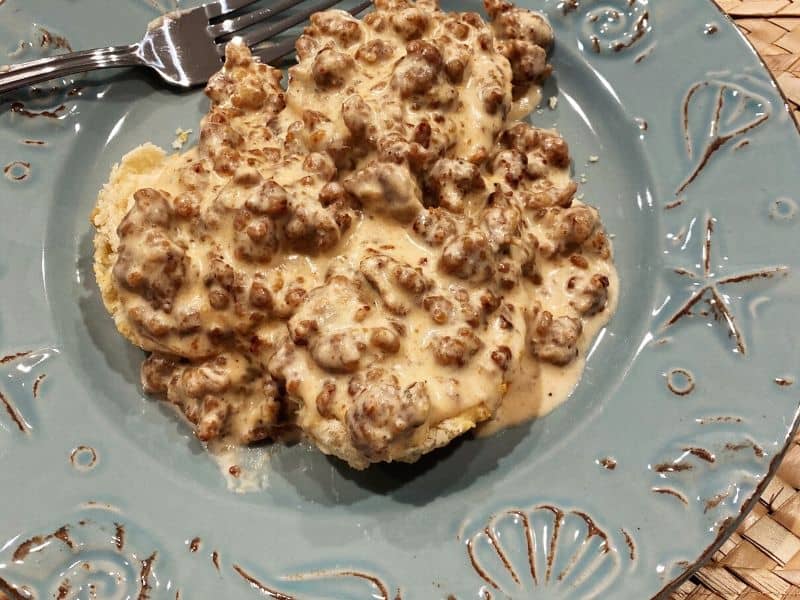 A quick, easy, and super fun way to serve bloody marys is creating a bloody mary bar. For this, you'll want to include tomato juice, vodka (we really like Tito's, Wheatleys, or Jeptha Creed's Bloody Butcher vodka), horseradish and tabasco, lemon juice, lime juice, Worcestershire sauce, and a collection of toppings.
We like to include celery, bacon, shrimp, fresh dill, and olives.
Today we are creating some delicious easy homemade biscuits. These are a tasty addition to any breakfast (or dinner) table.
Easy Melt-in-Your-Mouth Homemade Biscuits
Additional Time:
30 minutes
Total Time:
1 hour
10 minutes
These easy homemade biscuits are great served with jelly, jam, preserves, or with sausage gravy.
Ingredients
4 cups Self-rising flour, and extra for the work surface
2 Tbl Baking powder
1 Tsp Baking soda
3 sticks salted butter
2 Lg Eggs beaten
1 Lg Egg for brushing on tops of biscuits
1 1/2 cup Buttermilk
1 Tbl Buttermilk for brushing on tops of biscuits
Instructions
In a large bowl, whisk together the flour, baking powder, and baking soda. Add butter, and use a pastry blender to cut the butter into the flour until the pieces are even and about pea-size.
Stir in the beaten eggs until well combined.
Stir in 1 1/2 cups of buttermilk - the dough should now be sticky. If it is too dry, then add more buttermilk a tablespoon at a time, and mix after each addition.
Cover bowl, and refrigerate anywhere from 30 minutes to overnight.
Preheat oven to 400 degrees.
Line baking sheet with parchment paper.
Flour your work surface and place dough on the work surface.
Use your hands and press the dough in a circle, about 1/2" thick.
Use a floured round biscuit cutter to cut out biscuits.
Place biscuits on the parchment-covered baking sheet so they are touching.
Now beat together the remaining egg and 1 TBL of buttermilk and brush this mixture on top of the biscuits.
Bake for 15-20 minutes until slightly golden brown.
Notes
Biscuits are best served hot from the oven, but can keep (they make great pickup snacks!).
Place in an airtight container to store leftover biscuits.
You Might Also Like
Jim's Amazing East Meets West Burger
PIN IT FOR LATER