Easy Biscuits Buttermilk Recipe
These buttermilk biscuits will melt in your mouth. This easy biscuit recipe will have you wishing you'd found it sooner. Seriously, who doesn't love a good biscuit?
Serve these biscuits with jam, jelly, preserves, or with the classic gravy! Biscuits are such a such a versatile and delicious baked good, they can be served for breakfast, lunch or dinner . Who says you have to eat breakfast in the morning?
This post contains affiliate links. When you make a purchase through these links Betsi's World receives a small commission at no additional cost to you. As an Amazon Associate, I earn from qualifying purchases.
Memories of Grandma's Homemade Biscuits
As a little girl, whenever I would visit my grandmother, I remember her pulling out her old blue mixing bowl, and pouring in the ingredients for biscuits, rolls, pancakes or waffles. My grandmother is gone now, but when I pull out that worn blue mixing bowl, I can feel her watching over me, with a smile on her face, waiting to see what I will create from the old blue mixing bowl.
The Blue Bowl
The ancient age-spotted hands patiently mixed the batter. The mixing came from experience born from repetition. The hot steamy griddle waited patiently for the first scoops of batter to be poured upon its surface from the worn blue bowl.
Passed down through the generations the bowl has seen many cataclysmic events that have shaped the families it has served – the Civil War that terrorized the family and lives were lost to World War I where a son left the family homestead and returned a war-ravaged veteran to the Great Depression that saw the bowl being used in so many different ways.
Countless meals, too many to count, had been prepared in the ceramic confines of the blue bowl. By far the favorite meal of the blue bowl and the family was Sunday breakfast. Oh, the feasts that adorned the groaning table and the interesting people that were invited to join in the feast! The bowl sat silently on the kitchen counter as ingredients were added to its confines to make the final spectacular dish – from pancakes, waffles, biscuits, cakes and more, each one lovingly prepared by hands that worked by repetition, experience, and intuition.
Conversations swirled about the kitchen as the meal was prepared. Children running into the kitchen, chattering, hoping for a sneak peek and taste of the feast to come. The woman's voice calming the chattering chaos about her.
Now the bowl sits silently in the cupboard. It waits for the gentle hands to lift it from its resting place, so it can continue the tradition of the hands that came before.
                                                                                                                                  –Betsi Hill, 2020
How To Make The Perfect Biscuits
Homemade biscuits are an easy crowd-pleaser for a group of any size! Top your biscuits with a delicious sausage gravy and you're in business for a fabulous meal.
For this biscuits buttermilk recipe, you need self-rising flour, eggs, buttermilk, salted butter (extra cold), baking powder, and baking soda.
First, grab a large bowl and sift your flour, baking powder, and baking soda. Making sure your butter is extremely cold, use a pastry blender or a sharp knife to cut the butter into small cubes. Mix the butter into the flour using the metal tool, not your hands.
Next, beat your eggs and mix into the dough until well combined. Then add the buttermilk, resulting in a sticky texture. If the dough is not sticky then continue to add buttermilk in increments of one tablespoon.
Cover bowl and refrigerate it for at least 30 minutes. Lay the dough out onto a floured surface and fold it over onto itself. Then turn it and turn it again. This is how you achieve layers in your biscuits! Flatten the dough out and press it to about 1/2 inch thick.
Cut the biscuits out using a round biscuit cutter to make a clean cut. Next, place them on a baking sheet lined with parchment paper.
Finally, top the biscuits with a mixture of egg and buttermilk so that they become golden brown in the oven. Bake them for about 15-20 minutes and serve warm!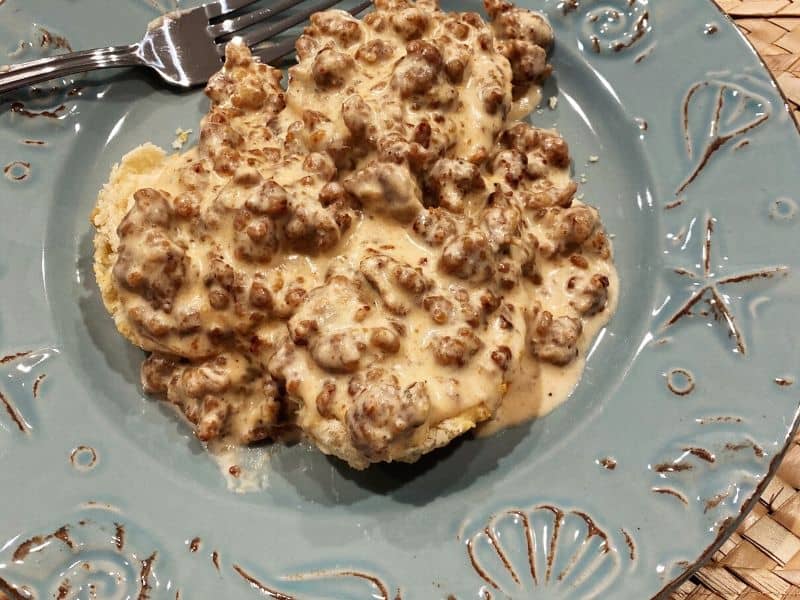 Tips For Making The Perfect Biscuit
Make sure your butter is very cold before using it. Cold butter will ensure that the biscuits come out light and fluffy with plenty of air pockets. If the butter is too warm, it will be absorbed into the dough and become dense.
Your oven needs to be hot enough to ensure enough steam. If you have a convection oven, this will work even better. The air circulation will help the biscuits rise and the outsides to become crispy.
Remember to sift all of your dry ingredients before using. This helps the biscuits to bake evenly and turn out light.
Keep your dough cold. When kneading the butter into the flour, use a spatula or metal spoon, if you use your hands the butter may melt and you'll end up with dense dough.
To store the biscuits, place them in an airtight container to keep fresh.
What To Serve With Biscuits
On the side, you can serve applesauce, fresh fruit, scrambled eggs or seared breakfast sausage. For a fun boozy brunch try making mimosas, and Bloody Marys. A quick, easy, and creative way to serve Bloody Marys is creating a bloody mary bar.
For this, can include tomato juice, vodka (we really like Tito's, Wheatleys, or Jeptha Creed's Bloody Butcher vodka), horseradish and tabasco, lemon juice, lime juice, Worcestershire sauce, and a collection of toppings. We like to include celery, bacon, shrimp, fresh dill, and olives as our toppings.
Easy Homemade Biscuits
Additional Time:
30 minutes
Total Time:
1 hour
10 minutes
Ingredients
4 cups Self-rising flour, and extra for the work surface
2 Tbl Baking powder
1 Tsp Baking soda
3 sticks salted butter
2 Lg Eggs beaten
1 Lg Egg for brushing on tops of biscuits
1 1/2 cup Buttermilk
1 Tbl Buttermilk for brushing on tops of biscuits
Instructions
In a large bowl, whisk together the flour, baking powder, and baking soda. Add butter, and use a pastry blender to cut the butter into the flour until the pieces are even and about pea-size.
Stir in the beaten eggs until well combined.
Stir in 1 1/2 cups of buttermilk - the dough should now be sticky. If it is too dry, then add more buttermilk a tablespoon at a time, and mix after each addition.
Cover bowl, and refrigerate anywhere from 30 minutes to overnight.
Preheat oven to 400 degrees.
Line baking sheet with parchment paper.
Flour your work surface and place dough on the work surface.
Use your hands and press the dough in a circle, about 1/2" thick.
Use a floured round biscuit cutter to cut out biscuits.
Place biscuits on the parchment-covered baking sheet so they are touching.
Now beat together the remaining egg and 1 TBL of buttermilk and brush this mixture on top of the biscuits.
Bake for 15-20 minutes until slightly golden brown.
Savory or sweet, these biscuits will be a hit with any toppings. Remember to serve them right out of the oven, they are best warm! If reheating the biscuits, slice them open and spread a generous amount of butter on each half. Then pop them in a toaster oven and toast for a minute or two.
For a delicious biscuits and gravy recipe, don't forget to check out our savory sausage gravy recipe.
How do you enjoy your biscuits? Sweet or savory? Let us know in the comments below!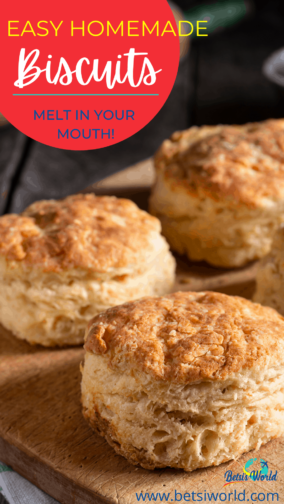 Other Recipes You Might Like