Grilled Teriyaki Citrus Honey Salmon
Salmon is my absolute favorite fish! I fell in love with my very first bite on a trip to Washington and Oregon years ago – oh how I miss that delicate and delicious dill sauce! With lots of time on our hands, Jim has experimented with lots of new dishes, and here is his latest – Teriyaki Citrus Honey Salmon that will melt in your mouth!
This post contains affiliate links. When you make a purchase through these links Betsi's World receives a small commission at no additional cost to you. As an Amazon Associate, I earn from qualifying purchases.
How to Choose Your Salmon
The best practice is to buy fresh-caught salmon, which is readily available in the Pacific Northwest. However, for those of us on the East Coast of the United States, it is difficult to find fresh-caught salmon. So we've found that the best choice is Atlantic salmon in our area. We are looking forward to our next Butcher Box because we have added wild Alaska Sockeye salmon to our order, which is one of our favorite types of salmon.
Atlantic salmon is all farm-raised, and can be raised in Scotland, Canada, Norway, and South America (Chile). The predominant type of Atlantic salmon found in the US comes from Chile, though we prefer Scottish salmon. Scottish salmon are fed krill, tiny fish that look like shrimp. Again, if you are able to get fresh caught salmon, that is what is preferred. But if you buy Atlantic salmon, look for salmon that are fed a diet similar to what they would eat in the wild, which is why we prefer Scottish salmon.
How to Grill Teriyaki Citrus Honey Salmon
Cooking fish is a delicate task – and grilling fish has yielded us the best results! For our teriyaki citrus honey salmon we grill the fillets on cedar planks. Whenever we are able, we try to shop local, so we pick up Scottish salmon (sustainably raised in the open ocean) from Pelican Seafood in Fort Pierce, Florida. Another choice for purchasing salmon is making an addition to your Butcher Box subscription box.
What to Serve with Grilled Teriyaki Citrus Honey Salmon?
A good tasty side dish for teriyaki citrus honey salmon is either quinoa or a garlic pasta. The garlic pasta has a bit more flavor than the quinoa and uses lots of fresh veggies. the garlic sauce is light and delicate enough not to overpower the flavorful salmon.
For a wine, many people say that white wine is for fish and red is for beef. We do like to pair a nice red wine with this salmon dish. If you want to pair a red wine with this dish,stay away from a heavy wine like a Malbec and lean toward a red blend or even a Pinot Noir. We chose to pair Chateau Ste Michelle's Indian Wells Red Blend and were very pleased. This wine is very fruit foward with a velvety finish with a bit of pepper.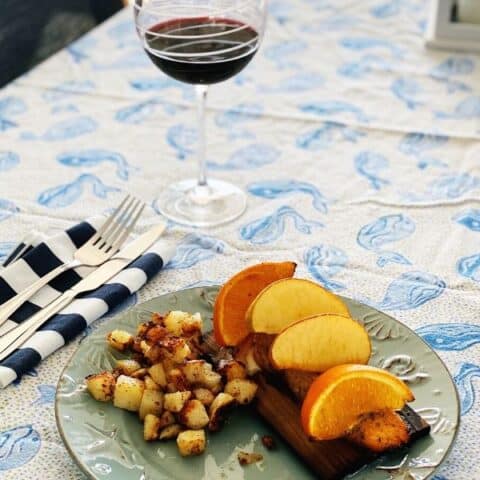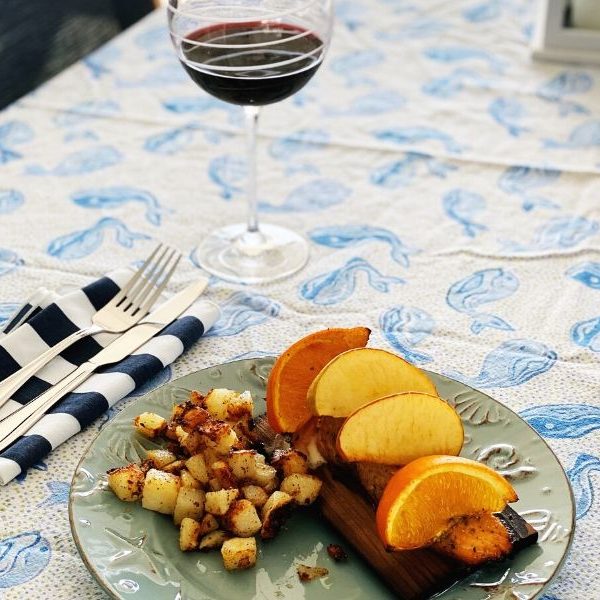 The Best Grilled Teriyaki Citrus Honey Salmon
Yield: 2 6 oz Fillets

Prep Time: 20 minutes

Cook Time: 10 minutes

Additional Time: 2 hours

Total Time: 2 hours 30 minutes

This tasty salmon dish will have you clamoring for more. The citrus and honey combined with the teriyaki make this fish pop with flavor.
Ingredients
Cedar grilling planks
6 oz of Salmon
1 Lemon (cut into wedges)
1 Orange (cut into wedges)
1 tsp Teriyaki sauce
Badia Complete Seasoning (or your favorite seasoning for fish)
Instructions
Preparation - 2 Hours Prior to Cooking
Soak cedar planks in approximately 1 cup of water in a baking pan for 2 hours (you can place a coffee cup filled with water on top of the planks to keep them submerged).
Salmon Preparation - 1 Hour Prior to Cooking
Cut the lemon into wedges
Cut the orange into wedges
Place salmon fillets skin side down on a plate and squeeze 1/2 of the lemon wedges over salmon
Squeeze 1/2 half of the orange wedges over salmon
Rub the juices into salmon fillets
Rub the teriyaki into salmon fillets
Sprinkle Badia Complete Seasoning on salmon fillets
Place salmon in the refrigerator for 1 hour
Prepare Salmon for Grilling
Remove salmon from refrigerator and let sit for 15-20 minutes until it reaches room temperature
Preheat grill to 450 degrees
Place cedar planks on grill grates for 10-15 minutes OR until they begin to smoke
Lightly glaze salmon with honey
Place salmon on cedar planks (charred side of planks down), and place remaining citrus wedges around salmon on the plank (you can also place the citrus wedges on top of the salmon)
Cook for 5 minutes and flip the salmon and cook for an additional 5 minutes
Remove salmon and plate, placing remaining citrus wedges on top of salmon
You Might Also Like
Top Reasons to Visit Your Local Farmers Market
Oreo Macaroons – a Hit the Whole Family Will Love!
Easy InstaPot Loaded Mac & Cheese – a 1 Pot Meal!
Pin Grilled Teriyaki Citrus Honey Salmon to Your Favorite Food Board!