Getting the family out in nature is, perhaps, one of the best ways to spend family time together. It's as pure and unadulterated as the beautiful land that you're hiking through. Hiking with your family teaches your children to love and revere nature, be self-sufficient, and have a healthy respect for life in the wilderness. Fortunately, Colorado has some of the best family-friendly hiking spots in the country.
Colorado Travel During Covid
Masks are required in all indoor public spaces throughout Colorado. Many of the state's outdoor recreational areas are open but do check Colorado.com for the latest information. Whitewater rafting, jeep tours, fly fishing, horseback riding, climbing, and hiking are accessible. For specifics, check out What's Open in Colorado Guide.
Colorado Welcome Centers are open. To stay on top of the latest conditions, we recommend keeping your plans fluid, researching county and destination websites before and as you travel, and becoming familiar with reservation cancellation policies. You can also call 1-800-COLORADO to speak to someone directly.
Top 7 Colorado Hiking Spots
Golden Gate Canyon State Park
Tucked away outside of Golden is Golden Gate Canyon State Park. With over thirty-five miles of hiking trails, it's one of the underrated gems of Colorado. The park has one easy trail and seven moderate trails. Some trails are available to walkers or hikers only, while others are available to bikers and horseback riders as well. As long as they are on a six-foot leash, your dog can hike along with you on all trails at Golden Gate Canyon State Park as long as they are on a six-foot leash. If your young hikers are up to a longer hike, I recommend the Raccoon Trail; don't miss Panorama Point!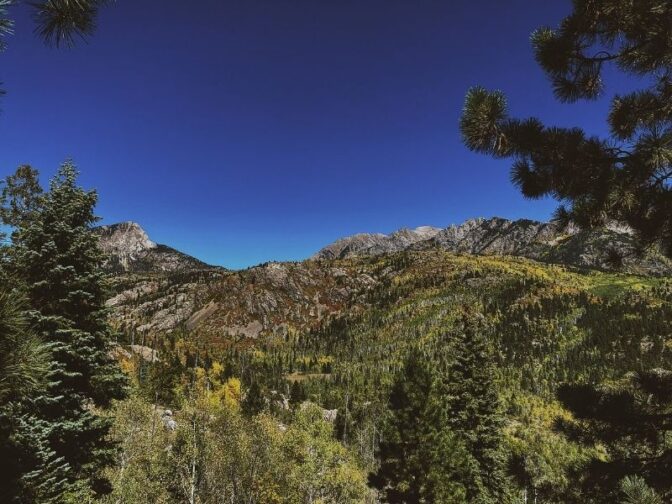 Alderfer/Three Sisters Park
In Evergreen, head to Alderfer/Three Sisters Park. The trails here are more difficult, but should be fine for preteen and older hikers. Some of the trails are shorter and less difficult. You'll find shared-use trails throughout Jefferson County, with hikers having the right-of-way. The more accessible trails are relatively short, making this an excellent introductory hike for younger families.
Horsetooth Mountain Open Space
Horsetooth Mountain is north of Denver and it is stunning! Just like you picture Colorado mountain land would look like. There are twenty-nine miles of trail at Horsetooth, starting at three trailheads; Horsetooth Mountain Trailhead, Bluesky Trailhead, and Soderberg Trailhead. The trails aren't rated for difficulty, but they are all short, so they are easy to explore.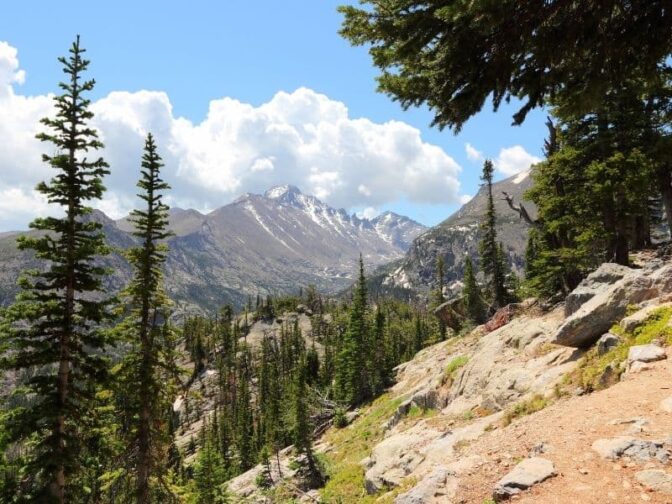 Dinosaur Ridge
If any of your children are into dinosaurs, Dinosaur Ridge may just become your new favorite place to hang out. Dinosaur Ridge offers a variety of guided walking tours and a solo 1.5-mile hiking trail. There are also numerous other dino-themed amenities at Dinosaur Ridge, including a visitor center and a dig site. Dinosaur Ridge is aimed at younger children, but dinosaur fans of all ages will enjoy themselves there!
Green Mountain Trail
The Green Mountain Trail is a longer trail; 6.4 miles. It's rated as moderate, so it's not the place to take younger or beginning hikers. It is definitely the place to take out of town visitors who enjoy hiking and are up for a more lengthy hike.
Green Mountain Trail has long been one of my favorite destinations in the Denver-Metro area. The views are stunning, no matter where you are. Face east, and you're overlooking the city in all her enchanting glory. Face west, and you've got those beautiful Rocky Mountains ahead of you. There is no bad view here. This is a hike you can do in a few hours, but there is no shade; it's all open space.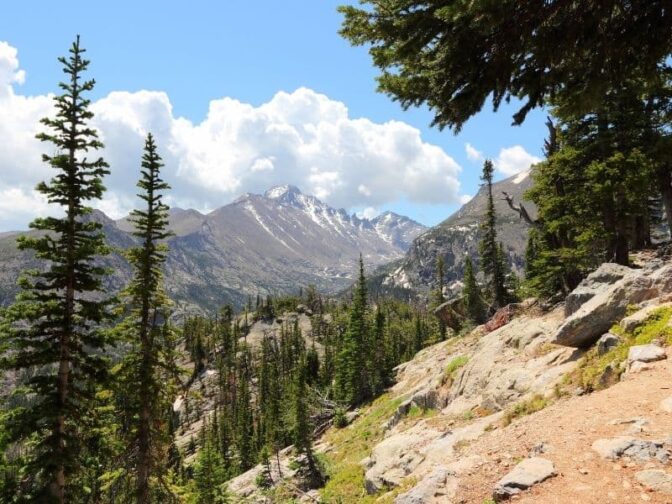 There are areas where the wind gets caught in natural funnels; if it's a bit windy at the trailhead, you may run into some significant wind further down the trail. Plan for a late afternoon hike after the heat breaks. As the trail brings you back to the trailhead, slow down or plan to stay near the trailhead until sunset. You'll see the city light up as darkness falls. It's a sight you won't forget.
Garden of the Gods
Near Colorado Springs is Garden of the Gods. There are twenty-one miles of hiking available there, rated easy to moderate. The most popular trail is the Perkins Central Garden Trail. It's a 1.5-mile trail into the heart of the Garden of the Gods, giving the most spectacular views of the natural rock formations.
Lathrop State Park
Located in southern Colorado, Lathrop State Park has three trails; two moderate and one easy. All of them can be done with preteen hikers. You can plan to spend several days at this lake and enjoy a different view every day while exploring the lake's acreage or hanging out on the hiking trails. From the highest point on the Hogback Nature Trail, you have a panoramic view all the way into New Mexico to the south; on a clear day, you can just make out Pikes Peak to the north.
As you can see, exploring hiking trails in Colorado is an adventure unto itself. Exploring all of the trails with your family is more than just a summer's worth of fun. By starting your family out on the hiking trail at a young age, you can ensure that they will be loving the sights and sounds of Colorado's wilderness for many years to come.
 This post may contain affiliate links which won't change your price but will share some commission. As an Amazon Associate I earn from qualifying purchases.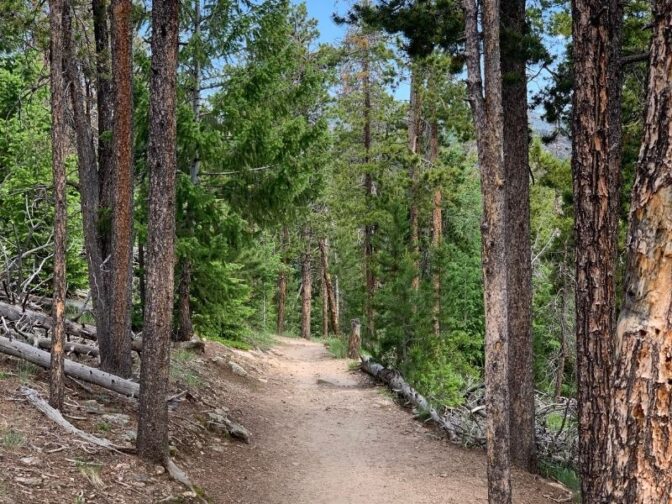 Tips for Hiking in Colorado
DO make a hiking plan and stick to your plan.
DO share your hiking plan with family or friends.
DO bring food and water for your hike.
DO pack a map and a compass.
DO pack sunscreen to protect you from the sun in the high altitude.
DO dress in layers.
What to Wear On Your Hike
Small backpack or fannypack
CHECK OUT WHAT'S NEW ON BETSI'S WORLD
Pin This To Your Favorite Outdoor Adventure Board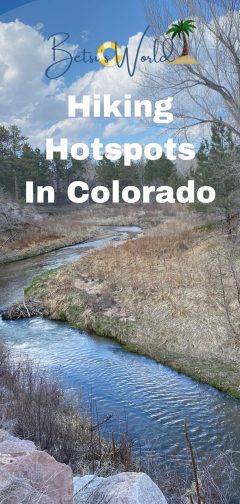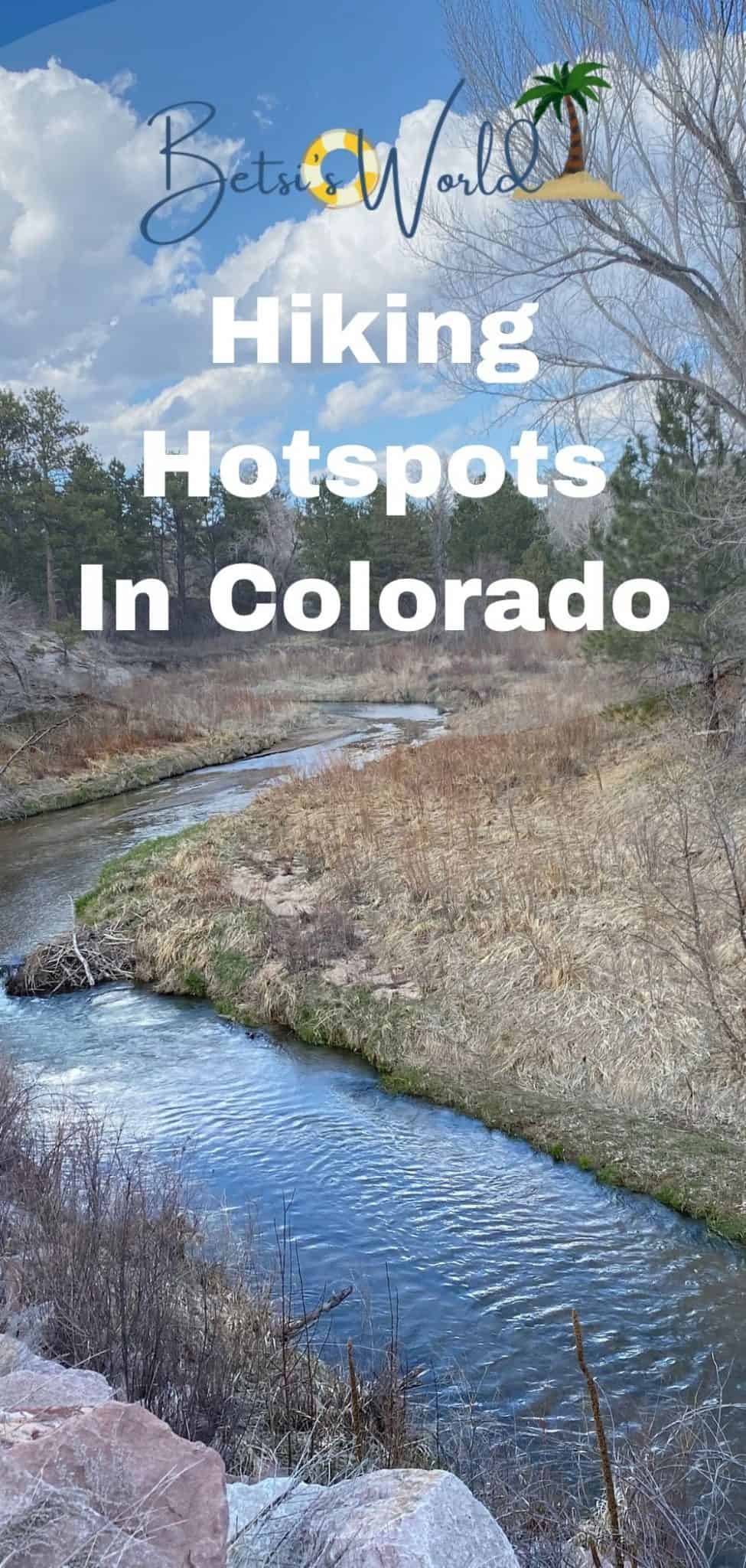 Colorado – A Great Destination for Getting Outside and Hiking
Can you smell the fresh air? Well, what are you waiting for? Grab your supplies, family, your sense of adventure and hit the road to one (or all) of these 7 top places to hike in Colorado!