An outdoor adventure vacation is more popular now than ever. Thrill seekers and nature enthusiasts alike flock to these spots to get some much needed time away. You don't have to be an adrenaline junkie to enjoy these outdoor getaways, there are options for all levels of experience!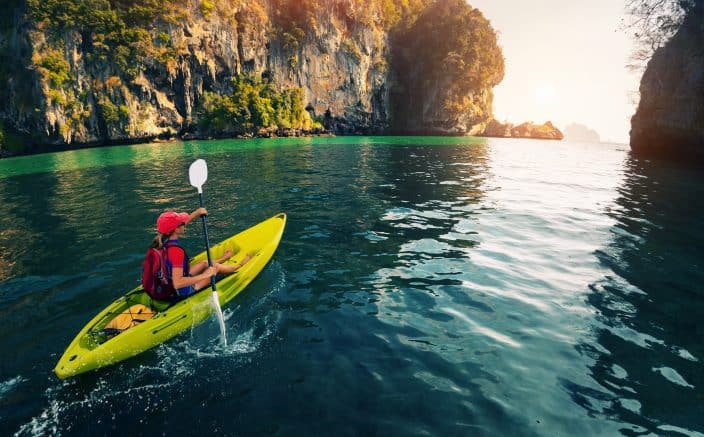 Outdoor adventure vacations offer plenty of social distancing, healthy exercise and an opportunity to experience the beauty that nature has to offer. These are some of our top picks for the best adventure destinations in the South!
5 Adventure Vacation Destinations In The South
Outdoor Adventure In Florida
Key West, Florida
Key West, Florida is a great adventure vacation destination. This island is home to the only living barrier reef in the US, making it an excellent spot for water activities. Snorkeling is one of the more popular water activities that drives people to visit Key West. 
This barrier reef is one of the aquatic wonders of the world. Snorkeling here will give you the opportunity to see numerous colorful, tropical fish, delicate coral, small sharks, and lots of other marine life. What's better than cooling off in the water surrounded by a vibrant aquatic paradise on a warm summer's day?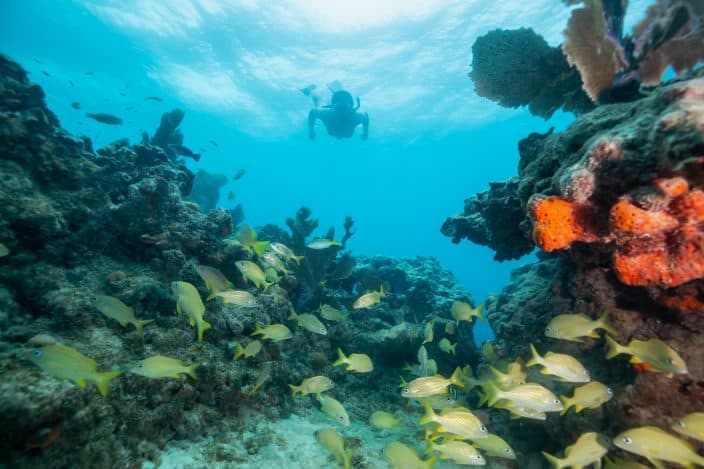 There are many companies that offer snorkeling tours, but one of the most popular ones is Fury Water Adventures. Fury Water Adventures offers morning, afternoon, as well as, sunset snorkel sessions, giving you plenty of options to meet your needs. Set sail on their spacious Catamaran and explore the reefs with professionals to guide you. The tours include snorkel gear, complimentary beverages, sunscreen, as well as, live music and alcoholic refreshments (afternoon and sunset tour only)! 
Not into snorkeling? Try parasailing to get the views from above, or try a dolphin cruise! Key West is perfect for those who are looking for an aquatic adventure vacation. 
Don't forget to pack your boating essentials like a waterproof phone holder, for taking photos under water! You may also want to pack water shoes and a UV protective hat!
The Everglades
Looking for an adventure vacation destination that is full of wildlife? Then an outdoor adventure getaway to the Florida Everglades is for you! The Everglades are a vast expanse of wetlands, that is made up of marshes, mangrove, and flatwoods. Another natural wonder, it is home to many different species, including manatees, the Florida panther, and the American crocodile. 
The best way to explore these wetlands is by airboat. Airboat rides offer a safe, yet close up view of these incredible organisms in their natural habitat. Thrill seekers are sure to get a kick out of this high-speed ride in the wilderness. Read about my airboat experience and what to expect here!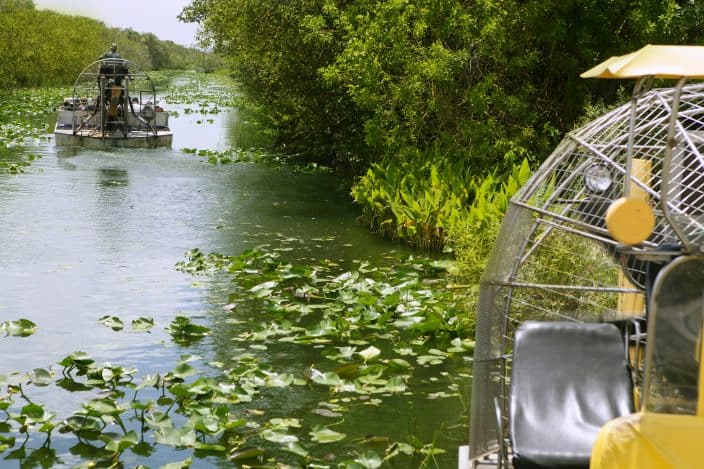 Try the Everglades Holiday Park Airboat Tours and Rides for a 60 minutes, narrated airboat tour. You won't miss out on anything with veteran air boat captains pointing out the most miraculous flora and fauna. Plus, they have covered and uncovered airboats available to visitors, so you can tailor your experience to the weather and your preferences! 
There's nothing quite like coming up close and personal to an ancient creature like the American crocodile during your next outdoor adventure vacation! 
Explore The Outdoors In Kentucky
Mammoth Cave, Kentucky
If you are looking for a horseback riding adventure, look no further than the Bluegrass state. Kentucky is known for its green pastures, the derby, and award winning horses, making it ideal for a horseback excursion. There are numerous places to ride in Kentucky, but the Mammoth Caves National Park is our recommendation for a fully loaded experience.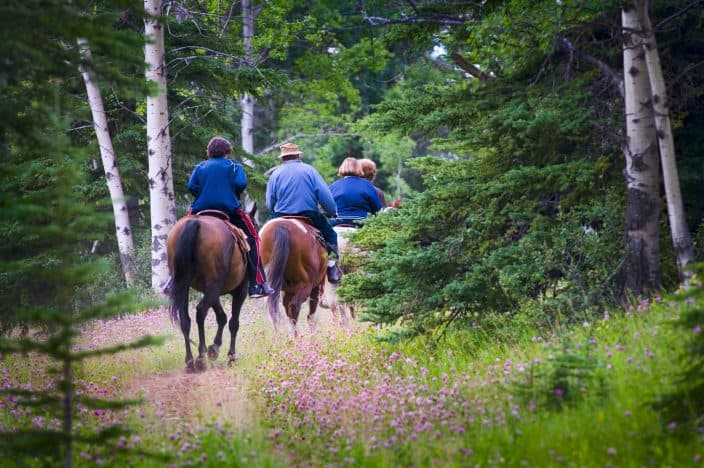 Double J Stables offers guided horseback tours through the Mammoth Caves National Park. Seeing the park on horseback is the best way to see a lot of the park in a shorter time period. There are many different trails suiting different skills levels, from easy to riskier narrow paths. Double J Stables horses are great for kids, as well as nervous adults! Taking a horse riding tour in this incredible park is the perfect all in one package- adventure through the park, with the added experience of horse riding!
Afterwards, you can take a tour of the Mammoth Cave. The Mammoth Cave is the largest known cave system in the world. It's explored expanse measures 400 miles of limestone rock. Much like the horseback riding tours, the cave tours also range in difficulty and are tailored to different areas of interest. Currently, they are running their 2 hour, Historic Self-Guided Tour which leads guests through various historic landmarks, as well as teaches them about their history.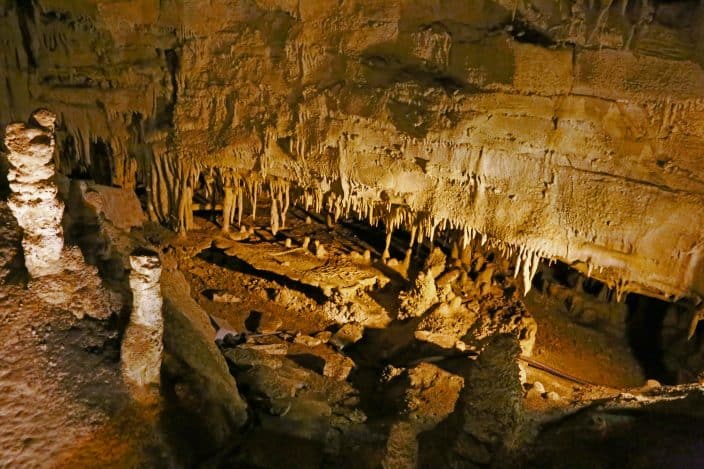 Mammoth Cave, Kentucky certainly has outdoor adventure in store for anyone who visits. 
Charlotte, North Carolina
A variety of thrill inspiring activities can be found in Charlotte, making it an ideal destination for an outdoor adventure vacation. The city is home to the US National White Water Rafting, which is an incredible outdoor facility that offers tons of outdoor activities. Here, guests can engage in white water rafting, ziplining, ropes courses, rock climbing, as well as hiking. They also have live music, craft beers, and dining options, which is perfect for dinner out on your vacation! During the winter months you can even go ice skating while surrounded by beautiful twinkle lights. 
Try white water rafting on their man-made white-water river, perfect for those who are new to the sport. There are different levels available based on age and experience. After choosing the right level for you, a professional guide will lead you down the river!
For a more relaxed water experience, try kayaking or paddle boarding on the Catawba River. Enjoy some quality time on the river with your loved one while paddling beneath the trees. 
Wondering where to stay during your visit to Charlotte? Check out our article on the Best Hotels in Charlotte, NC. 
 This post may contain affiliate links which won't change your price but will share some commission. As an Amazon Associate I earn from qualifying purchases.
Outdoor Adventure In Virginia
Virginia has a wide range of adventure activities to engage in , given its diverse terrain. If you love hiking, consider exploring the Shenandoah National Park. I highly recommend trying a waterfall hike, they are gorgeous! One of the most popular ones is the Dark Hollow Falls. It is moderate in difficulty and fairly short, lasting about 1.15 hours. Bear in mind, the hike down is quite steep and the trek back up is not for the faint of heart. However, the view and experience is worth it for those that can handle it!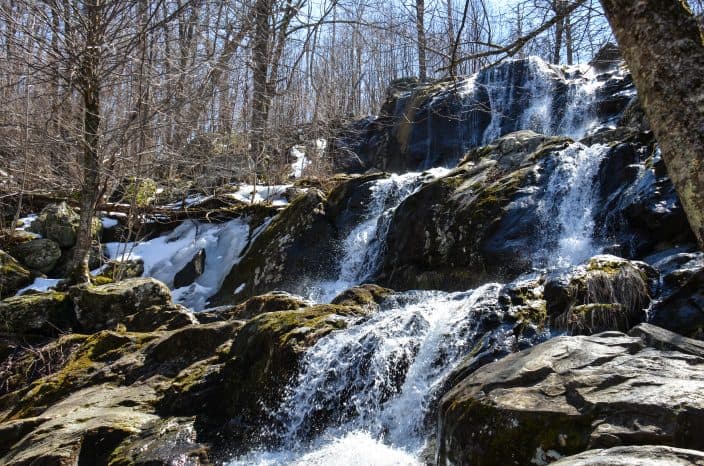 Packing Tip: Don't forget your hiking boots, for comfort and a sturdy grip on the rocks!
If you'd love to soar through and above the trees, try a ziplining adventure! Ziplining is a thrilling experience that offers incredible views and lots of fun. Plus, it's an activity that you can do with the whole family, as a couple, or alone. There are multiple sites where you can attempt ziplining, according to where in Virginia you are staying. 
An Adventure Vacation In The South
Outdoor adventure abounds in the South. The warm weather, varying terrain, and multiple natural wonders, make it easy to find adventure vacation destinations perfect for you. Reconnecting with nature is a great way to hit the reset button on your body and soul. Plus, nothing gives you energy like a thrilling adventure! 
CHECK OUT WHAT'S NEW ON BETSI'S WORLD
What kind of adventure vacations have you been on? Which of these would you like to try? Let us know in the comments below!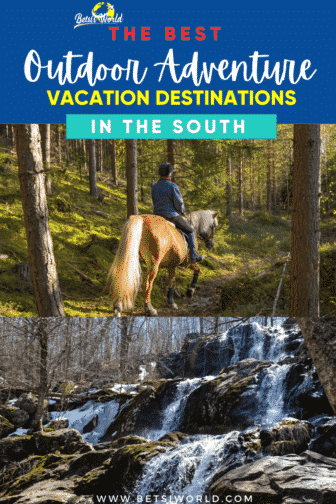 Other Getaways You May Enjoy