A Romantic Getaway In The Bahamas
The Bahamas are open and a great destination for a Bahamas romantic  getaway! If you are looking for a romantic place to take your loved one for Valentine's Day, The Bahamas are a wonderful option. The Bahamas are one of the most popular travel destinations in the Caribbean, and you'll find yourself spending most of your visit out in the sun and splashing in the gorgeous turquoise water.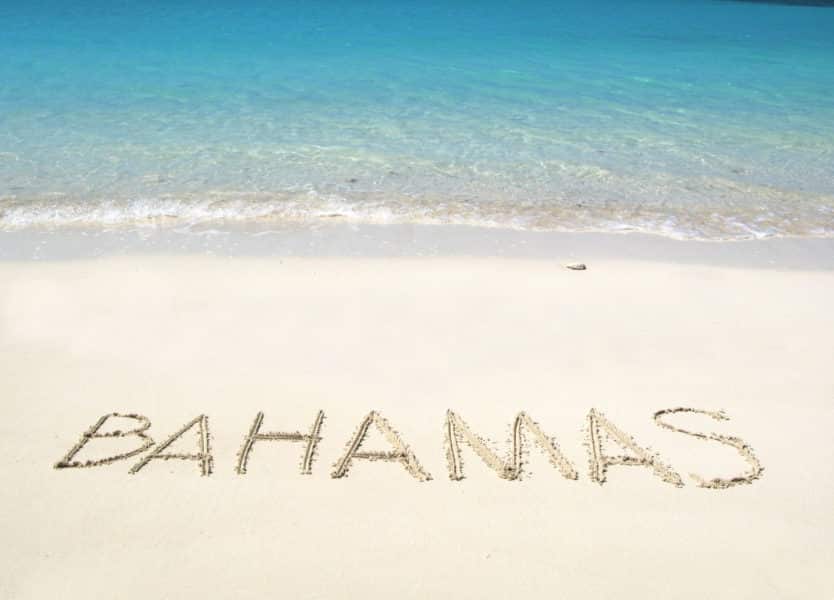 This post may contain affiliate links which won't change your price but will share some commission.
There is nothing better for a relationship that has been tested and tried by the stress and chaos of life. Each quarter Jim and I choose a destination to escape to and leave life behind and focus on each other. Let me tell you, it has done wonders for our marriage! We are more in love now, 31 years later than we have ever been. We have more fun with each other, and we laugh – a lot! One of our favorite getaways is the Bahamas. It allows us a chance to wind down on island time, and enjoy time alone together – just what a Bahamas romantic getaway fosters!
Most of us probably haven't been traveling this year, being in and out of quarantine. However, 2021 brings new hope for travel in the coming year! If you haven't taken a vacation without the kids for a long time, then a romantic getaway to the Bahamas is a perfect destination for you! Flights are affordable, and there are some incredible resorts that won't break the bank. You can escape for a long weekend and not feel guilty!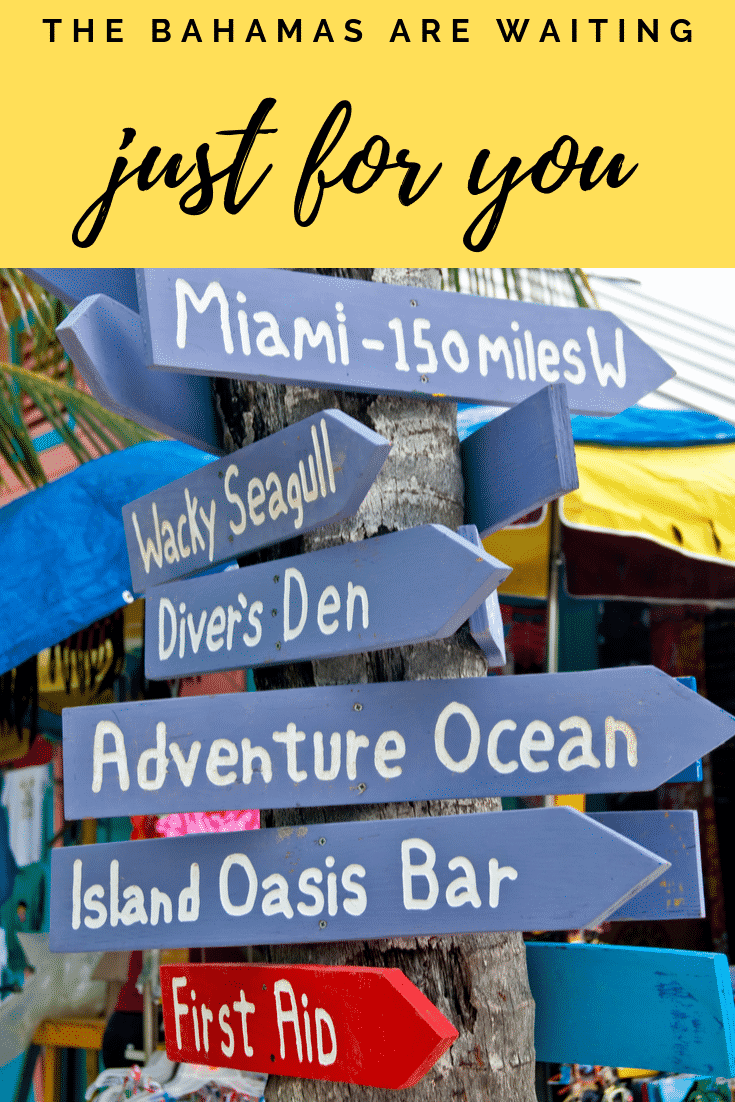 This post may contain affiliate links which won't change your price but will share some commission.
Bahamas Travel Restrictions and COVID-19 Update
Each Caribbean island has their own COVID-19 protocol and restrictions. The latest updated information from The Bahamas (12/21/2020) states that entry requirements for The Bahamas is subject to change due to COVID.
Restrictions and regulations can change with little or no advanced notice; before traveling carefully and regularly review the guidance directly from the Bahamian government at the Office of the Prime Minister's webpage and Facebook page, the Bahamas tourism page (and particularly that page's FAQs), and your travel vendors (airlines, hotels, etc.)
For the most up-to-date information, please check the travel restrictions via the US Embassy in The Bahamas. Some of the islands have curfew restrictions, which are updated on the US Embassy Bahamas site.
US Citizen are allowed to travel to the Bahamas at this time. However, entry requires:
a Travel Health Visa Application which can be found on  travel.gov.bs
travelers must present negative COVID-19 nasal swab test results
travelers must monitor their own health while on vacation through a daily health questionnaire for 14 days (or the duration of their stay, if shorter than 14 days)
you must apply for a mandatory COVID-19 health insurance. The insurance covers travelers during their stay in the Bahamas.
there will be health screenings at airports and other ports of entry.
Where to go on a Bahamas Romantic Getaway
Though the Northern Bahamas suffered the wrath of hurricane Dorian, the Southern Bahamas is open and has a hearty welcome for tourists.
Nassau
Nassau has a wonderful selection of beaches, so grab a beach towel and head to the beach for a day of sun, play, and relaxation.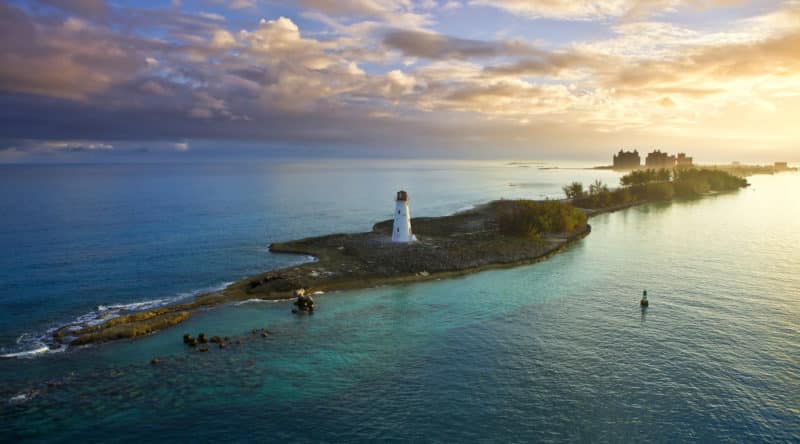 Adelaide Beach is more of a locals beach, which makes it perfect to visit during the week. It's located in the village of Adelaide, and the beach is long, and the water is clear and warm – just what you want on your Bahamas romantic getaway.
Atlantis Paradise Island is for those who want a little more fun on their Bahamas romantic getaway. At Aquaventure Water Park at Atlantis Paradise Island you can spend the day lounging on the beach, taking a river ride, hanging out in the pool, or riding the water park rides.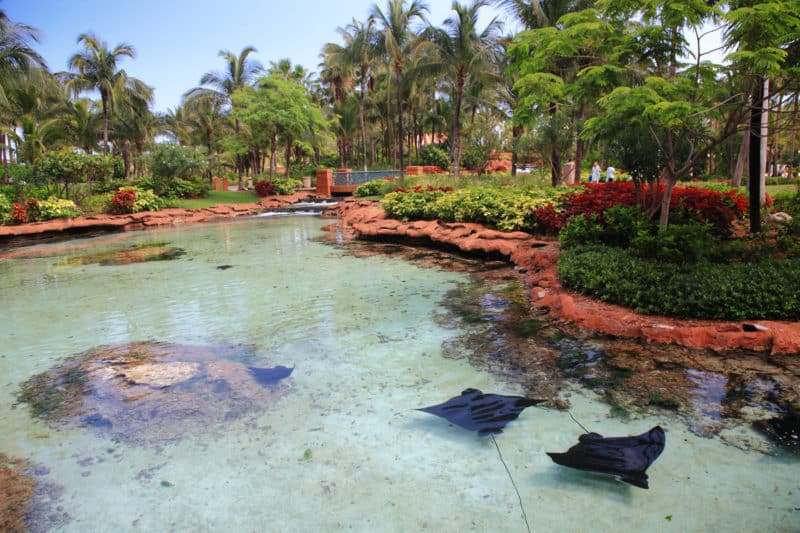 Nassau also has a vibrant food scene. Take a stroll down Bay Street, and stop in at Luciano's of Chicago Ristorante and you'll think you were having a fabulous meal in Chicago – yes, it is that good! This is a stop for us each time we visit Nassau! Cafe Matisse is located in a historic building in Nassau, and the food is incredible! This is truly a don't miss experience!
Stroll down Bay Street if you love shopping – there is something for everyone.
Where to Stay During Your Romantic Getaway
For first time visitors to the beautiful islands of the Bahamas, Nassau is ideal. There is a vibrant food scene, lots of shopping, and resorts to galore to choose from. We are slightly biased towards Sandals Royal Bahamian. It's where Jim and I go for a quick 2 or 3-day getaway if we are not taking our boat, Saltwater Gypsea over. For those who love non-stop fun, Atlantis on Paradise Island is a great choice.
Note: Sandals Royal Bahamian is currently closed, but will be reopening on January 28th, 2021. That's just in time for a Valentines Day getaway with your love.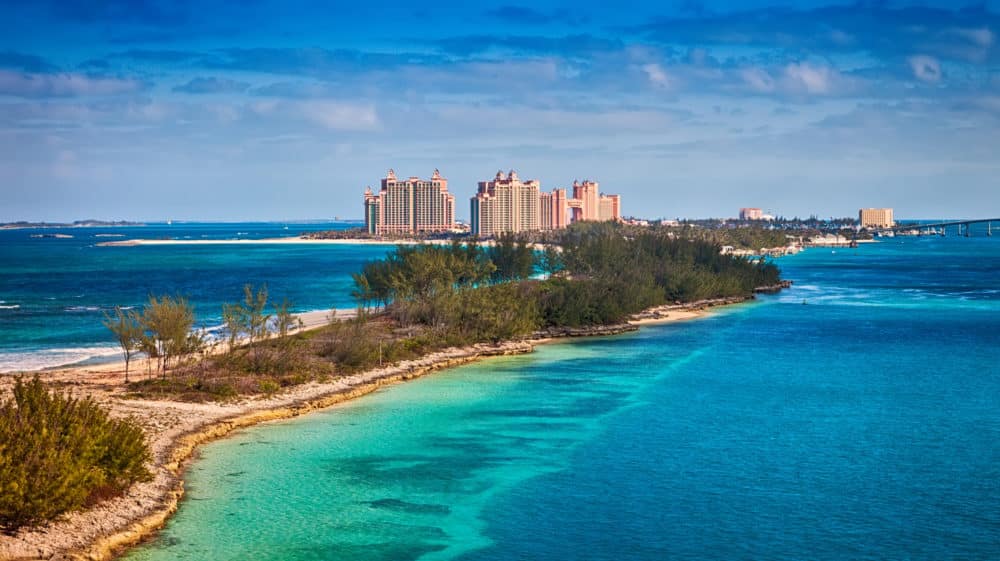 Eleuthera
If you are looking for a true Bahamas experience, we love Eleuthera. This thin, 110-mile long, 2-mile wide island has lots of incredible beaches and crystalline waters. Eleuthera is home to some of the best diving and snorkeling in the Bahamas!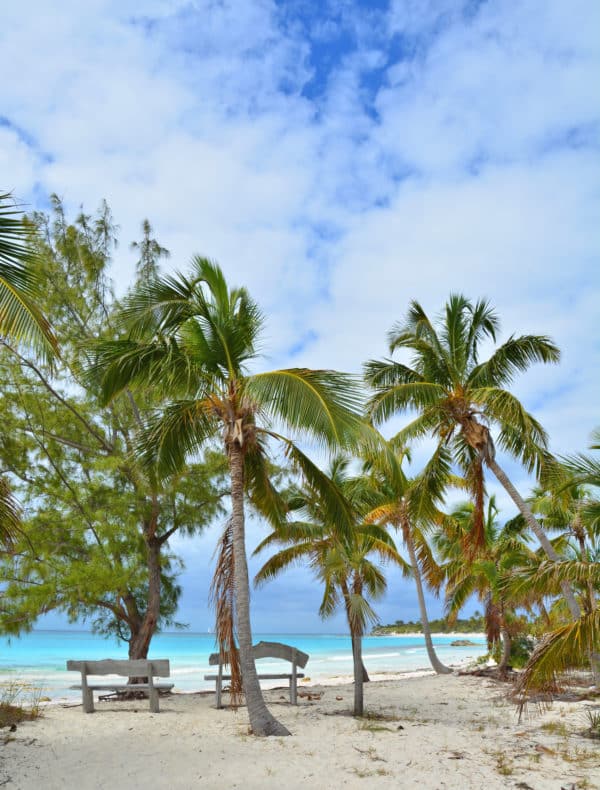 Eleuthera offers so many choices for a romantic Bahamas getaway – you can go relax on one of the many beaches on Eleuthera, go kayaking or surfing with Bahamas Adventures or try your hand at bonefishing.
Bonefishing is popular in the Bahamas, and it will test your skills. Bonefish are found in the flats, and they are fighting fish, so it's lots of fun to take a day and go bonefishing.
With Fishbone Tours you get to see the island by water. You'll have a chance to snorkel, go reef fishing, and search for sea turtles, conch and starfish. Don't miss the Preachers Cave and the Glass Window Bridge.
Where to Stay
For a little taste of Cape Cod island style, Harbor Island is it. And the place to stay is Valentine's Residences Resort and Marina. Valentine's has been "Clean and Pristine" certified. This means that they have undergone strict inspection by the Bahamas Clean and Pristine team, which follows government and CDC guidelines of health and safety during COVID-19. Valentine's Residences Resort and Marina is taking the health and safety of their guest extremely seriously, therefore you can feel comfortable when visiting.
Additionally, Valentine's is the ideal local for diving, snorkeling, or taking a day at sea to go deep-sea fishing. If you love fishing action, then bonefishing is right up your alley.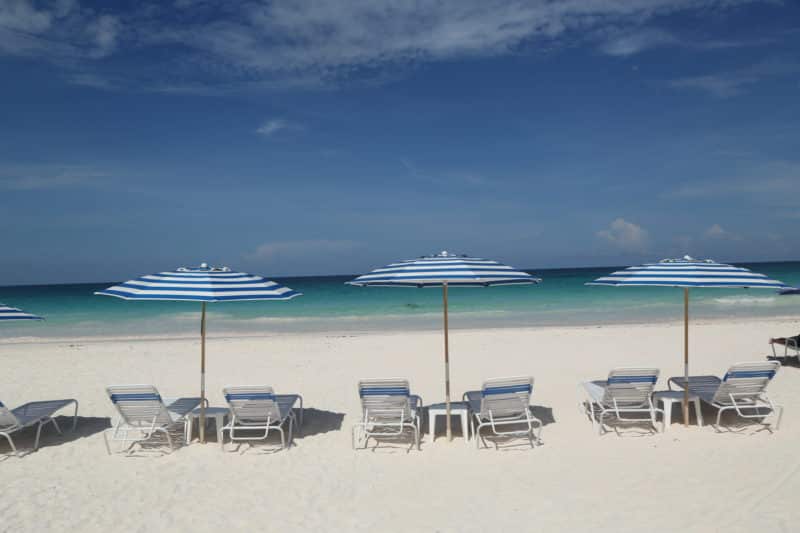 Bordered by turquoise water on both sides Cape Eleuthera Resort and Marina is perfect for unplugging, relaxing, and enjoying each other on a romantic Bahamas getaway. You'll have a good time whatever you choose to do.
Packing for a Romantic Bahamas Getaway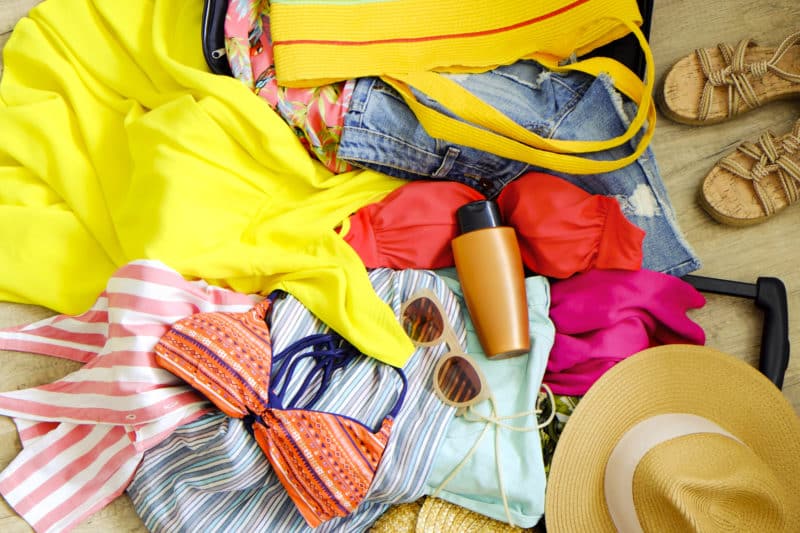 Life in the Bahamas is totally laid back! And let's face it, you'll be spending so much time outside exploring and going to the beach, that you won't need to pack a lot of clothing. We've compiled our top packing tips and ideas so packing for your Bahamas romantic getaway will be relaxing, easy, and enjoyable.
Packing Tips
I usually lay ALL of the possibilities out on the bed. I comb through my closet and choose anything and everything that I think I might need. Once I have everything I think I might need, I look through the stack and choose a color palette or theme.
Choosing a color theme or palette ensures that I will not overpack.
Because we've roughed out a daily activity list, I can then put outfits together for each day/activity. At this point, I know I can safely put at least half of the clothes that I originally pulled out back in the closet.
And finally, it's time for footwear. Pack your footwear in plastic grocery bags
Roll your clothing with shoes on the bottom, then pants and shorts. Roll your dresses on top of the pants, and then on the top come tops and blouses. Lingerie is rolled and put in the corners and on the sides of the suitcase.
Pack your lingerie in packing cubes.
Cosmetics are all travel sizes. I place a small square of saran wrap over my bottles and then cap the bottles to prevent spills. All of my liquids are placed in a quart size bag for TSA. When cleared through TSA the quart size bag will be tossed in my tote bag.
Must Haves for a Romantic Getaway to the Bahamas
You'll want to be sure and pack:
For our FREE Guide on What You Need to Know About Traveling to the Bahamas, CLICK HERE!
Want to Help the Bahamas Recover From Hurricane Dorian?
The Bahamas still struggles to fully recover one year later, after Hurricane Dorian. The COVID-19 pandemic has definitely been an obstacle to recovery, as aid and supplies from outside the Islands have slowed.
However, there are two ways we can help the people of The Bahamas recover from the apocalyptic destruction of Hurricane Dorian. You can donate money, or items to help them rebuild, including construction tools, generators, building materials, clothing, household goods, food, and water to the organizations listed below.
Another way to help the Bahamas recover is to travel to one of the islands that were not hit by Hurricane Dorian. The Bahamas economy is dependent on tourism, and these beautiful islands and their people need our help, so let's visit The Bahamas!
Take a short plane ride to Nassau, Harbor Island, Eleuthera, Andros or Exuma. Sail your boat over to The Bahamas – Cat Island, San Salvador, Rum Cay, Long Island, Bimini, Acklins, and Crooked Island, Ragged Island are all wonderful places to explore by boat. If you need ideas on what to pack for a boating trip to the Bahamas, you can read all about boating essentials here. Boating is a great way to explore the open waters in a safe and socially distanced manner, especially if you are trying to avoid airplanes, at this time.
Donate to These Organizations:
Project Hope, an international health-care organization
Team Rubicon a veteran support organization,
World Central Kitchen teams are providing food on Grand Bahama and the Abacos. Chef José Andrés' organization is once again helping the hungry.
Mercy Corps is coordinating response efforts
---
COVID-19 may have put a damper on travel for 2020, but hopefully 2021 will look a bit different. Keep the Bahamas on your list for a quick, tropical romantic getaway for Valentines Day this coming year. Romance abounds on the islands and I'm sure you and your sweetheart won't regret it!
What is your favorite thing about visiting The Bahamas? We'd love to hear from you in the comments below!
Other Romantic Getaways You May Like