This post is part of an awesome burger grill giveaway hosted by GirlCarnivore, but the Amazing East Meets West Burger was created by my marvelous husband Jim!
Creating burgers that a step above the normal cheeseburger is a challenge that Jim loves to take on! For this year's Burger Month Jim pulled out alll the stops to create one of the best burgers ever!
From the time I met Jim, he has loved creating original dishes with an Asian flair. Growing up overseas he was exposed to a variety of cuisines, but Korean remains one of his top favorites – the hot, spicy, and peppery flavors paired with veggies like cucumbers and radish that cool the palate. And he is a natural when it comes to the ability to combine spices and create dishes that are perfectly balanced.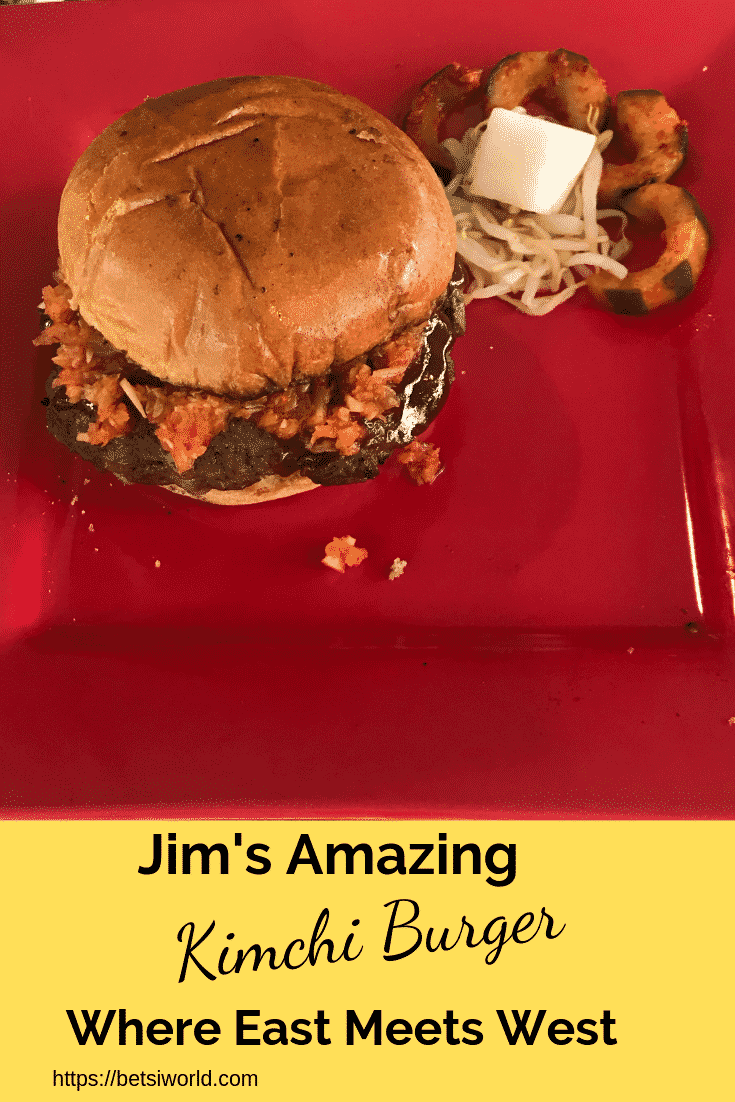 When we were asked to participate in this year's Burger Month hosted by GirlCarnivore, Jim's goal was to create the best burger he could with an Asian flair. And that's how the East Meets West burger was born.
Our hands-down favorite for entertaining is burgers. They are easy, and you can make the burgers a day ahead, so all you have to do is pop them on the grill when guests arrive! We always have kimchi on hand, so we are always ready to entertain! Kimchi is one of the few things that I have yet to master, even though I keep trying, so for now, we search out local Korean eateries that sell kimchi. This is one of Jim's best burgers ever and our guests love it too.
East Meets West Burger
Basic Seasoned Burger Recipe
Basic Burger
Basic Burger Recipe
16 0z Ground Round
1 tbsp Kikkoman Light Soy Sauce
1 tbsp Badia Complete Seasoning
1/2 tsp Black Pepper
Crumbled Bacon (Optional)
Shredded Cheese (Optional)
Thoroughly mix all ingredients together.

Form into a patty.

Cook on grill or frying pan to desired temperature
East Meets West Kimchi Burger
East Meets West Burger with Kimchi Slaw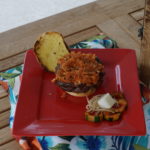 This Asian fusion Burger melds a tasty burger with a bit of spice
16 oz Ground Round Beef
1 cup Shredded Cabot Firery Jack & Habenero Cheddar & Monterey Jack Cheese
2 tbsp Kikkoman Teriyaki Glaze
2 Brioche Buns
2 thsp Extra Virgin Olive Oil
2 tbsp Gochujung Siracha Sauche
1/4 – 1/2 cup Kimchi Slaw
Thoroughly mix Ground Round Beef & Cabot Shredded Cheese together

Place on Grill and cook to the desired temperature

Brush Brioche Buns with Olive Oil and place on grill to toast

Once burgers are cooked to the desired temperature, assemble the burger by laying patty on bottom portion of bun

Add Teriyaki sauce and spread on burger patty

Add desired amount of gochujang and Siracha sauce to burger patty

Add Kimchi slaw to burger and spread evenly and place bun on top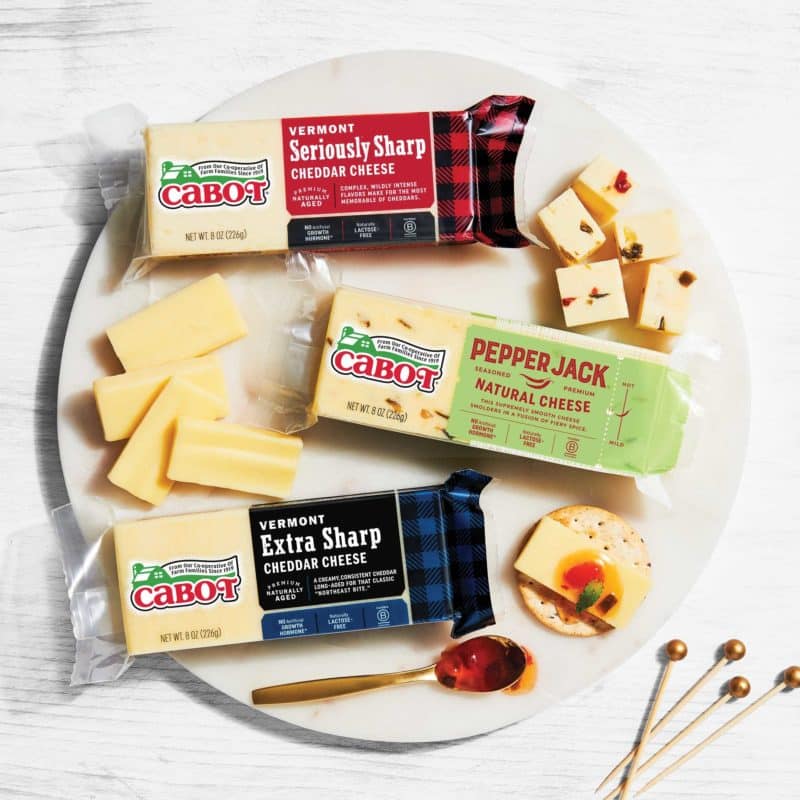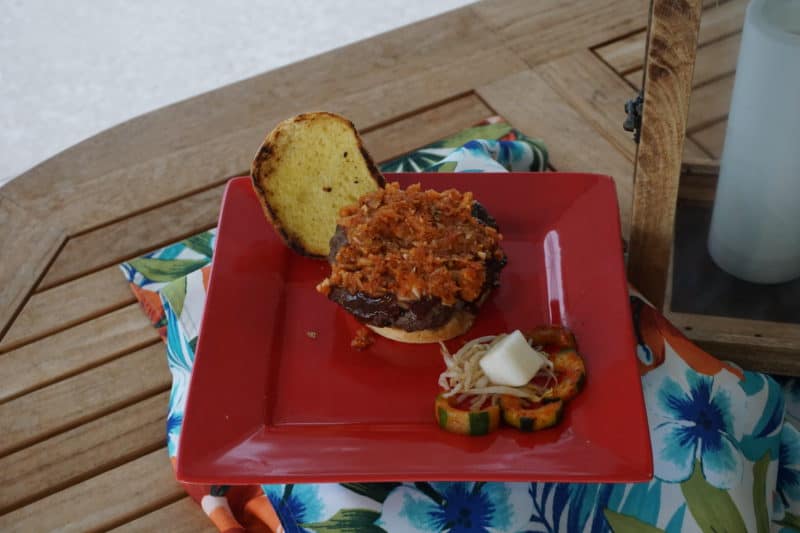 Gochujang Siracha Sauce For East Meets West Burger
Gochujang Siracha Sauce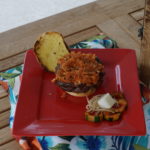 8 tbsp Gochujang paste (Available from Amazon)
8 tbsp Siracha sauce
Mix both ingredients together thoroughly. Set aside in refrigerator until ready to put on burgers.
How to Serve the East Meets West Burger
These burgers can be served on buns (as shown). But for a low-carb alternative, we suggest you enjoy this fantastic homemade burger recipe with a side of rice and sliced chilled cucumbers. The cucumbers and rice balance the spice of the kimchi slaw. Paired together, this makes one of the memorable meals your guests will experience. We suggest serving the East Meets West burger with a nice red wine – a nice smooth Pinot Noir pairs nicely with the spicy tang of the kimchi and the burger. And, in our humble opinion, Cabot Cheese helps to make the best burgers ever!
Enter the Fabulous Burger Month Giveaway!

We are excited to be partnering up with 100 other passionate burger lovers to share fun homemade burger recipes to enjoy all summer long!
Follow along every day in May for chances to win the Ultimate Burger Grilling Giveaway and check BurgerMonth.com for all of the amazing burgers! There's a NEW WINNER EVERY WEEK! So keep checking back, and get that grill fired up to try some of best burgers from passionate grillmasters!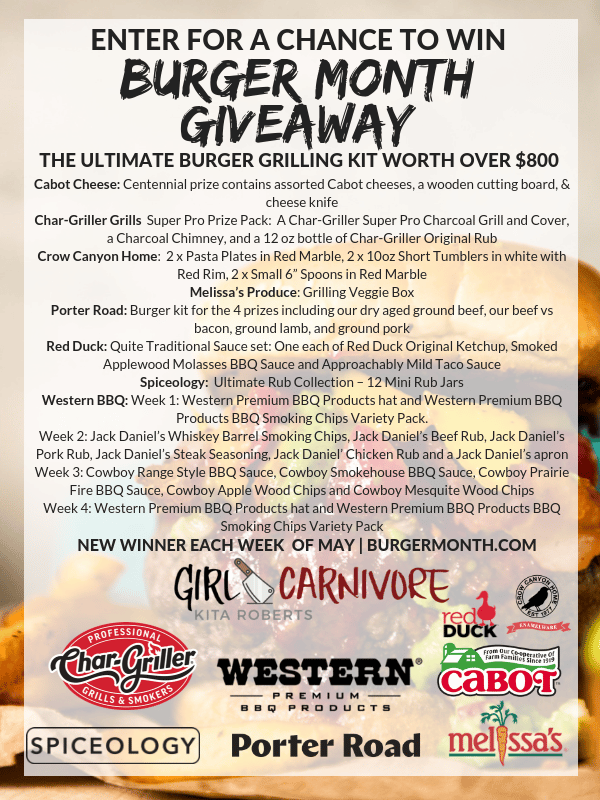 To Enter Giveaway:
a Rafflecopter giveaway

A huge thanks to the #BurgerMonth sponsors for the Ultimate Burger Grilling Giveaway:  Cabot Cheese, Char-Griller Grills, Crow Canyon Home, Porter Road, Melissas Produce, Red Duck, Spiceology, &  Western BBQ
Be sure to check out the tasty treats all of our burger lovers are cooking up for you at BurgerMonth.com. Speaking of those burger lovers, here they are:
? Girl Carnivore ? A Kitchen Hoor's Adventures ? A Simple Pantry ? Abra's Kitchen ? AcadiaTwo's Kitchen Antics ? An Affair from the Heart ? Bakersbeans ? Betsi's World ?Bowl Me Over ?Caroline's Cooking ? Cindy's Recipes and Writings ? City Living Boston ? Cluttercafe ? Cooking With Carlee ? Convos with Karen ?Daily Dish Recipes ? Dance Around The Kitchen ? Dixie Chik Cooks ? Dizzy Busy and Hungry ? Doodlecraft ? Everyday Eileen ? Family Around the Table ? Family Food on the Table ? Family Spice ?Farmwife Feeds ?Food Above Gold ? For the Love of Food ? Grillax.com ? Grilling Montana ? Grumpy's Honeybunch ? Hezzi-D's Books and Cooks ? Honeybunch Hunts ? HORNS BBQ ? Intelligent Domestications ? It Is a Keeper ? Jolene's Recipe Journal ? Jonesin For Taste ? Juggling Act Mama ? Karen's Kitchen Stories ? Kate's Recipe Box ? Krazy Kitchen Mom ? Life Anchored ? Life of a Ginger ? Mildly Meandering ? Miss in the KItchen ? Palatable Pastime ? Pastry Chef Online ? Perspective Portions ? Plowing Through Life ? PNW Eats ? Pook's Pantry ? Real Life With Dad ? Sarah's Cucina Bella ? Seduction In The Kitchen ? Simple and Savory ? Souffle Bombay ? Spiced ? Spoonabilities ? Strawberry Blondie Kitchen ? SueBee Homemaker ? Sumptuous Spoonfuls ? Sweet ReciPeas ? Swirls of Flavor ? Take Two Tapas ? Tampa Cake Girl ? Taste And See ? The Baking Fairy ? The Beard and The Baker ? The Complete Savorist ? The Crumby Kitchen ? The Heritage Cookbook Project ? The Keto Guy ? The Redhead Baker ? The Rowdy Baker ? The Schmidty Wife ? The Shirley Journey ? The Spiffy Cookie ? This Farm Girl Cooks ? Thyme for Cocktails ? We are not Martha ? Well Fed Baker ? West Via Midwest ? What's Cooking Italian Style Cuisine ? Who Needs A Cape? ? Wildflour's Cottage Kitchen ? Wok & Skillet ? Zest & Simmer ?
You Might Also Like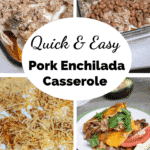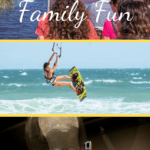 Discover Florida's Space Coast & Treasure Coast