Easy Pineapple Upside-down Cake
One of the most loved cakes, pineapple upside-down cake is an American classic. The combination of mouth-watering pineapple and scrumptious cake, pair wonderfully together for a truly decadent dessert. This pineapple upside-down cake recipe from scratch is definitely one you want to have handy for any special event.
Not only does this cake taste amazing, but it is relatively easy to make. You won't need any prior baking experience to make this pineapple upside-down cake. Your friends and family will all be asking for the recipe after they try this delicious cake.
History of Pineapple Upside-down Cake
Pineapple upside-down cake first got its start in the early 1920s, after Dole invented the pineapple ring. This delicious cake was a winner of a contest to use pineapple rings in a dessert. After that, the cake began to gain popularity across the country.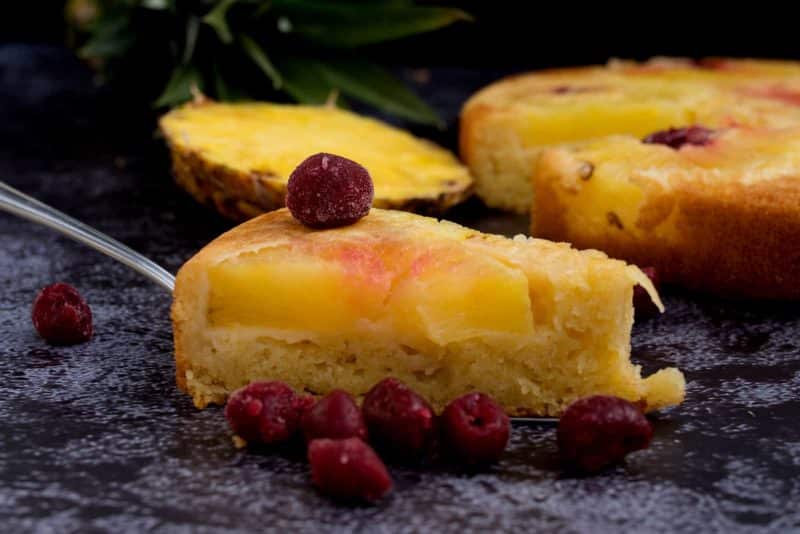 Easy Pineapple Upside-down Cake Recipe from Scratch
You simply can't beat cakes made from scratch. They are perfectly moist with a rich, delicious flavor. This easy pineapple upside-down cake is sure to be one of your new favorite recipes. 
Making any cake from scratch may seem daunting, however, by carefully following the instructions you will have a wonderful cake. This pineapple upside-down recipe from scratch is the perfect recipe to follow for this delicious cake, as it has simple to follow steps and turns out tasting amazing.
It is a great recipe to follow, whether you are a beginner or a baking pro, as it lists every step in detail in order for the perfect bake. This specific recipe makes a nine-inch cake that serves 8-10 people. 
Ingredients
For the Topping:
For the Cake:
1 ½ cups all-purpose flour

1 teaspoon baking powder

¼ teaspoon salt

1 cup granulated sugar

1 stick unsalted butter  (8 tablespoons), room temperature 

2 large eggs
Step by Step Instructions
Step One: Prepare Oven and Pan
Heat the oven to 350 degrees Fahrenheit and spray the 9-inch cake pan with cooking spray.
Step Two: Prepare the Topping
On the stovetop, melt the butter with the sugar. Stir the mixture frequently until it appears bubbly and slightly brown. Let the mix cool slightly before adding to the pan.
Step Three: Place the Pineapples
Open the can of pineapples and pour ½ cup of the juice to use later. Place the pineapple rings in the pan in your desired shape, using as many as possible. Add one maraschino cherry to each pineapple ring.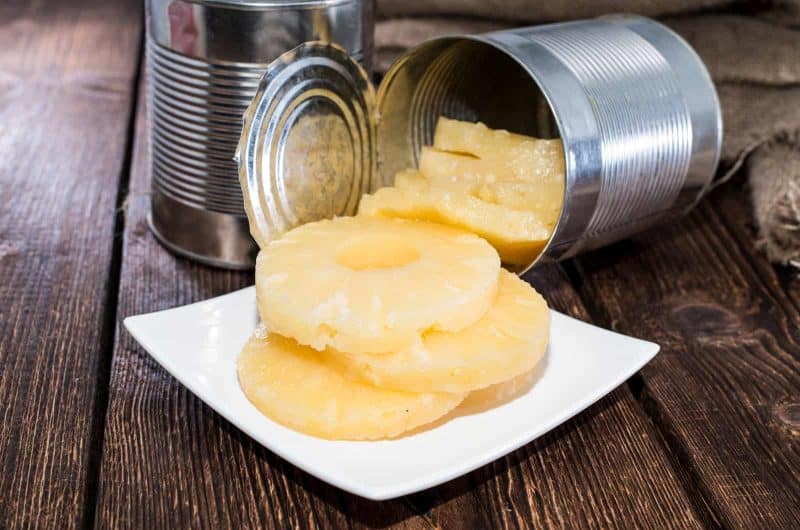 Step Four: Combine the Dry Ingredients
In a large bowl, mix flour, baking powder, and salt.
Step Five: Cream the Butter and Sugar
With a hand mixer or stand mixer, cream the butter and sugar on high for five minutes until it is light and fluffy.
Step Six: Add the Eggs
Add the eggs to the creamed mixture and continue to beat it.
Step Seven: Combine White and Dry Ingredients
With a sifter, add the dry ingredients to the wet ingredients in three batches. Each time, add ⅓ of the pineapple juice after adding the dry ingredients. Mix well during each time with the mixer on low speed. Mix for one minute at high speed.
Step Eight: Pour Batter
Pour the batter in the pan and use a spatula to remove any bubbles.
Step Nine: Bake Cake
Bake the cake for 45 minutes. Make sure a cake tester comes out clean to be certain that it is fully cooked.
Step Ten: Flip Cake
Let the cake cool for exactly ten minutes before carefully flipping.
 This post may contain affiliate links which won't change your price but will share some commission. As an Amazon Associate I earn from qualifying purchases.
Tips for Making the Easy Pineapple Upside-Down Cake
Since the cake batter is so thick, it is best to spoon it into the pan instead of pouring it in. Not only is it easier to do it this way, but it will also help keep the pineapple in place.

When it comes to flipping over your pineapple upside-down cake, things can get a bit tricky. It is often the hardest step, as the cake can crack or even fall apart. Fortunately, there are some handy tips to prevent this from happening.

After baking the cake, allow it to rest for ten minutes on a wire rack, no more or no less. Once the cake is ready to flip, allow it to slowly come out of the pan. Be certain not to bang on the pan, as this may cause the cake to fall apart. 
A Delicious Dessert
There is no doubt that a pineapple upside-down cake is a delicious dessert. By using the recipe in this article and following the tips, you will have an amazing and easy pineapple upside-down cake to share with your family and friends.
You May Also Enjoy
Refreshing & Easy Mai Tai Cocktail
This is a guest post by Karen Rutherford of the Cakedecorist. Karen Rutherford is founder and editor in chief at Cakedecorist. You will often find her in the kitchen creating edible works of art or trying out some new recipes. As a pâtissière and baking enthusiast, Karen has decided to share her abundant knowledge with the internet audience and provide only the best tips and recipes for baking and decorating your favorite sweets.
CHECK OUT WHAT'S NEW ON BETSI'S WORLD